7 Facts from our Plexaderm Review
Plexaderm Location: Boca Raton, Florida
Products: The most popular is the Plexaderm Rapid Reduction Serum. However, the company offers a range of cleansers and moisturizers for all skin types
How it works: The Plexaderm Rapid Reduction Serum temporarily tightens the skin to reduce fine lines and wrinkles
Application: The product is applied as a thin layer on targeted facial areas, then let set for 10 minutes
Cost: A 6-day trial pack for Plexaderm Rapid Reconstruction Serum can be purchased for $14.95. Alternatively, users can buy a 30-day bottle for $59.95 or a three-month supply for $119.90. Other Plexaderm products cost between $12.95 and $39.95 per unit
Reviews: Customer reviews are generally critical
This review is written with the intent to be as unbiased as possible. However, it represents the opinion of an individual reviewer and is therefore subjective. Furthermore, at Nebula Genomics we seek to educate the public about the benefits of Whole Genome Sequencing. Information about our Whole Genome Sequencing DNA test is therefore incorporated into the review.
January 13, 2023
Edited by Christina Swords, Ph.D.
Pros and Cons
Pros
Results are visible 10 minutes after application
The product may temporarily reduce wrinkles and lines for some consumers
Cons
This is not a long-term solution to healthy skin aging
Plexaderm doesn't improve skin health but only gives the appearance of healthy skin
Customers complain it leaves a white residue that's left behind after application
Plexaderm does not address the root cause of skin aging
Introduction
Distributed by Sheer Science and True Earth Health Products, the Plexaderm Skincare brand offers a line of products to revitalize aging skin and make it look years younger. Their flagship product, Rapid Reduction Serum, claims to reduce fine lines, crow's feet, and wrinkles and make eye bags and dark circles smooth in only 10 minutes after application.
The serum works by tightening the user's skin and smoothening the visible crevices for several hours after application. Plexaderm operates in Boca Raton, Florida, and is headed by CEO Jonathan Greenhut. Customers can purchase products from the official website or retailers like Walmart and Amazon.
Aging, Genetics, and Skincare
Before we review Plexaderm, let's examine the science behind it.
Our skin, the largest organ in the human body, plays a vital role in protecting us from harmful environmental agents. It protects us from pollutants, UV light, and microbes and acts as a barrier between our bodies and outside stressors. The skin can be an indicator of both internal health and underlying illnesses.
As the most visible portion of a person's body, the skin displays the most indications of aging. So, unsurprisingly, many are looking to increase their skin's health and appearance.
What Happens to Our Skin When We Age?
As we age, we see changes in our skin. The most noticable include wrinkles, pigmentation changes, and skin loosening. However, underneath these visible changes, there are a number of internal and external factors that contribute to aging.
On an internal level, genetic predispositions and underlying conditions affect the speed of aging. On an external level, environmental factors include exposure to pollution and UV light.
With the onslaught of stressors, the skin's ability to deal with damage declines. Environmental and genetic factors amplify this.
Why is Healthy Skin Important?
The skin is made of the epidermis, dermis, and subcutaneous tissue.
The epidermis, rich in keratinocytes, is the outermost protective barrier. It protects us against pathogens and helps us absorb vitamin D. On the other hand, the dermis is important for structural strength and flexibility. It is also needed to transport nutrients between the epidermis and the bottom-most subcutaneous layer. Lastly, the subcutaneous layer connects the dermis to underlying structures and provides insulation, energy storage, and padding.
As the structure and integrity of the skin are compromised, these important functions also deteriorate.
The Genetics of Aging Skin
The type and speed of skin aging can vary from person to person.
A very useful way to understand the level of the genetic contribution to skin aging is to study the differences in twins. Twin studies have previously shown that 62% of the variation in skin aging was due to genetics. In another study, 61% of the level of eyebrow-sagging was due to genetics.
The characteristics of skin aging also tend to differ between populations. For example, the level of wrinkling, dark spots, and sagging is highly variable depending on geography and ethnic background.
Plexaderm Review
How Does the Rapid Reduction Serum Work?
What is Plexaderm? While Plexaderm does offer a variety of eye creams and lotions, their main product is the Rapid Reduction Serum Plus. The product reduces under-eye bags (puffiness in the skin under the eyes) and smooths wrinkles and lines.
After applying a small amount of serum to any targeted area, users must remain expressionless for a few minutes while it dries. When using the product, customers should be sure to avoid contact with eyes.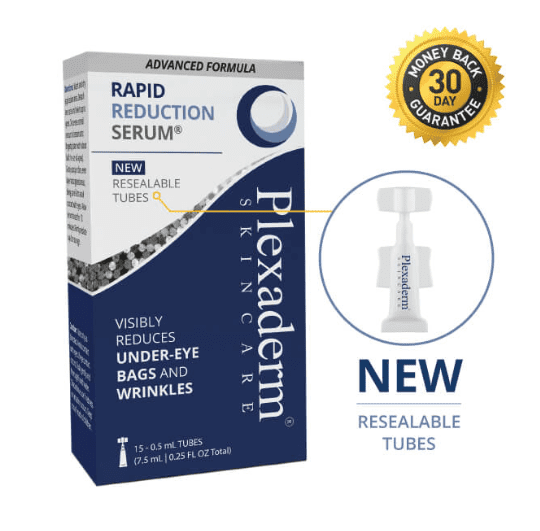 How long does Plexaderm last? Once the serum dries, it tightens the skin to give it a more youthful look. These results are said to last for ten hours.
How much is Plexaderm? Customers who want to sample the product can buy a six-application Plexaderm trial pack for $14.95. Alternatively, users can purchase a 30-day bottle for $59.95 or a three-month supply for $119.90.
Finally, there's a 6-month supply offer at $194.80. This puts the cost of daily use to be just under $4. Customers are covered by a 30-day money-back guarantee.

Review of Plexaderm Ingredients
The Rapid Reduction Serum Plus has a relatively short ingredient list consisting of the following:
Water (Aqua)
Sodium Silicate: A pH adjuster and buffering agent used to make detergents. It is used in a number of "anti-wrinkle" and anti-aging skincare products. As it dries on the skin, there is a mild contraction, causing the skin to appear tauter. Some studies show that it can be an eye irritant (avoid applying it to the eye area).
Magnesium Aluminum Silicate: A mineral extracted from clay and typically used as a thickening agent. It has been shown to be a minor eye irritant in rabbits but is safe in cosmetic products.
Cellulose Gum: A thickening agent derived from plants.
Acetyl Hexapeptide-8: A synthetic, anti-wrinkling agent. This water-binding ingredient works by decreasing facial muscle contractions.
Yellow 5 (CI 19140) and Red 40 (CI 16035): Coloring agents.
Phenoxyethanol: Preservative used in a number of cosmetic products.
Ethylhexylglycerin: Preservative with antimicrobial properties.
Hydrolyzed rice protein: A substance rich in amino acids.
Shale clay: Minerals that tighten your skin.
Together, the ingredients in the Plexaderm Rapid Reduction Serum Plus create a temporary fix for under-eye bags and wrinkles. While some ingredients have been shown to have potential side effects in animal models, they are safe for human cosmetic use.
The original Plexaderm rapid reduction serum includes the same ingredients as the Plus version but also includes the additional ingredients propylene glycol, soluble collagen, xantham gum, and titanium dioxide.
Review of Plexaderm Clinical Study
Does Plexaderm work? To test the effectiveness of its rapid reduction cream, Plexaderm conducted a clinical study consisting of 43 participants.
The company used a VISIA Complexion Analysis to measure skin quality before and after using the serum. Eye bags and wrinkles were said to be visibly reduced by 80.6% and 81.1%, respectively. Similarly, they found that facial pores reduced by 74.9%.
The study also employed a questionnaire to gauge customer satisfaction. Overall, 100% of the 43 participants reported that their wrinkles, eyebags, dark circles, and pores were less noticeable.
The study concluded that the Rapid Reduction Serum "provides clear and definitive results that can be seen 10 minutes after its application."
Review of Other Plexaderm Products
In addition to its bestselling Rapid Reduction Serum, Plexaderm has several other cosmetic creams and products. The company offers free shipping and processing from its website. Listed below is its current selection of commodities:
Reset and Replenish Pads ($24.95): These cleansing pads remove dirt, makeup, and oil.
Plex Perfect Daily Moisturizer ($29.95): Made to be used with the Plexaderm Rapid Reduction Serum.
Dark Spot Fade Gel ($24.95): A hydroquinone gel to treat hyperpigmentation and dark spots.
Hyaluronic Moisturizer ($23.95): Made of pure hyaluronic acid to boost hydration. It works best with the Rapid Reduction Serum.
Peppermint Exfoliating Cleanser ($9.95): This daily-use cleanser is intended to suit all skin types.
Night-Time Collagen Serum ($29.95): This product contains soluble collagen and is supposed to boost collagen levels in the skin.
Other Plexaderm Reviews
Reviewers on Amazon rank Plexaderm Rapid Reduction Cream Plus a 3.4 stars with nearly 2000 reviews. The majority of reviews are negative and do not recommend this product. The vast majority of customers complained that this was only a temporary fix, while others reported that the serum left behind a white film. Reviews also indicate that you cannot apply makeup when using Plexaderm.
The positive reviewers claim that Plexaderm is a great product to reduce puffy eye bags and wrinkles, as advertised.
Similarly, the product has 1.7 stars on Trustpilot with nearly 200 reviews with complaints similar to those on Amazon. There are also positive notes about customer service.
The Plexaderm Review Verdict
After evaluating the products, ingredients, and customer reviews, it seems that Plexaderm is effective at removing some of the most visible signs of aging. However, it is not a long-term solution, and those looking to improve their skin quality and health should consider the pros and cons before buying Plexaderm. Although it appears to temporarily contract and tighten the skin it may often leave a white film after application.
Nebula Genomics: Make Informed Decisions for Your Skin
As we mentioned earlier, numerous genetic factors contribute to skin aging. Consequently, there is no "one size fits all" approach when it comes to lasting skin health. Skin types are unique to each individual, and knowing your genetic background can help you make an informed decision for your skin.
A lot of trial and error is involved in picking the perfect skincare product. Over time, these costs can add up. With our new 30x Whole Genome Sequencing service, you can sequence 100% of your genome. This includes lifetime access to our genome exploration tools and a collection of research studies that are updated every week.
There are a lot of benefits to knowing more about your genome. When it comes to the largest organ in your body, health goes far beyond appearance. With your data in your hands, you can make the decisions that work best for you.
Summary of Plexaderm Review
Let's summarize our Plexaderm review.
While the Plexaderm Rapid Reduction Serum provides a temporary fix for wrinkles, it is not a long-term solution. Based on customer reviews, this product works for some people but may not be for everyone. The company advises customers to start with a trial pack.
Skincare is more than just appearance. As an alternative, you can learn more about your skin with our 30x Whole Genome Sequencing service.
Read more about skin health in our articles about psoriasis, eczema, and acne.
And you might be interested in these companies that support aging well:
Hair growth
Brain
Other
Some alternative products to Plexaderm that you should consider are Hyaluronic Acid Serum for Face by Yeouth, SkinCeuticals C + AHA, or Curology.
Pathway Genomics also offers a clinic-grade DNA test specifically for skin information!
Did you find our Plexaderm review helpful? You can read more reviews on our blog and check out our complete guide to the best DNA test kit and other home tests.