This review is written with the intent to be as unbiased as possible. However, it represents the opinion of an individual reviewer and is therefore subjective. Furthermore, at Nebula Genomics we seek to educate the public about the benefits of Whole Genome Sequencing. Information about our Whole Genome Sequencing DNA test is therefore incorporated into the review.
January 13, 2021
7 Facts based on our Hydroxycut Review
Location: Ontario, Canada
Products: Weight loss supplements, including capsules, pills, shakes, and gummies. Most of their weight loss supplements contain caffeine and a blend of different herbs.
Costs: $19 – $30
Result: Helps people lose weight.
Privacy: They handle patients' information with caution. They stick to their privacy terms and also respect the confidentiality of their patients.
Raw Data Access: As a supplement company, they do not offer access to raw data; neither do they require you to upload your DNA to get suitable supplements.
Complementary Products: Nebula Genomics offers DNA sequencing to get to know your genes, with new reports weekly, unlimited use of genome exploration tools, premium supports, and access to in-depth ancestry analysis.
Hydroxycut Introduction
What is Hydroxycut? Introduced in 2002, it is a brand of dietary supplements that claims to aid weight loss. This brand has different weight supplement pills, but their Pro Clinical option is the most popular.
Hydroxycut active ingredients include caffeine, Wild olive extract (Olea europaea), Lady's mantle extract (Alchemilla vulgaris), Wild mint extract (Vaccinium myrtillus), and Komijn extract (Cuminum cyminum). Other ingredients in Hydroxycut include Vitamin C, and calcium, etc.
Hydroxycut Hardcore is another product the company makes. This product contains additional ingredients, such as green coffee extract, yohimbine, a high caffeine concentration, etc.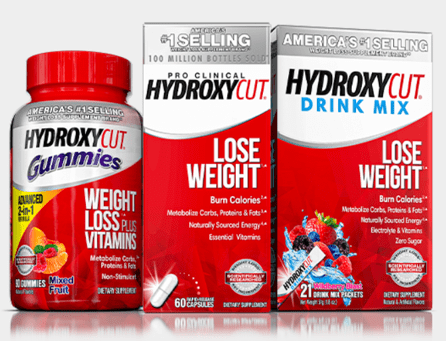 Iovate Health Sciences Inc. currently owns the product. However; it was originally developed and manufactured by MuscleTech Research and Development but was sold to Iovate Health Sciences in 2003–2004. Iovate resolved to use MuscleTech as a brand to market Hydroxycut.
A team of experienced scientists engineers the Hydroxycut weight loss supplements. It has sold over 100 million bottles. Hydroxycut pro clinical — a product Hydroxycut is not just an ordinary weight loss supplement, but America's #1 Selling Weight Loss Supplement Brand.
The company offers various weight loss supplements, so you can choose the most suitable one to fit your lifestyle. They also provide tools to help you achieve your goal to lose weight and stay fit. Some of the tools include the app and the Real Results Weight Loss Program.
In 2008, Hydroxycut products were withdrawn by the company after the Food and Drug Administration (FDA) issued a warning. This is as a result of 23 reports of serious health problems including serious Hydroxycut side effects of liver injuries like jaundice elevated liver enzymes, and liver damage requiring a transplant, likely due to the ingredient Garcinia cambogia. Other adverse effects included seizures, cardiovascular disorders, and rhabdomyolysis.
Is Hydroxycut safe? After the 2009 recall, the products were reformulated for a safer consumption before they were returned to the market for sale.
Hydroxycut Science
How does Hydroxycut work? The supplement contains several key ingredients that work together to aid weight loss. Caffeine is the most potent of the ingredients in the formulation. There are several studies showing the effects of caffeine on metabolism, specifically that it has a metabolic boosting ability, which increases the rate that the body converts food and drink into energy. Thus, it has also been linked to enhance fat burning.
Nevertheless, people develop a tolerance to caffeine in the long run, and it may become less effective in performing the functions above. However, Caffeine plus other essential compounds in Hydroxycut, including Wild olive extract (Olea europaea), Lady's mantle extract (Alchemilla vulgaris), Wild mint extract (Vaccinium myrtillus), and Komijn extract (Cuminum cyminum), are effective in burning fats, which eventually results in weight loss.
According to their website, the supplement is powered by a key weight loss driver (C. canephora robusta) that has been studied in two separate scientific studies. They reference two small studies. Subjects taking C. canephora robusta for 60 days lost an average of 10.95 lbs. versus the placebo group, which lost an average of 5.40 lbs. Both groups followed a low-calorie diet. In a separate 8-week study, subjects taking C. canephora robusta lost an average of 3.7 lbs. versus the placebo group, which lost 1.25 lbs. Both groups followed a calorie-reduced diet and performed moderate exercise.
It should be noted that the company notes at the bottom of their website that statements have not been evaluated by the Food and Drug Administration. These products are not intended to diagnose, treat, cure, or prevent any disease.
Hydroxycut Review
There are different products, each with its key ingredient. Answering the quiz questions on the company's website is all you need to choose the most suitable product for you.
How to get a Hydroxycut product
Visit the company website to choose and order a product. It will be delivered to your doorstep. It is also available from retail stores including Target, Walgreens, and the Vitamin Shoppe.
Hydroxycut App
The app allows you to log, track, and stay motivated with your weight loss. It is easy to use and has a lot of useful information. It also has activity plans for users. It features meal plans and recipes, plus easy to follow activity plans. The app reminds you to stay hydrated and also to take your supplements. You can also read inspiring fitness and lifestyle articles from the app.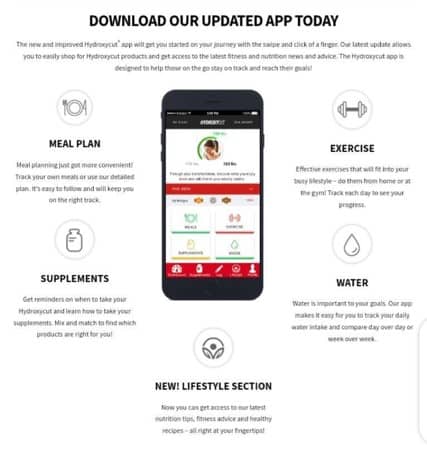 Weight Loss Program
There are a few steps to follow if you desire to start your weight loss journey with Hydroxycut. This program is complementary to the weight loss supplements sold by the company. The first step is to visit the company's website to take a quick quiz. This will help you choose the most suitable product for you.
Weight Loss Program Step 1: Get started
Check your current weight, note it down. You should also set a realistic goal and take a picture before you move to the next stage. This will help you measure your progress. In the long run, you can go back to check your current weight and picture with how you looked before the program. Healthy weight loss is about 2 to 3 lbs per week.
Download the app to help you set goals and track your progress.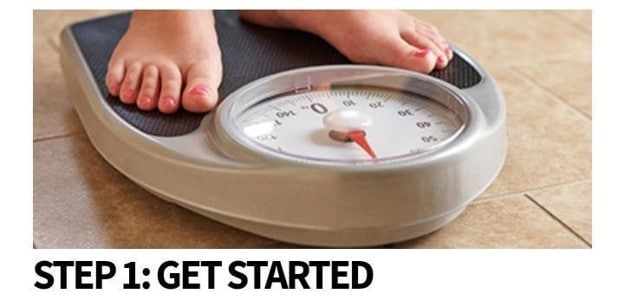 Weight Loss Program Step 2: Healthy eating
When you're on a mission to lose weight, you don't just put anything you find in your mouth. Instead, you must be selective and eat foods with low fats. If you're unsure about the right meals to take, you should check the app for meal plans. There, you'll find delicious recipes for healthy meals designed to provide you with the healthy meals and essential nutrients you need to lose weight.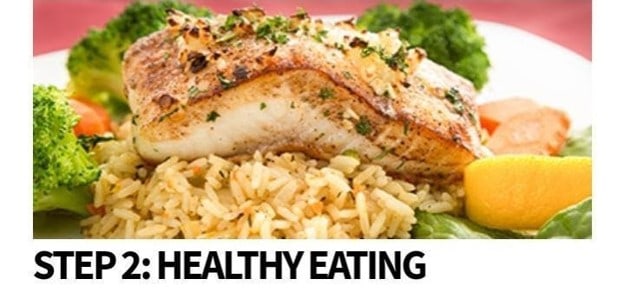 Weight Loss Program Step 3: Get moving
You can follow the activity guide on the company's website for a moderate exercise routine.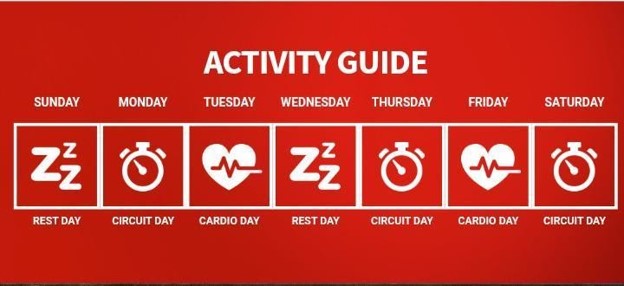 Hydroxycut Cost Review
There are different products you can purchase. Each of these products comprise different ingredients, serve different purposes, are suitable for different people, and sell at different prices. Products include:
| | | |
| --- | --- | --- |
| Product | Purpose | Price |
| Pro Clinical Hydroxycut | Weight loss and energy | $19.99 |
| Hydroxycut gummies | Non-stimulant weight loss | $19.99 |
| Pro clinical Hydroxycut | Non-stimulant weight loss | $19.99 |
| Hydroxycut Drink Mix | Provides electrolytes and vitamins | $18.99 |
| Hydroxycut Black | Great for weight loss and has extreme sensory | $26.99 |
| Hardcore | Excellent for Hardcore weight loss and provide extreme energy & maximum intensity | $21.99 |
| Hydroxycut organic | Organic weight loss and provides B vitamins | $21.99 |
| Pro clinical Hydroxycut Non-stimulant | Non-stimulant weight loss with Apple Cider Vinegar + B & D Vitamins | $19.99 |
| Hydroxycut Ultra Lean | Provides essential vitamins and help with weight loss | $26.99 |
| Hydroxycut Max! For women | Powerful weight loss and fast-acting energy plus biotin | $22.99 |
| Slay by Hydroxycut | Mini capsules for burning calories | $29.99 |
| Hydroxycut Platinum | Advanced formula for weight loss, probiotics, vitamins, increase energy, and a metabolic boost | $26.99 |
| Hydroxycut HD | Smart Release Microbead Technology good for weight loss and enhances focus | $29.99 |
| Hydroxycut Hardcore Elite | Powerful weight loss formula offering extreme energy, and enhanced focus | $26.99 |
| Hydroxycut Pill Box | Portable weight loss pill | $5.99 |
There is also a non-stimulant version that is caffeine free for $19.99.
Hydroxycut Privacy Reviews
A link to the privacy statement can be found under customer service at the bottom of its website. The policy indicates how the customer's information on the website is used.
Emphasizing how much the company respects and upholds customer's privacy, a text in the privacy policy reads, "We respect and understand your concerns about the privacy of your Personal Information, and we commit to treating it in a responsible manner." The company noted that their privacy policy doesn't apply to the personal information customers submit to third-party websites.
The company uses reasonable measures including physical, technical, and organizational/administrative safeguards (e.g., encryption, anonymization) to store your data and help protect it from loss securely, misuse, and unauthorized access, disclosure, alteration, or destruction.
They only keep your information for as long as it is needed. Once there's no need for it, the information will be securely destroyed, or they overwrite your data.
Hydroxycut in the News
Products were recalled from the market in 2009 following a FDA warning. This arose as a result of 23 reports of serious health problems including serious liver injuries like jaundice and death.
At a news conference, Linda Katz, MD, interim chief medical officer of the FDA's Center for Food Safety and Applied Nutrition, encouraged consumers to abstain from using the products. She cited the case of a 19-year-old man that died after using Hydroxycut in 2007 but whose death was reported to the agency in 2009.
The company issued a statement in this regard claiming to conduct internal analyses of all the ingredients and medical, scientific and toxicological literature reviews on the safety of those ingredients. After the 2009 recall, the products were reformulated and safer for consumption before they were returned to the market for sale. The FDA confirmed that the only ingredient left from prior formulations was caffeine.
Until 2009, lawyers at Saiontz & Kirk were investigating lawsuits. It should be noted that they are no longer looking at new cases and their page regarding the company is maintained for informational purposes only.
Other Hydroxycut Reviews
Does Hydroxycut work? Hydroxycut Pro Clinical has 4 out of 5 stars on Amazon. It also has 4.2 stars for its "easy to swallow feature" and 3.8 stars for its flavor. A majority of customers found that Hydroxycut help them meet their weight loss goals although others saw no Hydroxycut results.
Other products such as Hydroxycut Black reviews, Hydroxycut Hardcore reviews, and Hydroxycut Max for women report similar outcomes.
Healthline, a Red Ventures Company, also reviewed the product, reaching similar conclusions that the supplement works for some people and not for others.
Pros and Cons
Pros
Affordable
Provides quality, reliable diet and exercise requirements that patients can follow to live healthier.
Products are easy to access
Cons
The product is not suitable for anyone under 18.
Recalled in 2009 due to liver damaging ingredients. Products were reformulated and placed back on the market in 2010
Claims not substantiated by the FDA
Mixed reviews as to its effectiveness
Nebula Genomics
Supplements like Hydroxycut do not work for everyone. Many people have genetic predispositions to things like obesity and thinness. Before investigating dietary supplements to reduce weight gain, you should sequence your DNA and see what weight loss may look like for you. Before starting supplements, you should always seek professional medical advice.
Most DNA tests decode only 0.02% of your DNA, but that is not the case with Nebula Genomics. We decode 100% of your DNA through 30X Whole Genome Sequencing. With this significant difference between the DNA we test and other DNA tests, the data we provide is 10,000 times more than other DNA tests such as 23andMe and AncestryDNA.
Nebula Genomics provides a lifetime of discovery with full access to your genomic data. We also offer weekly updates based on the latest scientific discoveries, advanced ancestry analysis, and powerful genome exploration tools.
With our powerful, browser-based genome exploration tools, you can find answers to any questions you have about your DNA. The reports you'll get from us can be used for diagnosis. The data in the report are unique to every individual and can be used by genetic counselors and physicians.
Interested in weight loss? You may consider Noom (subscription based weight loss programs), Nutrisystem (personalized weight loss programs), Optavia (subscription based weight loss programs with personal coaches), Perfect Body DNA (personalized weight management book), or Yoga Burn (instructor led weight loss yoga).
Did you know you can test your metabolism at home? Learn more in our article about metabolism tests at home.
If you want to learn more about weight management products, you should check out these other reviews:
Weight management supplements:
Gut health:
Did you like our Hydroxycut review? You can read more reviews on our blog and check out our complete guide to the best DNA test kit and other home tests.