7 Facts from our 4U Health Review
Location: Pittsburgh, PA
Products: 21 at-home health test kits, including those for allergies, wellness, and COVID
Cost: $44.50 – $399
Reports: Easy-to-understand test report that includes the results and interpretation aids
How it works: Customers order online with express shipping. Then, they collect their sample and return it to the lab using the provided prepaid shipping label. Electronic results are usually emailed within 2-5 days of the lab receiving the sample If necessary, clinicians provide post-testing support
Counseling available: Yes
Other Products: Nebula Genomics offers 30X Whole Genome Sequencing that decodes 100% of your DNA and gives reports on diet and much more!
This review is written with the intent to be as unbiased as possible. However, it represents the opinion of an individual reviewer and is therefore subjective. Furthermore, at Nebula Genomics we seek to educate the public about the benefits of Whole Genome Sequencing. Information about our Whole Genome Sequencing DNA test is therefore incorporated into the review.
July 5, 2023
Pros and Cons
Pros
At-home lab testing
Affordable pricing options
Post-testing consultation if needed
Cons
Not covered by insurance
Reviews limited to completely satisfied customers
Introduction
The 4U Health at-home lab testing service offers confidential health testing with rapid results. Customers can order various self-collection lab kits, including food sensitivity, allergy, wellness, and COVID-19 tests. All online testing kits provide hospital-grade results to ensure the lab report's accuracy. The company also notes its tests as affordable and convenient and provide fast results.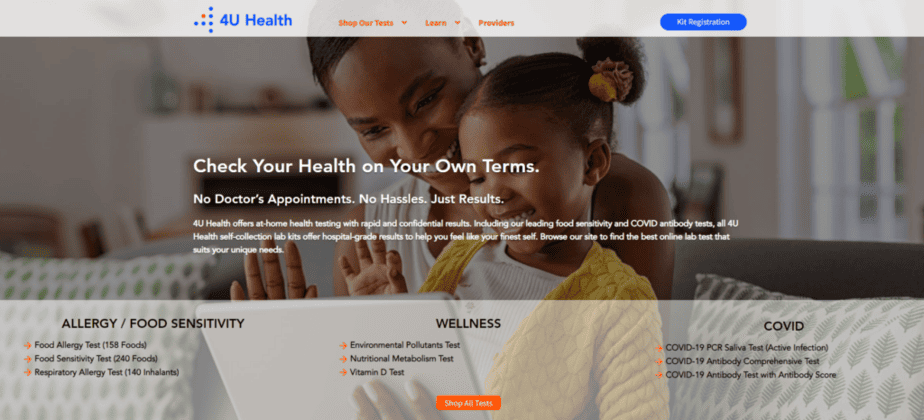 4U Health is a biosciences company founded in Pittsburgh, Pennsylvania, with a mission to make wellness and laboratory testing more approachable, inclusive, and fun. Its stated mission is to empower individuals with on-demand at-home lab testing. The company's overall vision is to help people save time and money to feel their best selves.
It was co-founded by Alfred Caminos and Sean Waters, who have experience in the medical industry and technology, respectively.
Dr. Maria A Shah is the Chief Operating Officer for Akos MD, 4U Health's consulting Virtual Primary Care Organization. She oversees the delivery of professional services provided by Akos to clients.
The Science Behind 4U Health
While specific scientific details about the lab testing services offered by 4U Health are not mentioned, it can be inferred that the company uses scientific knowledge and advancements in laboratory testing to provide accurate and reliable customer results. The company partners with CLIA-certified laboratories to perform hospital-grade at home-health testing to ensure high quality results.
Moreover, the company's telemedicine medical officer, Dr. Maria A Shah, brings extensive experience in clinical operations and pharmaceutical research to the team. This indicates that the company likely focuses on evidence-based and cost-effective medical case management in patient care, focusing on quality and customer experience.
Review of 4U Health Tests
4U Health offers 21 different home testing kits divided into seven categories. Most tests are not intended for individuals with a history of eating disorders, those who are preganant or breastfeeding, and children under two. Additionally, these tests are not available in New York state.
Allergy
The food allergy tests determine whether certain foods may be causing discomfort while the respiratory tests focus on things like cat, dog, and dust allergies.
Food allergy, Basic 44 Target (IgE)
Food allergy, Expanded 158 Target (IgE)
Respiratory environmental allergy, Basic 33 target (IgE)
Respiratory environmental allergy, Expanded 140 target (IgE)
Complete Food & Respiratory Allergy Test, 295 Target (IgE)
The company recommends these tests for adults and children over two who are experiencing allergy symptoms.
COVID-19
4U Health offers a PCR test as well as two antibody testing options. The latter will detect immune status based on vaccination and past infection.
PCR saliva, active infection
Antibody with antibody score
Antibody comprehensive test
These tests are for individuals who want to know how of their body has a protective immune response.
Drug screens
These tests use the same methods required by employment, government regulations, and drug/custody courts. They include alcohol, amphetamines, cannabis, cocaine, opiates/opioids, MDMA, & more.
Saliva Drug Test, 54 target
Urine Drug Test, 78 target
Food sensitivity
Food sensitivity testing helps identify foods that may cause symptoms such as stomach discomfort, headaches, and tiredness. These tests look at beans, dairy, eggs, fruits, frains, meats, nuts/seeds, vegetables, and more.
Essential, 96 target (IgG)
Vegetarian, 198 target (IgG)
Comprehensive, 240 target (IgG)
These tests are for individuals with physical symptoms of a food sensitivity and are looking to eliminate certain foods from their diet that may be causing the discomfort. 4U Health recommends guidance from a physician before starting an elimination diet.
Medication response
These pharmacogenetic tests analyze up to 20 genes to determine how a patient will react to up to 224 medications. Customers can select from specific disease types or the comprehensive analysis, which includes medications for anti-cancer, cardiovascular, diabetes, gastrointestinal, infectious disease, pain management, psychiatry (ADHD/anxiety/bipolar disorder/depression/schizophrenia), rheumatology, transplantation, and urology.
Cardiac
Psychiatric
Pain
Comprehensive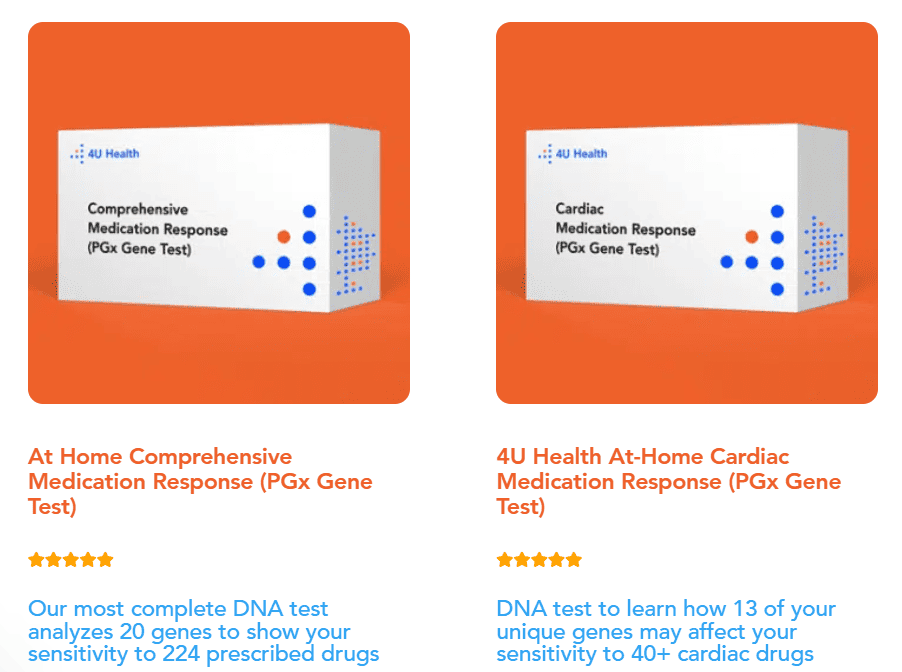 STD/STI
This product tests for the three most common infections in the United States. There are also several upgrades to test for other conditions.
Essential 3 STD/STI Test (Chlamydia, Gonorrhea, & Trich)
Wellness
These are other tests 4U Health offers.
Vitamin D
Environmental pollutants
Nutritional metabolism Test
Review of Taking a 4U Health Test
Customers order a 4U Health testing kit online with express delivery and receive it at their home in plain packaging for a confidential testing experience. Although customers do not need to see a doctor, a licensed physician orders the test from 4U Health. Then, customers simply collect their sample using either a blood, saliva, or urine and following the provided instructions. Finally, they return free of charge it to the lab using the prepaid envelope.

Typically, you will receive electronic results within 2-5 days after receipt by the lab. When necessary, 4U Health offers post-testing physician support to "maximize our laboratory services experience".
Review of 4U Health Cost
The testing cost depends on the type of product ordered. These tests are not covered by insurance.
Allergy: $149-$389
COVID-19: $119-$259
Drug screens: $124.95-$149
Food sensitivity: $149-$299
Medication response: $349-$399
STD/STI: $99
Wellness: $$44.50-$199
Review of a 4U Health Report
A 4U report depends on the type of test ordered. The company sends the report to the customer's email and they can access it on the device of their choice. Results are designed to be easy to understand.
Below, we show an example of some of the test reports.
Allergy
Based on a customer's IgE level, an allergen is rated on a Class scall from 0-5. A result of 0 means normal reactivity while 5 is very high. The stronger an IgE response to a particular target, the greater the likelihood and potential severity of an allergic reaction.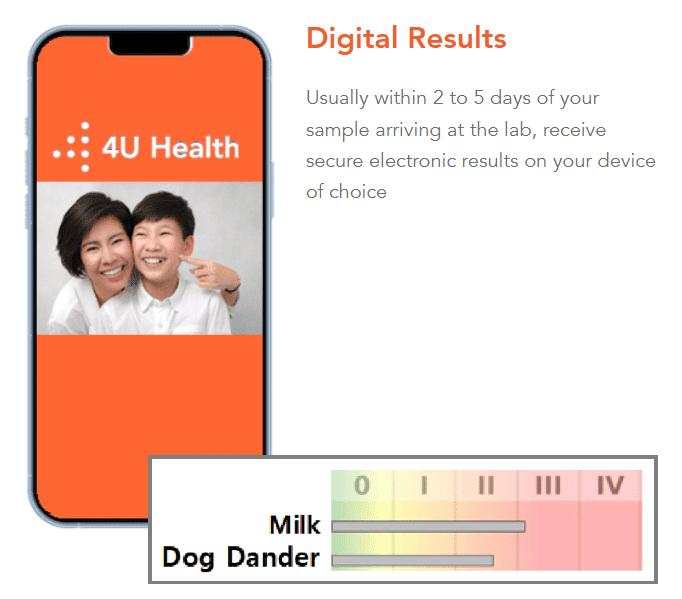 This test does not definitively diagnose an allergy. Only a doctor can provide the appropriate tests to make a diagnosis. However, this test is useful for patients looking for a place to start.
Medication response
The results will tell customers which medications are not ideally suited to their genetic profile. The medications may require dose adjustments, be less likely to work, or have an greater risk of side effects. Results divide the medications into three categories: Standard precautions (use as directed), Use with caution (moderate gene-drug interactions), and Consider alternatives (significant gene-drug interactions).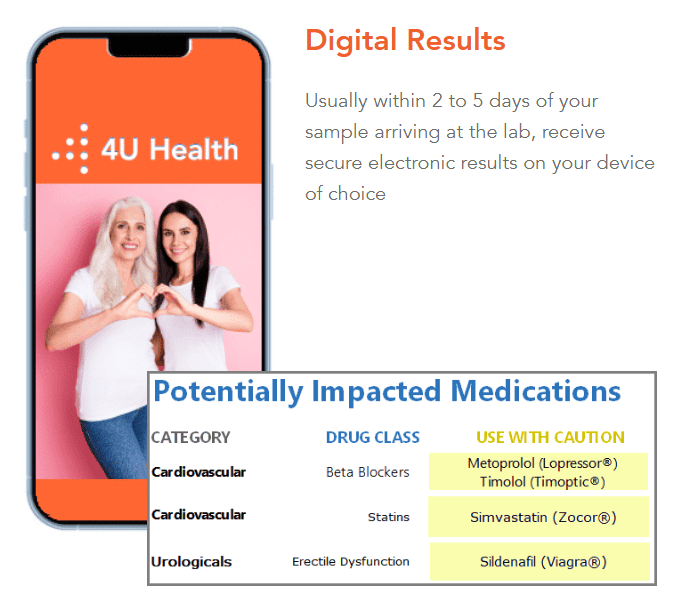 The goal of these tests is to reduce trial-and-error when choosing a medication. In other words, this information can help a patient's doctor prescribe the most effective medication at the right dose sooner.
Review of 4U Health Privacy Policy
4U Health collects personal information associated with a particular user including identifiers, name, address, and commercial information.
It uses this information for things such as providing the requested service, improving its offerings, and to sending marketing emails.
Aggregated information that does not identify an individual may be shared without restriction. It only shares identifying information to partners in case of a merger or sale of the company, with third-parties who provide the service, and with the customer's consent. It may also release information to law enforcement to comply with legal requests.
The company notes that it typically only keeps data as long as necessary to fulfill the business request, although it does not say how long that is. Results are protected in an online portal and protected by HIPAA security standards.
Other 4U Health Reviews
The company does not have customer reviews on third-party sites such as Trustpilot, or Amazon.
There are customer reviews associated with each product on the company's website. These are all five-star reviews. Most products only have 1-2 reviews from satisfied customers who note that the process was simple and effective.
There are no reviews for the drug screening tests.
Nebula Genomics
4U Health offers a variety of health lab tests, including those for allergies, food sensitivities, drug response, and more. They also provide easy to understand results from accredited laboratories, giving customers the confidence to consult with their doctors.
In contrast, Nebula Genomics is a genetic testing company that provides comprehensive genetic information based on the entire genome.
We believe the latest genetic technology offers the best advantage to users looking to improve their health. That's why Nebula provides a comprehensive test highlighting predispositions related to diet, fitness, disease, and much more.
With 30x Whole-Genome Sequencing, Nebula sequences 100% of your DNA to get to the root cause of every biological inclination. The test is incredibly accurate and includes other additions, including ancestry reporting and genome exploration tools. Regularly updated reports ensure that you will not miss the latest genetic research.
Nebula is not a diagnostic test, but the results are of the highest quality and can be used in consultation with health care professionals.
For only $299 or less, customers will get access to their entire genome, allowing them to continue to ask more questions as more research is conducted.
4U Health vs. Nebula Genomics
| | | |
| --- | --- | --- |
| | 4U Health | Nebula Genomics |
| Sample collection | Varies depending on the type of test. It can a blood, saliva, or urine sample | Saliva |
| Testing method | Lab tests | Sequences all 20,000 genes and regulatory regions |
| Results | Varies depending on the type of test | Genetic predispositions |
| Ancestry reporting | No | Performs deep ancestry reporting with the complete Y chromosome and mtDNA sequencing |
| Counseling | Yes | No, but data is of the highest quality and can be used by physicians and genetic counselors |
| Cost | $44.50 – $399 | $0, $99, $299 |
Did you like our 4U Health review? You can read more reviews on our blog and check out our complete guide to the best DNA test kit and other home tests.
You may also be interested in these other tests covering similar health aspects:
Food allergies and sensitivities
Pharmacogenetics
STI/STD