This review is written with the intent to be as unbiased as possible. However, it represents the opinion of an individual reviewer and is therefore subjective. Furthermore, at Nebula Genomics we seek to educate the public about the benefits of Whole Genome Sequencing. Information about our Whole Genome Sequencing DNA test is therefore incorporated into the review.
November 23, 2021
Edited by Christina Swords, PhD
November 23, 2021
7 Facts from our myDNA Review
Location: Melbourne, Victoria, Australia
Products: Personalized fitness, diet, and medication plans based on your DNA
Cost: $79 – $149. myDNA also has a premium membership subscription that gives you access to personalized fitness and diet recommendations.
Reports: Reports on your testing are ready 10 – 15 days after they are received by the lab. Medications go directly to a doctor's office while wellness testing results and recommendations can be accessed by the company's app
How it works: The myDNA testing kit gets mailed to you when you place the order. Fill in your details and take the cheek swab. When you are done, you mail the test kit back and wait for the genetic results of your test
Raw Data Access: no raw data access
Alternative Products: Nebula 30x Whole Genome Sequencing decodes all the information on your genome. Nebula reads more than six million positions on your genome to give you reliable results that can be used to provide medical consultations.
myDNA Introduction
myDNA was founded in 2007 by Leslie Sheffield, a clinical geneticist. Les Sheffield is the first clinical geneticist in Australia and he founded myDNA as a result of his passion to simplify the process and get rid of the need for guesswork when prescribing medications. myDNA's first product was the personalized medications test which enabled physicians to make accurate prescriptions with the help of a simple at-home cheek swab. The use of genetic information enabled physicians to make better decisions on the drugs to recommend to patients.
The company's clinical team has invested millions of dollars into interpretation of peer reviewed genetic research and advanced healthcare. This scientific research has enabled myDNA to achieve an accuracy of 99.9% in their tests. The tests are carried out in NATA-certified (National Association of Testing Authorities) laboratories to ensure that only the most accurate results are given. The results from the myDNA test are then used to develop personalized meal and workout plans.
Review of myDNA Medication Products
Due to various regional regulations, myDNA pharmacogenetic packages are only available in Canada, Australia, and New Zealand. They are not offered in the United States or the United Kingdom.
Personalized Medication (Multiple Categories)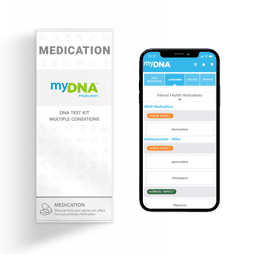 This test gives you recommendations based on the medications offered by myDNA. The report includes projections of how your body is likely to react to each medication. It also helps shed light on how your body will process them. The results of your test are used to give your doctor recommendations on how you should be treated.
Personalized Mental Health Medications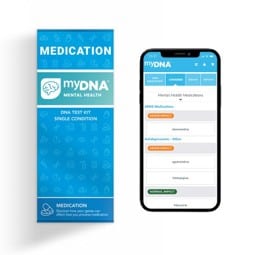 This test helps you determine side effects you may experience when you use a certain medication. This helps you choose medications based on which one will have the least serious side effects. The test also helps to give foresight on how your body treats a medication, allowing you to choose a drug that will give you maximum efficiency. All these are based on the results of your DNA testing, so you are sure you are getting the most personalized reports. This test kit includes different categories including antidepressants, ADHD, and antipsychotics.
Personalized Pain Medications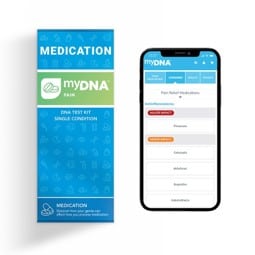 This test is to help you understand how your body reacts to pain medications. The contents of the report include the side effects your body may exhibit as well as how your body processes these medications. This enables your physician to make the best choice of medication for you. All these reports are generated based on the results of your DNA test. This test includes recommendations on antiinflammatory pain drugs and opioids.
Personalized Gastrointestinal Medications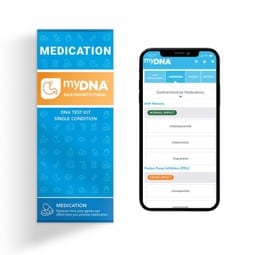 The gastrointestinal medications test kit helps your physician make the right choice of medication for you. With this test, your physician no longer needs to generalize and prescribe a medication for your gastrointestinal problems just based on gut feeling. The test allows your physician to select a medication for you that has the least serious side effects as well as the best efficiency. myDNA's understanding of genetics is used to compile a report on your body's reaction to different medications.
Personalized Cardiovascular Medications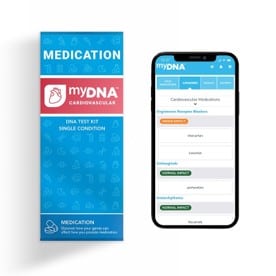 This genetic test helps you reduce the risk of side effects when taking medications for cardiovascular conditions. Your genes play an important role in how your body handles medications and it is therefore important that you understand the relationship between your genetics and your medication. This is to help your physician make tailor-made medication decisions for you.
It should be noted that all of the medication test reports will not be sent to you directly but through your physician.
Review of myDNA Personalized Wellness Test Kit
The personalized health and wellness test is available in Canada, Australia, New Zealand, the United States, the United Kingdom, and Indonesia.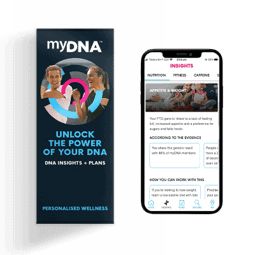 This test is an extremely comprehensive one that gives you more than 14 insights into your well-being with plans on how to lose weight. This product will also give you 30 days of free access to the myDNA premium membership plan. This membership plan includes meal recommendations complete with recipes in addition to workout plans that are customized to suit your DNA and help you reach your weight management goals. You get insights into your fat storage, your appetite, your caffeine metabolism, and many more. All of the insights and personalized plans are sent to your myDNA smartphone app which enables you to monitor your progress on the go.
Taking a myDNA Genetics Test
Taking the myDNA genetics test is very simple. Once you order and receive the test kit, you fill in the label provided in the test kit. Next, you navigate to the myDNA website to input the barcode number for your test kit along with all your details. Once you are done with this, take a swab of your inner cheek and send the test kit back to the company in the pre paid envelope.

Review of myDNA Cost
The cost for a myDNA test kit must be covered by the patient. myDNA is however partnered with Afterpay to allow patients to pay for their test kits in installments.
Each test kit costs $99 each while the kit for multiple categories for the personalized medication kit costs $149. The Personalized Wellness test kit includes Nutrition, Fitness, Caffeine & B Vitamins, as well as 30 days free premium membership. Additional insights can be unlocked through the premium memberships.
The subscription plan for the personalized wellness app which gives additional DNA-based health and fitness recommendations can be paid for monthly or quarterly. The monthly subscription costs $12.95 per month while the quarterly subscription costs $23.85 per 3 months which is equivalent to $7.95 monthly.
Review of myDNA Reports
Due to Therapeutic Goods Association (TGA) regulations, your report for a myDNA medications test is sent to your physician who then makes them available to you. On the other hand, the results of your myDNA wellness analysis are sent directly to you. You can also access them via the myDNA mobile app. You also get your meal and fitness recommendations via the app.
The meal plans are tailored for you based on the results of your genetic makeup as well as other factors like your age, gender, and desire to lose or maintain weight. Besides meal recommendations, the app also gives you access to recipes and you can even generate a shopping list to help with your shopping.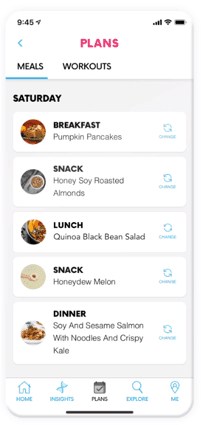 The fitness plans are also based on the results of your DNA test as well as your current level of fitness and your fitness goals. You have access to a workout routine that includes video information on how each workout should be done.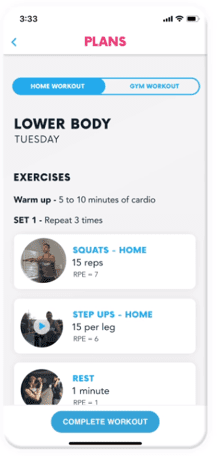 Review of myDNA Privacy
myDNA claims to keep your test samples and data private and secure. You are also able to request that they be destroyed at any point in time. myDNA claims that none of your reports gets shared without your consent. The analysis and compilation of results are also done anonymously and therefore they are unable to be linked to you. myDNA gives you control over how your data is managed. This means you can choose who your data can be shared with outside of the myDNA service. myDNA claims not to sell any of your data or share it with any public service. They also claim that they will not share any of your data with any law enforcement agents unless they are compelled to do so by a court subpoena or warrant.
Other myDNA Reviews
myDNA has 90 reviews on Trustpilot and an overall score of 4.2 stars out of 5. Most of the myDNA reviews on Trustpilot are excellent.
One of the good reviews describes the product as a "Very insightful app that allows you to focus your food and training plans to deliver quicker results based on your genetics. Results in less hit and miss experimentation with your food and fitness, instead insuring the time you spend making a difference and not wasting time."
There are however some negative reviews that state that they did not receive the test kit even after waiting for several weeks and making several complaints.
Pros and Cons of myDNA Testing
Pros
The process of sample collection is extremely easy, requiring only a cheek swab
One month free premium membership to personalized wellness recommendations when you purchase a test kit
Diet recommendations include recipes and meal serving sizes
Cons
The test kit cannot be shipped to all countries of the world
Test results will take a long time to be received if you stay outside Australia as the test kit has to be shipped back to Australia for testing
Nebula Genomics
Nebula Genomics conducts the most advanced whole genome sequencing tests, using 30x gene whole-genome sequencing to read 100% of your DNA. This, combined with Nebula's huge research library resources, helps you to get reports that are more detailed than other DNA testing companies that only decode 0.02% of the genome. Nebula was founded by a professor of genetics at both Havard and MIT with the vision of making whole-genome sequencing available at a price that everyone would be able to afford.
Nebula provides customers with regularly updated reports on the results of their DNA tests. Unlike other genetic companies that have individual test kits for different diseases, Nebula Genomics offers you all of the information that can be derived from your genes in one package. This package also includes information on your ancestry. This means that a Nebula whole genome testing is the only one you will ever need to do.
Nebula gives customers access to their raw data. Our service can be used to access the raw data and gain additional insight into their DNA based on the most recent genetic discoveries. Nebula also has a research library with curated information on the latest research on human genetics. This can help shed more light on how genetics relates to you as an individual.
We also provide tools with which you can explore your DNA. The gene analysis tool helps you identify mutations and variations of genes that pique your interest. You can use the variant search tool to examine your genome and explore any variant you are interested in, especially as new research reveals new insights. The genome browser tool gives you access to your full sequencing data.
| | | |
| --- | --- | --- |
| | myDNA | Nebula Genomics |
| Sample collection | Cheek swab | Saliva |
| DNA testing method | 99% accurate open-array technology | Whole Genome Sequencing (30x coverage) |
| Ancestry testing | No | Deep ancestry reporting with full Y chromosome and mtDNA sequencing |
| Raw DNA download | No | Yes (FASTQ, BAM, and VCF files) |
| Compatible with other services | No | Yes |
| Report | A report provided at the end of testing along with wellness recommendations via the myDNA mobile app | Weekly genetic reports based on the latest research and data (learn more) |
myDNA vs Nebula Genomics
Did you like our myDNA review? You can read more reviews on our blog and check out our complete guide to the best DNA test kit and other home tests.
You may also be interested in these other companies that offer precision medication products:
Or you can find health and fitness tests at: