7 Facts from our Cue Health Review
Location: San Diego, California, United States
Products: Cue Readers, COVID-19 tests, and Cue test bundles; Cue+ subscription
Cost: $156 -$679 for products as members; $20/month for Cue+
Reports: Test results are made available on the user's phone within 20 minutes
How it works: Customers create their accounts and buy their COVID-19 test reader. PCR-quality results become available on a mobile device in less than an hour
Counseling available: Yes
Other Products: Nebula Genomics offers 30X Whole Genome Sequencing that decodes 100% of your DNA and offers reports on diet and much more!
This review is written with the intent to be as unbiased as possible. However, it represents the opinion of an individual reviewer and is therefore subjective. Furthermore, at Nebula Genomics we seek to educate the public about the benefits of Whole Genome Sequencing. Information about our Whole Genome Sequencing DNA test is therefore incorporated into the review.
November 8, 2022
Pros and Cons
Pros
Easy to use
Fast and highly accurate results in under 20 minutes
Access to a physician and prescriptions
It can be used with children 2 years and older
Portable and compatible with traveling
Cons
The device and cartridges can be expensive
Introduction
Cue Health is a diagnostic company that now focuses on molecular tests for COVID-19 in the form of portable kits for at-home use. The main healthcare technology products are individual COVID tests and a rechargeable Cue® reader to interpret the tests. Unlike rapid tests, this product uses molecular testing that is 97.8% accurate compared to PCR tests based on an independent study performed by Mayo Clinic.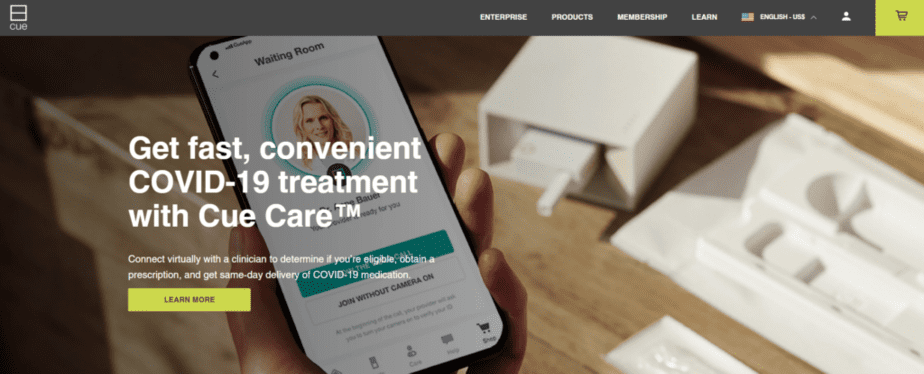 With Cue Care™, customers can get product discounts as well as same-day consultation and antiviral treatment delivery. There is also the option to subscribe to Cue+ to purchase discounted products.
The company is located in San Diego, California. Clint Sever and Ayub Khatta founded it in 2010.
Ayub Khattak is the current CEO of the company. He is in charge of managing the affairs of the company's innovations to enhance quality health provision. Clint Sever is the chief product officer. He ensures that products are well-designed to offer premium results to people.
The Science Behind Cue Health
Cue Health offers users the opportunity to get their COVID-19 tests and have the results delivered on the same day. There is no need for users to visit a lab as they can perform the test themselves. It is the first molecular test authorized by the FDA under an Emergency Use Authorization for at-home, over-the-counter use, without a prescription.
The company states that its COVID-19 test is a nucleic acid amplification test (NAAT) that detects whether or not nucleic acid from the SARS-COV-2 virus is in a sample. It can detect very small amounts of the virus, even if you are not experiencing symptoms. This test does not detect nucleic acid from any other virus or pathogen.
Due to its technology and innovative test, the firm claims that its COVID-19 test offers up to 97.8%. The company also states their technology can detect even the BA.4 and BA.5 variants. It has plans to increase its COVID-19 test technology with more research to serve customers better.
Review of Cue Health Products
The test detects the major variants and sub-variants of concern. These include Delta, Omicron, and BA.5. It is also more accurate than antigen tests, providing COVID-19 results that match with results from the Central Lab with 97.8% accuracy. This is one of the first of its kind for over the counter (OTC) testing.
The Cue Health reader and test kits are sold separately.
Cue® Reader
The Cue Reader is a portable and compatible device that can process results automatically from Cue tests. Customers can purchase this device separately or as a bundle with packs of COVID-19 tests. It has not been approved but has been authorized by the US Food and Drug Administration for use outside of a lab, without a prescription or physician supervision.
It has an automated processor that reads tests and sends the results to the Cue Health App. The test doesn't require a liquid sample, and so there is no mixing of fluids during the process.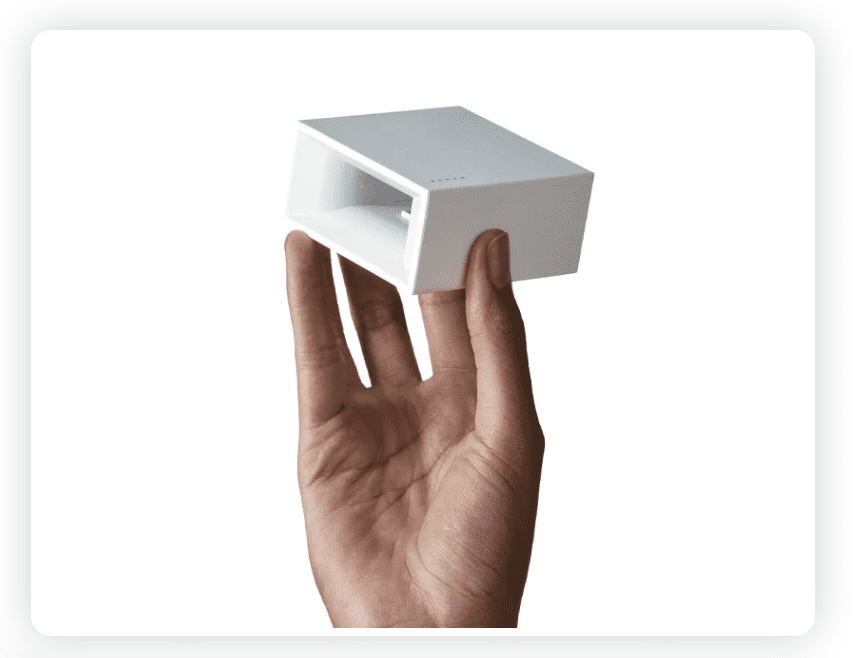 Each Cue Reader processes one test at a time but users can connect up to 5 readers to the Health App. This is useful for testing multiple household members at the same time. The company plans to make all their future COVID-19 tests compatible with this device.
It also highlights that since the Cue Reader is portable and the tests currently meet requirements for most airlines, customers can take it with them during travel.
COVID-19 Tests
The COVID-19 tests are designed for the detection of nucleic acid through Nucleic Acid Amplification Tests (NAAT). This product detects genetic material from the SARS-CoV-2 virus. It is a sensitive test that can detect a small amount of virus, even if users are not having symptoms.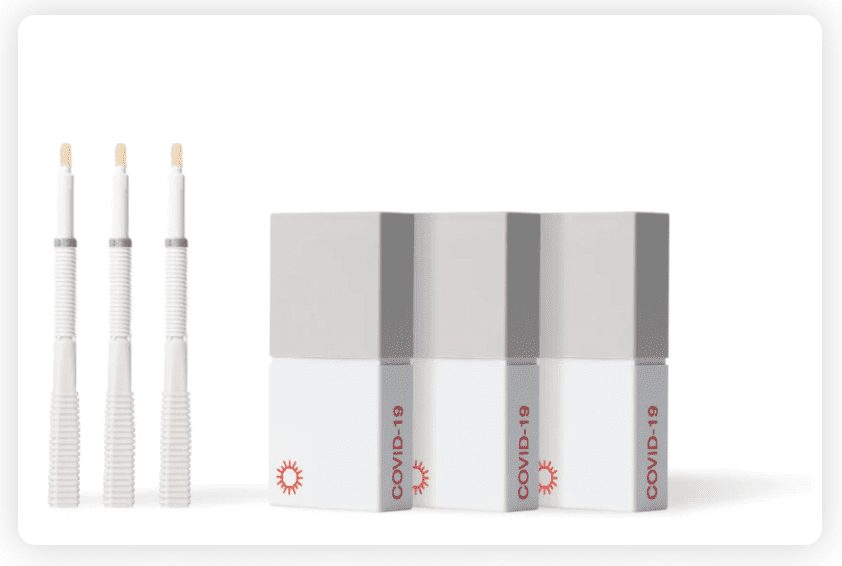 Users must use the tests in combination with the Cue Reader. They can purchase this device separately or with COVID-19 tests as a bundle.
This product provides results quickly to users, in about 20 minutes, right to their mobile devices.
Cue Care™
Cue Care offerings use the Cue Health app to provide COVID-19 prescription treatments to users over the age of 18, typically delivered the same day. The entire process should take less than 30 minutes.
Users will upload their positive COVID-19 test (if using a Cue test, the results will already be on the app) and select their desired pharmacy and delivery location.
Next, users must join a virtual consultation with a qualified clinician who will discuss your symptoms, medical history, and treatment options. If the health care professional determines medication is beneficial, they will send a prescription to your pharmacy.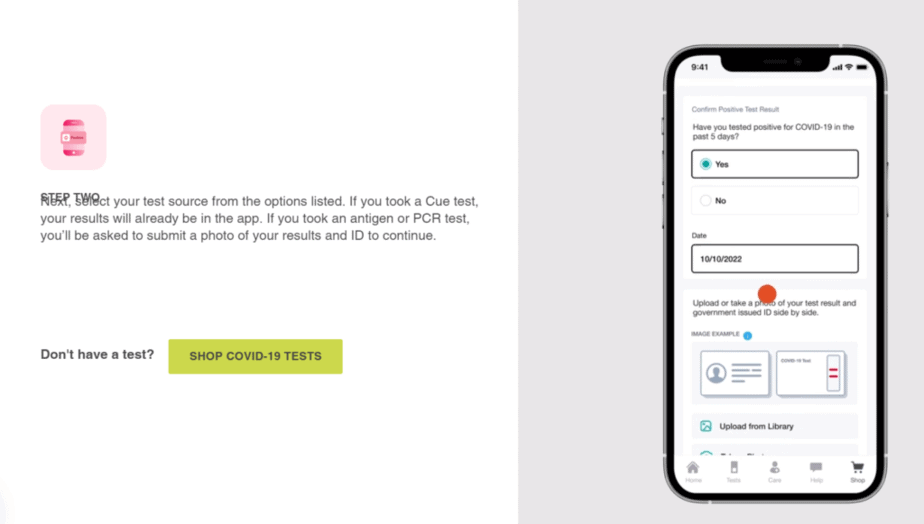 Treatments may include antiviral medications, such as ‍Paxlovid and Lagevrio, available by prescription through Emergency Use Authorization (EUA) from the Food and Drug Administration (FDA). Customer can get same-day delivery on orders placed before 4 pm on weekdays and 12 pm on weekends, not including federal holidays.
This service is available in all 50 states.
Review on Taking Cue Health Test
The Cue Health COVID-19 test is fast, easy, and can be taken at home. Results are available within 20 minutes on a mobile device.
First, users insert the cartridge into the Reader. Then, they use the nasal swab to collect a sample from the lower part of each nostril. They insert the wand in the cartridge and wait for results transmitted to the mobile app.

Review of Cue Health Cost
The cost of a Cue Health test may seem expensive at first. It's important to remember that the device is ideally reusable for as long as needed. That is, customers should not need to buy a second reader unless their first one breaks.
The customers would need to replace the COVID-19 tests as desired. These tests tend to be more expensive, most likely because they are comparable to the rigorous PCR tests.
By subscribing to Cue+ ($20/month), customers save 20% on the products. The costs listed below are non-member/member pricing.
Cue Reader: $199/$159.20
COVID-19 Tests (3 pack): $195/$156
COVID-19 Tests (10 pack): $650/$520
3 COVID-19 tests & Cue Reader: $394/$315.20
10 COVID-19 tests & Cue Reader: $849/$679
Same-day COVID-19 consultation and treatment through Cue Care costs $99 for non-members and $79 for members per session.
Health insurance may cover the cost of COVID-19 tests but it's important for the customer to check with their insurance company. If prescribed, insurance covers most COVID-19 antiviral medications. Customers can purchase Cue products with HSA/FSA accounts.
Review of Cue Health Report
Cue Health Report is very straightforward, just like most Covid-19 Test companies. After performing the tests, users wait for 20 minutes to see if they are either positive or negative for the virus. They only need to download the cue health app and check their results after logging into their account.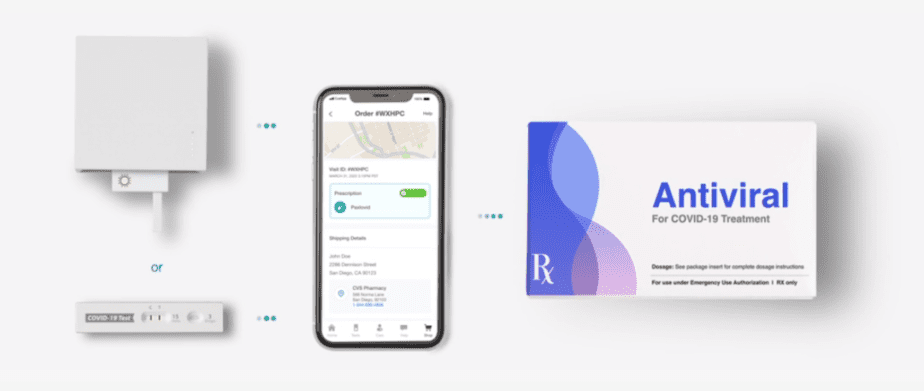 The result will be boldly highlighted. Patients can take the next step that is relevant to ensuring good health.
Review of Cue Health Privacy Policy
Cue Health Inc. collects personal information through the user's account information including the user's name, email address, birth date, state, and zip code.
User's Cue test results: The information collected includes the date and time a user took the test, run time data, cartridge serial number, and other information that can enhance the services of the company.
The company uses industry-standard physical, technical, and administrative security measures in compliance with HIPAA to protect users' personal health information.
The mobile App and websites of the company have external links to third parties that they do not own. They are not responsible for the privacy policies of such sites.
Other Cue Health Reviews
While there are some testimonials on the company's website, product reviews are generally not available online. This could have to do with the products being purchased more by companies rather than individuals.
Apple's app store has some reviews based on the app needed to obtain results and prescriptions. It has a 4.9 star rating with almost 15,000 reviews. Most customers thought the product was easy to use and provided the correct results. Some mention that they were comfortable with the higher price since it is a PCR tests that catches even asymptomatic cases.
Cue Health in the News
On its website, Cue Health states that it is trusted by several major organizations including Netflix, the MLB, NMA, and WNBA.
It has also been featured in other outlets such as Newsweek and Women's Health, usually in relation to lists of home COVID tests.
An article published in August 2022 states that the company has begun scaling back on Cue COVID-19 tests to focus on future point-of-care tests. The company plans to add tests for flu, respiratory syncytial virus, and certain sexually transmitted infections to the platform. These additional offers may require regulatory authorization before commercialization.
Nebula Genomics
Cue Health appears to be a reliable testing company for the coronavirus. Customers prepping for their health may also be interested in information on other diseases or their genetics.
In this way, Nebula Genomics offers deep genetic testing for both disease discovery and other possible information like ancestry.
We sell a comprehensive genetic test that highlights predispositions related to diet, fitness, disease, and much more. With 30x Whole-Genome Sequencing, Nebula sequences 100% of your DNA to get to the root cause of every biological inclination. The test is incredibly accurate and comes with other additions, including ancestry reporting and genome exploration tools. Regularly updated reports ensure that you will not miss the latest genetic research.
For only $299 or less, customers will get access to their entire genome, allowing them to continue to ask more questions as more research is conducted.
Did you like our Cue Health review? You can read more reviews on our blog and check out our complete guide to the best DNA test kit and other home tests.
Lucira Health produces a similar PCR quality test for at home use.
There are several companies that currently offer COVID-19 tests in 2022: