This review is written with the intent to be as unbiased as possible. However, it represents the opinion of an individual reviewer and is therefore subjective. Furthermore, at Nebula Genomics we seek to educate the public about the benefits of Whole Genome Sequencing. Information about our Whole Genome Sequencing DNA test is therefore incorporated into the review.
December 27, 2021
7 Facts from our Helix DNA Review
Location: California, USA
Products: DNA testing based on whole exome sequencing; a marketplace for DNA analysis apps
Reports: apps for disease risk and carrier status reporting (with result review by physicians); apps for ancestry, fitness, and diet recommendations
Result delivery: reporting is provided through the individual apps in the Helix marketplace
Raw data access: Helix DNA charges an additional $499 for access to raw DNA data (VCF file)
Cost: $190 for DNA sequencing and first app; other apps available for free after initial test
Helix DNA Introduction
Helix DNA is a genetic testing and population genomics company and was previously a marketplace for deoxyribonucleic acid (DNA) analysis apps. It first launched in 2015 with a "sequence once, query often" philosophy. With the Helix model, users submit DNA for sequencing once and have a variety of apps to choose for analysis. The apps analyze your genome for everything from ancestry to heart health. Since 2020, the company has scaled back DNA testing and has refocused its efforts and resources to large scale COVID-19 testing.
Notably, Helix offers health DNA testing in collaboration with Mayo Clinic, whose hospitals consistently rank among the best in the company. It also partners with major population health initiatives, like the Healthy Nevada Project.
Review of Helix DNA Sequencing
The advantage of the app store model is that Helix sequences your DNA only once. Your genome is then analyzed by any of the apps on the Helix platform and results are provided based on your DNA. That means users don't have to wait weeks for DNA sequencing for each new test.
Previously, Helix DNA provided a test called Exome+. This test kit was a whole-exome sequencing test, which additionally decodes some non-coding genomic areas of interest and mitochondrial DNA. Mutations that cause diseases are mostly found in the exome, the part of the human genome that codes for proteins. While this test is no longer available for individual purchase, organizations interested in using the assay for a project can contact the company for more details.
Review of Helix DNA Products
True to its promise to be a hub for DNA analysis apps, the Helix DNA testing store offers the following options available after purchasing a testing kit. The listed prices include the Helix DNA test cost of the initial testing. Additional apps can be purchased at a reduced price. Since the shift to COVID-19 testing, only the Helix DNA products remain available.

| | | | |
| --- | --- | --- | --- |
| App | Price | Company | Description |
| GoalGetter | $190 | Inside Tracker | DNA-based nutrition advice (e.g. lactose intolerance) |
| MyTraits Ancestry | Free for current users | Helix | Basic ancestry reporting provided by Helix directly |
| Helix Wellness | Free for current users | Helix | Focuses on traits affecting nutrition, fitness, and weight |
| Women's Wellness | Free for current users | Helix | Focuses on 20 conditions that commonly affect women |
| Mayo Clinic Gene Guide (no longer available) | $199 | Mayo Clinic | Analyzes genes associated with 15 common conditions |
| GenePrism Actionable Insights (no longer available) | $299 | PerkinElmer Genomics | Checks for 59 genes associated with "medically actionable conditions" |
| CarrierCheck (no longer available) | $250 | Sema4 | Checks for 67 inherited conditions |
| Prostate Cancer Genetic Risk Score (no longer available) | $199 | NorthShore University HealthSystem | Determines your genetic risk score for prostate cancer |
| My Traits Sport (no longer available) | $145 | Intelliseq | For people who want to know how their genes affect their workouts |
| Diet GENius (no longer available) | $145 | Re:Point | Weight loss help |
| Heart Start (no longer available) | $239 | WellnessFX | Heart health information |
| Genetic Counselors (no longer available) | $75 | Genome Medical | Genetic counseling sessions up to 30 minutes |
DNA analysis options
Review of Helix DNA Reports
Review of GoalGetter by InsideTracker
As of December 2021, this is the only DNA test available for purchase on the Helix website. It analyzes your DNA to provide a personalized action plan to help customers reach their health goals.
This product analyzes aspects of well-being including weight, sleep, aging, performance, and food sensitivities. Using these results, the platform will recommend a fitness strategy and insights into how to fine tune diets. The personalized action plan also takes into account personal preferences and habits.
To purchase this product, a customer will order a DNA kit that is sent to their home, register the DNA kit with the online platform, provide a saliva sample, and mail the kit back using the prepaid envelope provided. The customer will receive an email when the results are ready to be viewed online.

It's important to remember that this product does not provide medical advice and that results are based on population-wide studies. What is true at a population level may not be the same at an individual level.
Results can be obtained by logging into the GoalGetter online platform or printing an included PDF.
Review of Helix DNA Ancestry
This ancestry analysis is available for free after being sequenced by Helix. As of December 2021, the only DNA test available through Helix is the GoalGetter InsideTracker. The ancestry analysis breaks down your ancestry into 26 regional groups by percentage.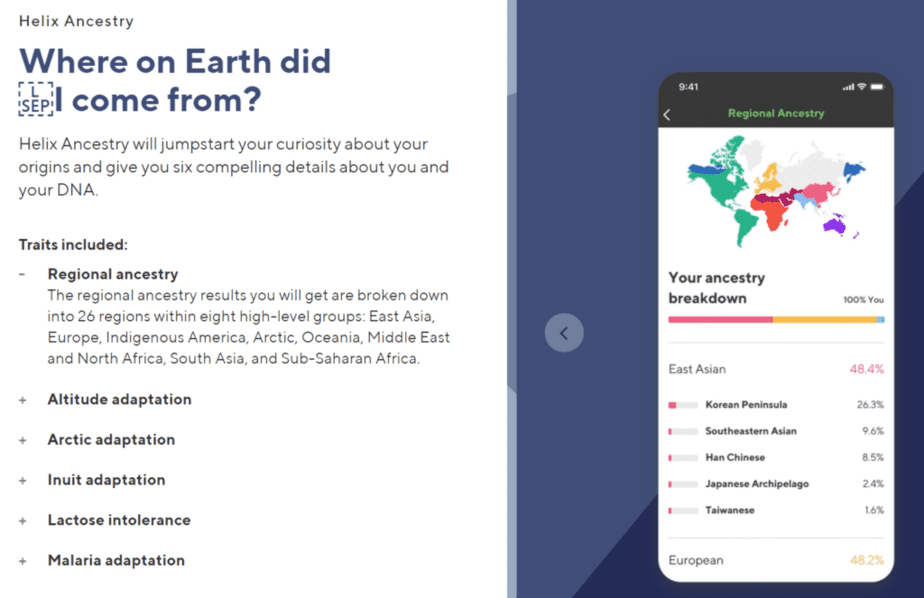 The report also provides insight into specific adaptations that might have a genetic cause. For instance, it checks for a genetic variant found in people in Tibet that is believed to help them live in high altitudes.

It's important to note this is a very basic ancestry report. It will not give you information about surname origins or haplogroups or connect you to long-lost relatives.
Review of Helix DNA Wellness
This wellness analysis is available for free after being sequenced by Helix. As of December 2021, the only DNA test available through Helix is the GoalGetter InsideTracker. The wellness product provides users with a basic introduction of how genes influence wellness indicators such as weight, nutrient levels, and fitness.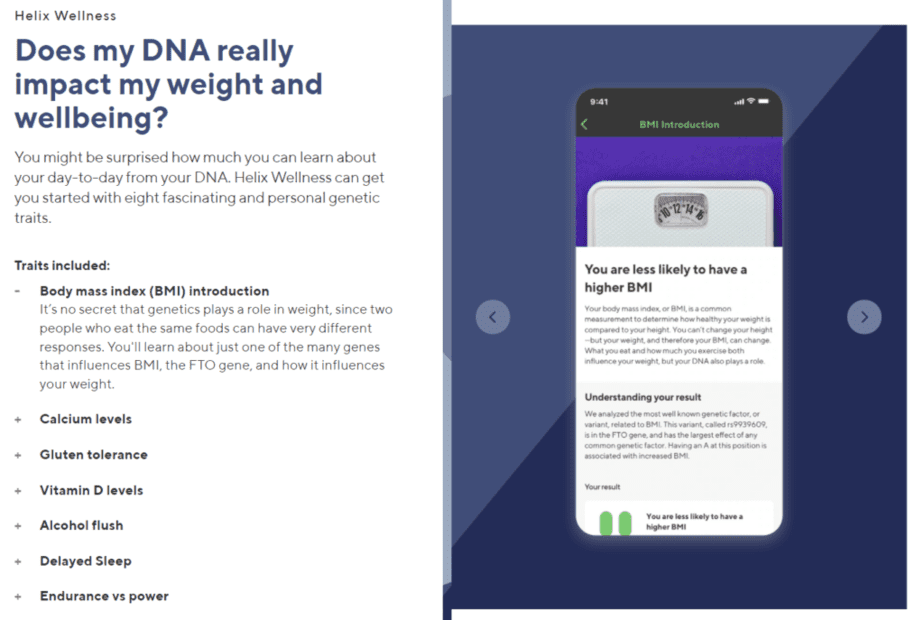 Traits analyzed with this health testing product include body mass index (BMI), calcium levels, gluten intolerance, vitamin D levels, alcohol flush, delayed sleep, and endurance vs power.
Review of Women's Wellness
This women's wellness analysis is available for free after being sequenced by Helix. As of December 2021, the only DNA test available through Helix is the GoalGetter InsideTracker. It includes over 20 traits that help analyze how DNA can play a role in well-being.
This analysis is divided into three categories: body and skin, nutrition, and sleep.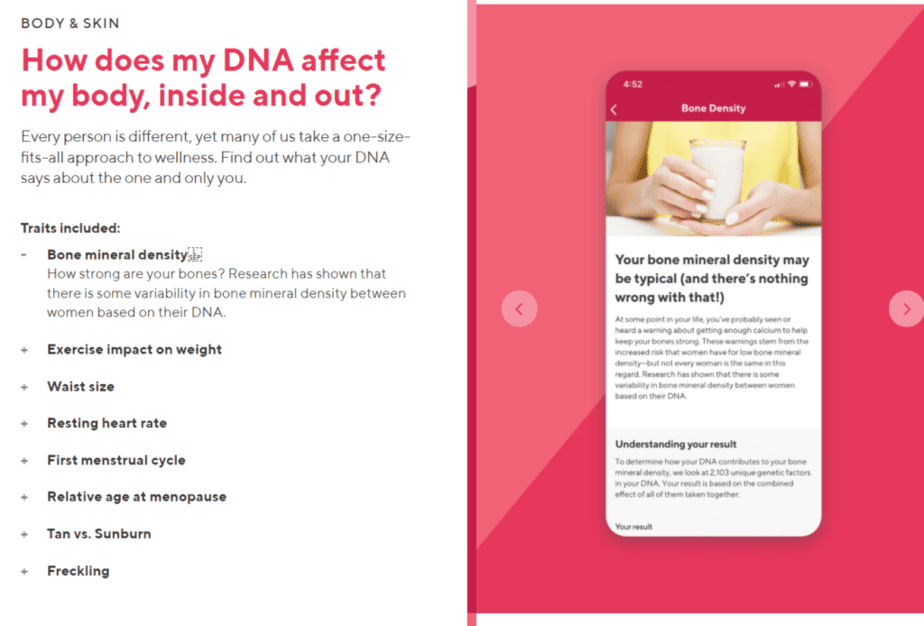 Body & Skin
Bone mineral density
Exercise impact on weight
Waist size
Resting heart rate
First menstrual cycle
Relative age at menopause
Tan vs sunburn
Freckling
Nutrition
Omega-3 levels
Caffeine metabolism
Vitamin B12 levels
Magnesium levels
Impact of saturated fat
HDL levels
Iron levels
Low-fat diet impact
Mediterranean diet impact
Sleep
Sleepiness
Circadian rhythm
Sleep duration
COVID-19 testing
Helix has pivoted it's focus away from DNA testing to large scale COVID-19 testing using its CLIA-certified, CAP-accredited facility that had previously been used for genomic testing. These labs can process 100,000 tests per day.
The company currently supports tests with next-day turnaround time for health systems, employers, governments, and other organizations. It does not sell Helix tests to individuals. Each test costs $150 and the company works with partners to support insurance billing and reimbursement.
The Helix COVID-19 Test is a real-time RT-PCR test that received Emergency Use Authorization from the FDA in July of 2020. It is a nasal swab test that detects nucleic acid from the SARS-CoV-2 in upper respiratory specimens. Samples can be collected in either a supervised or unsupervised environment, allowing flexibility for when a health care professional needs to be on site.
Helix DNA Test National Geographic
For three years, Helix partnered with National Geographic on a 'genographic project' to provide more comprehensive ancestry tests. The Helix DNA National Geographic DNA test kit provided a collection kit for a saliva sample, which the customer returned to Helix. Once the customer's genome was sequenced, Helix transferred the genetic information to National Geographic, which provided deep ancestry insights. Known as Geno 2.0, the DNA testing kit was discontinued in 2019.
DNA Data Access
Access to raw DNA data generated by the Helix whole exome sequencing cost an additional $499. For this price, only a VCF file was delivered. BAM and FASTQ files were not provided.
The company currently does not offer access to raw DNA data since it no longer performs its own DNA testing.
Review of Helix DNA Privacy
While your DNA data is analyzed by partner companies, Helix collects and processes your saliva sample, and stores the genetic data. Helix states in its privacy policy, "We believe your genetic information belongs to you.". However, the practice of charging $499 for raw DNA data access appears to contradict this statement.
Helix won't share your information without explicit consent. When it receives requests from law enforcement, Helix evaluates them on a case-by-case basis. Helix also promises to always notify you unless legally prohibited.
Helix allows customers to close accounts, but it won't remove your information from ongoing or completed research studies. If your data is in use by a research study or an app, you must contact them individually.
Helix DNA in the News
Helix's evolution has been covered multiple times by Business Insider. The outlet reported on the company's initial 2015 launch. In 2018, it wrote an in-depth piece after Helix pivoted away from providing analysis itself and towards building a marketplace for DNA apps.
This piece in a lesser-known publication examines AdventHealth's partnership with Helix.
Helix is also mentioned in this article in Time about what you can, and can't, learn from your DNA.
Helix DNA Reviews
No longer offered, the Mayo Clinic GeneGuide test has three stars on dnatestingchoice.com. The reviews of the Helix DNA Discovery test kit, which is also no longer offered, averages 3.1 stars on Amazon. The company's website lists several positive Helix DNA reviews from customers.
Helix's mentions on Twitter mostly revolve around the company's involvement in research projects on population genomics. The comments are predominantly positive.
Pros and Cons
Pros
Very affordable whole exome sequencing
Numerous apps available in the marketplace
DNA analysis app from Mayo Clinic
Genetic counseling included/available
Cons
Limited genealogy reporting
Multiple companies involved increase privacy risks
Access to DNA data (VCF) costs $499
Helix has pivoted away from direct-to-consumer genetic testing. Future support for its products and services appears uncertain
Nebula Genomics
At Nebula Genomics, your privacy is central. We utilize blockchain and privacy-preserving computing technologies to ensure that your information stays safe and secure.
With our expanded report, Nebula Genomics offers free genetic analysis for users who already have raw DNA data from AncestryDNA or 23andMe. In addition, users who upload their DNA data will get personalized reports based on the latest genetic research through the Nebula Research Library.
For users who want to know more, our 30x Whole-Genome Sequencing is more robust than the whole exome sequencing previously offered by Helix. Exome+ decodes about 19,000 genes, 300,000 non-coding SNPs, and the mitochondrial genome. In contrast, our full genome sequencing reads out over 6,000,000,000 positions in your genome. That is, 100% of your DNA.
We conclude our Helix DNA review with a comparison between Helix and other DNA testing companies.
| | | | | |
| --- | --- | --- | --- | --- |
| | Helix | 23andMe | AncestryDNA | Nebula Genomics |
| Type of DNA analysis | DNA microarray (genotyping) | DNA microarray (genotyping) | DNA microarray (genotyping) | 30x Whole Genome Sequencing |
| Privacy-focused | No | No | No | Yes (learn more) |
| Free data upload options | No | No | No | Yes; Imputation provides expanded report |
| Free updates based on new research | No | No | No | Regular updates (learn more) |
| Ancestry reporting | Basic | Yes | Yes | Deep ancestry reporting with full Y chromosome and mtDNA sequencing |
| Cost | $0-$190 for the test plus the first app | $99 or $199 | $99 or $119 | $0, $99, $299 |
If you are interested in genetic testing that will help you achieve your health and fitness goals, there are a lot of products to choose from. You can learn more about your options on our website including:
Other DNA testing companies now offering COVID-19 tests include:
There are a lot of great supplement companies out there that may help you lose weight and get healthy (you can read about many of them on our blog!) But be careful! There are also dangerous experimental drugs out there like SR9009 and RAD 140 that are not approved for human consumption.
Did you like our Helix DNA review? You can find more reviews on our site as well as our complete guide to the best DNA test kit and other home tests.