This review is written with the intent to be as unbiased as possible. However, it represents the opinion of an individual reviewer and is therefore subjective. Furthermore, at Nebula Genomics we seek to educate the public about the benefits of Whole Genome Sequencing. Information about our Whole Genome Sequencing DNA test is therefore incorporated into the review.
This product no longer exists. The information in this article is for historical purposes only.
October 25, 2021
7 Facts of Project Screen
Project Screen Location: United Kingdom
Products: The company offers a vast range of COVID-19 testing products for inbound and outbound travelers
Ordering: Patients can order an at-home test kit by providing a swab from the mouth or nose. Patients can also get a traditional test by visiting the Parent company Prenetics for testing
Consultation: While all information is usually available on the company website, patients can also chat with health personnel and have their blood drawn at a lab
Data availability: Data download is not available for most tests
Costs: £22-£134 ($30-$185)
Project Screen Introduction
Formerly a DNA testing company, Project Screen has evolved into a COVID-19 testing firm that offers all types of SARS-CoV-2 testing solutions for travelers in line with the demands of the UK Government. The company offers tests to UK citizens as well as a global market via their inbound and outbound traveling solutions.
The company launched in 2020 and is a subsidiary of the larger Incorporation Prenetics, also based in the United Kingdom. Prenetics is an all-encompassing testing firm that offers DNA testing and a range of other products, including DNAfit, CircleDNA, and OxLAMP. Through Project Screen, the corporate body also included COVID-19 testing in its portfolio.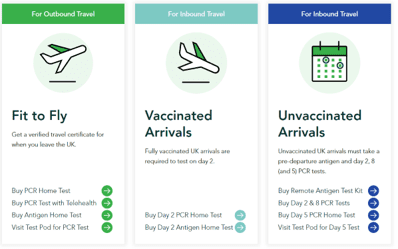 Project Screen generally operates in the UK and has been listed by the UK government as a reputable and reliable organization for COVID-19 testing. The test kits and test result usually depends on the type of tests demanded by patients.
As an example of its reputability, the company works with many global associations based in the UK to perform mass testing. These firms include the English Premier League, Soccer AID, The London School of Economics and Political Science (LSE), the ECB, and IBM.
Review of the Science Behind Project Screen
Project Screen has stated that the science behind their testing is to provide the best testing solutions for patients and organizations to ensure that they get the best treatments (if need be) for COVID-19. The company offers a step-by-step process that provides clients with in-depth, accurate, and valuable health information.
Regardless of COVID-19, the company also states that its mission is to make complex science accessible via a range of innovative self-collection test kits. Currently, the firm is a global leader in providing COVID-19 test solutions, and this was made possible due to it taking advantage of its laboratory network, scientific expertise, and digital systems.
The firm's science is reached and implemented by offering services in two major categories.
RT-PCR: The gold standard in COVID-19 testing
RT-PCR is globally recognized as the leading COVID-19 testing method to detect viral RNA of SARS-CoV-2, and Project Screen has used it to provide impeccable testing solutions and related services to clients. With this test, patients can get to receive tests right from their homes with at-home test kits and comply with UK travel mandates.
PCR tests amplify small amounts of genetic material from the sample and replicate it until the genetic blueprint of SARS-CoV-2 is detectable if present. This test is both accurate and reliable. It is often used to confirm an individual's status if a rapid antibody test is negative.
OxLAMP: Rapid screening for COVID-19
The OxLAMP testing is a point of care, swab-based protocol for the detection of the SARS-CoV-2 virus. This test was developed by scientists at the University of Oxford and they make the claim that it is both rapid and accurate. OxLAMP makes it possible for companies to perform tests right from Project Screen sites, and results are given in a matter of hours.
As expected, the laboratories are based in the United Kingdom and as such most tests are performed there. The company also has a relationship with other internationally accredited laboratories. All Project Screen partners are UKAS accredited or UKAS applicants and DHSC validated.
Review of Project Screen
Project Screen started as a DNA testing company that made complex science accessible via a range of innovative DNA and blood self-collection test kits. However, following the COVID-19 outbreak and the subsequent spread in 2020, they introduced their coronavirus testing arm and quickly earned a UK Listing as a reliable testing company.
They offer a range of testing solutions, and this section will review these solutions, the product offered by this firm, the cost of the products, and the reports/results of the firm.
Genetics offer three major products, including the types of test that they perform and other health additions.
The PCR test is the major product of Project Screen. They also have antigen tests for travelers who do not require the more expensive PCR tests. The company also provides an online platform for users to get their results as soon as possible. Positive results are sequenced to determine the COVID-19 variant present. The available tests are currently divided into four categories:
Review of Project Screen Fit to Fly (departures)
These 4 tests are designed to help travelers departing from the UK prepare for upcoming travel.
PCR home test: The RT-PCR is globally recognized as the leading COVID-19 testing method to detect viral RNA of SARS-CoV-2. This test is for those required to prove a negative COVID-19 test before travel. The test can be taken at home and can be mailed to or returned to a pod in person. Some destinations require a negative result 48-96 hours before arriving at your destination. With the Fit to Fly PCR test, your results will be processed 24 hours after arriving at the laboratory. You can present your negative result at the airport as your Fit to Fly certificate.

PCR test with telehealth: This PCR test is for those needing to travel to a country that requires home PCR testing to be 'observed' via a telehealth consultation for approved Fit to Fly results. After ordering the test, you will be prompted to schedule a Telehealth Consultation. At your appointment, the telehealth professional will guide you through taking the test.
FDA Authorised Lateral Flow Antigen Test: This at-home, rapid COVID-19 test kit is designed for those travelling to a country that accepts negative lateral flow antigen test results for Fit to Fly certificates. These tests are most accurate when high viral loads are present, so they might give a false negative in some cases. You will receive your result online as a Fit to Fly certificate 20 minutes after taking the test. It should be noted that these rapid tests are only accepted by a few destinations. Additionally, you must have a smartphone to activate this test.

Test pod for PCR test: With this point of care option, you will take the PCR test at one of the company's local COVID-19 Test Pods with a guided self-swab sample collection. There are up to 190 appointments per day at various locations throughout the UK. Results are available 24 hours after the sample has been received at the laboratory.
Review of Project Screen Arrivals (vaccinated)
Travelers from non-red list countries arriving in England who are fully vaccinated against COVID-19 in one of the UK Government's eligible vaccination countries only need to take a PCR test on day 2 of their arrival. The day you arrive in England is considered day 0. Project Screen will ship a PCR test to your location and you can complete the test from your home or other location. Results are available 24 hours after the sample is received at the laboratory.
Starting on October 24, 2021, travellers arriving in England who have been fully vaccinated in one of the UK Government's eligible vaccinated countries can take a lateral flow antigen test on or before arrival day 2. You can take this test at home and results will be available 20 minutes after testing is complete.
Review of Project Screen Arrivals (unvaccinated)
Unvaccinated travelers returning to England are required to take a pre-departure test 3 days before returning to England. You can use the lateral flow antigen kit for this purpose. Project Screen only ships nationally within the UK and does not ship internationally so users will need to acquire their test to bring with them.
After arriving in England, unvaccinated travelers or those that do not qualify under the fully vaccinated rules must quarantine for 10 days and take a PCR COVID-19 test on day 2 and day 8 after arrival. The day you arrive in England is day 0. Project Screen will ship the home test kits to arrive on or before day 2. You can mail back the results and your status will be available 24 hours after the sample arrives at the laboratory.
You can reduce your 10 day quarantine time by taking an additional PCR test on day 5. It's important to note that this additional test does not negate you from completing the required day 2 and day 8 tests.
Review of Project Screen Non-travel
Anyone in the UK who wants to know their COVID-19 status is able to purchase a PCR home test kit from Project Screen. It functions exactly as the traveler's test except you do not receive a Fit to Fly certificate. You can also learn your status by visiting one of the local COVID-19 Test Pods where a professional will help guide you through sample collection and deliver you sample to the lab.
Taking a Project Screen Test
The process of using the PCR test kit is as follows:
Order a test kit from the company website
The test is a swab-based sample collection method that collects cells from the back of the throat and the nose, which takes around 30 seconds to complete
Return the sample in a prepaid envelope
All samples are sent to Project Screen or partners laboratories for analysis. All samples are processed in ISO-15189/ISO-17025 internationally accredited laboratories. The firm laboratory partners are UKAS accredited or UKAS applicants, and DHSC validated and used RT-PCR assays with the highest accuracy levels based on the QCED UK EQAP program
Within 24 hours of receiving swabs at the Project Screen laboratory, samples are analyzed, and results are delivered securely online. If they are negative, you can present them at the airport before your flight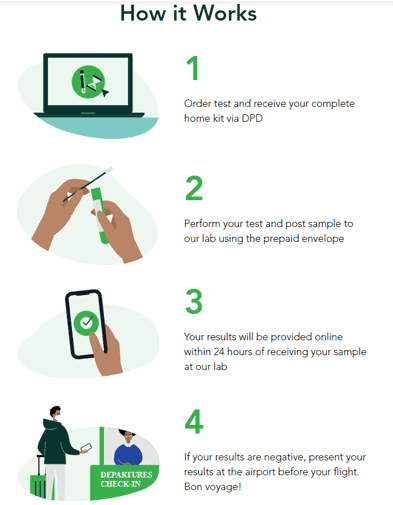 Unlike the PCR test, the lateral flow antigen test provides results almost immediately:
Order a test kit from the company website
Perform the test following the directions on the app (a smartphone is necessary to activate and perform the kit)
Process the result yourself by using the provided cassette
Within 20 minutes of completing the test, results are available online
Review of Project Screen Cost
Project Screen offers one of the best prices for COVID-19 tests, and with more than five different types of testing solutions for different types of patients, the company ensures that its tests are affordable for all users.
The price for all COVID-19 tests from Project Screen are as follows:
Home PCR COVID-19 Test Kit: £69 ($95)
PCR COVID-19 Test Kit with Telehealth: £80 ($110)
Lateral Flow Antigen Test Kit: £25 ($34)
Visit Test Pod for PCR COVID-19 Test: £79 ($109)
Mandatory PCR Day 2 Covid-19 Test: £69 ($95)
Mandatory Antigen Day 2 Covid-19 Test: £22 ($30)
Remote Lateral Flow Antigen Test Kit: £25 ($34)
Mandatory Day 2 & 8 COVID-19 PCR Tests: £134 ($185)
Optional Day 5 Test to Release Home Covid-19 Test: £69 ($95)
Visit a Test Pod for a Day 5 Test: £79 ($109)
Home PCR COVID-19 Test Kit (non-travel): £69 ($95)
Visit a Test Pod for a PCR COVID-19 Test (non-travel): £79 ($109)
Review of Project Screen Results
Project Screen COVID-19 test results will be returned as either positive or negative for the virus that causes COVID-19.
The results are available in line with the type of test chosen. For tests performed in the lab, results are usually available on the spot within a couple of hours.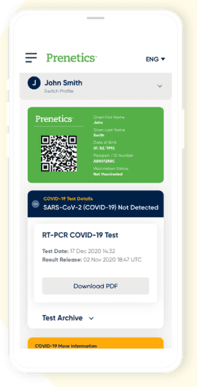 For at-home PCR test kits, the results are usually made available after 24 hours. Rapid antigen test results are known immediately and official results are available 20 minutes after completing the test.
Review of Project Screen Privacy
Project Screen uses the Prenetic privacy policy, which protects the data of registered patients from inappropriate access. Except for data shared with accredited laboratory and test partners, all users' data are safe and are not shared with any third-party entity irrespective of the reason.
Project Screen Pros and Cons
Pros
Offers different types of COVID-19 tests for travelers and non-travelers
Costs are affordable
Friendly user interface
Cons
Only performs COVID-19 tests
No specified counseling platform, either online or offline
Nebula Genomics
Project Screen focuses on COVID-19 tests. It is a subsidiary of Prenetics, which also offers genetic testing.
The Prenetics genetic testing companies focus on genes specific to health and fitness (DNAfit) or a wider range of diseases through whole exome sequencing (CircleDNA). On the other hand, Nebula Genomics is a 30x Whole-Genome Sequencing company.
Whole genome sequencing decodes 100% of your DNA, ensuring that you have access and tools to explore your entire genome. With the Nebula Research Library, users can access hundreds of reports that focus on everything from disease risk to hereditary traits. Plus, since the reports are updated weekly based on new research, customers can continue to explore personal genetic questions as more information becomes available.
Did you like our Project Screen review? You can read more reviews on our blog and check out our complete guide to the best DNA test kit and other home tests.
Other companies that now offer COVID-19 tests include: