7 Facts from our Vault Health Review
Location: Greater New York Area, East Coast North-eastern US.
Products: COVID 19 tests, specialty care for men, and decentralized clinical research
Cost: $10 – $76
How it works: The company partners with people and institutions to enhance their clinical research. COVID-19 tests can be ordered by either organizations or individuals.
Who it's for: Research partners, individuals, and organizations (COVID-19) tests, and individuals looking for men's health treatment
Counseling available: No
Other Products: Nebula Genomics offers 30X Whole Genome Sequencing that decodes 100% of your DNA and offers reports on diet and much more!
This review is written with the intent to be as unbiased as possible. However, it represents the opinion of an individual reviewer and is therefore subjective. Furthermore, at Nebula Genomics we seek to educate the public about the benefits of Whole Genome Sequencing. Information about our Whole Genome Sequencing DNA test is therefore incorporated into the review.
May 10, 2022
Pros and Cons
Pros
Many COVID-19 tests are available for individuals and organizations
Offers specialty care for men
Fast and easy results
Cons
Only PCR tests available for individuals (no rapid options)
Health services currently for males only
Vault Health Introduction
Vault Health is a clinical research services company that also offers COVID-19 at-home test kits and telemedicine for men's health (noting that additional service for all genders is coming soon).
The company uses its platform to deliver the first FDA emergency use authorized saliva PCR tests to consumers, school systems, public health firms, and employers and have provided over 12 million test kits since the beginning of the pandemic. The NBA, 3M, Jetblue, and GM are some companies working with Vault Health. Individuals can also purchase single tests for themselves and their families.
Additionally, the company offers telemedicine for men's healthcare, including virtual visits, personalized treatment plans, and prescriptions.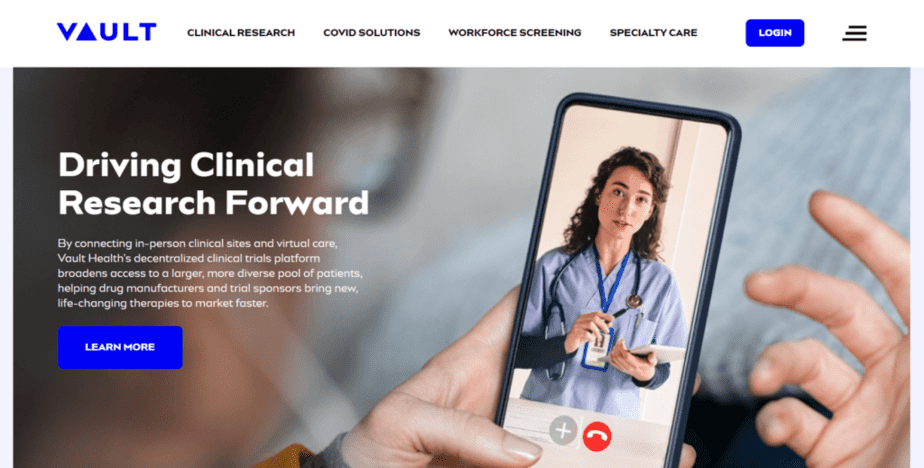 Vault's clinical research platform and care enable sponsors of clinical trials and drug manufacturers to provide new therapies for consumers. The company's goal is to make better health more affordable and accessible for everyone. Vault Health is making this a reality by providing remote diagnostics and speciality treatment to consumers in their homes and communities. They are also using their platform to de-stigmatize men's health, helping men get access to treatment for health issues resulting in better sex life, more cognitive clarity, and a better body.
Logistics
Jason Feldman, a graduate from the School of Business at George Washington University, founded Vault Health in 2018. The company is based in the Greater New York Area in the Northeastern United States. It claims to be the first and only health tech company providing patient care and diagnostics using telehealth and at-home interactions, while also supporting clinical research at scale
Customer experiences are generally very good based on the reviews on the company website.
The Science Behind Vault Health
Vault Health dedicates itself to finding solutions to serious chronic and acute diseases that have defined current treatment and therapy. It aims to find a cure to many life-threatening conditions and works with the best research bodies to ensure that the most effective and safest clinical trials are being performed.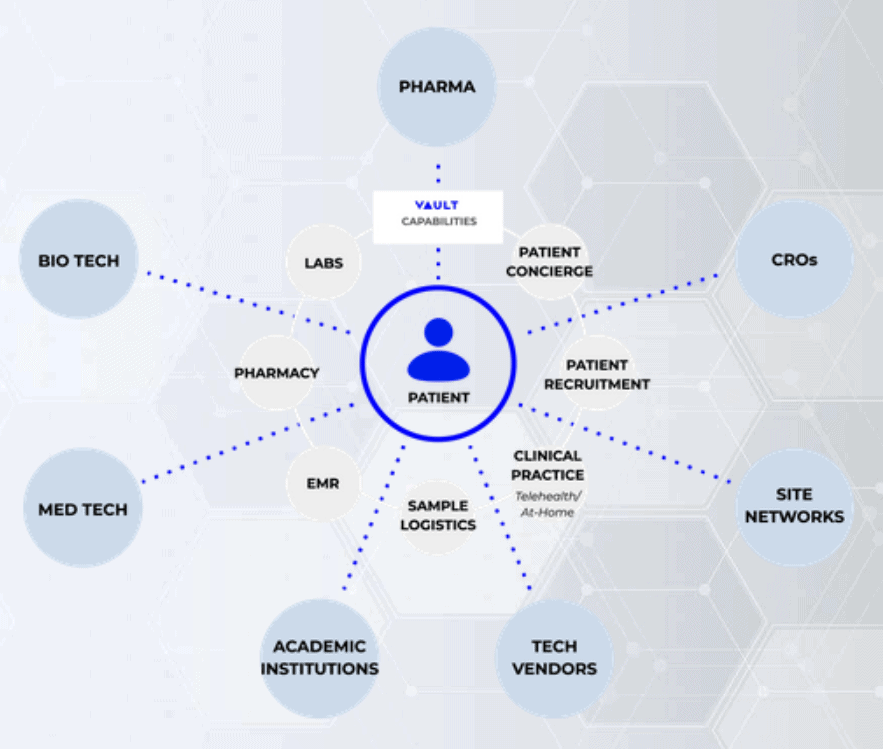 Using a module, tunkey model, the company provides rapid trial execution, a national clinical study staff, sample collection and logistics, and tailored software solutions for patient centricity. It designed its model to make navigating the clinical study easier for the patient. 
Other offerings the company provides include:
Patient recruitment
Telehealth/at-home visits
Diagnostics & logistical management
In-home testing
Investigational product distribution
Patient concierge services
Various technologies for clinical trials
Clinical investigators, research staff, and study support staff
Potential partners can reach out to the company on its website for more information on working together. The remainder of this review will focus on the products that consumers can purchase online.
Review of Taking a Vault Health Test (COVID-19)
In response to the COVID-19 pandemic, during which information changes day to day, Vault Health offers several testing from home options for businesses and a home PCR test for individuals. Kits are convenient because users can take them at home, with or without Zoom supervision. Overnight shipping is free and turnaround time is 24 hours after the sample arrives at the lab. At this time, at home COVID-19 tests are accessible in all 50 states and Puerto Rico. Thus, these tests are especially convenient for employees working from home.  
It is important to note that all Vault Health tests come with FDA emergency use authorization. This means they can be used for quick COVID-19 test and result gathering. It is able to detect all known variants. 
Taking a Vault Health COVID-19 test
First, customers register with Vault Health as a user and click on the COVID solutions. The only test available to individuals is the PCR test. Its rapid test is currently only available to enterprise and government programs. While ordering, you complete short questionnaire about your health and symptoms. You do not need to be experiencing symptoms to order and take the test. The company delivers the testing kit to your home via expected shipping within 1-2 business days. 
While performing your test you log onto your account and connect with a Vault test supervisor via a Zoom video call, who will direct and observe you taking the test. Only supervised tests are available. Then, you collect DNA via a saliva sample. Customers should not eat, drink, smoke, or chew gum at least 30 minutes prior to sample collection. Then, you send your sample to the lab and can view digital results 24-48 hours later.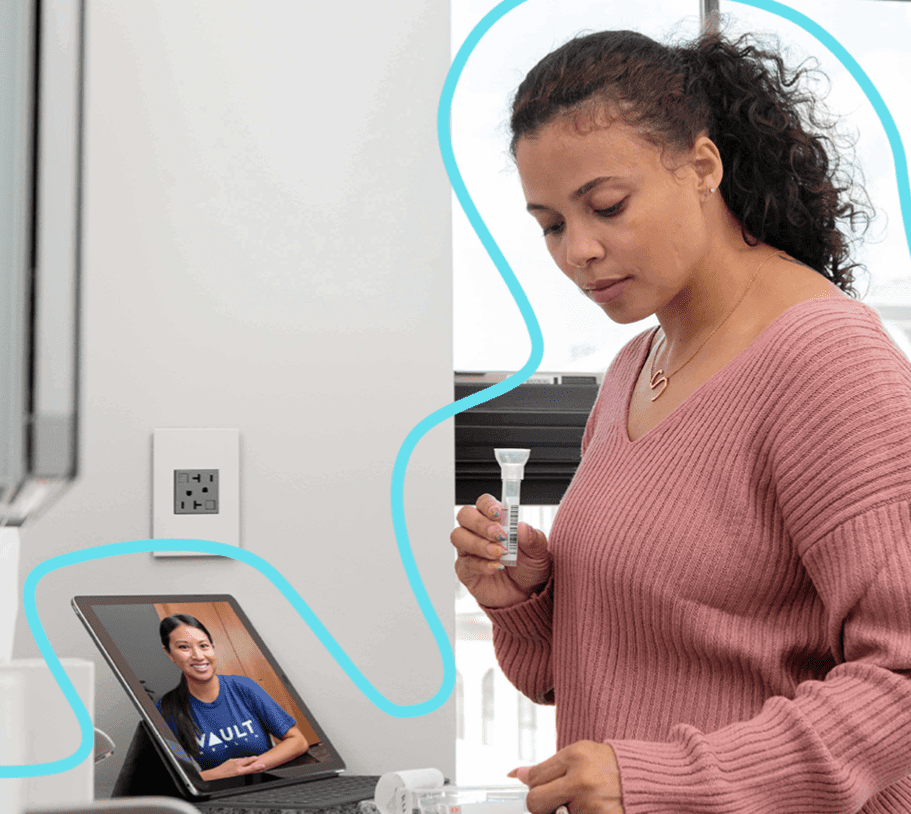 It's important to note that this is a PCR test that tells customers whether they are currently infected with the SARS-CoV-2 virus. It is not an antibody test that provides information about previous infection.
Review of Vault Health Products
Apart from carrying out clinical trials, Vault Health is a major COVID-19 test and specialty care company that has many products to offer clients. Here are some of the testing options Vault Health offers.
COVID-19 tests for organizations
Acon Flowflex Rapid Antigen Test – Supervised or Unsupervised
The Acon Flowflex Rapid Antigen test is a swab collection kit used to detect all variants of Covid 19, including Delta and Omicron. This test provides highly accurate and rapid results in just 15 minutes.
Covid-19 at-home saliva PCR test – Supervised or Unsupervised
This saliva PCR test kit detects a small amount of the Covid 19 virus even in people who are infected but do not show any symptoms. This kit provides you with a lab-accurate test result, which is why it is also referred to as the gold standard of testing.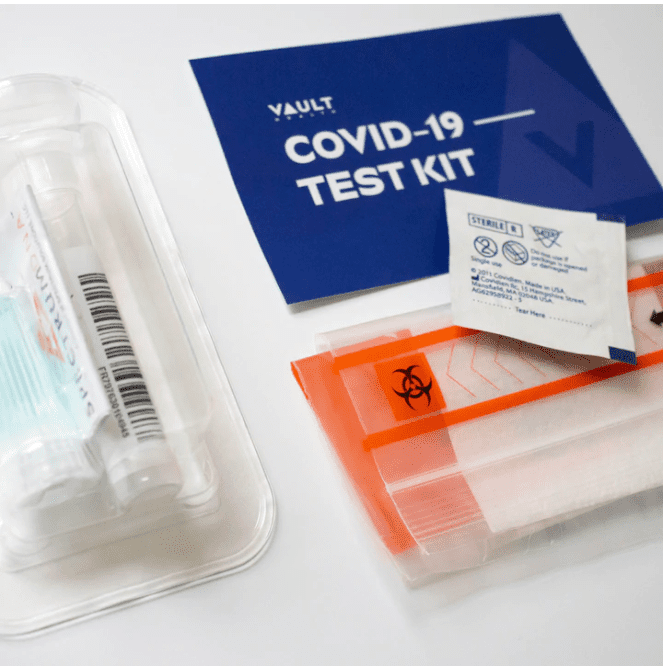 Quickvue SARS rapid antigen test (pack of 2 or 25)
This test helps to detect all variants of Covid 19 within 10 minutes in people who are without symptoms and people who have some symptoms. After the nasal swab collection kit is used to get the sample, it is swirled into a reagent solution tube before inserting the test strip. You remove the strip to see the result after 10 minutes.
Lucira All In One Covid Test Kit
The Lucira test is used to detect all variants of Covid 19 and confirms a positive result in 11 minutes while a negative result is revealed in 30 minutes. This test combines the ease and speed of the rapid test with the accuracy of PCR to reveal its result. It is the first and only single-use home test with emergency use authorization by the FDA.
Specialty Care
Vault Health employs men's health medical professionals that engage in virtual consultations and treatment plans for a variety of men's health issues. The company notes that it expects additional plans for all genders soon.
The initial consultation is free. After the consultation, customers can purchase a personalized, doctor-recommended plan and accompanying medications. Monitoring and follow up from a health care professional and care team are available with the purchase of a plan. Screening generally includes a medical history and home blood test. Records are available and users can learn more by visiting the patient login faq.
The company's treatments focus on the following areas:
Loss of Focus and Memory Management Plan
The brain is a very important part of the body and should be treated with care, just like every other part of your body. Vault helps to treat brain issues like memory loss, lack of focus, and more. The practitioners assist in creating customized treatment plans to suit your ailment, track your progress or performance, and make any adjustments where necessary.
Reduced Energy and Stamina Plan
If you struggle with sleep problems, reduced stamina, stubborn body fat, low energy, and decreasing muscle mass, Vault provides effective treatment to increase energy levels. Vault Health does not only resolve your health issues, its practitioner also helps in adjusting the treatment when needed and tracking your response to it.

Sexual Performance Treatment Plan
Vault Health provides you with treatment to resolve sexual issues like low sex drive, erectile dysfunction, and premature ejaculation. This science-backed treatment will help your sexual life bounce back and overall healthy life.
Low Testosterone Treatment Plan
Low testosterone issues affect 40% of men over 40 years old, which results in an overall health imbalance. Vault provides people with effective testosterone replacement therapy. Their treatment process starts with a blood sample to show the patient's testosterone level. After the test result is revealed, the doctor creates a customized testosterone therapy to resolve the problem.
It appears that Vault Health previously offered specialty kits such as the body kit, vault libido kit, sex kit and phytotress hair system. However, these products do not appear available on the website as of 2022.
Review of Vault Health Cost
Vault Health spends a lot of funds on clinical trials with the aim of providing treatments and tests for patients so that they can get treatment for presently incurable diseases.
The PCR test for individuals costs $90. Vault Health tests are not covered by insurance – all payments must be made out of pocket. They are HSA/FSA eligible.
For the COVID-19 tests for organizations, the cost ranges from $10 to $76 for individual tests.
Acon Flowflex Rapid Antigen Test – Unsupervised: $10
Acon Flowflex Rapid Antigen Test – Supervised: $20
Covid-19 At Home Saliva PCR Tests – Unsupervised: $66
Covid-19 At Home Saliva PCR Test – Supervised: $76
Quickvue SARS Rapid Antigen Test (pack of 2): $38
Quickvue SARS Rapid Antigen Test (pack of 25): $450
Lucira All In One Covid Test Kit: Price $68
For the men's health consult and treatment plans, all virtual visits are free, including the initial consultation with a Vault professional. Treatment options start at $75/month. Plan prices vary depending on medication, treatment, screening requirements, and monthly commitments.
Review of Vault Health Privacy
Vault Health respects client privacy, which has made them take steps to protect their personal information from unauthorized access online or through their website. The privacy policy contains information on how they are committed to complying with their regulations that helps protect their clients. When you start requesting the company's service, the information you share with Vault is only used for its intended purpose.
Vault Health is HIPAA compliant and cannot rent, disclose, sell, or share their client information with a third party except with professionals who assist in providing the necessary service. Any site linked to the company's website also protects your information through its privacy policy. So clients do not have to worry as this company will do all it can to protect their interests.
Customer service can be reached through the company's website.
Other Vault Health Reviews
Vault Health has a 4.7 out of 5 stars rating on Trustpilot with almost 1500 reviews. Many customers praised the fast and knowledgeable customer service staff. They also noted that the tests were shipped quickly and easy to use.
Nebula Genomics
Vault Health is a standout company that offers various types of services for clinical trials, COVID-19 tests for organizations and individuals, and specialized care for men.
If you are an individual who wants to know more about your health in a comprehensive manner, you may be interested in genome sequencing, a test that decodes your unique genetic blueprint and offers insights into genetic predispositions. Nebula Genomics offers users comprehensive genetic tests that highlight their genetic relationship and interaction with certain diseases, diets, fitness, and metabolism.
The company ensures full testing With its 30x Whole-Genome Sequencing and sequences 100% of your DNA to get to the root cause of every biological inclination. The test is incredibly accurate and comes with other additions that include ancestry reporting and genome exploration tools. Regularly updated reports ensure that you will not miss the latest genetic research.
For only $299 or less, customers will get access to their entire genome, allowing them to continue to ask more questions as more research is conducted.
Did you like our Vault Health review? You can read more reviews on our blog and check out our complete guide to the best DNA test kit and other home tests.
Other genetic and non-genetic testing companies that offer COVID-19 tests include: