Edited by Christina Swords, Ph.D.
7 Facts from our TeloYears Review
Location: Silicon Valley in Menlo Park, California
Products: Telomere Diagnostics (TDx) offers TeloYears, Telomere Support Supplements, Advanced Ancestry, and currently, a COVID-19 PCR Test
Costs: $89 – $129
How to Order: You can order a test through the TeloYears website
How it Works: Patient uses the enclosed finger stick lancets (2 included) to get blood from their fingertip, puts it into a blood collection strip, then into a storage vial, and mails it in a provided shipping envelope
Reports: Includes your average telomere length (ATL), your telomere age, and TeloYears blueprints for aging well
Complementary products: Nebula offers a complete DNA sequencing test that includes a full report on your average telomere length
TeloYears Introduction
This TeloYears review intends to provide valuable insights into what the company is about, what they intend to achieve, and what results you can expect.
TeloYears is a program that measures the length of your chromosomes' telomeres and creates a plan to improve your life quality. The telomeres are the protective caps on your chromosomes that shorten as you age. They are represented in pink in the photo below. Peer reviewed studies have revealed that cellular aging is related to telomere shortening. The shorter they get, the faster this cellular aging process will go. Shorter telomeres are not as effective as they once were at keeping up with cellular activities.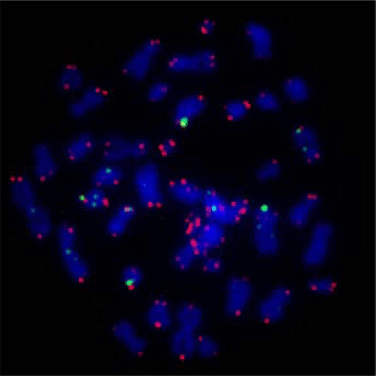 The primary purpose of a TeloYears test is not to determine your entire genetic composition. Instead, the test is designed to measure the length of your chromosomes' telomeres to assess your "telomere age." They will then compare this biological age to your chronological age. Biological age refers to the age your body appears while chronological age refers to how long a person has been alive.
The company Telomere Diagnostics (TDx) was founded in 2010 by a group of scientists, one of which was awarded the Nobel prize in medicine in 2009, precisely because of his telomeres studies. Other clinical and scientific advisors have worked with Nobel laureates, including Dr. Elizabeth Blackburn. The company is located in Silicon Valley in Menlo Park, California, markets the DNA test called TeloYears. TDx also promotes TeloYears Advanced Ancestry, a sequence-based ancestry test. Jason Shelton, CEO of Telomere Diagnostics for over six years is convinced that TeloYears offers a powerful insight on how well one ages. Regardless of age and gender, everybody can improve their telomere length by taking the proper steps.
To this day, among all test companies, they are the only company with a journal-based scientific validation on their telomere measurement technique. Their proprietary method is known as "Cawthon qPCR assay." As part of their vision for the company, TDx intends to expand the Average Telomere Length application in areas involving cardiovascular disease treatments and more.
Review of TeloYears: Telomeres and Aging
TeloYears
This is the company's main product and the principal focus of this TeloYears review. You get started by filling out the required information. Once the test kit arrives home, you follow the steps above and send back the sample strip for testing.
Results are delivered electronically within 5-6 weeks. Besides the results on the length of your chromosomes' telomeres, you will also get:
TeloYears test report – essentially, you blueprint to a better life, as stated by the company.
Blueprint for aging well – understanding the results plus steps on self-assessment and improvement.
Taking a Test
The company offers a relatively simple method for anyone who wants to take a TeloYears test. After ordering it at $199, clients receive a kit that includes all the following:
Finger stick lancet (covered by plastic tips)
Blood sample collection strip
Yellow top transport tube
Alcohol wipe
Gauze pad
Adhesive bandage
Small clear baggie
Prepaid mailing envelope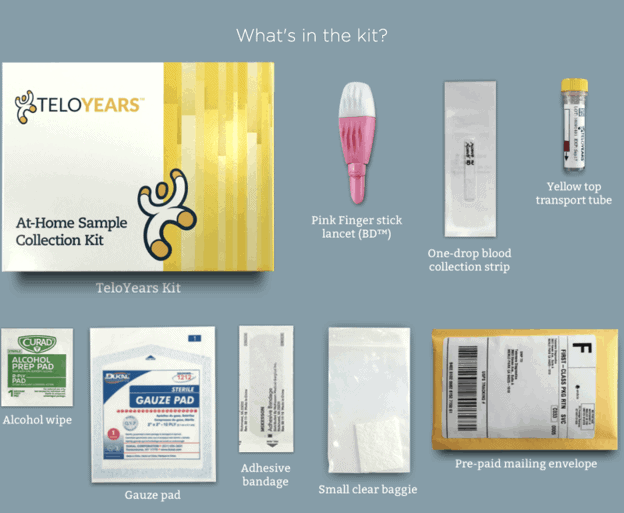 Instructions on how to use the contents of the package are included. Telomere Diagnostics Inc. requires you to send one drop of your blood to isolate a white blood cell and extract the chromosomes.
It is a simple four-step process.
Poke finger with small blue or pink lancet
Dab drop of blood on strip
Place strip into small transport tube
Mail back your sample the same day you collected it

Besides TeloYears, Telomere Diagnostics, Inc. also offers Advanced Ancestry, a program that expands your family tree by allowing you to track where in the world your ancestors are from.
Teloyears Advanced Ancestry Review
Officially named the TeloYears Advanced Ancestry test, this genome-wide ancestry service uses sequencing to track down a person's heritage. This test is especially beneficial to those looking for their family roots.
Both of the above tests claim to provide scientifically-proven methods to determine your telomere length and ancestral heritage. It is important to point out that since they use a drop of blood, accuracy increases as this drop contains tens of thousands of cells.
TeloYears is not intended for the diagnosis or treatment of any disease. Although Telomere Diagnostics is certified to perform these highly complex tests, the U.S. Food and Drug Administration has not cleared or approved the methods.
TeloYears Review of Costs
Telomere Diagnostics offers two genetic services, TeloYears and Advanced Ancestry. Each of them individually costs $89, but if purchased together, they have a price tag of $178.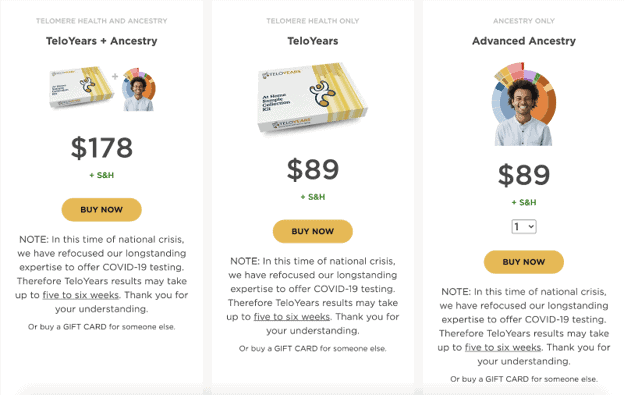 The price seems fair for the services offered. You may consider it within what is acceptable for DNA tests.
Review of a TeloYears Report
After five or six weeks, customers will get their test results in the form of a detailed report in the mail. This package includes information on the telomere science, a self-assessment tool, information on lifestyle, and what factors you need to consider to improve your aging process. The enclosed documents are pretty illustrative and easy to read.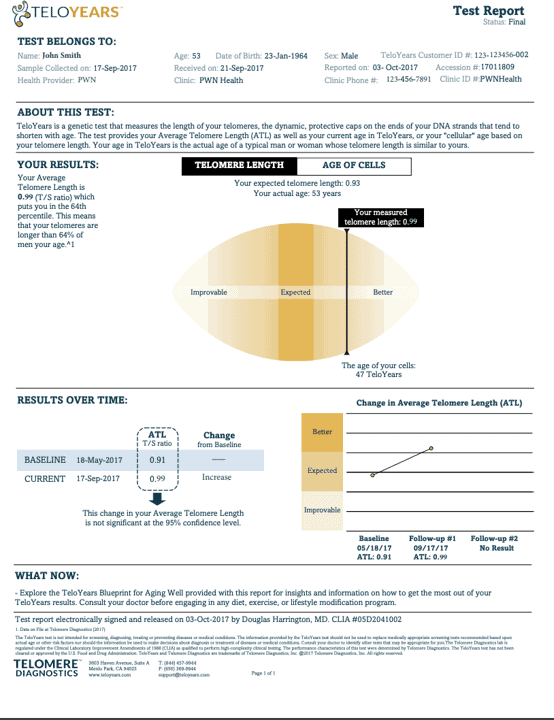 Results
The TeloYears results are very illustrative, and it includes three main sections:
Average telomere length (ATL) and how it compares to the population within the same age section
A colorful diagram showing your TeloYears, which is the real age of a person with the same length as your telomeres
Results over time, which is useful for repeat testers
Blueprints for Aging Well
This TeloYears Bluepring may be considered the actionable part of the kit you receive. It is a booklet containing useful information connecting your telomeres with your health and the steps to take towards improvement. The information provided is appropriately referenced and may include the following:
A self-assessment tool to help customers in changing life factors that contribute to improving telomere length
Details on how different physical and chemical processes affect telomere length and, as a consequence, life quality
An action plan. This is the real actionable part of dieting, exercising, etc. Customers are strongly encouraged to consult a physician before engaging in physical and dietary activities
Detailed explanations on how telomere length affects life quality
Review of TeloYears Privacy
This TeloYears review also intends to take a look at the privacy statement since we believe patients' personal information must stay private. As expected, the company in charge of distributing TeloYears has a privacy policy. They claim to abide by the Privacy Rule that protects what is known as "protected health information (PHI)."
As a site that collects users' personal information, they enforce absolute privacy of this info. For starters, the website collects specific pieces of information. Users should notice the website information that confirms that the site is safe. This data is only to identify the customer as the owner of the sample being tested.
Do consider that the site uses cookies, which would mean that you will probably be getting ads about it on Facebook after visiting the site. But this does not involve any breach of the personal information that was input. Also, your information is not shared with any entity, except for federal or law enforcement purposes.
There is a strong privacy policy for this genetic testing service. Take into consideration that your info stays within their servers for future references.
TeloYears in the News
Other TeloYears Reviews
The company has been established for a number of years, but it has not really garnered that much attention. There are not too many TeloYears Reviews available online. Only the official website is currently selling the kits, so you will not find them in big stores such as Amazon, eBay, or drugstores.
Two years ago, Michael Batista published a review on Medgadget, where he interviewed the CEO of telomere diagnostics, Jason Shelton. We highlight some pointers of his TeloYears review:
"…after reviewing the results and reading the Blueprint, I came away with an understanding that there is room for improvement."
"I can see the appeal in quantifying the impact of lifestyle changes on one's cellular health over time, though I believe the price point ($99) for just the test alone may limit the number of repeat testers." (Note: the price was $99 at the time of Michael's review.)
"While I found the TeloYears test to be an insightful experience around a new way of quantifying my personal cellular health and aging progress, I found the results limited…"
More recently, the company has not received very good reviews on their delivery promise. It seems like there are several dissatisfied customers who have not received their results in a timely manner.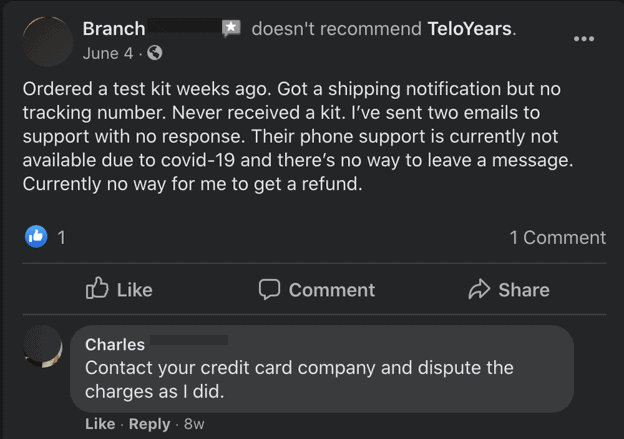 On a more positive note, some users have taken the test several times and appear happy with their results.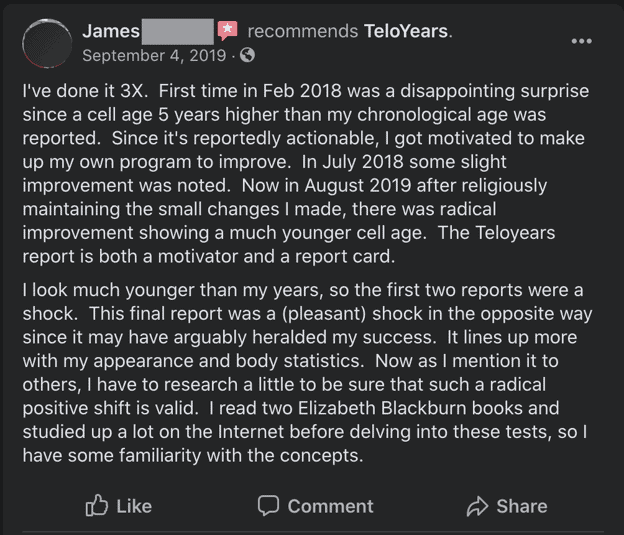 TeloYears Pros and Cons
Pros
Operates in a CLIA-certified lab
Offers both DNA health testing and ancestry
The founder is a Nobel Prize winner
A firm privacy policy that does not reveal your personal information to any third parties
Information provided can be used to make positive health changes
Use of next-generation DNA sequencing
Cons
The information is not as detailed as other companies such as AncestryDNA and 23andMe
TeloYears testing is not available in state of New York
Residents from Maryland require permission from a primary care provider within the state before taking the test.
Not too many reviews to establish a solid foundation for comparison
Nebula Genomics
Let's conclude our TeloYears review by taking a look at the benefits you get from Nebula Genomics.
Telomere Diagnostics (TDx) is not the only company offering telomere DNA tests. Nebula Genomics also provides comprehensive detail on your biological age based on the length of your telomeres. The results are extensive, precise, and highly personalized.
Companies such as TDx will not give you a safe follow-up on your results. On the other hand, Nebula Genomics provides weekly updated reports, data exploration tools, and a strong focus on privacy protection. Our complete DNA tests include 30x WGS and data upload options.
| | | |
| --- | --- | --- |
| Service | TeloYears | Nebula Genomics |
| Sample collection | Blood | Cheek swab |
| DNA testing method | Proprietary DNA method to measure the length of your telomeres | Whole Genome Sequencing (30X coverage) |
| Information available | Biological age | Weekly genetic reports based on the latest research and data (learn more) |
| Ancestry testing | Yes (limited) | Deep ancestry reporting with full Y chromosome and mtDNA sequencing in collaboration with FTDNA |
| Compatible with other services | No | Yes (FASTQ, BAM, and VCF files) |
| Information provided | One comprehensive report with details, recommendations, and call to action | Weekly reports based on the latest research and data (learn more) |
| Cost | $89 – $179 | $0 – $299 |
TeloYears vs Nebula Genomics
Companies such as Telomere Diagnostics will only offer certain information limited by their proprietary methods. On the other hand, Nebula Genomics provides complete genetic testing that gives you the most comprehensive view of your genome, that also includes details on your telomere length.
We offer an exclusive 30x Whole Genome Sequencing to sequence your entire DNA. Telomere length goes beyond only calculating, estimating, and suggesting. If you want to know the specifics of the relationship between telomere length and aging, take a look at these articles on the genetics of telomeres by Codd (2013) and Li (2020).
Another test that offers reports on your telomere length is FoundMyFitness. If interested in helping your body age well, you should check out these other reviews:
Did you like our TeloYears review? You can read more reviews on our blog and check out our complete guide to the best DNA test kit and other home tests.