Edited by Christina Swords, Ph.D.
7 Facts from our Oral DNA Labs Review
Location: Eden Prairie, Minnesota
Services: clinical laboratory testing services to diagnose inflammatory and mouth diseases
Costs: $125 – $250
Results: perform quality tests and provide reliable results
How to order: You can order the Oral DNA test kit directly from the company's website
Intended customers: Healthcare providers, patients, and researchers
Complementary Products: Nebula 30X Whole Genome Sequencing is a DNA Test suitable for discovering the genetic causes of diseases. It decodes 100% of your DNA with high accuracy
Oral DNA Labs Introduction
Oral DNA Labs is a company with a mission to "help healthcare providers treat, heal, and inspire oral health through salivary diagnostics." Founded in January 2008, Oral DNA Labs is a specialty diagnostics company that focuses on inflammatory and mouth diseases.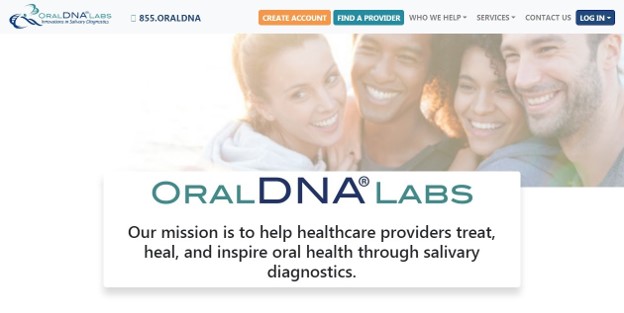 Oral DNA Labs was founded by a team of dedicated healthcare and laboratory professionals. The company's current CEO, Brian Carr, has been leading the company since its inception in 2008. He was also the Founder/Chairman / CEO of American Esoteric Laboratories, Inc., between 2003 and 2007.
The company is known for its contributions to personal healthcare. There are 3 sections of their website for providers, patients, and research. This review will focus on the patient section.
The provider section contains information on how providers can be added to their directory and take advantage of the company's expertise. The research section contains a contact form for researchers to get in contact with the company tomorrow.
Besides providing innovative diagnostics tests, they are also known for providing exceptional customer services and consultations. They help healthcare professionals detect disease and risk factors at early stages when treatment is easier.
The Science behind Oral DNA Labs
Oral DNA Labs sequences the genetic material of the bacteria hidden in your mouth. It uses these sequences to identify harmful pathogens and help your oral health care provider design personalized treatment or prevention plans. In addition to bad breath, dental decay, and gum disease, oral pathogens can also increase the risk of systemic diseases like cardiovascular disease, diabetes, stroke and rheumatoid arthritis.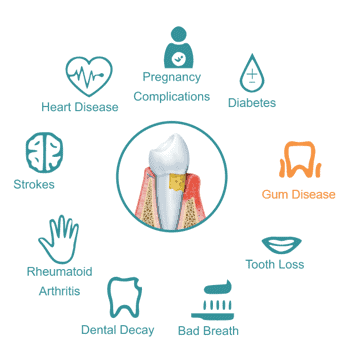 The company also measures gene markers associated with increased inflammation, a critical factor in the severity of periodontitis (gum disease). Some tests can identify human papillomavirus (HPV) high-risk types associated with oral cancer. According to The Oral Cancer Foundation, the HPV virus is the leading cause of oropharyngeal cancers, making HPV testing highly recommended among adults. 65% of oral cancers are related to HPV infections. Testing options offered by the company include:
OraRisk HPV
OraRisk HSV Type 1 and Type 2
OraRisk Chlamydia/Gonorrhea
OraRisk Candida
A benefit of these tests is that the tests are non-invasive diagnostic tools that allow oral healthcare providers to catch problems at an earlier, more treatable stage.
Taking the Oral DNA Labs Test
There are two parts involved in taking the Oral DNA Labs test.
First, you visit the company's website and order your saliva sample kit. You'll be required to input the number of kits you want and your shipping address where delivery will be made.
Delivery is free and you will receive all of the supplies at home so that you don't have to visit their lab.
Oral DNA Labs provides a simple oral rinse collection kit. Therefore, you don't need to choose a kit based on the type of test you want to perform.
Sample collection must be done appropriately because it has a significant impact on the saliva test result. If the sample is not appropriately collected or it gets contaminated, you may get the wrong result. According to the instruction provided by the company, the sample collection should be done in the following order:
VIGOROUSLY SWISH & GARGLE ALL 5 mL of saline solution for 30 SECONDS
EXPECTORATE into the funneled collection tube
OPEN preservative vial by unscrewing cap; POUR contents into the collection tube
REMOVE funnel; SECURE red cap onto collection tube
PRINT "Patient Name" & "DOB" on barcode label; AFFIX lengthwise onto collection tube
PACKAGE sample for return shipment: Place the collection tube into a plastic bag; bagged sample(s) into the box(es); close box and seal with an adhesive strip. Store at room temp until ready to ship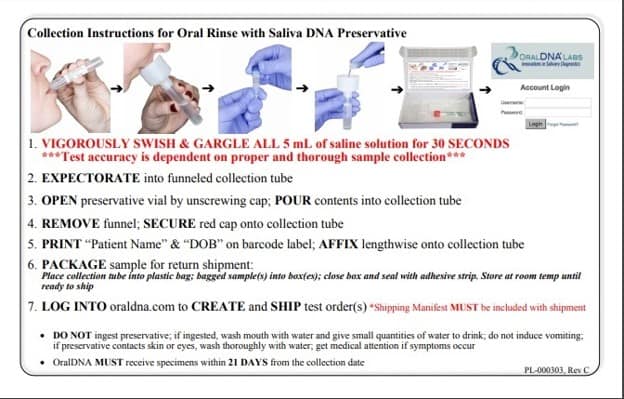 Once you've collected the sample, you should log into the company's website oraldna.com. There, you'll find the option to CREATE and SHIP test order(s).
Fill the form you find there, and ship the sample to the company. Note that the company must receive your sample within 21 days from the collection date.
The company will notify you when your result is ready. You can visit their website to download your test result.
Review of Oral DNA Labs Reports
Oral DNA Labs offers a vast number of tests, including the following. Sample reports of each test can be accessed on the company's website.
MyPerioPath and MyPerioID
MyPerioPath helps to identify and measure pathogenic bacteria present in the mouth. Some of the bacteria include those that cause gingivitis and periodontal disease. With this test, the company is able to offer microbiome reports and help suggest the most effective periodontal therapy.
Some of the information you'll find in the microbiome reports include the type and concentration of the bacteria causing the disease, classified as high risk through low risk pathogens.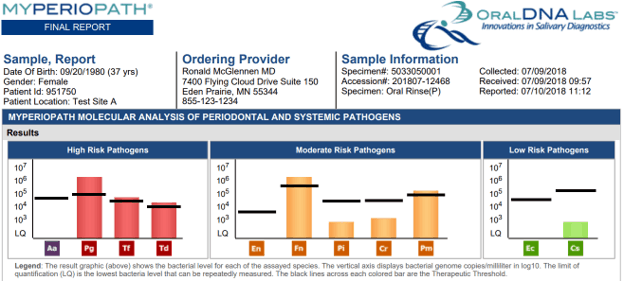 It also notes what specific types of pathogens present are related to certain condition or disease types. This information can help patients and their doctors target certain health aspects or create a dental hygiene plan that fits in with the patient's overall health goals.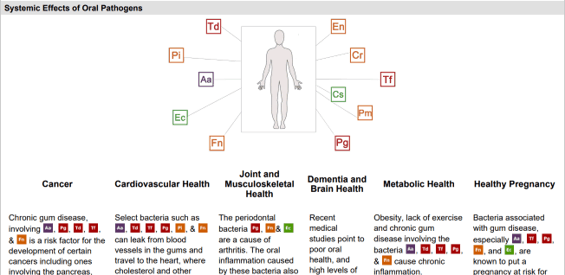 The MyPerioID test helps determine a patient's risk of developing serious gum tissue infections, like inflammatory periodontal disease. There are two separate tests: One that measures the genetic variants of the interleukin-1 gene (IL-1) and another that measures variants in the interleukin-6 gene (IL-6). Certain genotypes in the IL-1 gene increase the risk of excessive inflammation in the presence of oral bacteria.
The prevalence of some genotypes is reported to be higher in individuals who develop moderate to severe chronic periodontitis and aggressive periodontitis than in individuals with no periodontal disease.

Information in the MyPerioID can help you and your dentist create a dental care and disease prevention plan if you are at a higher risk.
OraRisk
The tests in the OraRisk category help determine the presence or risk of a variety of oral disease types. It does so by sequencing oral microbes and identifying if any are present. Using one or more of these tests, clinicians can determine the best course of treatment. For example, some forms of Candida are resistant to standard fungal treatment. Knowing which one is present would help guide which treatment option is performed first.
OraRisk Caries: identifies 3 types of harmful bacteria known to cause cavities: Streptococcus mutans, Streptococcus sobrinus & Lactobacillus casei
OraRisk HPV: identifies a total of 51 types of oral HPV
OraRisk Candida: identifies all common species of the yeast, Candida
OraRisk HSV: identifies HSV1 or HSV2 by detecting "shed virus" specific to active viral infections or outbreaks
OraRisk CT/NG: tests for emerging STDs, Chlamydia trachomatis (CT) and or Neisseria gonorrhoeae (NG) of the oropharynx. These conditions may be asymptomatic or involve only mild pharyngitis, but can still be transmissible
OraRisk COVID-19 RT-PCR: Molecular detection of SARS-CoV-2
The type and risk level of any detected microbe provided in the reports, followed by a summary of results. Depending on the test, you may also receive information on the signs and symptoms for relevant disease types, risk factors, and graphical illustrations of oral infection patterns.

Celsus One
If you wish to know whether you're prone to genetic inflammation risk, the Celsus One is right for you. It evaluates the 8 most common genetic markers related to the inflammatory response. It is the most comprehensive oral inflammation test offered by this company.
Interleukin 1 composite genotype
Interleukin 6
Interleukin 17 A
Beta-defensin 1
CD14
Tumor necrosis factor alpha
Toll-like receptor 4 composite genotype
Matrix metalloproteinase 3

Oral DNA Labs Cost Reviews
The Oral DNA Labs test cost between $125 and $250. This is cheaper than the price offered by most companies offering similar services.
Oral DNA Labs Privacy Review
You'll find the company's privacy review down their homepage. The company operates under Access Genetics LLC, thus, the Access Genetics LLC privacy policy is the OralDNA privacy policy.
The policy explains how your Protected Health Information (PHI), including lab results, will be used for treatment, payment, healthcare operation, business associates, research, and health oversight among others. Under the treatment heading, the policy indicates that PHI may be used or disclosed for treatment purposes to certain individuals involved in care including physicians, nurses, medical students, pharmacies, and other health care professionals."
The company is HIPAA compliant.
Other Oral DNA Labs Reviews
Since the tests are ordered through the dentist's office, there are no Oral DNA reviews available on third party websites. Oral DNA Labs has provided a number of customer testimonials on their website. The following are what some of OralDNA customers have to say about their experience dealing with them.
Doug Thompson, DDS, FAAMM, ABAAHP, Educator and founder of the Wellness Dentistry Network: "OralDNA has given me tools to help me understand the cause, design the treatment, and guide the maintenance for my patients with periodontal disease. I couldn't personalize the disease treatment without OralDNA."
Kriston Reisnour RDH, BSDH, CCSH, Dental Program Manager: "I love OralDNA® Labs salivary testing! I feel having this data has forever changed the way we can optimally treatment plan for our patients."
Traci Warner, RDH, LifeSmiles Complete Health Dentistry: "OralDNA Labs' comprehensive tests help me individualize treatment for my patients. By being able to target specific bacteria that are causing the oral inflammatory response, I am setting my patient up for a healthy outcome. Dental teams play an important part in not only oral health but the overall health of the patients they serve!"
Richard Nagelberg, DDS, International Lecturer, Continuing Education Provider, Co-founder of PerioFrogz.com: "With OralDNA®, our success rate with treating periodontal disease has skyrocketed."
Nebula Genomics
Sometimes, the causes of diseases are deeply rooted in your genes. If you focus solely on treating the symptoms, you may never truly resolve the problem. Performing a DNA test can provide insight into unknown risks, such as genes linked with the risk of inflammation, which are well known.
By performing a comprehensive genetic test, you can obtain information regarding dangerous inflammation risk and much more. Nebula Genomics offers 30X Whole Genome Sequencing, which decodes 100% of your DNA with very high accuracy. This is why we provide better results than other DNA tests like 23andMe and AncestryDNA that only decode 0.02%of your DNA.
Oral hygiene is one aspect of monitoring overall wellness. Nebula Genomics can provide information on this aspect, as well as nearly any other question regarding genes and health. With our continuously updated reports, you can keep up with the latest genetic research and how it relates to your unique blueprint.
If you want more clinical genetic testing options you can order from your healthcare provider, you should check out these reviews.
Diagnostics:
Includes carrier status:
Mental health:
GeneSight (clinical genomic test for psychotropics)
Genomind (pharmacogenomic testing for mental health treatment)
Rare diseases:
Did you like our Oral DNA Labs review? You can read more reviews on our blog and check out our complete guide to the best DNA test kit and other home tests.