7 Facts from our Lucira Health Review
Location: Emeryville, California
Products: Lucira Check It Covid-19 single-use test kit
Cost: $68
Reports: Results are available on the user's mobile device 11-30 minutes after completing the test
How it works: Customers create their accounts and buy their test. They receive the device and follow the provided instructions to set it up and test.
Counseling available: No
Other Products: Nebula Genomics offers 30X Whole Genome Sequencing that decodes 100% of your DNA and offers reports on diet and much more!
This review is written with the intent to be as unbiased as possible. However, it represents the opinion of an individual reviewer and is therefore subjective. Furthermore, at Nebula Genomics we seek to educate the public about the benefits of Whole Genome Sequencing. Information about our Whole Genome Sequencing DNA test is therefore incorporated into the review.
November 15, 2022
Pros and Cons
Pros
PCR quality molecular accuracy
The test is quick and easy to use by users
At-home availability
Cons
Expensive for a single use test
Introduction
Lucira Health Inc. is a biotechnology company that develops and commercializes at-home diagnostic tests. The company designs devices and tests for at-home use to provide customers with peace of mind. Lucira supplies these kits that are disposable and easy to use by people without the supervision of any physician.

The NIH awarded the founders a grant in 2012. The next several years involved development of at-home diagnostics with a focus on flu. Lucira pivoted to at-home COVID-19 testing after the WHO declared the pandemic in 2020.
The company is currently led by Erik T. Engelson and Debkishore Mitra, PhD. It is based in Emeryville, California.
The Science Behind Lucira Health
Lucira focuses on providing accurate results for COVID-19 tests and employs important technologies to ensure better accuracy. The company's goal is to combine the ease, convenience, and quickness of rapid tests with the accuracy, ability to detect small amounts, and diagnostic power of PCR tests. The nucleic acid amplification test (NAAT) was developed based on molecular testing research so as to catch the smallest traces of viruses. It is a molecular test that amplifies the genetic material while the test is running just like PCR lab tests.
It should be noted that this home test kit is not FDA cleared or approved but has been FDA EUA authorized for single use.
Lucira designed its platform for the detection of nucleic acid from SARS-CoV-2. This makes it accurately read the existence of a virus and provides the right result.
The company claims that it compared its test capabilities with one of the world's most sensitive FDA certified PCR tests, Hologic Panther Fusion, and they found it to be roughly 98% accurate. It also claims to be the first and only FDA authorized single use molecular test available over the counter.
The company performed a positive percent agreement study of its products on 404 samples. The Lucira Community Testing Study 07A-CLI 006 Fall 2020 and Lucira Community Testing Study 07A-CLI 007 Winter 2021. In almost all cases, except in those of very low virus, the Lucira test matched the known positive.
Review of Lucira Health Products
The Lucira COVID test has PCR quality results and there are several purchasing options. The company ships its tests to the United States, Canada, Israel, Puerto Rico, Singapore and Taiwan. With standard shipping, tests arrive 3 days after customers place the order. Expedited orders will arrive the next business day.
Organizations interested in purchasing in bulk for their employees can contact Lucira directly.
There are two options for customers to purchase tests directly from the company website: one option is for individuals and the other is for healthcare professionals. The kit is a single-use option.
Lucira Health Check It COVID-19 Test Kit
This is a diagnostic single-use test kit for at-home use that can automatically process the results of users within a few minutes. Users collect samples and carry out the process themselves.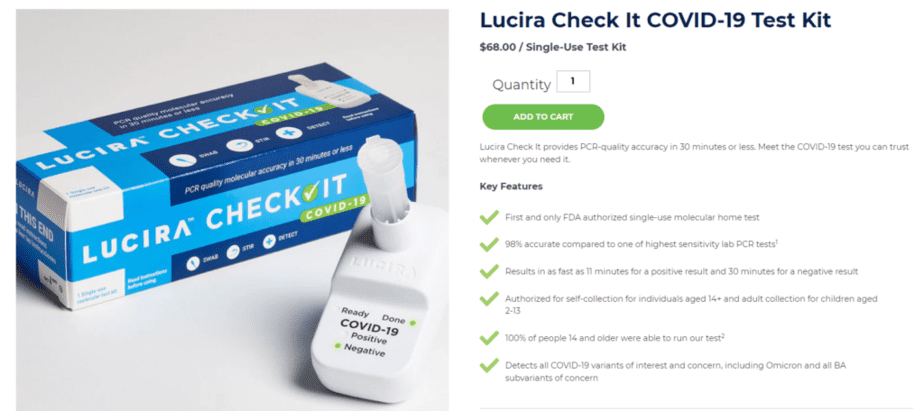 It is authorized for self collection for users over the age of 14 and for adult collection in the cases of children ages 2-13. The test detects all COVID-19 variants, including Alpha, Beta, Delta, Gamma, Lambda, Omicron, and all BA sub-variants of interest.
The kit detects a positive result as fast as 11 minutes and a negative result in 30 minutes. Positive results are indicative of SARS-CoV-2 infections. On the other hand, negative results may not necessarily mean the absence of the virus. If you test negative and continue to have COVID-19 symptoms, you should consult with your doctor.
This test kit has a shelf-life of 18 months.
The All-in-one Kit
This kit option is only available to US licensed healthcare providers. It is similar to the over-the-counter version, the Lucira Check It kit, with some differences. The biggest difference is that this test is prescription and must be used in consultation with a healthcare professional.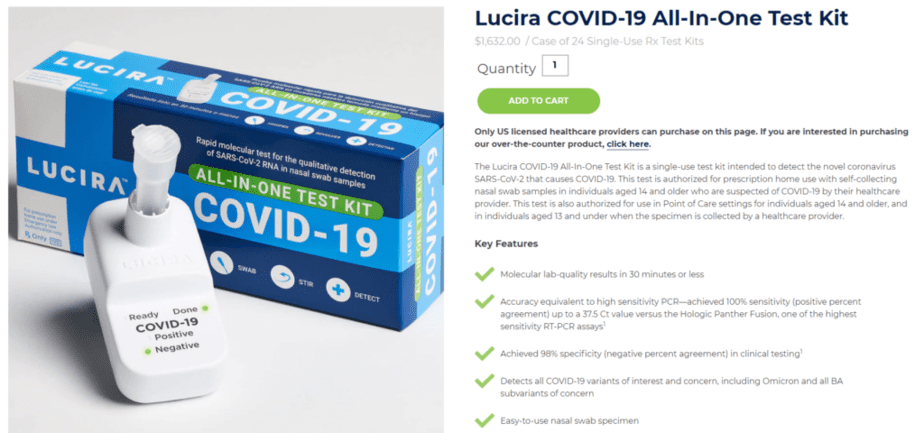 The test is authorized for prescription home use with self-collecting nasal swab collection for individuals aged 14 and older when a healthcare provider suspects COVID-19 is present. It can also be used as a point of care test in individuals 14 and older and adult collection in children under the age of 13 when the sample is collected by a healthcare provider.
This test achieves the highest sensitivity at 100%.
Taking the Lucira Health Test
Lucira test kits are devices that are easy to handle and use by following the provided instructions. Users do not need the supervision of a medical expert.
Lucira Check It results for COVID-19 are 98% accurate when compared to one of the highest sensitivity lab PCR tests.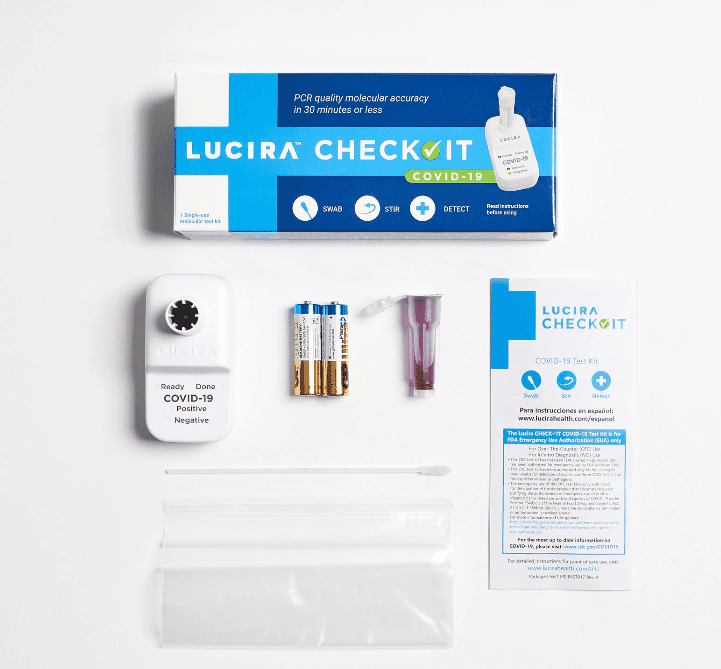 Users should wash their hands when they are ready to take the test. They insert the batteries in the device and the sample vial into the test unit. After that, customers perform a simple nasal swab collected by gently swabbing both nostrils. Users insert the swab into the vial, stir, and discard the swab.
After they close the vial, the test should start to run. The "Ready" light will turn into the "Done" light when the test is complete. Positive results should be available in 11 minutes while negative results are confirmed in 30 minutes.
Review of Lucira Health Cost
The company ships the products for free when ordered with standard shipping. However, the company makes expedient overnight shipping available at an additional fee. The Price of the products is below.
Lucira Check It: $68.00
Lucira All-In-One: $1632 / case of 24 single-use Rx kits
Most private insurance companies will reimburse individuals for the cost of COVID-19 tests. In January 2022 it became mandatory for insurance companies to reimburse eight at-home COVID-19 tests/month/member, or provide members access to free tests from a preferred provider.
Lucira emails a receipt that contains the most common information for reimbursement. In most cases Medicare Part B, Medicaid, and Children's Health Insurance Program (CHIP) also cover these tests.
Review of Lucira Health Reports
The Lucira report is very straightforward, just like most Covid-19 Test companies. After performing the tests, users will wait from 11 to 30 minutes to see if they are either positive or negative for the virus. They only need to go to their online account to see the result.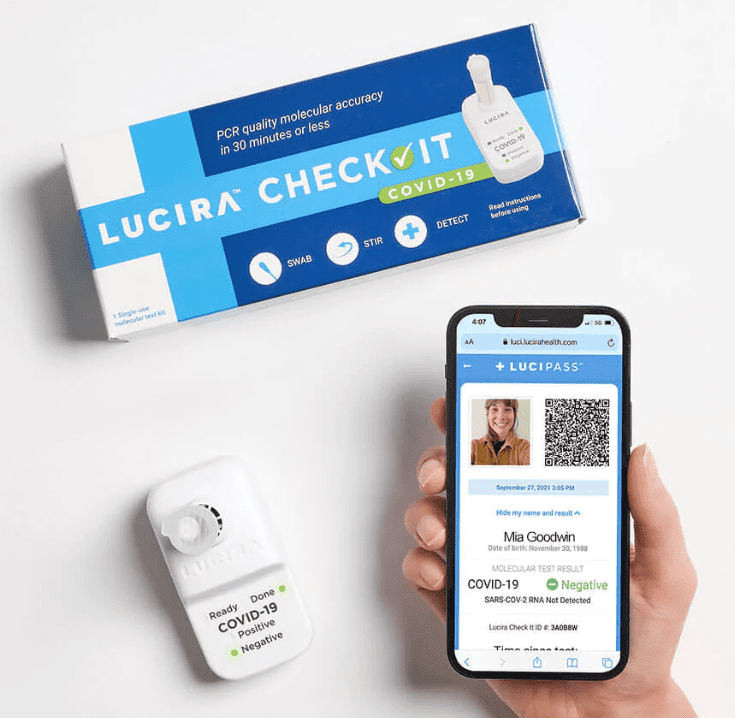 The result will be highlighted, as shown in the screenshot above. Once the result is confirmed, patients can take the next step that is relevant to ensuring good health.
Customers can also get access to a LUCI PASS™, a verified test record. They only need to submit their test result and they will gain access to the pass.
Review of Lucira Health Privacy Policy
Lucira Health Inc. collects users' information through their website lucirahealth.com and other applications that link to this notice. Personal information is collected from users directly when they register and make a purchase and through commercially available sources such as public databases, including the Department of Health and Human Services NPI Registry.
The information collected from users includes data needed to provide the service such as name, email address, account name, age, gender, etc.
The company uses information to comply with legal and regulatory obligations and for tools that help the company understand how its services are used. It claims to use reasonable safeguards designed to protect the collected information.
Other Lucira Health Reviews
The Lucira Check It test is available on Amazon. This kit has a 4.1 star rating with over 1,000 reviews. Most customers liked that the test was fast and easy to use. Some users with critical reviews cited technological challenges and conflicting results when compared with PCR tests.
In 2021, the Lucira test kits were part of a review study published in the Journal of the American Pharmacists Association. The authors concluded that Lucira demonstrated satisfactory performance compared with standard PCR tests.
Lucira Health in the News
In 2022, Lucira announced results to its pilot study on an assay with a 98% accuracy rate in detecting the sexually transmitted infections, chlamydia and gonorrhea.
The company has also submitted a request to the FDA to gain approval for its duel COVID-19 and flu test.
Nebula Genomics
Lucira Health offers one way to test for a specific health concern: infection with COVID-19. For customers interested in other aspects, there is a large selection of other at-home health tools.
Generally, there are two types of at-home health screenings: those that test for biomarkers, like COVID-19 tests, and those that look for genetic markers that signal certain predispositions.
Nebula Genomics offers a comprehensive test that highlights predispositions related to diet, fitness, disease, and much more. With 30x Whole-Genome Sequencing, Nebula sequences 100% of your DNA that includes the exomes, non-coding regions, and the X and Y chromosomes. With 30X reading, the test is incredibly accurate and comes with other additions like ancestry reporting and genome exploration tools. Regularly updated reports ensure that you will not miss the latest genetic research.
For only $299 or less, customers will get access to their entire genome, allowing them to continue to ask more questions as more research is conducted.
Another option for at-home COVID testing with PCR quality results is Cue Health, which provides results in 20 minutes or less.
Did you like our Lucira Health review? You can read more reviews on our blog and check out our complete guide to the best DNA test kit and other home tests.
COVID-19 tests are also available from these other companies in 2022: