7 Facts from our Prenatal Genetics Laboratory Review
Location: Concord, Ontario
Services: Noninvasive prenatal paternity and gender blood tests
Cost: $190 (gender) or $960 (paternity) plus a $70 FedEx fee applicable to both tests
Technology: Cell-free fetal DNA in the mother's blood
Counseling available: No
How to order: Customers complete an online order form
Alternative Products: Nebula Genomics offers 30X Whole Genome Sequencing that decodes 100% of your DNA and gives reports on diet and much more!
This review is written with the intent to be as unbiased as possible. However, it represents the opinion of an individual reviewer and is therefore subjective. Furthermore, at Nebula Genomics we seek to educate the public about the benefits of Whole Genome Sequencing. Information about our Whole Genome Sequencing DNA test is therefore incorporated into the review.
October 3, 2023
Pros and Cons
Pros
NIPT technology safe for mother and baby
Provides accurate and reliable results.
Lower price than other types of paternity or gender tests
Cons
Not approved by the Food and Drug Administration (FDA)
Some reports of delayed results
Introduction
Prenatal Genetics Lab provides non-invasive prenatal testing services for paternity and gender. The tests can be performed as early as 10 weeks into the pregnancy and have an accuracy rate of greater than 99%. The tests present no risk to the mother or the fetus as it analyzes the fetal DNA found in the mother's bloodstream. Thus, it requires only that the mother gets her blood drawn.

The lab was established by research scientists with extensive experience in non-invasive human DNA diagnostics to provide fetal DNA testing for paternity and gender in the United States and Canada.
The lab has over 20 years of practical experience in non-invasive prenatal paternity and gender DNA testing. It is also the first company in the world to offer a non-invasive prenatal paternity test to the general public.
In addition to the initial test, the services include a free follow-up test within six months of the child's birth at no extra cost. Unlike other companies, Prenatal Genetics Laboratory does not charge for testing multiple alleged fathers with the paternity test. They simply send the requested amount of prenatal testing kits to collect samples.
The Science Behind Prenatal Genetics Laboratory
Prenatal Genetics Laboratory uses non-invasive prenatal testing (NIPT), a prenatal genetic test which analyzes cell-free DNA (cfDNA) found in the mother's bloodstream. This cfDNA comes from the placenta and is genetically identical to the fetus, allowing for accurate insights into the genetic profile of the unborn child.
Prenatal paternity testing on fetal cells from maternal blood samples has been thoroughly validated by scientific evidence and a number of DNA diagnostic laboratories.
Services include prenatal paternity testing and prenatal gender testing, which can be performed as early as 7-8 weeks into the pregnancy. This early detection is a significant advantage of NIPT, providing crucial information at a stage when other testing methods are either not possible or carry a higher risk.
Furthermore, the non-invasive nature of these tests eliminates the risks associated with traditional invasive procedures like amniocentesis or chorionic villus sampling, making it a safer choice for expectant mothers.
Review of Prenatal Genetics Laboratory Tests
Prenatal Genetics Laboratory offers two main tests including prenatal DNA paternity and prenatal DNA gender testing.
Prenatal DNA Paternity Testing
Customers can take this test after the 10th week of gestation. It is strongly recommended that samples be submitted from all potential fathers. If the potential fathers do not live in the same location, the company can ship collection kits individually.
After ordering, customers receive the testing kit in the mail. Then, mothers and potential fathers visit a local laboratory or hospital to collect their blood and DNA samples.

Results are available within eight business days after the lab receives the sample. However, the company can accommodate a five day rush order at an extra cost.
The company is confident in its ability to avoid false positives. As a result, it offers a free follow up test after the baby is born. The child must be six months or younger. If there is ever a discrepancy between the prenatal and follow up tests, the company will refund 90% of the test fee.
Prenatal DNA Gender Testing
Customers can take this prenatal screening test after the 10th week of gestation. It detects the presence or absence of the Y chromosome in the mother's blood, identifying the fetus as either male or female.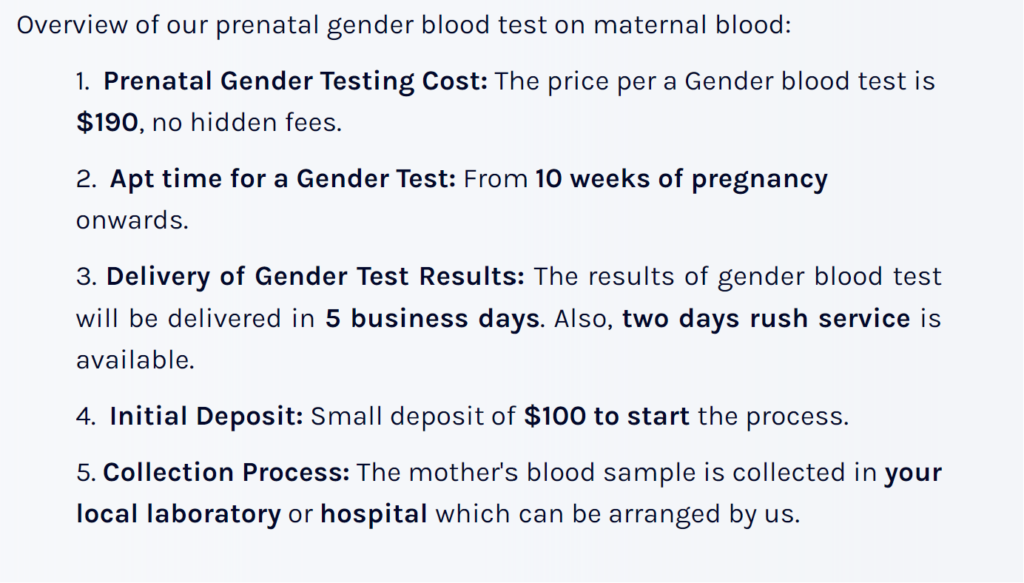 Results are available within five business days after the lab receives the sample. However, the company can accommodate a two day rush order at an extra cost.
Taking a Prenatal Genetics Laboratory Test
If taking a prenatal DNA paternity test, customers will receive blood collection tubes for the mother and swabs for the potential father, as well as instructions and the submission form for sample collection. Once samples are collected at a local laboratory or hospital, customers submit the samples in the prepaid FedEx pouch provided.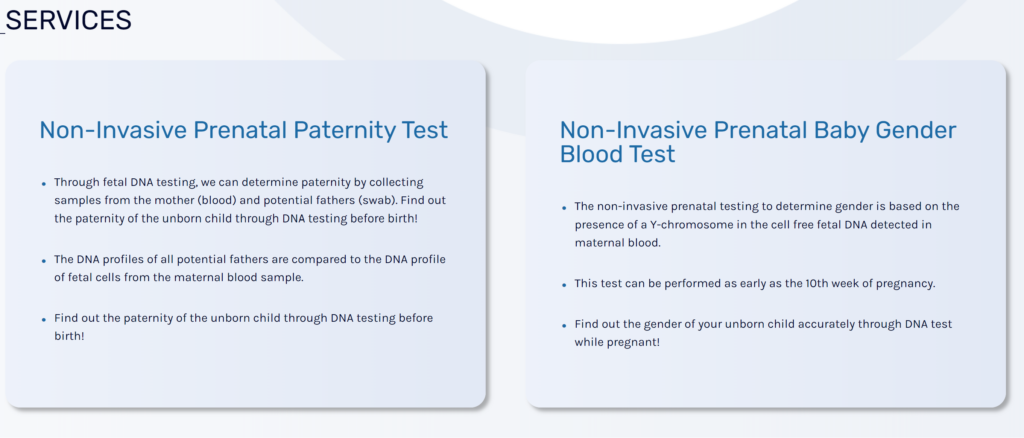 If DNA via a cheek swab from all potential fathers is not available, the company also accepts forensic samples such as semen stains, toothbrushes, chewing gum, nail clippings, or hair at no additional cost.
In the case of the gender test, only the mother needs to have a blood collection.
Review of Prenatal Genetics Lab Cost
The price of a non-invasive prenatal paternity test is $960 while the gender blood test is $190. The company claims these prices are inclusive of the full services and that it does not have hidden fees. However, some collection locations may charge a blood collection fee, which tends to range between $20-$50.
Before testing, customers pay a deposit of $200 for the paternity test and $100 for the gender test. These deposits are applied towards the total cost.
There is also a FedEx shipping fee of $70.
Rush service for both tests is available for an extra $100 fee.
Review of Prenatal Genetics Laboratory Reports
The prenatal paternity test reports results for each potential father. These can be either that the potential father cannot be excluded or is excluded from being the biological father. This test also includes a free baby gender test.
It includes a side-by-side comparison of the DNA profiles of the fetus and potential fathers, as well as an easy-to-read conclusion section explaining the result.
The standalone gender test gives one of two results. A positive result indicates the presence of the Y chromosome, revealing the gender to be male. On the other hand, a negative result indicates the absence of the Y chromosome, reveal\ing the gender to be female.
Alternatively, the latter may indicate that the amount of fetal DNA in the blood sample was too low to detect the Y chromosome.
Customers can choose to receive their reports via mail, email, fax and/or over the phone.
Review of Prenatal Genetics Lab Privacy Policy
Prenatal Genetics Laboratory collects personal information solely for the purpose of providing its services except in cases when the customer gives additional consent or if required by law.
The company keeps reports for 12 months. It also states that it uses reasonable security safeguards to protect information in its system.
Other Prenatal Genetics Lab Reviews
Prenatal Genetics Laboratory has received a plethora of positive reviews from customers on its website, indicating a high level of satisfaction with their services. The reviews include comments on the company's fast and accurate results. The transparency and ease of the testing process have also been highlighted, with many customers appreciating the lab's educated and empathetic staff.
Despite a few instances of delayed results, the overall feedback is overwhelmingly positive, with customers finding peace of mind and relief in the results provided by Prenatal Genetics Laboratory.
Nebula Genomics
While Prenatal Genetics Lab specializes in non-invasive prenatal testing services, Nebula Genomics offers a different kind of service. Nebula Genomics provides whole-genome sequencing, a comprehensive method that allows for the analysis of the entire genome. This service can provide insights into a wide range of genetic traits and predispositions, offering a broader scope compared to the specialized prenatal tests provided by Prenatal Genetics Lab.
Nebula provides a comprehensive DNA test highlighting genetic predispositions. With regularly updated reports, you can easily explore your DNA and learn about discoveries focused on health, traits, ancestry, and more.
With 30x Whole-Genome Sequencing, Nebula sequences 100% of your DNA to get to the root cause of every biological inclination. The test is incredibly accurate and includes other additions, including ancestry reporting and genome exploration tools.
Nebula is not a diagnostic test, but the results are of the highest quality and can be used in consultation with health care professionals.
For only $299 or less, customers will get access to their entire genome, allowing them to continue to ask more questions as more research is conducted.
Prenatal Genetics Laboratory vs. Nebula Genomics
| | | |
| --- | --- | --- |
| | Prenatal Genetics Lab | Nebula Genomics |
| Sample collection | Blood – collected at local lab or hospital and cheek swabs | Saliva – collected at home |
| Testing method | Non-invasive prenatal testing | Whole-genome sequencing |
| Reports | Paternity and baby gender | Comprehensive genetic reports on a wide range of traits and predispositions, as well as ancestry |
| Cost | $190-$960 | $0, $99, $299 |
Did you like our Prenatal Genetics Lab review? You can read more reviews on our blog and check out our complete guide to the best DNA test kit and other home tests.
You may also be interested in Taking a DNA test while pregnant or, if you're looking for other paternity tests, you should read these other reviews: