7 Facts from our Accu-Metrics Review
Location: Toronto, Canada
Services: Accu-metrics offers a wide range of services, including genetic testing for relationships, forensics, animal services (e.g., dog breed identification), drug testing, and health products
Cost: $99-$379 for the DNA relationship tests
Reports: Determines whether individuals are genetically related
Counseling available: Consultations available via phone
How to order: Order through the company's website
Alternative Products: Nebula Genomics offers 30X Whole Genome Sequencing that decodes 100% of your DNA and gives reports on diet and much more!
This review is written with the intent to be as unbiased as possible. However, it represents the opinion of an individual reviewer and is therefore subjective. Furthermore, at Nebula Genomics we seek to educate the public about the benefits of Whole Genome Sequencing. Information about our Whole Genome Sequencing DNA test is therefore incorporated into the review.
October 24, 2023
Pros and Cons
Pros
Wide range of services
Remote chain of custody option
Flexible testing options, including nonstandard samples
Cons
Longer wait time (5-7 days)
No privacy policy
Website dated as 2019
Negative company reviews
Introduction
Based in Toronto, Canada, Viaguard Accu-Metrics promises a blend of advanced technology, confidentiality, and precision in its diverse services. From DNA paternity tests to canine breed determination, Accu-Metrics caters to individual and professional needs. This review delves into the various facets of Accu-Metrics, evaluating its results, pricing, additional features, and overall service quality.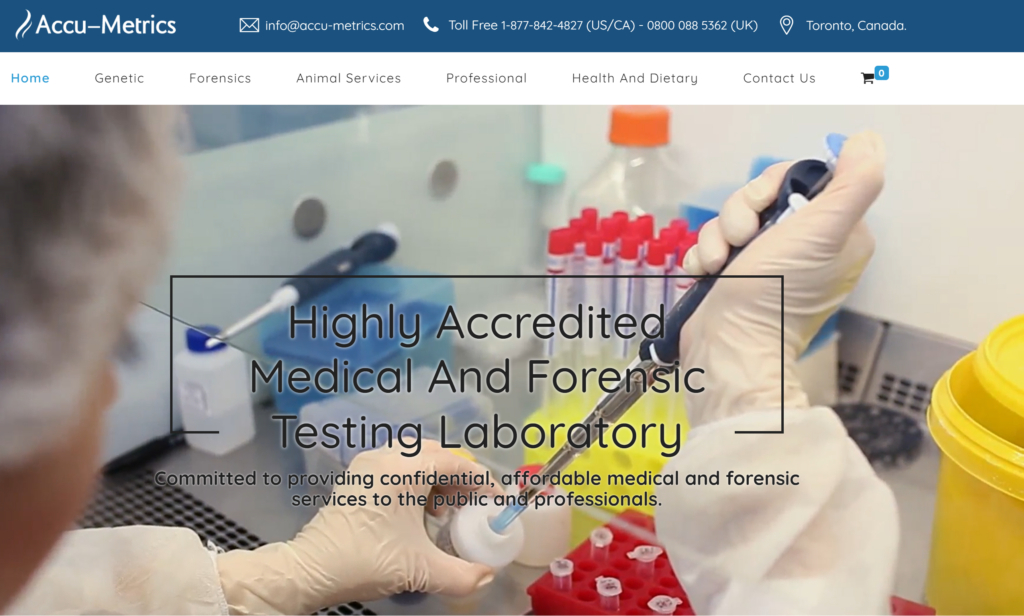 Accu-Metrics operates under the umbrella of the AccrediLab Group. Its presence in Toronto, Canada, positions them in a hub of technological advancement and medical research, offering them access to cutting-edge technologies and methodologies.
Accu-Metrics appears to emphasize its commitment to the public and professionals. This dual focus suggests a balance between advanced testing capabilities and a human-centric approach, ensuring that clients receive accurate results and the support and understanding they might need.
Viaguard is also associated with Accu-Metrics, suggesting a broader network or a parent company. A review on Trustpilot suggests that Prenatal Paternities Inc is also a part of this company. With only a 1.9 star review, many customers claim that they either did not receive results or received incorrect results, that it was extremely difficult to contant the company, and that the lab does not appear to exist.
This review is based on information publicly available on the company's website, last updated in 2019. However, potential customers should proceed with caution.
The Science Behind Accu-Metrics
Accu-Metrics is a medical and forensic testing laboratory with a range of services specializing in DNA relationships. For its paternity testing, it uses exclusive DNAffirm Technology, which boasts a 99.999% accuracy rate. This technology has been employed in over 100,000 tests.
Review of Accu-Metrics Services
This company offers a wide range of testing services. We will highlight a few of them here.
Relationship Testing
This is probably the most popular test type for individual consumers. Customers can choose from paternity, maternity, sibling, grandparent, or avuncular (aunt or uncle) options.
The company notes that all relationship tests can be used for legal purposes, which requires maintaining a chain of custody on the samples.
Unlike most testing companies, where all parties must have their samples taken at a collection site, Accu-Metrics lets you collect the sample at home. If a customer wants to use the test for a legal purpose, they simply complete the remote legal chain of custody forms included with the testing kit. Alternatively, the can forgo the forms and use the test for informational purposes only. The price is the same whether the customer wants to use the legal or informational option.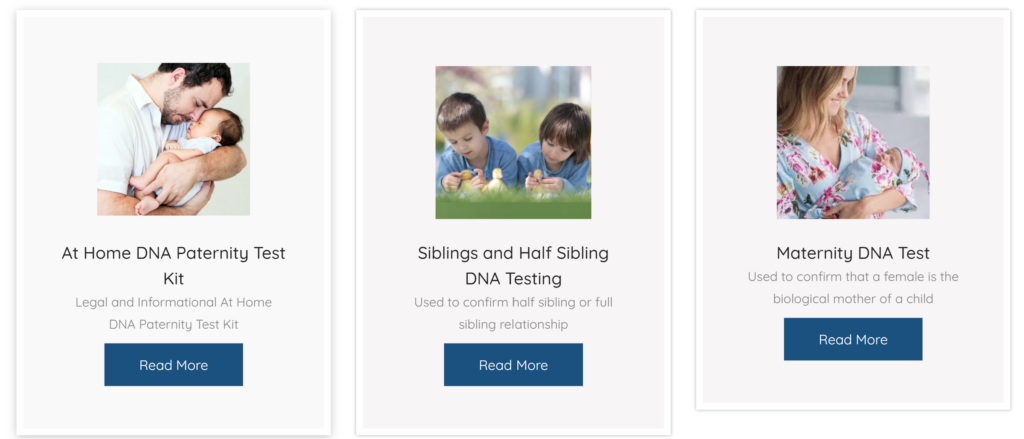 The company will mail the test kits for free, allowing customers to remit payment once they mail back the samples. Results are available within 5-7 days after the lab receives the samples.
If needed, it will send kits to different locations. Additionally, Accu-Metrics will accept non-standard samples, such as gum, cigarette butts, spot of blood, toothbrush, etc. if saliva samples are not available.
Forensics
Accu-metrics offers specialized forensic services, including hair drug testing and fingerprinting.
Hair Drug Testing: This service provides a confidential, clinical-level hair drug test for informational or legal purposes. It's designed to determine the usage level of drugs from hair samples, offering a longer detection window than urine tests. This test gives quantitative results and level of drug use (if any) for cocaine products and derivatives, opiates and codeine derivatives (oxycontin etc.), amphetamine and derivatives, including mephedrone, marijuana/hashish (THC), and phencyclidine.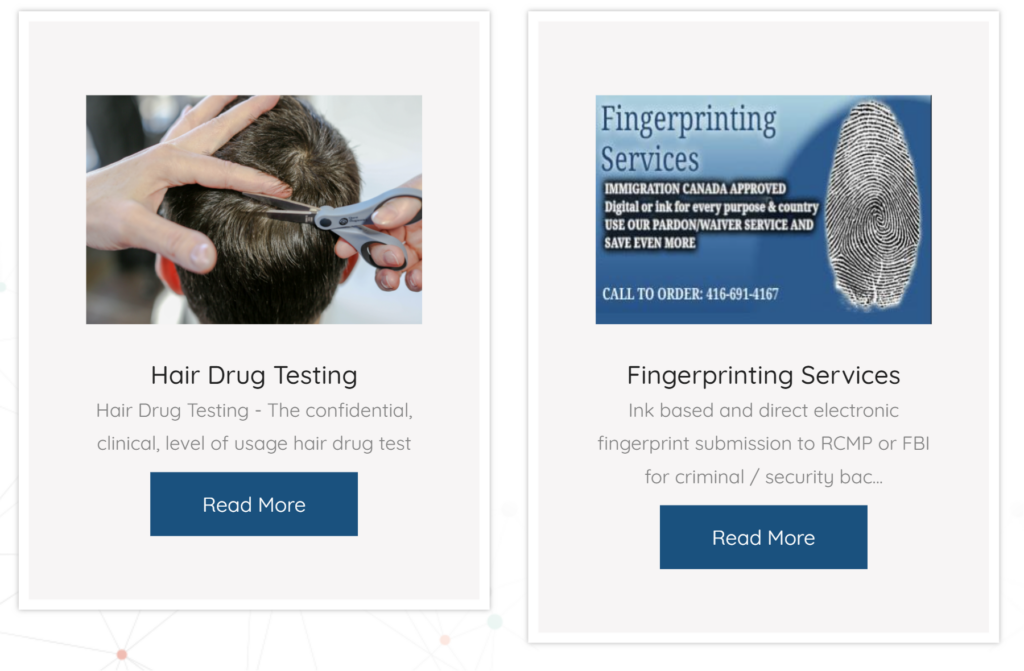 Fingerprinting Services: Accu-Metrics offers both ink-based and direct electronic fingerprint submissions to RCMP or FBI. This service is essential for criminal or security background checks, especially for individuals seeking permanent residency or citizenship.
Professional Services
Accu-metrics offers a range of professional services, including polygraph services, US entry waivers, and Canada pardons. These services cater to the diverse needs of professionals and individuals seeking legal assistance or expert consultations.
Urinalysis technology for institutional use
Canada pardon and record suspension service
Forensic toxicology expert
Substance abuse detection
Date rape drug testing
Saliva drug testing
PEth testing
Urinalysis tests
Review of Accu-Metrics Cost
Relationship tests
Paternity: $99-$279 (depends on how many potential fathers are tested)
Maternity: $199-$379 (depends on how many potential mothers are tested)
Siblings and half-siblings: $199
Grandparent: $199
Avuncular: $199
Forensics
Hair drug testing: $175
Fingerprinting: Varies
Professional services: $60-$399
Animal services: $19-$495
Health and dietary products: $33-$600
Review of Accu-metrics Privacy Policy
Accu-Metrics commitments to privacy, noting on its website that all results are private and confidential. Given their base in Toronto, Canada, they are bound by Canadian data protection and privacy laws, which are known for their stringency.
However, it should be noted that there is no privacy policy available on its website.
Other Accu-Metrics Reviews
There are two reviews on the company's website. Both customers say that they had a good experience with Accu-Metrics, indicating that the kit was shipped in a timely manner, the instructions were easy to follow, and customer service was helpful.
However, Accu-Metrics has poor reviews on Trustpilot with a 1.9 star rating. While some customers found the service affordable and results aligned with their expectations, a significant number expressed concerns about perceived inaccuracies, especially in canine DNA testing. There were also mentions of long waiting times and a lack of responsiveness from the company. It should be noted that many customers are reviewing the animal breed identification aspect of this company, although there are several reviews of the paternity tests as well.
On the Better Business Bureau (BBB) website, Accu-Metrics, also known as Viaguard, has a 2.33 star rating based on 3 customer reviews. The company has received 5 complaints in the last 3 years, with issues ranging from problems with the product/service to concerns about the accuracy of results.
Nebula Genomics
Accu-Metrics claims to offer a broad range of services, including forensic and animal testing. Unfortunately, customer accounts suggest that the company does not live up to its hype.
If you're looking for a genetic testing service that delivers on its promises, you should consider Nebula Genomics. We provide whole-genome sequencing, a tool allowing for comprehensive analysis of the entire genome. This service provides insights into a wide range of genetic traits and predispositions.
Nebula provides a comprehensive DNA test highlighting predispositions related to aging. With reports, you can easily explore your DNA and learn about discoveries focused on longevity.
With 30x Whole-Genome Sequencing, Nebula sequences 100% of your DNA to get to the root cause of every biological inclination. The test is incredibly accurate and includes other additions, including ancestry reporting and genome exploration tools. Regularly updated reports ensure that you will not miss the latest genetic research.
Nebula is not a diagnostic test, but the results are of the highest quality and can be used in consultation with health care professionals.
For only $299 or less, customers will get access to their entire genome, allowing them to continue to ask more questions as more research is conducted.
Accu-Metrics vs. Nebula Genomics
| | | |
| --- | --- | --- |
| | Accu-Metrics | Nebula Genomics |
| Testing method | DNA testing for relationships, forensics, animals, and more | Saliva samples for whole-genome sequencing service |
| Reports | Varies based on test type | A comprehensive report detailing the individual's genetic makeup. This can include information about health risks, traits, wellness, and ancestry. The report is interactive and can be explored in detail on the platform |
| Counseling | Consultations available | No, but physicians and genetic counselors can use data. |
| Cost | $99-$495 | $0, $99, $299 |
Did you like our Accu-Metrics review? You can read more reviews on our blog and check out our complete guide to the best DNA test kit and other home tests.
Other companies
You may also be interested in Taking a DNA test while pregnant or, if you're looking for other paternity and relationship tests, you should read these other reviews: