7 Facts from our GenebyGene Review
Location: Houston, Texas, United States.
Products: Services include diagnostic tests, pharmacogenetics, forensic genealogy, relationship DNA testing, research genetics, and ancestry
Cost: Costs for clinical, forensic, pharmacogenetic, and research tests are not available. Relationships tests are $189-$479. The ancestry tests range from $79-$159
Reports: Diagnostics, proactive health, relationship matches, and ancestry.
How it works: Most tests are only available through a physician. Individuals can purchase the relationship and ancestry tests
Counseling available: Only physicians can order clinical tests
Alternative Products: Nebula Genomics offers 30X Whole Genome Sequencing that decodes 100% of your DNA and offers reports on diet and much more!
This review is written with the intent to be as unbiased as possible. However, it represents the opinion of an individual reviewer and is therefore subjective. Furthermore, at Nebula Genomics we seek to educate the public about the benefits of Whole Genome Sequencing. Information about our Whole Genome Sequencing DNA test is therefore incorporated into the review.
July 26, 2022
Pros and Cons
Pros
Offers detailed results for doctors
In-house testing
FTDNA has one of the largest Y-DNA and mtDNA databases in the world
Cons
Most tests require an order through a doctor's office
No personalized diet or exercise recommendations
No genetic counseling
Expensive
GenebyGene Introduction
GenebyGene (Gene by Gene) is a genetic testing company with a wide range of products and services. Many of their services are only available to doctors on behalf of their patients, law enforcement, and scientists. 
Individuals have more access to relationship and ancestry testing, by which the company helps people trace their maternal or paternal ancestry, connecting them to their roots. It created the direct-to-consumer DNA testing company, Family Tree DNA (FTDNA) and will take you directly to its website for buying ancestry products.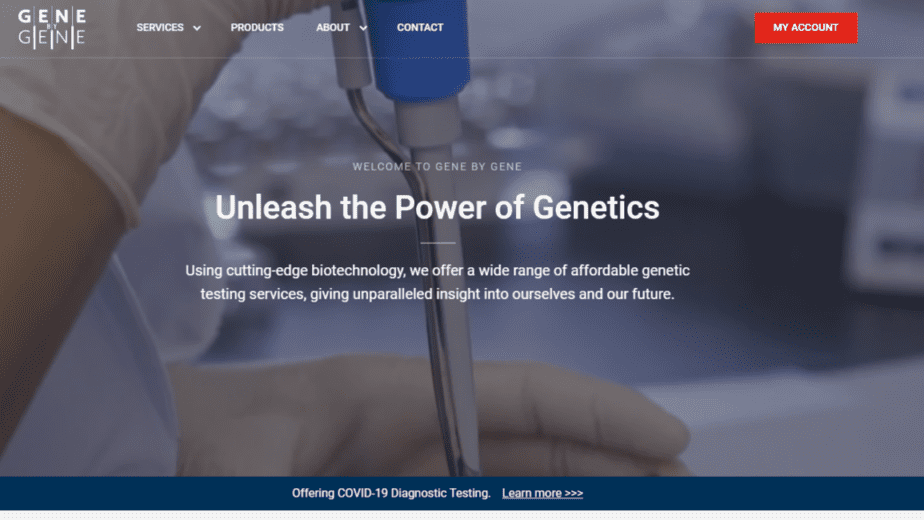 Recently, the company has also offered COVID-19 testing.
The company's mission is to empower people to make decisions on their genetic health by creating a high-quality and affordable genetic testing service. Based in Houston TX, GenebyGene Doron M. Behar, Bennett Greenspan, and Max Blankfeld founded GenebyGene in 2000. Lior Rauchberger is the current CEO.
GenebyGene Product Review
GenebyGene has many products available. It is important to understand the category of products that each test falls into as only certain health professionals or research scientists can order some tests. This section will consider all the major categories of testing that this firm provides its services.
Anyone can make an account with the company and view the tests. Restricted items are noted.
Review of GenebyGene Tests for Clinicians and Other Specialists
Clinical Testing
This medical genetics service helps to determine and guide doctors when caring for their patients by giving them insights into the patient's health condition or underlying genetic component. This service also helps direct medical management, better understand a prognosis, and confirm a diagnosis.
GenebyGene scientists perform the tests at an in-house CAP accredited and CLIA registered laboratory.
People who utilize this service become proactive about their health as they can discover their predisposition to cardiovascular conditions, cancer, and more.
Physicians can request a test using the provided form. Contact and NPI# confirmation is required.
The test includes a buccal swab kit for the patient to collect their DNA. Physicians then ship back the patient requisition form and DNA sample. Results become available online.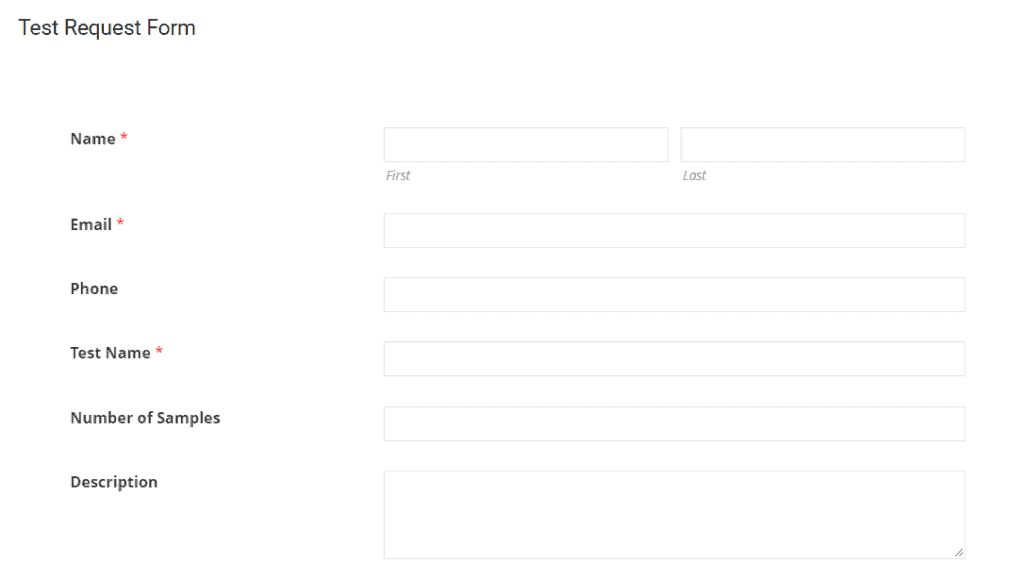 Patients can create an account and review the tests online but their doctor must order the actual product. Costs are not available online but insurance may cover the price.
myDNA Psychotropic Test
A pharmacogenomic test evaluates your DNA to determine how you would react to certain medications. GenebyGene offers the myDNA Psychotropic PGx report. Clinicians write the report to provide their colleagues with actionable insights regarding their patient's genetically predisposed drug response.
Like the other clinical tests, a physician must order and review this product.
It also helps advise your doctor about the genes that may affect your drug reaction and how you metabolize. This will help create a customized medication for you and remove the trial and error period of finding the proper medication.
GenebyGene will bill insurance for the cost of the test. In most cases, patients pay $330 or less in out-of-pocket costs. If the patient's amount is higher, the company will discuss payment options. It also offers payment plans and is covered entirely by Medicare (Part B) and Medicaid.
The pharmacogenetic report starts with a summary of the main findings. It includes the relevant genes and whether the genotype likely results in a high, normal, or poor metabolizer.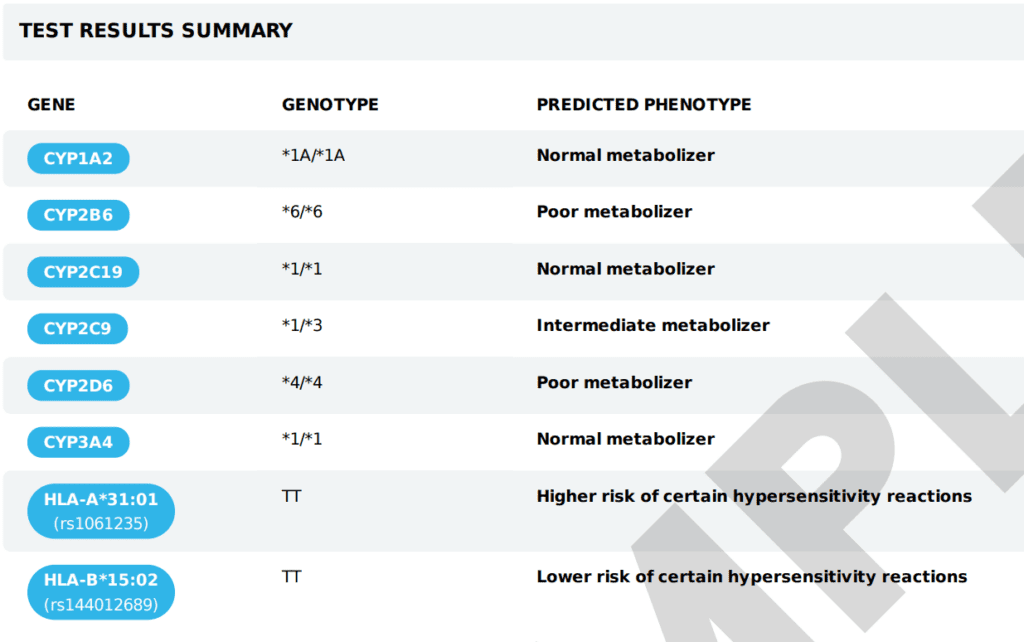 The next section is a medications table arranged according to the four categories of MAJOR, MINOR, USUAL or NO PHARMACOGENOMIC prescribing considerations.

Detailed results and a list of references follow this section.
Research Genetics
Gene by Gene helps researchers gain in-depth knowledge to understand better the role of genetics through affordable whole exome and genome sequencing and genomic data management.
They offer these services to research centers who work with Pharma companies, Medical Centers, International hospitals, and Academic research institutions.
Forensic Testing and Genealogy Services
The company can use biological evidence or extracted DNA from a case to form a DNA profile. They can then upload it into the Family Tree DNA database for matching purposes. In forensic genealogy, experts use genetic analysis in combination with genetic genealogy and traditional genealogy to help solve a crime.
GenebyGene provides forensic services to law enforcement to identify the remains of a deceased human or for sexual assault or homicide against individuals.
Review of GenebyGene Tests for Individuals
Relationship DNA Testing
GenebyGene provides people with a trusted DNA testing service for paternity, maternity, immigration, and legal testing questions. Individuals can order legal tests for relationship status that helps solve issues from maternity and paternity cases where a mother or father's biological relationship with a child is uncertain. Court admissible paternity tests cost $425 while maternity tests cost $475.

There is also a peace of mind test that can be used for personal use only at the lower price of $189.
Gene by Gene also offers DNA testing to help assist with the immigration process between the United States and other countries in the world. Potential clients can contact the company for pricing.
Ancestry
This ancestry test is similar to other genetic testing companies such as 23andMe and AncestryDNA. In summary, it helps break down your origin, shows you where each DNA segment originates, and connects you with your autosomal DNA relatives. It is provided through GenebyGene's subsidiary company, Family Tree DNA.
This test can connect you with your paternal relative, trace your surname to its roots, and find the migration paths of your male ancestors. It can also help you explore your maternal line heritage, connect you with your maternal relatives, and trace the migration path of your female ancestors.
When investigating the ancestry page on GenebyGene you will be taken almost immediately to the Family Tree DNA website. The company offers 4 different ancestry packages.

Family Finder: Provides a percentage breakdown of your origins and view where each DNA segment comes from. It also allows for DNA matching in the last 5 generations and determines if you have links to ancient European groups. The test costs $79.
myDNA Wellness: Offers 30+ health and wellness insights. In collaboration with myDNA, customers receive a 30-day free membership to meal and exercise plans, personalized based on your DNA. This test costs $119.
Y-DNA: This test is for biological males only. It reports on heritage through your paternal line and matches you with relatives in the Y DNA database. This test allows you to discover things like migration patterns and surname origins. It costs $119.
mtDNA: This test can be used by someone of any gender. It reports on heritage through your maternal line, matches you with relatives in the mtDNA database, and traces maternal migration patterns. The test costs $159.
COVID-19
Gene by Gene understands the importance of the world's access to COVID-19 testing to prevent the spread of the virus. This is why they are working tirelessly to make available more supplies needed for the testing. To access this service as a patient suspected of having the virus, you must consult a health care provider or a physician to help collect your sample.
Review of Taking a GeneByGene Test
GeneByGene ensures that users find it very easy to perform their tests. All tests require a cheek swab sample to be sent to its lab for analysis.
In many cases the tests are sent through a doctor's office or at a DNA collection facility. In some cases, such as the ancestry tests, customers can order, collect the sample, and ship it back from home.
Review of GenebyGene Cost
Clinical testing is billed through the clinician's office that ordered the test. Depending on their insurance, patients are billed after the insurance processes the claim.
Relationship testing ranges from $189-$479.
Ancestry testing ranges from $79-$159.
Other GenebyGene Reviews
Most products on the GenebyGene website can only be ordered through a doctor's office or by researchers. Thus, there are no publicly available reviews online.
Xcode Life wrote a similar review as this one.
On the other hand, FamilyTreeDNA, the ancestry product offered by the company's subsidiary, is available and has a number of reviews.
The Family Finder DNA kit has a 4.2 out of 5 star rating on Amazon.com with over 1,000 reviews. Many customers found the service useful and learned new things about their family and ancestry.
More people who seemed to have these negative experiences have placed reviews on TrustPilot, where the company has only 1.7 out of 5 stars with over 80 reviews. There are several complaints of long wait times, inaccuracy, difficulty in deleting data, and results that are too complicated.
Review of GenebyGene Privacy
Your personal information and genetic data submitted to the company are stored and processed safely at the company's headquarters in Houston, TX and used to provide services requested by the subscriber or user. IP and email addresses that the company can access are also used to provide you with current products and services from GenebyGene.
This company can also access your family ancestry, medical history, and name, which are all used to provide you with your needs. GenebyGene does not sell, rent, disclose, or share any of their customer's information with third parties. It uses "reasonable and adequate" security measures, which are reviewed periodically, to protect your data.
Any third party that can access the customer's information uses it to process the customer's order and must meet the same security standards as the parent company.
Customers can contact the company if they wish to correct, amend, or delete data.
In addition, Family Tree DNA has its own privacy policy related to its DNA tests.
Nebula Genomics
GenebyGene is a leading company in modern genetics testing. The company offers Next Generation testing for patients, doctors, and researchers. These tests contain a vast number of options, including disease screening, whole genome sequencing, ancestry matching, and more.
However, most of the relevant tests for health are only accessible through a doctor's office. Plus, ancestry requires purchase of an additional kit through Family Tree DNA.
On the other hand, Nebula Genomics offers 30x Whole-Genomic sequencing service directly to the customer. This is the most comprehensive DNA test that sequences up to 100% of your DNA. With one test, you will receive reports highlighting predispositions to hundreds of diseases and traits as well as deep ancestry information through both the Y chromosome and mtDNA.
Nebula Genomics also provides regular updates on reports based on the latest genetic research and exploration tools for personalized analysis of your genome. All this comes with the low price of $299 or less.
| | | |
| --- | --- | --- |
| | GenebyGene | Nebula Genomics |
| Testing method | Ranges from microarray analysis to whole genome sequencing | Sequences all 20,000 genes and regulatory regions |
| Reports | Clinician focused reports, relationship tests, and ancestry | An extended genetic report that is updated regularly |
| Ancestry reporting | Yes | Performs deep ancestry reporting with the complete Y chromosome and mtDNA sequencing |
| Counseling | No | No, but data is of the highest quality and can be used by physicians and genetic counselors |
| Cost | Varies based on test and in most cases, insurance. Ancestry costs between $79-$159 | $0, $99, $299 |
Did you like our GenebyGene review? You can read more reviews on our blog and check out our complete guide to the best DNA test kit and other home tests.
Other companies
You may also be interested in Taking a DNA test while pregnant or, if you're looking for other paternity tests, you should read these other reviews:
Other companies that offer a variety of options include: