This review is written with the intent to be as unbiased as possible. However, it represents the opinion of an individual reviewer and is therefore subjective. Furthermore, at Nebula Genomics we seek to educate the public about the benefits of Whole Genome Sequencing. Information about our Whole Genome Sequencing DNA test is therefore incorporated into the review.
November 16, 2021
Edited by Christina Swords, PhD
November 16, 2021
7 Facts from our Genovate Review
Location: Leeds, United Kingdom
Products: Various advanced DNA tests, including relationship, health, fitness, and ancestry tests
Cost: The prices of the tests range from $99 to $498
Reports: Reports for Genovate tests are ready in 1-3 business days. The company does not offer sample reports on its website
How it works: Once you receive the test kit after placing your order, you take a saliva sample from your cheek using the included swab. Mail the test kit back and wait to receive your results through a secure online portal
Raw Data Access: No information is given on raw data access
Alternative Products: Nebula Genomics offers 30x whole-genome sequencing that reads 100% of your genome
Genovate Introduction
Genovate started as a forensic DNA testing company. It was founded by a group of Ph.D. scientists with many years of DNA research experience. Initially, the company offered DNA testing services only to government organizations, hospitals, law enforcement, and lawyers. Interestingly, Genovate claims to be one of the initial adopters of the buccal mouth swab sample DNA collection, having started this sample collection method over 20 years ago.
Genovate currently offers testing services for both individual and legal purposes. In addition, Genovate is one of the few gene testing laboratories with all major DNA testing accreditations, a testament to their test accuracy and reliability. A similar company that offers these types of legal tests is DNA Services Unlimited.
Genovate Review
Review of Genovate products
Tests offered by Genovate are divided into five different categories which are highlighted below.
Review of Genovate relationship tests
The Genovate relationship tests help to discover if a relationship exists between two or more people.
DNA paternity test: The Genovate DNA paternity test is a highly accurate test that helps determine the true biological father of a child or children. With the at-home test kit, it can be done in the privacy of your home. Furthermore, the DNA paternity test kit can be split into cases where the parties to be tested live in different cities. Additionally, these tests can be performed on individuals of any age, and it can even be used to test newborns.
The company also sells its DNA testing kits to be used in a legal setting, although they cannot be performed at home. In this case, all the parties will have to attend an appointment at a state-of-the-art clinical lab for the swab sample collection. If one of the parties is deceased, DNA left on the belongings of the person can be collected to carry out the test.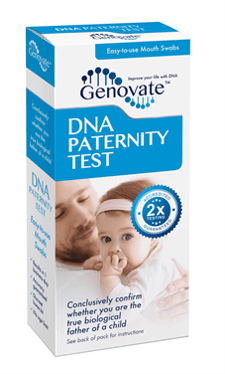 DNA maternity test: The DNA maternity test is used to prove if someone is the biological mother of a child. Just like the paternity test, the kit can be split and has no age limit. The same level of anonymity also applies except the results are required for legal reasons.
Other relationship tests include:
DNA cousin test
DNA sibling test (including full and half-siblings)
DNA aunt/uncle test
DNA twin test
Review of Genovate health and disease tests
This category of tests uses genetic information to determine if you are at risk for different kinds of health conditions.
DNA type 2 diabetes test: This test helps you assess your risk of developing type 2 diabetes. It is based on several factors, including your genetic variation, family history of this kind of diabetes, ethnicity, and how much exercise you do.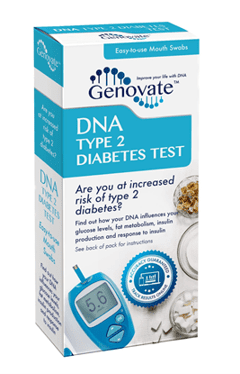 DNA cardiovascular health test: An individual's risk of developing heart-related health conditions can be linked to family history. Several genetic factors are associated with the risk of cardiovascular health conditions. This test helps you calculate your risk you of developing a heart condition.
DNA hemochromatosis test: The DNA hemochromatosis test is used to test for a person's vulnerability to hemochromatosis. This disease is most common among people of European descent and ancestry. Hemochromatosis can be treated easily if it is detected early but has irreversible effects if not.
DNA narcolepsy test: Narcolepsy is a disorder that affects its bearer's ability to sleep. This DNA test helps you determine if your excessive daytime sleepiness is caused by this disease. This then enables one to make the appropriate treatment decisions. About 99% of people suffering from narcolepsy carry a defective gene.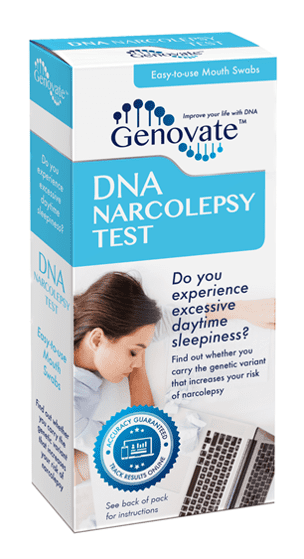 Cardiovascular disease (ApoE) DNA test: This one tests for the ApoE gene, which is an indicator of one's risk of developing a heart attack. This test helps you take appropriate measures to prevent cardiovascular diseases.
DNA Alzheimer's disease test: This tests if you have a variant of the ApoE gene that puts one at risk of developing Alzheimer's. This gene variant increases one's risk of developing late-onset Alzheimer's by up to 15%. The test results can then help you plan to tackle the illness early and slow down its progression.
DNA osteoporosis test: Some inherited gene variants put one at a greater risk of having weak bones. Osteoporosis is a condition that affects the strength of the bones and joints and is common among the elderly. This test helps you prepare for this condition so you can take steps to strengthen your bones and slow down their degradation.
DNA skin health test: This test helps you discover the best practices and treatments to be employed to have healthy skin. Different people have different skin types and products that work for their skin type. This test will help you remove the guessing game and help you choose what products will work best for you.
DNA thrombotic risk test: Thrombosis is a health condition that results in the formation of blood clots inside the blood vessels. A blood clot in the brain or the lungs can be fatal. This test, however, uncovers your risk of developing thrombosis and helps you take the appropriate measure to combat it.
Review of Genovate diet and fitness tests
These tests provide you with data on your fitness levels, diet, and weight.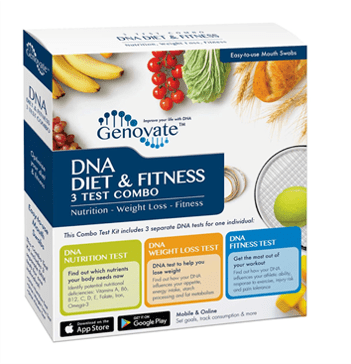 Diet & Fitness 3 Test Combo (includes nutrition, weight loss, and fitness)
Caffeine Sensitivity Test
Alcohol Intolerance Test
Celiac Disease Test (learn more about the genetics of celiac disease)
Fitness Test
Lactose Intolerance Test
Nutrition Test
Weight Loss Test
Some of these tests provide insights into how your body reacts to certain ingested compounds (caffeine, alcohol). Others will describe which nutrients and exercise routines are optimal to help you reach your health goals based on your unique genetic makeup.
Review of Genovate behavior and traits tests
These tests may help you discover the relationship between your genes and your personality. It's important to remember that less research is performed on direct links between genetic variants and these kinds of traits. Most experts agree that these characteristics are a result of genetics, environmental factors, and lifestyle choices.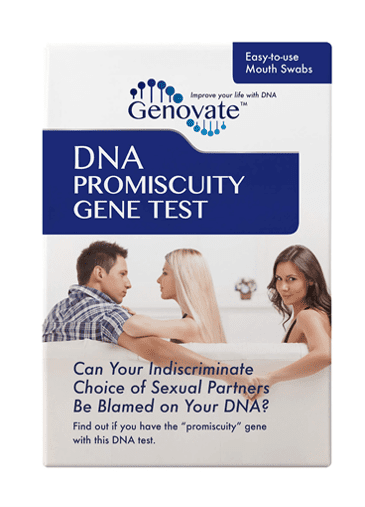 Male Pair-Bonding Gene AVPR1A Test
Promiscuity Gene DRD4 Test
DNA Warrior Gene Test
Anxiety & Depression 5-HTTLPR Test
Female Infidelity Gene AVPR1A Test
Wanderlust Gene Test
Review of Genovate ancestry tests
Ancestry tests help you trace your roots to find out where your ancestors come from. The ancestry tests available from this company are those for certain regions of the DNA: Y-DNA (traces the paternal line, open to biological males only) and mtDNA (traces the maternal line, available to both biological males and females).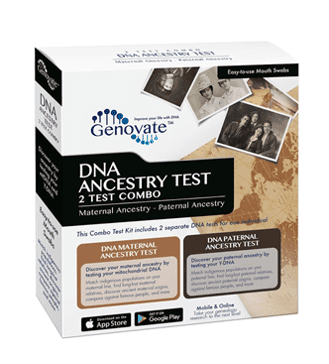 Customers can order the two available tests separately or as a combo kit.
Taking a Genovate Genetics Test
Genovate test kits can be ordered by the patient without the need for a physician's prescription. The test kits contain instructions and a mouth swab for collecting the sample. This quick and painless procedure allows you to collect your DNA safely and quickly. DNA relationship tests include more than one swab for the parties whose samples need to be collected.
You can take a Genovate test from any country in the world as they offer worldwide shipping services. Once you receive your test kit, take the sample and send it back to the lab where it will undergo polymerase chain reaction (PCR) to amplify the DNA and compare it between potential relatives or known genetic patterns. Results will be available via mail or email and in the online portal 1 – 3 days after the sample arrives at the lab. The samples for a legal test must be collected by an anonymous Genovate representative.
Review of Genovate Cost
Genovate DNA test pricing ranges from $99 to $498.
Relationship tests: $99-$150 for tests that need two individuals (i.e., one child and alleged father). More expensive tests are available for tests that need additional DNA tests (i.e., two children and one alleged father). Additional tests for legal purposes are also available and tend to be about $100-$200 more expensive than tests for private use.
Health and disease tests: $195-$349 depending on the type of condition tested for.
Diet and fitness: $149-$498 depending on the type and comprehensiveness of the test.
Behavior and traits: $149 is the price for each of these tests
Ancestry: $119-$209 depending on whether you're testing for either Y-DNA or mtDNA or both.
Review of Genovate Reports
Customers can view their results in reports that are made available in 1-3 days after the sample is received. The number of days you will have to wait to receive your test report may be affected by factors like shipping time and the need to rerun a test. DNA samples that are not collected properly can also lead to delay in the processing of the reports.
The company does not provide sample reports online.
It is known that the relationship tests will provide a yes or no answer to the type of relationship tested for with high accuracy.
The health and disease tests sequence your DNA for specific variants related to the condition tested. For example, the type 2 diabetes test will look for genetic variants associated with things like sensitivity to dietary fatty acids and how our body responds to insulin.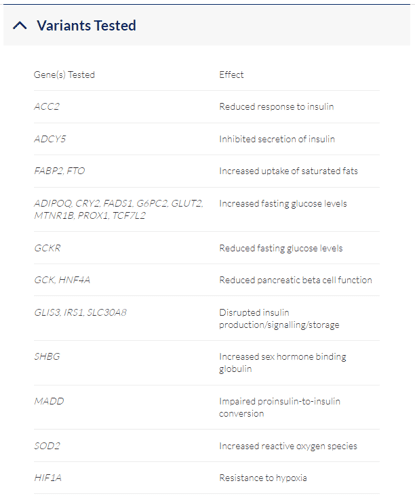 Diet and fitness tests will similarly analyze genetic markers that affect how your body responds to things like specific nutrients in your diet (for the diet test), how your body responds to exercise (fitness test), or how well your body metabolizes certain compounds (tests for alcohol or caffeine).

Review of Genovate Privacy
Genovate claims to maintain 100% confidentiality on the results of your test. Access to the online portal where your results are uploaded is through a secure password.
Other Genovate Reviews
Several of this company's tests are available on Amazon. These include the majority of the relationship tests (paternity, grandparent, sibling, twin, aunt/uncle, maternity, and cousin) and the DNA fitness test. Most ratings rank the tests as 4 out of 5 stars although there are generally only a handful of reviews for each.
The grandparent, paternity, and sibling tests have the most reviews with just over 100 ratings each. The positive reviews describe the tests as accurate and informative. However, some negative comments, especially more recent ones, focus on the long wait time since the samples must be shipped to Canada.
Pros and Cons of Genovate Testing
Pros
Several Genovate tests available to choose from
Test kits can be ordered from anywhere in the world
Results are generated in 3 days or less
Cons
Health and disease tests have to be taken individually
Although the cost of each test seems to be reasonable, the cost adds up when you order multiple test kits
Nebula Genomics
Nebula Genomics offers the most comprehensive DNA testing for customers who want a complete picture of their genome. The test uses 30x whole genome sequencing which decodes 100% of a person's DNA through a single order. One of the advantages of whole-genome sequencing is that it reveals all there is to be known about a person's genes. So whether you want information on health, disease, or ancestry, whole genome sequencing has the answer. This means that instead of ordering various tests, you can order a single test to discover your susceptibility to different conditions as well as your ancestry.
The Nebula ultra-deep whole-genome sequencing is the only DNA test you will need to carry out to discover your risk of developing different genetically linked diseases as well as your ancestry. Nebula's form of reporting is also unique in that you get weekly updates based on newer research in genetics. This means that the results of your Nebula gene testing are never out of date.
| | | |
| --- | --- | --- |
| | Genovate | Nebula Genomics |
| Sample collection | Buccal mouth swab | Saliva |
| DNA testing method | An extended panel marker system | Whole Genome Sequencing (30x coverage) |
| Ancestry testing | Y-DNA and mtDNA | Deep ancestry reporting with full Y chromosome and mtDNA sequencing |
| Raw DNA download | No | Yes (FASTQ, BAM, and VCF files) |
| Compatible with other services | No | Yes |
| Report | A single report provided at the end of testing | Weekly genetic reports based on the latest research and data (learn more) |
Genovate vs Nebula Genomics
Did you like our Genovate review? You can read more reviews on our blog and check out our complete guide to the best DNA test kit and other home tests.
This company offers a variety of tests for different inquiries. Other companies that offer different testing options include:
Other companies that offer these types of tests include:
Relationship
Ancestry
Diet and Fitness