Introduction to CBD oils
What is CBD oil? You may have heard of cannabidiol (CBD) online or through other media. These outlets portray it as an effective treatment for a variety of ailments ranging from anxiety to multiple sclerosis, high blood pressure, neuropathic pain, and cancer treatment. It may also improve sleep in people with insomnia.
Many people have questions about the widely popular CBD oils that customers can purchase online, usually without a medical cannabis license. It is important to point out that hemp-derived CBD is not medical marijuana and therefore does not produce the high associated with smoking marijuana. 
The plants
Both hemp and marijuana are species of the Cannabis sativa family of plants, and both contain the chemicals CBD and Tetrahydrocannabinol (THC). However, marijuana contains trace amounts of CBD and very high amounts of THC, the ingredient in cannabis that gives users a "high." On the other hand, naturally grown hemp extract contains a high amount of CBD and much less THC. It is unlikely that CBD oil will appear on a drug test since these tests analyze for THC.
Thus, CBD does have the same psychoactive effects as marijuana. In 2017, the World Health Organization (WHO) deduced that CBD is a non-toxic and non-addictive substance, reporting that due to the unlikelihood of abuse, agencies should not consider it a scheduled drug. With more states relaxing their measures against CBD, the federal government of the United States has begun to provide guidance.
The oil
CBD oil is one of the most well-known products containing CBD. Agricultural hemp is farmed through a labor-intensive process that differs from the industrial hemp process used to cultivate hemp seed. Manufacturers make the oil from CBD extracted directly from a cannabis plant and diluted with carrier oils such as coconut and MCT oil. The modified isolate can be ingested, applied topically, or inhaled as CBD oil vapor or CBD vape oil, as it is sold.
Note that not all CBD products is administered in all three ways. For instance, some CBD oil is too viscous to vaporize, while others are explicitly designed for vaping and should not be ingested. 
The general consensus is that the average shelf life of CBD oil is between 14 and 24 months, depending on its storage. For best CBD oil results, customers should keep it away from heat and light and avoid air exposure.
Is CBD legal?
It's complicated. The 2018 Farm Bill technically legalized hemp cultivation and declassified hemp CBD as a Schedule I controlled substance. While the substance does not have to be THC-free, it must contain less than 0.3% THC. However, the Food and Drug Administration (FDA) continues to review cannabis derived products in accordance with the Food, Drug, and Cosmetic Act (FD&C Act).
This implies that the Food and Drug Administration (FDA) must approve any CBD oil that is for sale and makes therapeutic claims. Some manufacturers bypass this rule by marketing CBD products as dietary supplements, which are exempt from dosage and purity regulations, and the FDA has not evaluated their statements. This loophole means that the efficacy and safety of these products may not be thoroughly assessed.
Safety
One of the most common issues with the safety of CBD oils is the unintended presence of heavy metals and pesticides. These contaminants can lead to headaches, body aches, and other ailments that counter the health benefits of CBD oil. Without FDA evaluation, most CBD oil products are not intended to diagnose, treat, cure, or prevent any disease. 
Without a therapeutic claim, retailers can sell CBD without FDA approval. However, sellers and buyers must still follow state and local rules. While CBD products are technically available for purchase in all 50 states, some states have stricter restrictions than others.
The laws surrounding CBD, its legal status, and its proper use are rapidly changing. Currently, no consensus exists among states. As such, potential consumers should consult local laws to verify what is considered legal consumption of CBD.  
Most reputable manufacturers have their products third party tested to confirm what is in the CBD oil.
The Science Behind CBD as a Therapeutic
The human body contains an endocannabinoid system composed of natural neurotransmitters called endocannabinoids and cannabinoid receptors, along with cannabinoid receptor proteins. CBD works by binding to cannabinoid receptors, thereby impacting the receptor activity of the endocannabinoid system.
A well-studied aspect is its ability to bind to the cannabinoid receptor CB1 in the central nervous system. This is the same receptor that THC binds to cause a high. While THC activates CB1 signaling, CBD appears to dampen it. This opposite mechanism is why CBD has little to no psychedelic effects.
CBD also binds to other receptors, making it a potentially useful therapy for several brain-related conditions.
The adverse effects of CBD oil are minimal. The most common CBD oil side effects include nausea, fatigue, and irritability.
A larger concern is that CBD may interfere with how the body processes certain over-the-counter drugs, prescriptions, and dietary supplements. Because of this risk, customers should receive medical advice before starting CBD oils. If they have a serious medical condition or take prescription medications, they should consult a healthcare professional before using this product.
CBD Oils for Epilepsy: Approved by the FDA
While CBD oil use is common for a number of conditions, it has only been FDA-approved to treat certain epilepsy conditions. Humans have been using cannabis plants to treat epilepsy since the nineteenth century. As a therapeutic, CBD oil finally gained approval as the drug Epidiolex, the only FDA-approved.
Epidiolex is an anti-seizure medication for Lennox-Gastaut syndrome (LGS) and Dravet syndrome. More than 500 patients took part in three rigorous clinical trials in the lead-up to FDA approval, and most patients remained on Epidiolex even after the trials concluded. CBD's anti-epileptic effect appears to occur through the binding of CBD to a protein called GPR55, which can trigger seizures under normal conditions.
Researchers have tested CBD oil in cells and in preclinical trials as a treatment for several diseases other than epilepsy. The most promising lab test results are associated with psychosis, anxiety, and pain. While studies are ongoing, scientists have yet to study another CBD drug as rigorously as Epidiolex. 
The product may also be used to treat other seizure disorders. For example, scientists that study CBD have recently shown that CBD reduced tuberous sclerosis complex (TSC) associated seizure frequency by about half.
CBD Oils for Psychosis, Anxiety, and Pain
Mental health
Small-scale clinical trials suggest that CBD may be effective in treating psychosis, specifically schizophrenia. In 2012, a group of scientists compared its use with the standard amisulprid treatment. In most cases, it performed equally well or better than amisulpride in controlling schizophrenic symptoms. CBD might elevate anandamide, a cannabinoid produced by the body that may offer protection from psychosis.
Persons with anxiety may have lower-than-normal serotonin levels in the brain, which can cause depression in many people. CBD oil for reducing anxiety works by raising low levels of serotonin. Most general anxiety studies have been restricted to animal model studies, and more research with human subjects is needed.
However, specific forms of anxiety seem to respond well to CBD oil and other CBD products. Persons suffering from post-traumatic stress disorder (PTSD) found relief from symptoms such as nightmares and memory replay when taking CBD oil. 
Inflammation
Chronic pain treatment has become increasingly popular among CBD users. It is believed to reduce inflammation, pain, and overall discomfort. It is an attractive alternative to opioids, which can be habit-forming and cause more short-term and long-term side effects. The binding of CBD to a variety of endocannabinoid receptors contributes to its anti-inflammatory and pain-relieving effects. 
Did you know you can test inflammation markers at home? Learn more in our article about at-home inflammation tests.
While studies have taken place to some extent for pain associated with medical conditions ranging from cancer to migraines and arthritis, more human studies are needed to confirm how and to what extent CBD can help to reduce pain. The bottom line is that while there is a lot of experimental and anecdotal promise for its role in pain management for the body and mind, experts need more evidence before they approve more CBD products as therapeutics. 
The Influence of Genetics
Genetics plays a significant role in many conditions, including CBD oil treatments. By understanding the genetics behind things like susceptibility to pain and anxiety, customers can make more informed decisions when choosing supplements containing CBD.  
Because anxiety and depression are associated with low serotonin levels, doctors often treat them with selective serotonin reuptake inhibitors (SSRIs), with CBD oil emerging as a popular alternative. More studies demonstrate that neurological disorders like anxiety and depression have a genetic basis. With the Nebula Research Library, customers have access to the most recent studies. 
For example, a genome-wide association study in 2019 identified a number of genetic variants associated with various anxiety or stress-related disorders. The cohort included 12,000 people diagnosed with this disorder and over 19,000 controls.
Another genome-wide association study in 2018 tackled Major depressive disorder (MDD). This study identified an association between more than 400,000 individuals of European ancestry and several genetic variants expressed in brain regions known for their role in depression.
Chronic pain is another area in which people claim to see CBD oil benefits. Genes may heavily influence pain caused by medical disorders. Potential customers for CBD oil may want to understand their risks for inflammation-associated diseases such as arthritis.
Genetic variants can be general, including those for inflammatory proteins. Using the Nebula Genomics Research Library, customers can explore their genome as it relates to risks for specific conditions, including rheumatoid arthritis, osteoarthritis, and migraines. Others might be interested in understanding how genetics influence athletic performance, which may provide insights into the likelihood of future injuries and pain. 
Addiction risk
Since CBD is a substance, potential customers are often interested in how it interacts with the body. Some heavy cannabis users (usually those that use THC from marijuana, not CBD oil) become dependent and develop a cannabis use disorder (CUD).
Recent genome-wide association studies have identified genetic variants associated with CUD development. Persons with these risk factors may want to investigate therapy if they take cannabis products. CBD oil may help people with CUD wean off of the psychedelic substance.   
Review of CBD Oil Purchase Options
Where can you buy the best CBD oil? The purchase and sale of CBD oils are subject to different restrictions that vary by state. Customers should verify the requirements where they live before purchasing CBD products. In some areas, prescriptions are necessary.
If CBD is legal, customers often have a wide range of choices for purchasing CBD oil online or in special cannabis clinics and dispensaries.
Buying CBD Oil Online
Due in part to the wide availability of CBD oils online, many publicly available lists claim to point users to the best CBD oils. Companies with such lists include Discover Magazine, Forbes, and Health.com. Many lists specify oils for specific ailments, such as pain and anxiety.
Kinds of CBD Oil Available
When entering a website, customers can often view a variety of CBD oils for sale. Products differ most commonly in flavors and doses. Oil flavors are usually fruit- or mint-based, but options for natural flavoring or unflavored oils are also common. 
The range of available CBD strengths highlights the deregulated nature of CBD products. The most common single doses are between 250 milligrams and 1500 milligrams of CBD. However, some companies offer serving sizes as small as 7.5 mg and high doses as large as 7500 mg.   
In terms of pricing, CBD oil most often ranges in price from $0.05 to $0.25 per milligram. The price depends on several factors, including the manufacturing process, added ingredients, labor, source of hemp, extraction method, potency, brand reputation, and farming practices.
Fab CBD doses vary from 300 mg to 2400 mg. As one of the most affordable companies, prices range from $39 to $129 per 30 mL bottle of CBD oil. On the other hand, cbdMD sells products as expensive as $399.99 for its 7500 mg strength bottle (30 mL). 
cbdMD sells a variety of CBD oil tinctures, which differ from pure CBD oils. Most notably, CBD oils have an oil carrier, while a CBD tincture contains an alcohol carrier. The alcohol increases the bioavailability of the CBD. 
Popular CBD Oil Companies
Charlotte's Web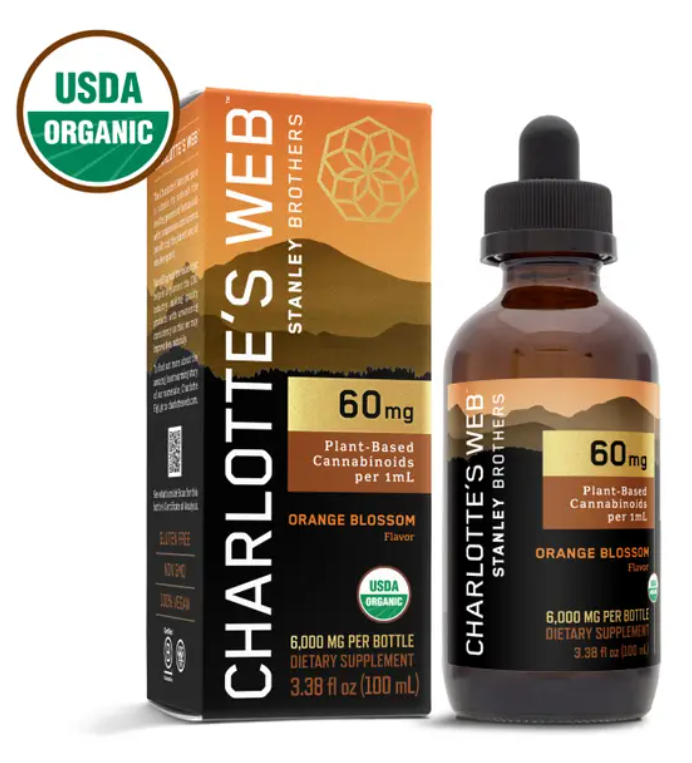 Charlotte's Web CBD oil is one of the most well-known CBD companies. Charlotte Figi, the six-year-old girl after whom the company was named, was cured of seizures by taking CBD. In addition to oils, Charlotte's Web sells CBD gummies and topical creams. Its pure CBD oil ranges in price from $48 for 1 ml of 17 mg to $96 for 1 ml of 60 mg.
Plus CBD Oil
Plus CBD Oil is another company known for its highest quality and value across its product range. It is also committed to hemp education and provides a wealth of educational videos and articles on its website. They offer several CBD products including, balms, gummies, and roll-ons.
Plus CBD Oil starts with a full-spectrum CBD oil extract obtained from the CO2 extraction process, which contains CBD as well as minor cannabinoids and terpenes. It sells either full-spectrum or broad-spectrum CBD oil options. Its products also contain fatty acids that the human body needs to produce natural endocannabinoids.
Some of these additional ingredients may contribute to what is known as the entourage effect. This effect is thought to maximize the impact of CBD by combining it with other parts of the cannabis plant. Plus CBD Oil spends money on its research, and its products are third-party lab-tested. All of these factors contribute to Plus CBD Oil's reputation. 
CBD Oil on Amazon
Customers cannot purchase CBD oil on Amazon. The online retail giant has expressly forbidden the sale of CBD items on its website, most likely due to the unstandardized legality of the product.
Under the "Drugs & drug paraphernalia" section of its seller policies, Amazon specifically prohibits the sale of any products containing CBD:
"Listings for products containing cannabidiol (CBD) are prohibited, including but not limited to: Full spectrum, Hemp oil, Rich hemp oil, Products that have been identified as containing CBD by LegitScript."
If you do a search for "CBD oil" on Amazon, you will most likely see results for "hemp oil" or "hemp seed oil" that look similar to CBD products and even claim to give the same results (treatment for health issues such as pain, anxiety, etc.).
What is the difference between CBD oil and hemp oil? In most cases, hemp seed oil contains very little or no CBD. The oil from hemp seeds does have its benefits, being nutritious and often good for the skin. However, these products do not contain CBD's anti-inflammatory or pain-relieving properties.
Nebula Genomics
At Nebula Genomics, we aim to empower you to discover more about your genome, including genetic markers that determine risks for conditions CBD oils claim to mitigate. Perhaps you are considering CBD as an alternative treatment. By understanding your genes, you can assess whether you are at risk for diseases that may warrant you to use CBD.
The Nebula Genomics Research Library keeps you up-to-date with the latest genetics research. With a relatively large influx of hemp research, genome-wide association studies and others will likely become widely available. With our gene analysis tool, you can examine these genes (and many more) and identify relevant genetic variants that have been reported in the literature.
Nebula Genomics offers the most comprehensive genetic testing through whole-genome sequencing. With our new 30x Whole Genome Sequencing service, we determine 100% of your DNA. This means you are not limited to certain sections of your genome or specific analyses.
You can sequence your DNA today and refer to your results whenever you have genetic health questions you'd like to analyze. As more CBD oil products become approved by the FDA and availability increases, customers will have more to explore. Understanding how your genes influence disease risk may help customers target their CBD oil product search.
Genome sequencing allows customers the freedom to explore many genetics-related questions. Furthermore, our Whole Genome Sequencing data is of the highest quality and can be used by physicians and genetic counselors.
Other companies
Some clinical genetic tests specifically focus on mental health. For an example, check out our Genesight or Genomind review.
Did you find this blog post helpful? You might be interested in these articles as well:
You can read more reviews on our blog and our complete guide to the best DNA test kit and other home tests.
October 5, 2023