7 Facts from our Ro Review
Location: New York, New York
Services: Doctors, testing, and prescriptions for sexual health, weight loss, hair, skin, and more
Cost: Varies based on product type. Not covered by insurance at this time
Reports: Treatment plans as a result of diagnostic assessment 
Privacy: Standard technical and organizational security measures
How it works: Patients first complete an online questionnaire about medical history and symptoms. Then, a healthcare professional reviews this questionnaire to determine the best approach and writes a prescription, if necessary
Alternative Products: Nebula Genomics offers 30X Whole Genome Sequencing that decodes 100% of your DNA and gives reports on diet and much more!
This review is written with the intent to be as unbiased as possible. However, it represents the opinion of an individual reviewer and is therefore subjective. Furthermore, at Nebula Genomics we seek to educate the public about the benefits of Whole Genome Sequencing. Information about our Whole Genome Sequencing DNA test is therefore incorporated into the review.
March 21, 2023
Pros and Cons
Pros
Patients can receive medical care from home
Saves time compared to in-person visits
Free two-day shipping
Cons
Not a replacement for a primary care provider
It may not be suitable for all medical conditions
Treatment is only based off of patient reports
Poor reviews
Introduction
Ro offers a range of medications for conditions such as erectile dysfunction (ED), hair loss, premature ejaculation, and low testosterone. It is the healthcare that powers Roman. By and large, the platform aims to make obtaining prescription medications more convenient and accessible for customers.
In addition to its telemedicine services that handle diagnosis to medication delivery, Ro also provides educational resources and support for its customers to help them better understand their health conditions and the treatments available to them.
The company was founded in 2017 by Zachariah Reitano, Rob Schutz, and Matt Wang, with a goal to make healthcare more accessible, affordable, and convenient.
Ro initially focused on offering online doctor consultations for men's health issues, such as erectile dysfunction but has since expanded its services to include various medical specialties, such as dermatology and mental health. For this purpose, the company uses technology, including AI and telemedicine, to connect patients with licensed healthcare providers, allowing them to receive medical care from their homes.
Review of the Science behind Ro
Ro is a telemedicine platform that provides online medical consultation and prescription services on condition that patients have seen a healthcare provider within the past three years. It's important to realize that Ro complements, does not replace, a patient's primary care provider. In general, the science behind Ro's platform involves several key components:
Telemedicine
Telemedicine technology connects patients with licensed healthcare providers remotely via video conferencing as well as phone calls. In other words, it allows patients to receive medical care from their homes, reducing the need for in-person doctor visits. The doctors, coaches, and nurses are available 24/7.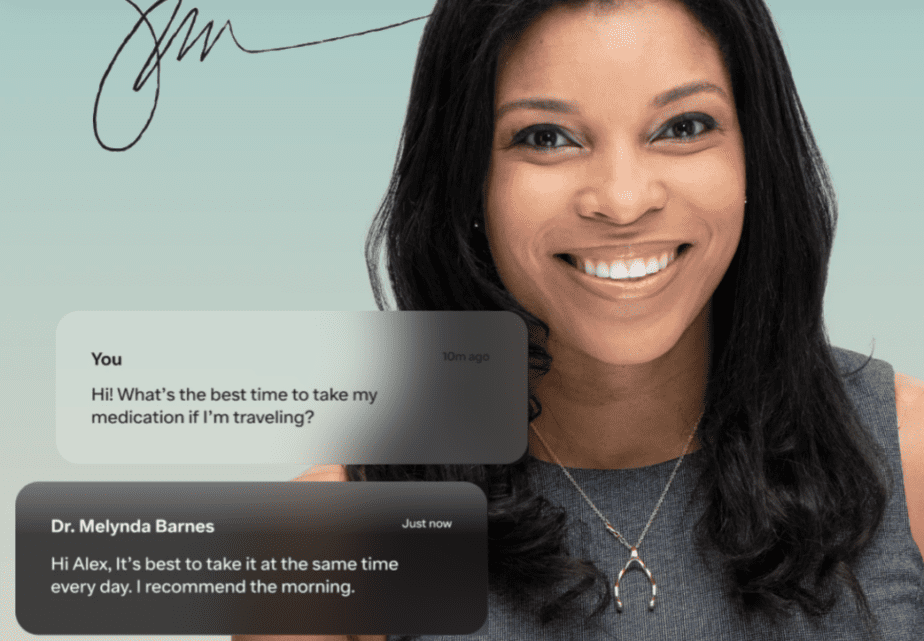 Ro healthcare professionals rely on patient-provided information to create treatment plans. Therefore, it is the patient's responsibility to report accurate, current health data. Patients should also read the full personalized treatment plan before taking any prescribed medications.
Artificial intelligence
Algorithms analyze patient data and provide personalized recommendations to healthcare providers. For example, the platform can use data from a patient's medical history, symptoms, and laboratory results to suggest a diagnosis or treatment plan.
Electronic health records
Ro's platform integrates with electronic health records (EHRs) to ensure that all patient data is centralized, up-to-date, and easily accessible by healthcare providers.
Medication delivery
Ro's platform also provides a medication delivery service, allowing patients to receive their prescriptions directly at their doorstep.
As a result, it eliminates the need for patients to physically visit a pharmacy, saving them time and making getting medication more efficient.
Review of Taking a Ro Test
Firstly, patients share their symptoms and medical history with a US-licensed healthcare provider for evaluation. Then, the doctor will make a personalized treatment recommendation. If prescribed, Ro will ship the treatment in discreet packaging with free 2-day shipping.
Overall, the company has options for the following conditions:
Allergies
Anxiety
Cold sores
Dandruff
Erectile dysfunction
Excessive sweating
Genetil herpes
Hair loss
Hot flashes
Low testosterone
Photoaging
Premature ejaculation
Seasonal affective disorder
Short lashes
Tobacco use
Vaginal dryness
Review of Ro Products
The list of the company's top products has two categories, prescription and over-the-counter medication, with eight products in each category.
Prescription medication
These include products for not only erectile dysfunction, but also hair, weight management, etc.
Viagra®
Ro makes it easy to treat erectile dysfunction in men with Viagra®.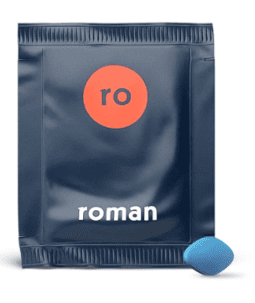 It is a powerful pill that blocks an enzyme called PDE5. As a result, it promotesing blood flow for stronger, longer-lasting erections; it works within 30-60 minutes. Viagra® stays in the body for 4-6 hours, during which time a person has an easier time getting and maintaining an erection.
Latisse®
(bimatoprost ophthalmic solution) 0.03%
According to the manufacturer, Latisse is the only FDA-approved treatment that helps eyelashes grow. To demonstrate this, a clinical trial sponsored by Latisse's manufacturer found that the product made eyelashes thicker and longer. Markedly, at the end of the 16-week trial, participants discovered their eyelashes were 25% longer, 106% fuller, and 18% darker. 
The 3-mL bottle gives the user a 1-month supply while the 5-mL bottle gives buyers a 3-month supply.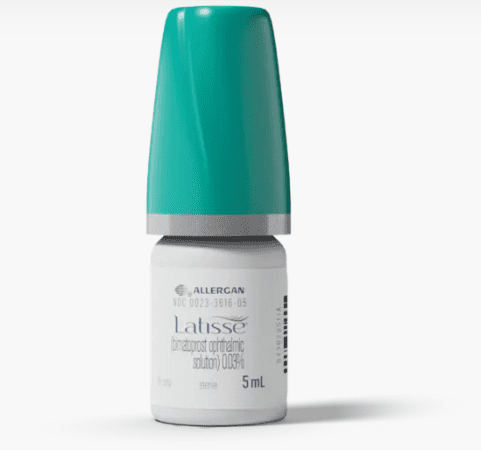 Latisse should be used at night after washing the face. To apply the product, brush the applicator along the upper lash line where the skin of the eyelid meets the base of the eyelashes. Patients should use one application for each eye and dispose of it afterward.
Plenity
According to the manufacturer, Plenity is the first and only FDA-cleared weight management tool made from naturally derived building blocks.
To illustrate its effects, clinical trials sponsored by the manufacturer showed that 59% of Plenity responders lost an average of 10% of their body weight (22 pounds) in six months. Plenity is indicated to aid weight management in adults with excess weight or obesity, Body Mass Index (BMI) of 25 to 40 kg/㎡ when used in conjunction with diet and exercise.
Plenity capsules work by absorbing water mixed with food. As a result, it gives a full feeling and helps the patient to eat less. Additionally, it is stimulant-free and non-habit forming.
Oral Minoxidil
Oral minoxidil is an off-label treatment for men's hair loss. Doctors began prescribing low-dose oral minoxidil tablets as a convenient, once-a-day hair loss treatment because in clinical trials while studying higher doses of oral minoxidil for high blood pressure, 80% of patients experienced hypertrichosis—"elongation, thickening, and enhanced pigmentation of fine body hair," including on the scalp.
With Ro, oral minoxidil can be prescribed online and then delivered to the doorstep.  It is a convenient, once-a-day tablet that contains the same active ingredient as topical minoxidil. 
While topical minoxidil is FDA-approved to treat hair loss and is available without a prescription, oral minoxidil is considered "off-label" and requires a prescription.
Top over-the-counter medications
Roman swipes
These are wipes that are clinically proven to help reduce premature ejaculation. In short, the 4% benzocaine in Roman Swipes reduces overstimulation without eliminating sensation.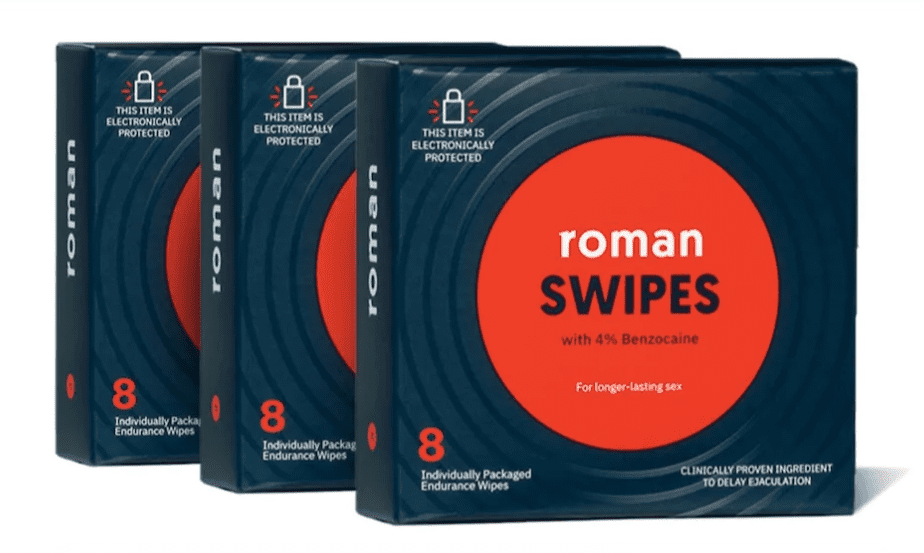 How it works
Remove the disposable Swipe from its discreet individual packaging.
Apply the Swipe to the most sensitive parts of the penis
Allow drying for about 5 minutes
Modern Fertility Hormone Test
Ro tests between two and seven hormones based on the birth control method of an individual and delivers custom reports to help learn about fertility.
Roman Daily- Men's daily multivitamin
Doctor-formulated with 23 hand-selected nutrients, Roman Daily is optimized to support men's health and physical activity. It is designed for the purpose of supporting healthy bones and muscles, support cognitive function and mental well-being, and support immune system function.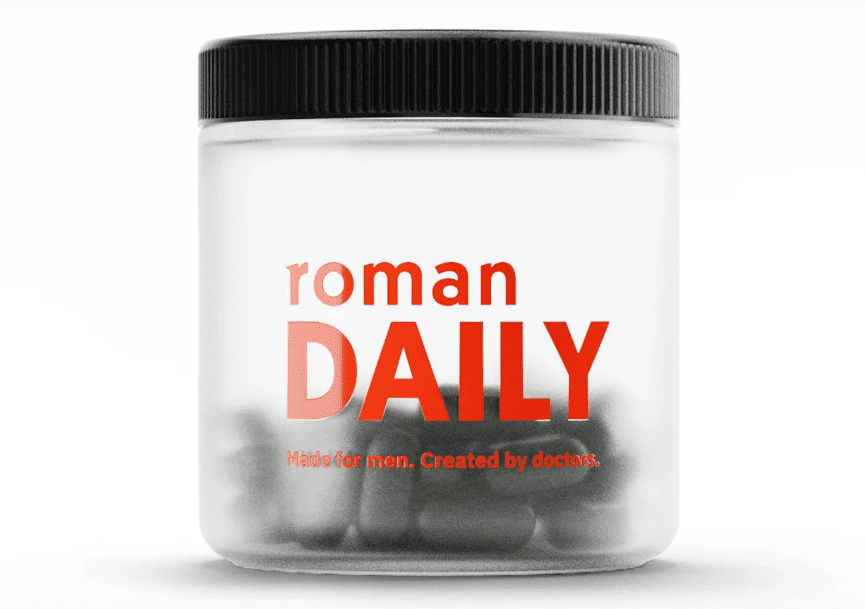 Review of Ro Cost
In most cases, the telehealth visit is free while a visit with the Testosterone Health Program costs $25. However, that cost is refunded if the health care professional determines blood testing is the next appropriate step.
As with most prescriptions, the cost by and large depends on the type of product and the quality purchased. 
Some example prices of the company's top products are below.
Prescriptions:
Branded Viagra® is $90 per dose. The generic version of Viagra® (sildenafil), can cost as little as $4 per dose
Branded Cialis is $20 per dose. The generic version of Cialis (Tadalafil), costs $8 per dose
LATISSE®: $110 for 3 mL and $159 for 5 mL
Valacyclovir: $14 per dose
Finasteride: from $20 per month
Oral Minoxidil: $30/month. Billed and shipped quarterly.
Plenity®: $83/month
Over-the-counter:
Roman Swipes: $27, $17 for your first order
Modern Fertility Hormone Test: $179
Modern Fertility Ovulation Test: 20 tests for $16 or $15 per month
Modern Fertility Pregnancy Test: Four tests for $14 or $13 per month
Testosterone Support Supplements: $35 sale price $20 for your first order
Men's daily multivitamin: monthly ($35/month) and quarterly ($87/3 month) $15 off the first order
Modern Fertility Prenatal Multivitamin: 60 capsules for $35 per month or $90 every three months.
Minoxidil Generic Rogaine $16 per month
Moreover, Ro is not covered by insurance.
Review of Ro Privacy
The Ro privacy policy outlines the types of information it collects, how it uses it, and the measures taken to ensure it is secure.
It collects personal information, such as name, contact information, and medical history, to provide telemedicine services. It may also collect information about the use of their services, such as the date and time of the appointment and the services received.
Above all, the company uses this information to communicate with customers about the care and quality of their services. It may also use this information for research purposes, such as to understand healthcare trends and patient needs better.
Other Ro Reviews
On Trustpilot, the affiliated company Roman has an average rating of 2.2 stars. Although the rating is based on only eight reviews, all of them were 1 star. It is unclear how the average was raised to 2.2. The most common complaints are either poor delivery service or high costs compared with other companies. 
Amazon sells some of Ro's over-the-counter products. Some items, such as the Roman Wipes, have decent ratings. In this case, the wipes are rated 3.9 stars with over 200 reviews.
Most customers reported that the wipes work as intended. However, some gave lower ratings disliking the wait time or claiming that the box was damaged upon delivery.
Nebula Genomics
Ro is the telemedicine arm of the company Roman and focuses on health and wellness, offering online consultations with licensed healthcare providers. It also provides resources and support for customers to help them better understand their health conditions and the treatments available to them. 
You may also be looking for other ways to stay on top of your health. In that case, genetic testing is one of them. Nebula Genomics offers a comprehensive test highlighting predispositions related to diet, fitness, metabolism, and much more.
With 30x Whole-Genome Sequencing, Nebula sequences 100% of your DNA to get to the root cause of every biological inclination. The company also offers disease susceptibility tests to expose a genetic vulnerability you can discuss with your doctor.
Nebula Genomics test is highly accurate and offers other added services that include ancestry reporting and genome exploration tools. Additionally, regularly updated reports ensure that you will not miss the latest genetic research.
All things considered, these genetic tests are very affordable at $299 or less.
| | | |
| --- | --- | --- |
| | Ro | Nebula Genomics |
| Service | Telemedicine and treatment delivery | Genetic testing – sequences all 20,000 genes and regulatory regions |
| Reports | Treatment plans if advised | An extended genetic report that is updated regularly |
| Ancestry reporting | No | Performs deep ancestry reporting with the complete Y chromosome and mtDNA sequencing |
| Counseling | Yes | No, but data is of the highest quality and can be used by physicians and genetic counselors |
| Cost | Varies based on treatment type | $0, $99, $299 |
Did you like our Ro review? You can read more reviews on our blog and check out our complete guide to the best DNA test kit and other home tests.
Other services
You may also be interested in these other telemedicine services: