7 Facts from our Cove Migraine Review
Location: New York, NY
Products: Consultations and migraine treatment prescriptions
Cost: Varies; range is between $20 – $79 per month
Who its for: Patients with regular migraine symptoms
How it works: Patients buy and complete an online consultation, speak with a doctor, and receive their treatment plan in the mail
Counseling available: Access to doctors
Other Products: Nebula Genomics offers 30X Whole Genome Sequencing that decodes 100% of your DNA and provides reports on conditions such as migraines!
This review is written with the intent to be as unbiased as possible. However, it represents the opinion of an individual reviewer and is therefore subjective. Furthermore, at Nebula Genomics we seek to educate the public about the benefits of Whole Genome Sequencing. Information about our Whole Genome Sequencing DNA test is therefore incorporated into the review.
May 11, 2022
Pros and Cons
Pros
Migraine management products for both acute and preventative measures
FDA-approved medications
Access to doctors and counseling
Personalized treatment
Supplement options for those who prefer non-medication treatment
Cons
Only designed for migraines, not other headaches
Insurance only accepted on some medications
Additional costs for initial consultation and monthly subscription
Cove Migraine Introduction
Cove Migraine is a telemedicine company that offers custom treatment for people suffering from migraines, an often debilitating condition that occurs with regularity. Migraine triggers can be difficult to control and experts estimate they affect over a billion people globally. The company allows migraine sufferers to see a doctor through a virtual consultation and get effective treatment. Licensed doctors and migraine specialists work with patients to recommend custom treatment plans and adjust them if necessary.
Cove Migraine launched the company with $15.25 million to help patients get access to migraine care from their homes. Cove also offers supplements and medication ranging from prevention to treatment of migraine headaches.
In addition to prescription medications, the company provides unlimited messaging access to a Cove doctor, a tool to help patients track the frequency of their migraine and understand triggers, resources, and support of the Customer Care team.

Cove Migraine is based in New York, NY. Demetri Karagas and Steve Gutentag, former employees at Google, founded the company in 2018. These businessmen have successfully launched one other health focus company aside from Cove Migraine. The website claims to have treated over 2,400,000 migraine attacks since its start.
The Science Behind Cove Migraine
Cove Migraine has a specific objective: to provide effective treatments for patients who struggle with different cases of migraine and need treatments to ensure better health. The company recognizes that no two migraine experiences are alike and thus works closely with patients to monitor how well the customized treatments work. 
The acute, preventive, and anti-nausea medications are clinically proven and FDA-approved. For those who wish to treat their condition without medication, the company offers supplements backed by research.
A medical advisory board that includes leading neurologists that ensures the highest level of care leads Cove Migraine.
Purchasing a Cove Migraine Product
Purchasing the Cove Migraine test and plan is quite straightforward. The first step is to complete the online consultation, which includes questions about your migraines and medical history. The survey takes about 15 minutes and helps your doctor determine the best plan for your unique condition. You can also note if you already have a treatment that is currently working for you.
Once the company makes a treatment plan, you can order your medications and set a schedule for delivery so that you never run out. Unlimited messaging to a Cove doctor is available. After you try the medication, you can send a message to update them on your condition and adjust your treatment if needed.
From start to finish, the process takes about two weeks. After completing the questionnaire, a doctor is in touch within 48 hours. Once you approve your treatment plan, it will arrive in 5-7 business days after ordering. Shipping is only available within the United States at this time.
You can also buy Cove from third-party sites like Nurx.
Review of Cove Migraine Products
Cove Migraine has over 25 treatment options on its portfolio, including acute medications, preventative medications, anti-nausea medications, and supplements. The medications are all available via prescription while the supplements are ordered without one.
This section notes some of the products from each category.
Acute
Sumatriptan (Generic Imitrex)
This medication helps relieve you from acute symptoms of migraine-like headaches, sensitivity to sound or light, and nausea. Sumatriptan works by controlling the effect of migraine in the nerve, blood vessels, and brain. Like every other medication, Sumatriptan has some side effects, so you must consult your doctor before using it.

Rizatriptan (Generic Maxalt)
Rizatriptan helps resolve a migraine headache when it starts to build up and prevents it from escalating into an attack. This medication is either an ODT (orally dissolving form) or a standard tablet that relieves you of migraine symptoms like nausea, sensitivity to sound or light, and headache. Rizatriptan comes with side effects like chest discomfort that is not heart-related, dizziness, tingling, and warmth.
Preventative
Amitriptyline (Generic Elavil)
Amitriptyline is a tricyclic antidepressant that doctors have used for a long time to treat migraines effectively. As an antidepressant, this medication works by helping to maintain your serotonin level and prevent frequent attacks. This medication is ideal for migraine sufferers who have several attacks monthly, those who cannot use acute medicine, and others who need more treatment support. People on this medication should be watched closely as it can increase suicidal actions or thoughts in young adults and children.

Nortriptyline (Generic Pomelor)
Nortriptyline is one of the best medications to prevent migraines. This antidepressant has a good track record of treating depression in migraine sufferers. Contact your doctor immediately after using this medication, and you experience hives, itching skin, rash, chest pain, seizures, and irregular or fast heartbeat.
The company also offers two beta blockers, metoprolol and propranolol. These medications, usually prescribed to control blood pressure or protect the heart from a second heart attack, work by helping blood vessels in the brain relax and allow blood to flow normally.
Anti-nausea
Ondansetron (Generic Zofran)
Doctors use ondansetron to treat or prevent upset stomach and throwing up. It is available as either an ODT (orally dissolving form) or a standard tablet and is used to treat the nausea symptoms that often come with migraines. You should monitor your symptoms carefully as this medication can have side effects such as headache, fatigue, constipation, diarrhea, and anxiety.

Supplements
Cove Beam
This dietary supplement helps support people who suffer from migraine. Beam contains riboflavin, iron, CoQ10, and magnesium which clinical studies have proven to help reduce migraine frequency. Many people who suffer from migraines have less of these nutrients, making Beam an ideal supplement.
Magnesium
With the help of cove's leading specialists, this formula was chosen as it is calming, easily absorbed, and improves the signs of migraine. Overall, 50% of people suffering from migraine also have a magnesium deficiency issue that diet alone cannot resolve. This is why cove designed this supplement with citrate and 400 mg of magnesium gluconate.
Super B
This supplement is a blend of the B vitamins like B12, B6, riboflavin, and folate, which helps reduce migraine symptoms and improve energy levels and mood. The Super B vitamin blend supports cardiovascular health and maintains the blood cells and a healthy brain. With the help of this supplement, people with migraines can have all the needed B vitamins to boost their health.
Oasis
Cove's headache specialist designed Oasis as a hydration supplement rich in magnesium to help people with migraine manage their triggers. This supplement supplies migraine sufferers with the right amount of electrolytes to stay hydrated through an attack. Stevia is used as a sweetener in the Oasis supplement, so it doesn't have sugar, which could trigger a migraine attack.
Essential Oil Roll-On
Cove's roll-on uses three vital ingredients that help to provide fast relief and soothe migraine symptoms. This custom oil blend helps to reduce tension, nausea, and stress in people suffering from migraine. The essential oil roll-on can be carried around easily in an unexpected migraine attack, which is very helpful.
Review of Cove Migraine Cost
A treatment plan cost varies based on what medication the plan includes. The range is between $20-$79 a month. The company notes that most Cove customers pay between $20-$40.
Shipping costs $3 on most orders and those that ship every 90 days are free.
The 24/7 message access to your Cove doctor requires a membership fee of $10/month. Cove accepts some insurance plans for the initial consultation which can range from $30 – $50. While insurance cannot be used for most medications or supplements, all medications can be sent to your local pharmacy, which may have its own program with your insurance.
The prices for the medications and supplements are shown below:
Acute
Sumatriptan (Imitrex®): $27 for three months
Rizatriptan (Maxalt®): $27 for three months
Zolmitriptan (Zomig®): $27 for three months
Naratripan (Amerge®): $27 for three months
Eletriptan (Relpax®): $27 for three months
CAMBIA® (Diclofenac Potassium) $79 for 1 month
Tosymra® (Sumatriptan Nasal Spray 10 mg): Insurance
Nurtec® ODT (Rimegepant): Insurance
Preventative
Topiramate (Topamax®): $27 for three months
Amitriptyline (Elavil®): $27 for three months
Propranolol (Inderal®): $27 for three months
Metroprolol (Lopressor®): $27 for three months
Nurtec® ODT (Rimegepant): Insurance
Nortriptyline (Pomelor®): $27 for 3 months
Aimovig® (Erenumab-aooe): Insurance
Emgality® (Galcanezumab gnlm): Insurance
Anti-nausea
Ondansetron (Zofran®): $27 for 3 months
Metoclopramide (Reglan®): $27 for 3 months
Dietary supplements
Beam: $39 per month
Magnesium: $35 for three months.
Super B: $25 per month
Oasis: $39 per month
Essential oil roll-on: $15 for three months
Review of Cove Migraine Education
Cove Migraine is very involved in patients' satisfaction when it comes to their products, and as such, the management takes reporting very seriously. The firm supplies patients and users with information on the latest research concerning migraines, healthy weight gain, and dieting. The firm has several resources, including a blog section where patients can know more about migraines and body supplements. The blog is intended to help patients know more about their conditions and how they can help if they need to.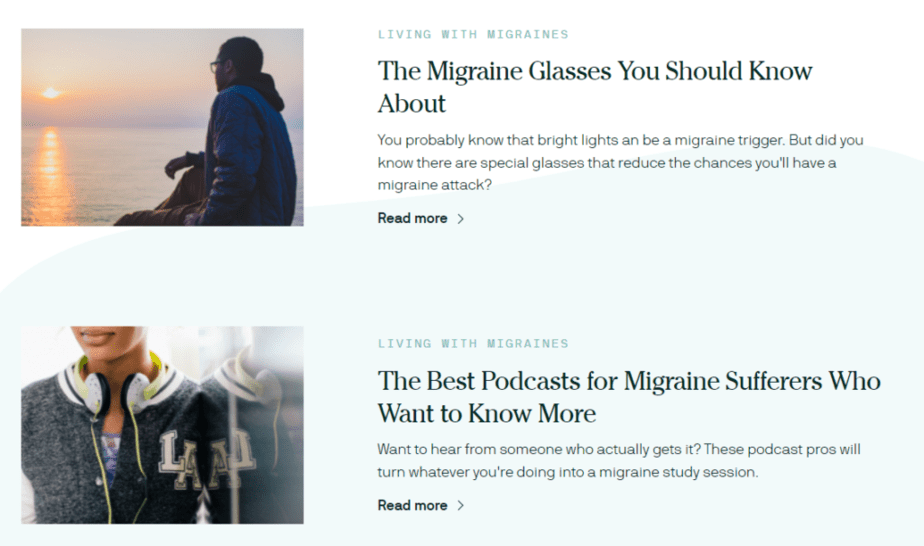 If you are a new user, you can do well to check more on the company's website for the latest information on headache management.
Review of Cove Migraine Privacy
The company is committed to protecting your personal information. It will not rent, sell, disclose, or share customer information with a third-party other than personnel to help process the required service. Any information collected through the company's affiliates or other site links are protected as these affiliates also have a privacy policy.
It does share your personal information with KMG Medical Group MO, PC, doctors, and relevant medical staff ("KMG") to provide you with services related to your diagnosis and treatment.
Cove Migraine in the News
In 2020, Biohaven Pharmaceutical Holding Company announced its collaboration With Cove To enhance accessibility of its new medication, Nurtec ODT.
More recently, in 2022, Cove Migraine was featured in news outlets such as Vice, which praises the company for its ability to save patients time and money in accessing migraine relief.
Nebula Genomics
Cove Migraine helps its patients save time and money when searching for the most effective migraine relief. It employs medical professionals who can help address and adjust your medications on a continuous basis. Did you also know that your susceptibility to migraines could be the result of your genes?  
To truly know how your genetic blueprint contributes to your predisposition to conditions like migraines and many others, you could sequence your genome. Nebula Genomics offers a comprehensive test that highlights predispositions related to diet, fitness, and metabolism. With 30x Whole-Genome Sequencing, Nebula sequences 100% of your DNA instead of just 0.2% like most other genetic testing companies. Genome sequencing is incredibly accurate and comes with other additions like ancestry reporting and genome exploration tools. Regularly updated reports ensure that you will not miss the latest genetic research.
For only $299 or less, customers get access to their entire genome, allowing them to continue to ask more questions as more research is conducted.
Did you like our Cove Migraine review? You can read more reviews on our blog and check out our complete guide to the best DNA test kit and other home tests.
Other companies
For other products that can test for health and wellness:
You may also be interested in virtual health care such as: