7 Facts from our DayTwo Review
Location: Brentwood, Tennessee
Products: DayTwo's microbiome testing kit. After completing the test, you get personalized meal recommendations on the DayTwo app and a one-on-one consultation with a dietician
Reports: Detailed information about the diversity of the population of your gut microbiome, including food suggestions to increase the number of particular gut bacteria
Privacy: The company claims to protect your data using administrative, technical, personnel, and physical measures. However, they do not mention the processes involved. Their privacy law is also based on the law applicable in Israel, where the company-owned labs operate
Raw Data Access: You do not get access to raw data
Cost: $499
This review is written with the intent to be as unbiased as possible. However, it represents the opinion of an individual reviewer and is therefore subjective. Furthermore, at Nebula Genomics we seek to educate the public about the benefits of Whole Genome Sequencing. Information about our Whole Genome Sequencing DNA test is therefore incorporated into the review.
October 7, 2022
Pros and Cons
Pros
Easy-to-understand reports
Nutrition recommendations based on scientific research
Cons
Pricing is unknown
Only available to organizations as an offering on health plans
Not available on third-party sellers like Amazon
Introduction
DayTwo is a personal nutrition-based microbiome company that uses the human gut biome to analyze different food recommendations and provide health solutions to consumers' metabolic challenges. It is a personalized method going past diets and calorie counting. Currently, DayTwo is available through enrolled employer benefit programs and select health plans.
The DayTwo company started back in 2015. It is renowned for its accurate predictions and advice, which have provided excellent results based on groundbreaking scientific research. Its app uses a mix of artificial intelligence and machine learning to build meal and snack smarter recommendations.

The company was co-founded by a lawyer named Lihi Segal, who currently spearheads its efforts. The company's idea originated with Professors Eran Segal and Eran Elinav from the Weizmann Institute of Science in Israel. Here, they published a five-year study on 1000 subjects to show how different human bodies respond to the same meals.
Their conclusion showed that the idea of a 'perfect diet' for all is vague, and everyone reacts differently, even if they have the same diet. Upon its completion, the research technology was licensed to DayTwo.
In a whitepaper by Mobi Health News, Eran Segal is quoted as saying: "DayTwo is the only evidence-based, actionable, microbiome platform in the market today."
Company Mission and Partnerships
Lihi Segal, CEO and founder of DayTwo, said in a statement. "This deep and broad foundation, coupled with this financing, enables DayTwo to address the large and pressing clinical need to bring food-as-medicine to market for people with type 2 diabetes in the US." Over 100 million people live with diabetes and pre-diabetes in the U.S.
DayTwo purchased the exclusive license for the ongoing research. DayTwo and Mayo Clinic then duplicated it using 329 subjects. With this knowledge at its fingertips, it built a database and an app to provide different personalized nutrient recommendations.
Apart from these two companies, DayTwo also has partnerships with other health organizations like the Israel Diabetes Association, Joslin Diabetes Centre, and Janssen (a subsidiary of Johnson & Johnson). In addition, their collaboration with one of the world's largest HMOs (Clalit) has helped push their product further in the gut microbiome testing world.
Review of DayTwo Science: The Gut Microbiome and Blood Sugar Levels
Science has shown that the human gut has trillions of microbes (the microbiome), which play a role in how we metabolize specific food items and how our blood glucose levels vary after every meal.
The microbiome varies from person to person, and our blood glucose responses are different from each other even if we consume the same meal. This principle is what DayTwo uses to provide nutrition recommendations for its consumers all around the world. It carried out a study using 800 people to consolidate this fact established by Prof. Segal and Prof. Elinav.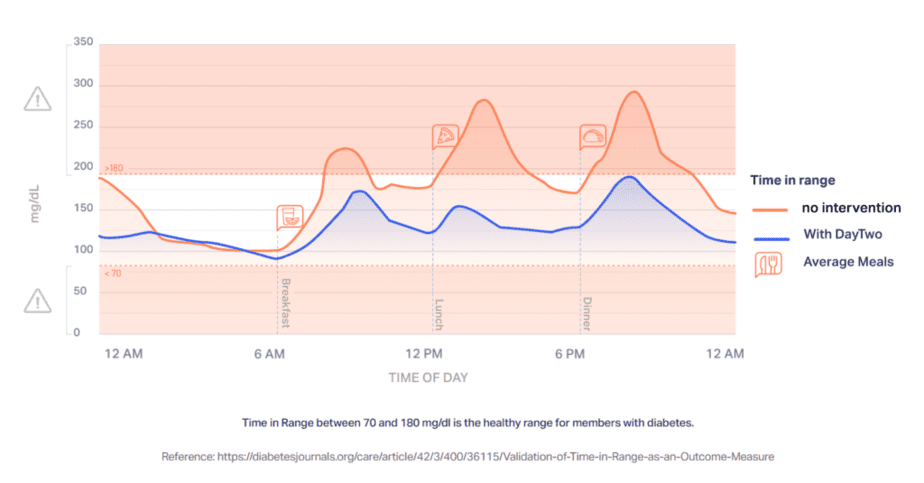 Here's how the process goes: it conducts microbiome profiling using the full shotgun sequencing method from the stool sample you provide. Along with other details like your glycated hemoglobin reports and the questionnaires, DayTwo uses a combination of artificial intelligence and machine learning to provide unique analysis and meal recommendations that suit your gut microbiome.
DayTwo also provides suggestions on the type of food to eat to improve some deficient bacteria's growth in your microbiome. The report shows different factors (such as butyrate, Vitamin B, and many more) needed in the body, the bacteria that augment the production of these factors, and the foods you should eat to promote the growth of these types of bacteria.
Disease-focused
Through its partnership with the Joslin Diabetes Center, its product is specifically marketed to people with diabetes. Patients get a means of glycemic control that is way easier than the standard methods. They can monitor their blood sugar response without undergoing incessant nutrition plans, blood tests, and medications.
With DayTwo's food-as-medicine plan, customers input different food types on the app and watch how it calculates their effect on their blood glycemic responses. Consultation with a dietician will also help determine appropriate meals even better. Its recommendations have also been found to be helpful with weight loss, liver diseases, and obesity.
However, DayTwo clearly states that its recommendations shouldn't replace a health professional's advice, and patients should always consult their doctors before using the product.
DayTwo Review
How to take a DayTwo test
After clicking on the 'Get in Touch' button, you are led to a page where you must decide between three options:: Business, Press, or Member. The DayTwo program is available for organizations to bring to their employees – individuals cannot purchase the kit.
The Member option will require some personal information like your name and email address. The company will send more details and get in touch through a call.
After you have all this set up, you get your gut microbiome testing kit within a week. The testing kit contains:
​​A toilet accessory.
A bio-specimen bag.
A mailer box.
A spatula.
A collector contained in a plastic tray.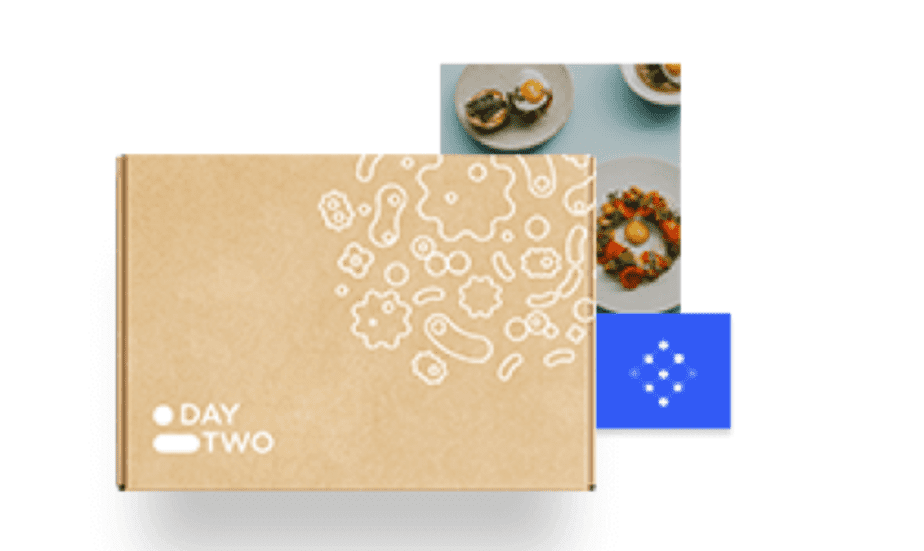 After collecting your stool sample with the spatula and collector, put it in the bio-specimen bag, seal it, place the package in the mailer box, and send it back to the company's labs. You should have scanned the barcode on the collector using the app before mailing it back to DayTwo.
The company will alert you through mail when your sample reaches its lab. You must also fill out a 10-minute questionnaire and submit blood reports, including your recent HbA1c levels. These reports help determine your current blood sugar levels.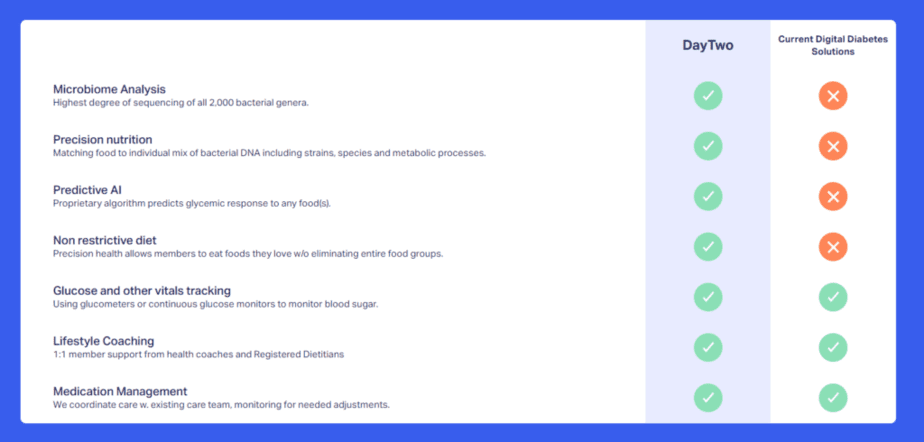 Within 21 days after mailing, you get your DayTwo results on the app, including meal recommendations and the report itself. You'll also schedule a single session with one of DayTwo's dietitians to help interpret your results.
Review of DayTwo Costs
As stated on its website, DayTwo is currently available through enrolled employer benefit programs and select health plans. Thus there is no pricing information available. For more information, including quotes, organizations can contact the company directly.
DayTwo Reports Review
After mailing your test kit, you get your gut microbiome profiling and personalized nutrition recommendations on the app within 21 days.
Introduction
The report starts with a brief introduction to microbes and the gut microbiome. The introduction covers the gut microbiome's function and how it's related to health, nutrition, and immunity. It also tells you what to expect in your results.
Analysis
The report then moves on to the analysis of your results, starting with your bacterial composition, divided into four types: bacteriodetes, actinobacteria, proteobacteria, and firmicutes. It splits your share of these four bacterial types into percentages and compares them to its database population's average average.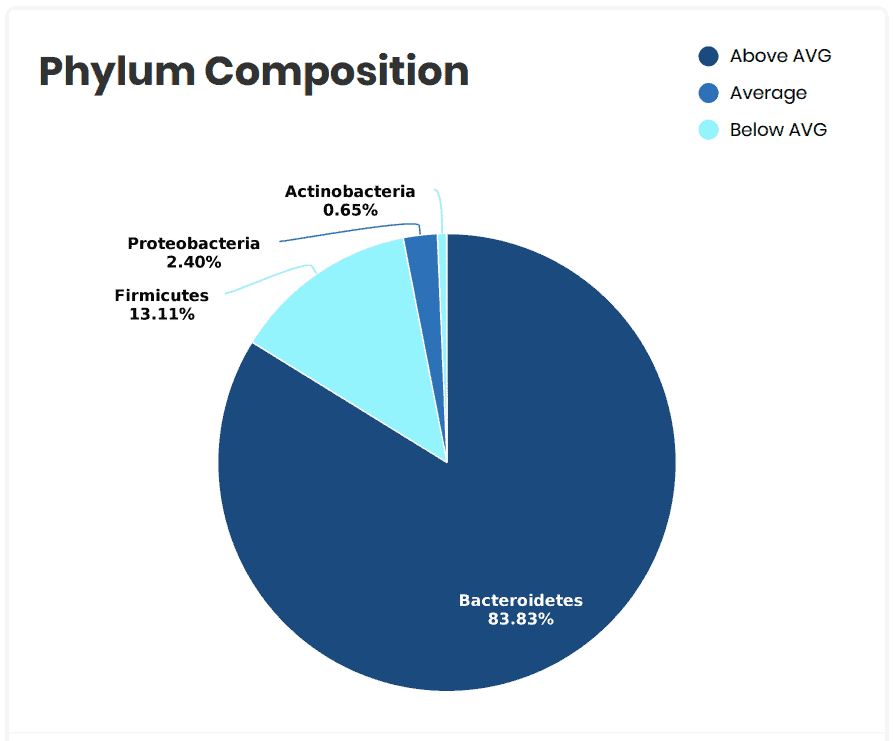 It then lists out your 50 most abundant bacterial types and their percentages and compares them to various percentages of its database population.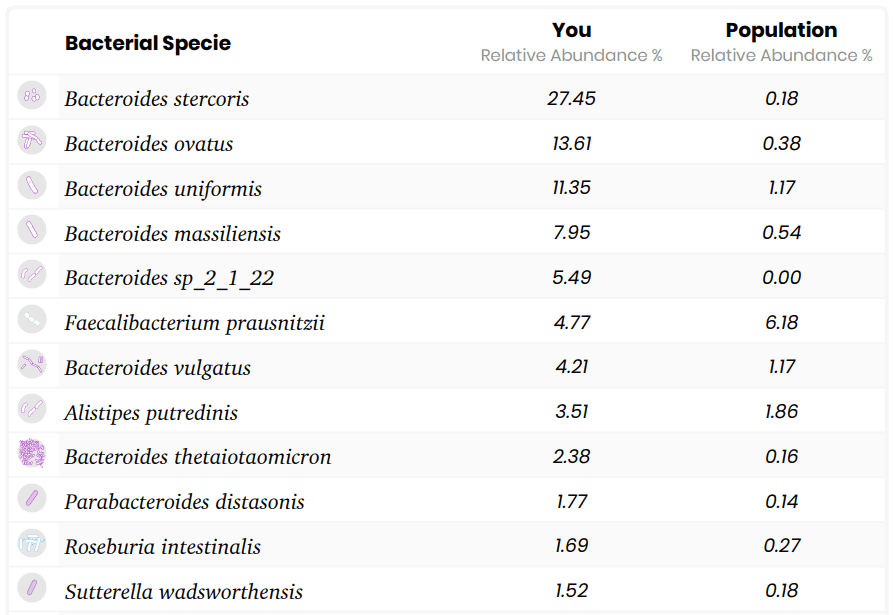 You can then see sections on your individual gut microbiome bacterial abundance ratios, important microbiome members (how your abundance compares with its database), and rare species (species in your gut that are notably different from the general population).
The most noteworthy part of the report is the functional metabolite bacteria section. This section lists some essential metabolites in the body (such as butyrate) and the bacteria that augment their production. It then gives examples of foods that will help promote the growth of that particular bacterium.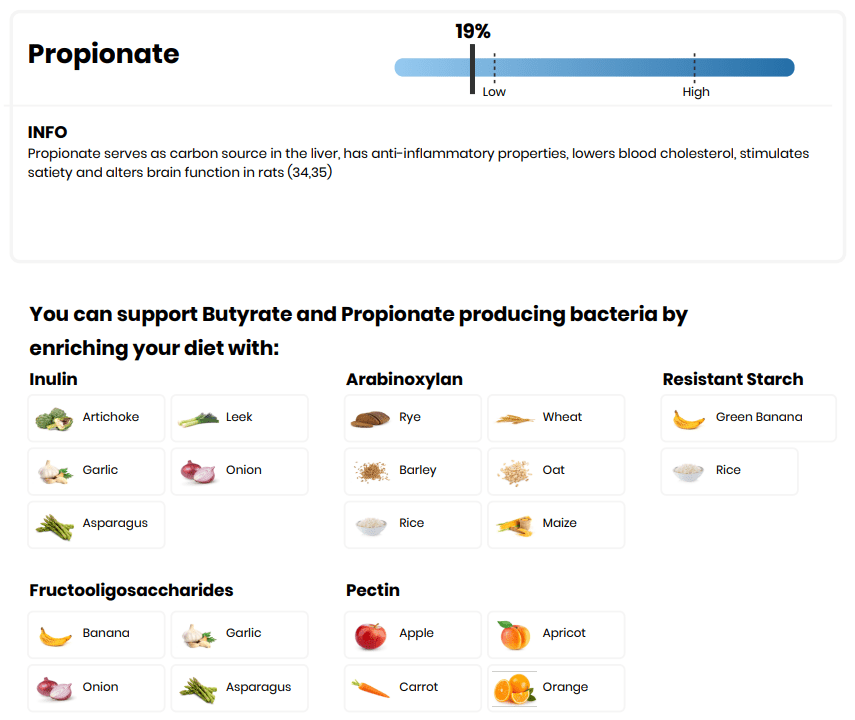 The final sections detail analysis of ecological parameters (richness, evenness, and diversity) and probiotic bacteria. They also include information on DNA sequencing technology and references.
The app
As detailed and simple as the report is, the app is even easier to use. The scoring system rates thousands of different foods and combinations based on your biometrics, gut microbiome analysis, lifestyle factors, and questionnaire, yielding a unique nutrition profile that ensures a healthy blood-sugar balance for long-term health. You can also ask for a minimalized list of "Your Search Results" when building a meal.
This way, all you need to do is input a particular meal regime, and the machine learning algorithm calculates how it affects your blood sugar level. It also generates food recommendations specific to your body, like Top Meals for breakfast, lunch, and dinner.
Overall, DayTwo provides excellent reports and helps you understand them better, thanks to its dietician session. A sample report can be found through an internet search.
DayTwo Privacy Review
The privacy policy is quite explanatory, although it could have better explained its security measures.
In using the website, you are authorizing DayTwo to use your data to provide its services. But this information can also be used to improve such services for all users. It is important to note that you also automatically grant permission to capture video recordings of you, which will occur during telehealth and group sessions.
Sending your stool sample to DayTwo is agreeing that lab personnel will review and analyze it either in the US or Israel labs. Where this takes place is at the company's sole discretion. This information will be treated as protected health information but can still be connected to you.
DayTwo claims it uses personal data for its services only. While it might share your data with third-party websites like cloud storage and data processing solutions, it argues these services uphold privacy practices and help deliver its services only.
In terms of security, it claims to use administrative, technical, personnel, and physical measures to protect your data. However, it fell short of telling more about its protection measures.
Other DayTwo Reviews
Due to the limited availability of its products on other platforms, there are not many reviews available. However, DNA Testing Choice users provide three reviews. While two users gave good reviews and five-star ratings about the product, the last one complained about not getting a report after months of submitting a sample and gave a one-star rating. This resulted in a cumulative rating of 4.5 stars.
There are several testimonials on the DayTwo website, with quantitative values demonstrating the effectiveness of the product.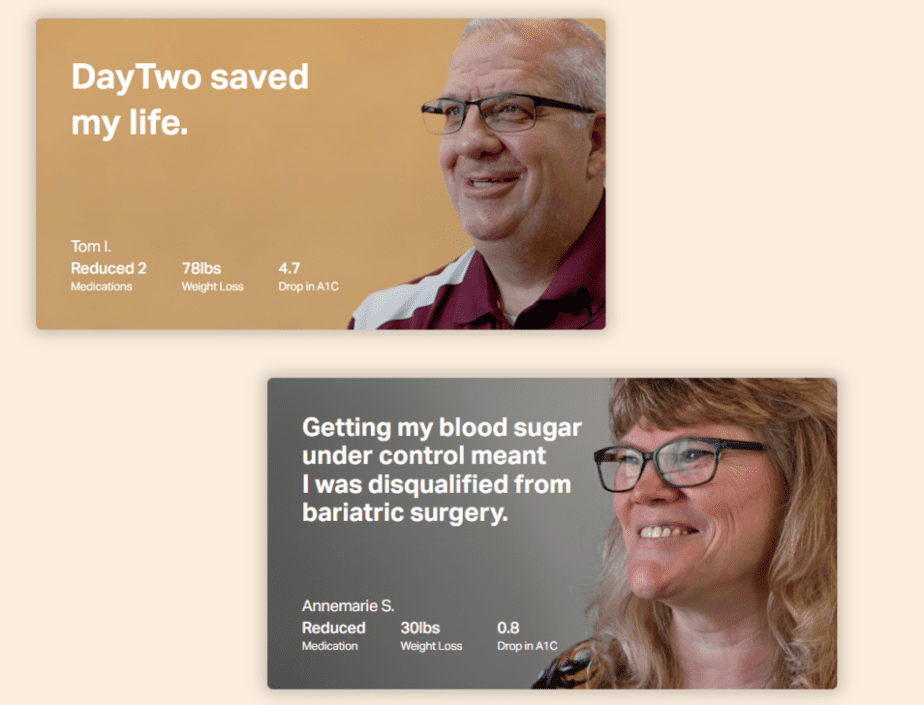 DayTwo in the News
Also in 2022, DayTwo compiled its National Book of Business Outcomes. This document reflects participants who completed 12 consecutive months of the DayTwo program.
Nebula Genomics
Knowing your genetic predispositions to high blood sugar levels could help determine if you should use products like the DayTwo's Gut Microbiome test. You can learn more about genetic variants related to high blood sugar levels in the Nebula Research Library.
At Nebula Genomics, our job is to give you the best Whole Genome Sequencing technique money can buy. Our test proudly stands above other kits. This is because we analyze over 6,000,000,000 positions on your DNA. We're experts in this field, and our expertise is reflected in the detailed report we give to every consumer.
We also offer genetic testing, which provides deep ancestry reporting with a full Y chromosome and mtDNA sequencing. Our collaborations make it easier for us to map out your family tree. This way, you can satisfy your curiosity about your origins.
We also give you the option to upload raw DNA data to our website for additional DNA analysis.
Unlike DayTwo, our privacy policies are very transparent. We use privacy computing and blockchain-type encryption on our website to ensure no one has complete access to your data except you.
DayTwo vs Nebula Genomics
| | | | |
| --- | --- | --- | --- |
| | Viome | DayTwo | Nebula Genomics |
| Testing Method | Stool | Stool | Saliva and Whole genome sequencing at 30x coverage |
| Reporting | Gut microbes present, proprietary "health scores" | Microbiome diversity, effect on food metabolism/blood sugar levels, diets based on this information | Comprehensive genetic predispositions |
| Ancestry reporting | No | No | Deep ancestry reporting with full Y chromosome and mtDNA sequencing |
| Data upload options | No | No | Yes (learn more) |
| Focus on privacy | No | No | Yes (learn more) |
| Tools to explore data | No | No | Yes |
| Cost | $149 / $349 | N/A | $0, $99, $299 |
You should also check out these other companies that offer DNA testing for gut microbiome and diet recommendations:
Nutritional supplements and weight loss programs that may also be good to explore:
Did you find our DayTwo review helpful? You can read more on our blog and check out our complete guide to the best DNA test kit and other home tests.
You may also be interested in virtual care such as that offered by Teladoc and Lemonaid Health!