This review is written with the intent to be as unbiased as possible. However, it represents the opinion of an individual reviewer and is therefore subjective. Furthermore, at Nebula Genomics we seek to educate the public about the benefits of Whole Genome Sequencing. Information about our Whole Genome Sequencing DNA test is therefore incorporated into the review.
July 30, 2021
Edited by Christina Swords, PhD
7 Facts from our imaware Review
Location: imaware's headquarters are located in Houston, Texas, and tests are shipped to all 50 states, except New York.
Active ingredients: Tests use indicators that detect the presence and concentration of biomarkers in the blood's plasma or serum. This information is analyzed to create a health profile.
Costs: $69 – $299
Products: At-home tests kits, capillary testing, microarray testing, and medical analysis. Users can choose from a list of 16 kits available for testing multiple biomarkers.
How to Order: You can order through their website and online stores. Upon receiving the kit, you will need to send a blood sample in a vial.
Who the product is intended for: Individuals aged 18+ who want to check their biomarker levels or their chances of developing a condition such as celiac disease.
Complementary products: Nebula 30X Whole Genome Sequencing is a reliable DNA Test that decodes all of your genetic blueprints with high accuracy
imaware Introduction
imaware is an at-home digital health platform founded in 2017 by Jani Tuomi. The site belongs to Microdrop LLC and notes that its mission is to empower people with relevant information to help them transform their overall health and wellbeing.
Its co-founder, Tuomi, has a background in product and technology and was motivated to start imaware after an event in his own family. A critical health condition that affected his brother made him realize that situations like that one could be avoided if people had access to information about biological markers that indicate imbalances.
So, he blended technology with healthcare to provide the services imaware offers. According to him, the company is driven by the mission of providing people with an affordable and reliable option to more expensive lab tests.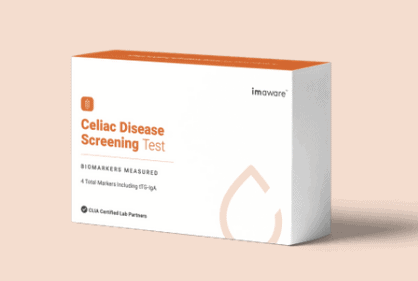 Despite being a relatively young enterprise, they have seen explosive growth over the past couple of years. Jani states that "instead of getting sick care after the disease, it is better to practice true healthcare and screen for conditions at home before symptoms show."
Imaware's main headquarters are located in Houston, Texas. However, the health tests are available for shipping across the United States. Only certain tests can be shipped to New York, and the COVID Antibody Tests are limited to certain locations.
Imaware tests include at-home capillary blood testing, microarray testing, and biomarker analysis to inform users about what their results mean. According to the company, capillary blood testing is less invasive than regular lab testing since it requires less blood and has been proven to be effective. Samples are handled, tested, and discarded using proper CLIA lab procedures.
The company claims that it can test for several markers simultaneously to provide users with a better insight into their overall health. In addition, they have a board of renowned doctors from prestigious institutions who design and validate each test. This ensures that there is a third-party validation on the accuracy of the results.
You can check out their blog to learn more, like this article on Dr. Stefano Guandalini, MD, a University of Chicago Celiac disease expert on the Medical Science team.
The Science Behind imaware
Our blood contains tens of thousands of biomarkers transported all over the body to fulfill a specific function. You've probably heard of markers such as cholesterol, thyroid hormone, and hemoglobin. In order for your body to function properly, the levels of all these proteins and hormones must be optimal. So if there is an unbalance in any of them, it could indicate a condition silently developing.
If you can detect a shift in hormone or protein imbalance, you could potentially be alerted of a condition as early as six- or twelve-month before it becomes symptomatic. Detecting the levels of specific markers only needs a small amount of blood, at least for the imaware at-home tests.
imaware tests and markers
Imaware offers six distinct at-home test kits grouped into six main categories plus the more recent COVID-19 test:
Women's Health

Women's Health & Wellness Test (Nine markers that focus on key areas of women's health.)
Thyroid Screening Test

Men's Health

Testosterone Monitoring Test
Prostate Cancer Screening Test
Men's Health and Wellness Test (Ten markers that focus on vital areas of men's health.)

Immune Health
Heart Health

Baseline Heart Health Test
Vascular Inflammation Test
Lipoprotein(a) Health Test

Diabetes

Prediabetes/Diabetes Screening Test
Haptoglobin Genetic Test

Allergies

Food & Respiratory Allergy Test
Review of imaware: At-Home Health Tests
At-home health tests are a trend that has been gaining momentum in the past few years. A combination of technology and health offers a convenient way for people to learn about their body's composition and become proactive on their health. Imaware picked on this need and has seen growth since it started four years ago.
Based on the reviews by users across most of the platforms we researched, results are as accurate as regular lab ones. The process of collecting blood samples is mostly the same, with some variations on the type of vessel for collection.
Also, there are some specifications for the type of test being taken. Instructions and preparation for every specific test are given on the website and are included in the instructions card included in every kit box.
The procedure that involves taking the test and shipping it is straightforward to follow. According to the website, you should receive your results within seven days, but this is not always the case. Many patients have reported getting their results in as little as two days.
Customer service is helpful and will usually solve your issue in the most streamlined way possible. If, for some reason, your results are inconclusive (they claim it happens to less than 1% of their patients), they will offer to send another kit free of charge. You can get in touch with them via phone, online chat, and email.
How to use imaware
There is a general procedure that applies to all imaware at-home tests. It is pretty simple, but depending on the type of test taken, there might be some special diet requirements. Once you receive your box, the first thing you should do is sign up and activate your kit.

Each sample-collection kit includes:
Detailed instructions
Biohazard bag to put your vial with blood sample in
Alcohol wipe
Bandage
Two lancets
A microtube for the blood sample
This is the step by step guide:
Wash your hands with soap and warm water to promote blood flow.
When opening the home collection kit, put aside the return envelope and empty the box's contents.
Use the alcohol wipe to clean the area of the finger from where you will be taking your blood sample.
Remove the purple cover of the lancet (screw and pull) and place it against your finger.
Firmly press the lancet against your finger to force the needle into the skin.
Massage your finger towards where you pricked to stimulate blood flow.
Add 4-5 drops of blood into the tube, cap, and shake.
If needed, place the bandage on your finger to stop blood flow.
Place the tube with the blood sample inside the biohazard bag, then inside the box, and place that inside the bag with the return label.
Deposit the box into your nearest UPS location as soon as possible.
You should be getting your results within two days in your inbox.
Review of imaware cost
Relative to most at-home tests and regular lab tests, imaware sells their kits at an affordable price. With the cost you pay for each test, they include the kit, the analysis, and detailed information for you to share with your medical advisor.
The least expensive kits cost $69, and the Food & Respiratory Allergy Test is the most costly as it covers a wide range of biomarkers. Unfortunately, the platform does not offer any bundles or subscriptions.
The kits are, in general, not covered by insurance, but they are eligible for HSA/FSA accounts. The company itself cannot bill insurance companies directly, and they cannot guarantee insurance coverage as this will depend on the provider. They are willing to offer any documentation you might need to submit for reimbursement.
Review of imaware reports
The imaware test report will start with an introductory note and a general description of the accuracy of your results and how these can help your doctor come up with a diagnosis. Then, at the bottom of the first page, you will see the names and details of the medical advisory team for your particular test.

Next, you get a description of the biomarkers tested, a description of specific considerations, and your likelihood of having or not having the condition you were tested for.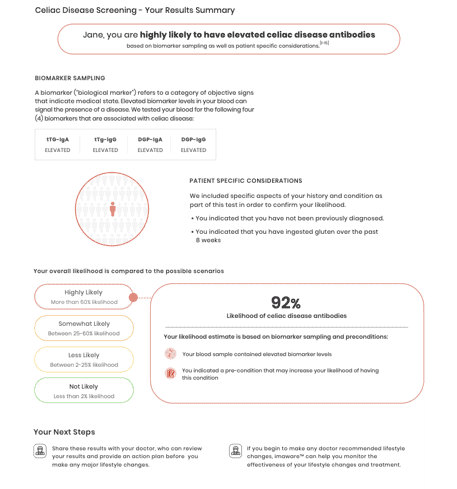 The next page or pages offer more detailed information on your markers and their levels. It also includes some notes on a possible course of action from your doctor and limitations. This information is to be shared with your health professional.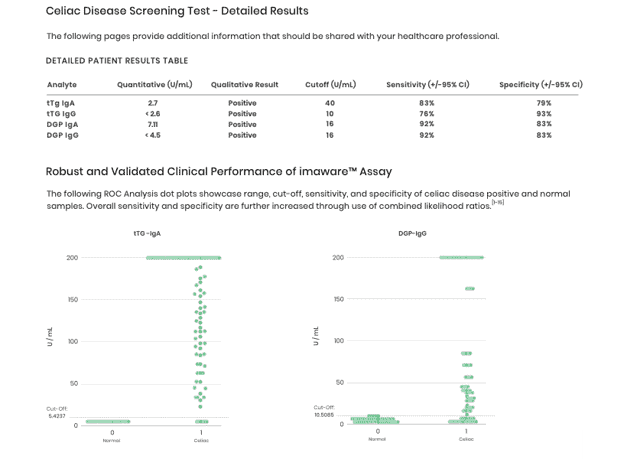 The report ends with additional information and the scientific references in peer reviewed journals.
Each report has two essential characteristics: (1) it is detailed and (2) it is easy to navigate and understand. They do not include health recommendations but do advise patients to share the results with their doctor.
In general, the report does a good job of detailing the biomarkers and their levels. The fact that there are no health recommendations might be considered a limitation, but imaware believes that only your physician can provide that kind of medical advice.
How does imaware work?
The process involves three basic steps:
Prepare and collect. Take all the preparation actions (fasting, drinking water, warming up, etc.), activate the kit, and take the blood samples.
Secure & Ship. Place your samples in the biohazard bag provided, put the bag inside the box, and send in the provided return bag with the prepaid shipping label.
Review & Take Action. View results safely on the online platform. Then, share your results with your medical provider to help come up with a health action plan.
Is imaware safe?
Considering that all the at-home tests are backed up by a board of world-renowned doctors from prestigious institutions, you can trust that their tests have the same accuracy as a regular lab test. Their labs are located in the United States and are CLIA and CAP certified.
Once the sample has been processed, the test results are reviewed by a board of physicians who validate their accuracy.
Review of imaware Privacy
When a user signs up to receive a kit, they will create an account with information that goes to a database in the imaware platform. The data is used to connect the results with the patient. The amount of time imaware will keep personal information will depend on each state's regulation.
Once the patient has activated their kit and sent it back for analysis, the results will be shared with a link via email. The patient then has access to their results at any time and can be downloaded.
Imaware claims that this information will not be shared or sold with any third party without the user's permission. They also claim to have industry-grade encryption to protect data and that their platform is HIPAA compliant.
imaware in the News
Jani Tuomi and His Inspiring Journey Leading imaware™ in the Healthcare Sector Adam Torres from Mission Matters Innovation Podcast interviewed co-founder Jani Tuomi on what led him to create the company.
From celiac to COVID, Texas tech company pioneering at-home health tests The Houston Chronicle wrote this article about the convenience of imaware at-home tests, especially for the elder during the rise of the COVID-19 pandemic.
Interested in COVID-19 travel tests? Kurix Health and Project Screen offer special testing meeting requirements for departing and arriving in the UK.
The 8 Best A1C At-Home Test Kits of 2021 Healthline also added imaware's Prediabetes/Diabetes Screening Test to this top list as the best for physician-reviewed testing.
Other imaware Reviews
The majority of the reviews across platforms such as Trustpilot, Amazon, and Facebook are on the positive end. Negative reviews on Trustpilot are addressed, and it seems like the company strives to meet a happy ending with the patient.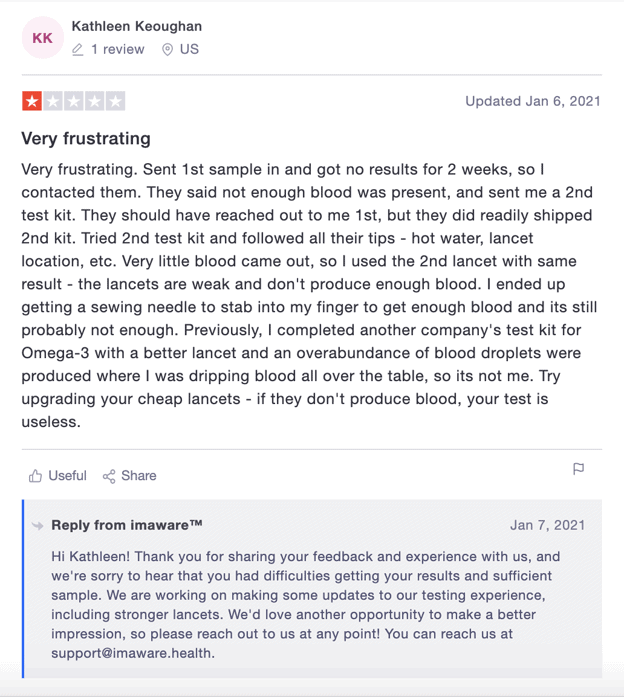 Pros and Cons
Pros
A comprehensive offering of tests
Results are reviewed by worldwide-renowned doctors
A helpful customer service staff
Unique lancet allows easier collection
Cons
No analysis of genomic variants or SNPs
Tests are only available in the United States
Nebula Genomics
There has never been such a time to own the information on your health and genetic composition and proactively make changes based on it. Have you not tested for your entire genome yet? Get started now with our 30x Whole Genome Sequencing that guarantees to decode 100% of your DNA.
If you would like to know more about how at-home tests work and take a look at other options, check out our reviews for at-home food sensitivity tests, thyroid tests, men's health tests, and women's health tests, among others.
Other companies that offer lab tests are:
You may also be interested in virtual health care such as that offered by PlushCare, Teladoc, and Lemonaid Health!
Did you like our imaware review? You can read more reviews on our blog and check out our complete guide to the best DNA test kit and other home tests.