7 Facts from our Care/of Review
Location: New York, New York
Services: Personalized vitamin and mineral plans
Cost: $5 – $28
How it works: Uses an online quiz to tailor supplement recommendations
Counseling available: No
How to order: Through its website or at Sam's Club and Target
Alternative Products: Nebula Genomics offers 30X Whole Genome Sequencing that decodes 100% of your DNA and gives reports on diet and much more!
This review is written with the intent to be as unbiased as possible. However, it represents the opinion of an individual reviewer and is therefore subjective. Furthermore, at Nebula Genomics we seek to educate the public about the benefits of Whole Genome Sequencing. Information about our Whole Genome Sequencing DNA test is therefore incorporated into the review.
November 14, 2023
Pros and Cons
Pros
Customers like the convenience
High quality ingredients
Includes an app for tracking
Responsive to comments on third-party sites
Cons
No one-time buying option
Some customers report it was difficult to change their address
Introduction
Care/of is a monthly subscription service that delivers personalized vitamin and dietary supplements. Care/of's quiz tailors custom supplement recommendations to individual dietary habits, health goals, and lifestyles. Beyond just pills, it provides a wealth of information and resources on its website, emphasizing transparency in ingredient sourcing and science-backed product development.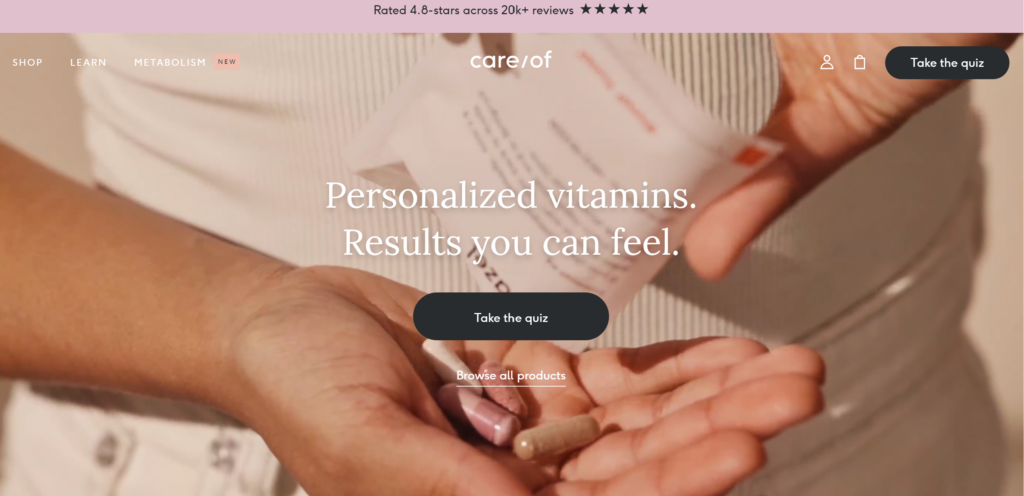 Craig Elbert and Akash Shah founded Care/of in New York City in 2016. The exact location of their initial brainstorming is mentioned as possibly being in Washington Square Park, but the founders playfully note that it's hard to determine the exact spot with such origin stories.
The founders are also customers of their products. Craig Elbert, the CEO, and co-founder, has a personal regimen that includes Rhodiola for energy, especially since he has a young child. He also takes Omega-3 Fish Oil, Magnesium for stress and sleep management, and Vitamin D, a common supplement for many New Yorkers.
Akash Shah, the Head of Product and co-founder, takes B-12 due to his vegetarian diet, Ashwagandha combined with hip-hop music as his way to de-stress, Calcium Plus for bone health, and Veggie Omega for cognitive support.
The Science Behind Care/of
Care/of is deeply rooted in scientific evidence, as seen by the of blog articles they've published on the website. It delves into various topics, from understanding the significance of fat-soluble vitamins to the role of probiotics in gut health. Another article offers insights into the differences between complete and incomplete proteins.
These articles not only provide valuable information but also points out the company's commitment to ensuring that its products and Care/of personalized recommendations are backed by science. Articles are up to date and the company regularly releases new ones.
The company cites that it referenced over 1200 studies to develop its products and only 5% of ingredients make it to the final products.
Taking a Care/of Test
Customers can take the 5-minute quiz, which focuses on goals, lifestyle, and values, on the company's website. Results will provide them with a custom Care/of vitamin and plan that they can then order from the website. The quiz is not required to buy individual products.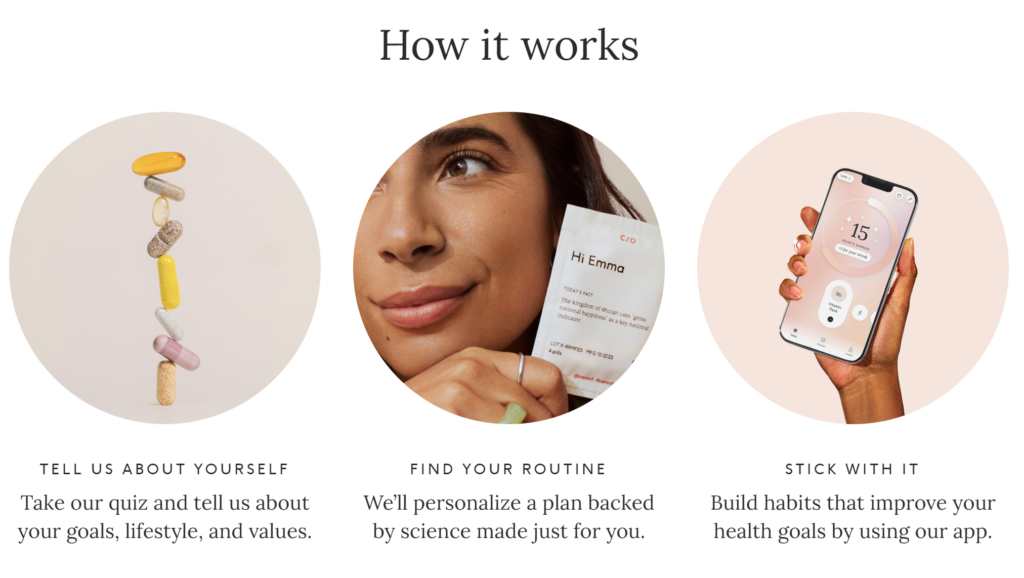 Care/of also has an app to help its customers build habits to reach their overall health goals.
Review of Care/of Products
The company offers a diverse range of products to meet various health goals. Products are made in the United States and uses third-party testing upon completion for quality and to ensure they meet the Food and Drug Administration (FDA) requirements for Good Manufacturing Practices.
These include daily vitamin packs and powders. If they don't take the quiz, customers can search by health goal. The groups include:
Digestion
Immunity
Brain health
Energy
Eyes
Sleep
Stress
Heart
Joints
Metabolism
Skin
Hair
Nails
Prenatal
Bones
Fitness
There are 36 daily packs and blends and nine powders to help customers reach their health goals. Categories include letter vitamins, multi-vitamins, and probiotics. Below, we review a product page for one of their offerings.
Vitamin C
On the Care/of website, vitamin C is called the Citrus Savior. It claims the product helps maintain a healthy immune system. It is easy to digest and created for absorption.
Adults should take one capsule per day with food and water. The pack comes with a 30-day supply. In this case, vitamin C is the only ingredient and it looks like vitamin C in its food-based form. A single capsule contains 250 mg of vitamin C.
The product page discusses the history and emerging research of each product. It notes that the best way to get vitamin C is through a diet rich in fruits and vegetables. However, it can be supplemented if not enough is consumed.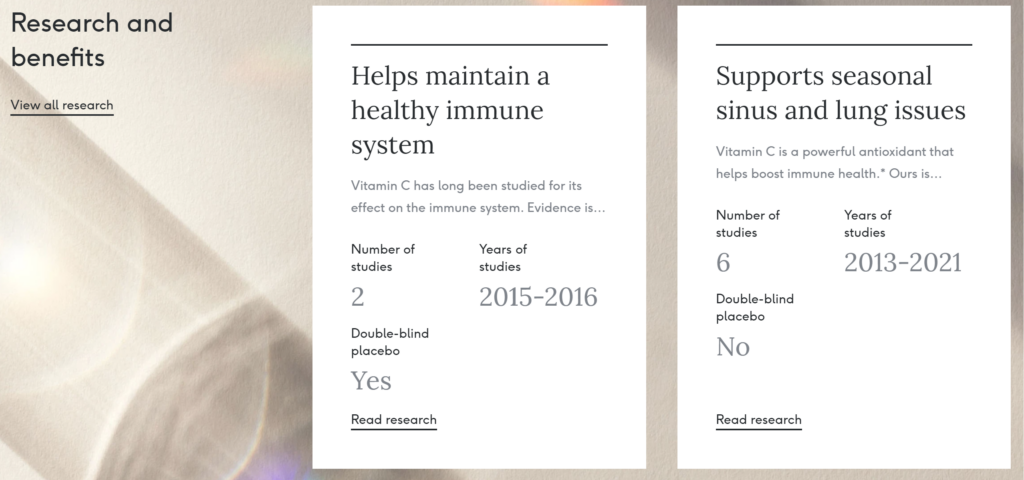 The scientific evidence portion of the product page highlights a claim and cites the number of studies, years of study, and whether a double-blind placebo was conducted. A link in this section takes the customer to a page with more detailed research summaries.
Available options
Letter vitamins: This includes essential vitamins like B-Complex, Vitamin B12, Vitamin C, and Vitamin D
Multivitamins: It offers a standard multivitamin, one with iron, and a prenatal variant
Minerals: Essential minerals like calcium, iron, magnesium, and zinc are available
Herbs: Herbal supplements such as Ashwagandha, elderberry, garlic, rhodiola, shatavari, turmeric, and cranberry are offered
Pre + Probiotics: It has a Prebiotic Plus and a Probiotic Blend
Specialty: This group includes a variety of products like omega-3 fish oil, chromium + apple extract, adaptogenic mushrooms, astaxanthin, ceramides, keratin, and various forms of collagen
Vitamin bottles: These are other options outside of the vitamin pack, including blends for focus, sleep, digestion, and energy levels
Powders: It offers nutrient-rich options like collagen and whey protein powders
Quick Sticks: These are on-the-go nutrient sticks that dissolve directly in the mouth, including gut check and pocket protector
Although the risk of side effects is low, the company recommends that anyone experiencing them should stop using them and speak with their healthcare professional.
Review of Care/of Cost
Care/of is a subscription service only – their is no option for a one-time purchase. Once customers place their first order, they'll receive a month's worth of vitamins every 30 days. The company allows customers to alter their plan or delivery date at any time and sends an email before the next pack ships.
Prices vary but are generally around $10-$15 per vitamin per month.
Letter vitamins: $7-$13
Multivitamins: $15-$19
Pre- and Pro-biotics: $12
Herbs: $8-$12
Minerals: $5-$10
Specialty: $8-$19
Vitamin bottles: $14-$19
Powders: $5-$28
In addition to the price of the vitamins, the company also charges a shipping fee and an optional dispenser fee.
Review of Care/of Privacy Policy
Care/of, by Noho Health Inc., has a privacy statement emphasizing the protection and responsible handling of user data. It collects a range of personal information, from contact details to health and wellness data, depending on how a customer uses with its services. This data aids in its service fulfillment, marketing, research, and other administrative tasks.
While it shares information with certain partners and vendors, it also uses cookies and tracking tools to enhance user experience. Importantly, it stores data with trusted processors and on their servers, sometimes outside the user's country. Users have rights over their data, including access, modification, and deletion, with specific rules for different regions. For any data concerns, the company provides clear contact channels.
Other Care/of Reviews
On the official Care/of website, the brand boasts a solid reputation with a 4.6 star rating and over 3400 reviews. Many customers express satisfaction with the custom vitamin packs that Care/of recommended, often citing the service's convenience, quality, and effectiveness. Unlike competitors, Care/of also includes critical reviews on its site. Some of the comments from the lower rating include poor customer service and difficulty changing or canceling subscriptions.
On Trustpilot, Care/of has a 4.4/5 star rating based on the feedback from over 3,200 customers. Most of these Care/of vitamin reviews are positive, praising the brand's affordability, ease of use, and the potential benefits of the supplements. However, as with any product, there are a few customers who had issues, mainly related to shipping or specific product concerns.
Other platforms, such as Healthline, ThingTesting, Medical News Today, and Women's Health Magazine, offer a mix of expert and consumer reviews. These sources generally commend Care/of for its innovative approach to personalized nutrition, though some point out that the brand might not be suitable for everyone, especially those with specific medical conditions or needs.
Nebula Genomics
Care/of offers a broad range of vitamins for customers to create a customized supplement plan delivered to their door monthly. Although supplements can be a great way to meet your health goals, even the most competitively priced ones can get expensive over time. Some customers may find it useful to know more about their genetic predispositions to certain health-related concerns before investing in further supplementation.
The best way to understand your body's natural predispositions is to sequence your genome. Nebula Genomics provides a comprehensive DNA test highlighting predispositions related to health concerns and traits. With reports, you can easily explore your DNA and learn about new discoveries.
With 30x Whole-Genome Sequencing, Nebula sequences 100% of your DNA to get to the root cause of every biological inclination. The test is incredibly accurate and includes other additions, including ancestry reporting and genome exploration tools. Regularly updated reports ensure that you will not miss the latest genetic research.
Nebula is not a diagnostic test, but the results are of the highest quality and can be used in consultation with health care professionals.
For only $299 or less, customers will get access to their entire genome, allowing them to continue to ask more questions as more research is conducted.
Did you like our Care/of review? You can read more reviews on our blog and check out our complete guide to the best DNA test kit and other home tests.
Other companies
You may also be interested in these other supplement companies: