This review is written with the intent to be as unbiased as possible. However, it represents the opinion of an individual reviewer and is therefore subjective. Furthermore, at Nebula Genomics we seek to educate the public about the benefits of Whole Genome Sequencing. Information about our Whole Genome Sequencing DNA test is therefore incorporated into the review.
November 2, 2021
7 Facts from our 24Genetics Review
Location: The company's European headquarters is located in Paseo de la Castellana, Madrid Spain
Products: 24Genetics offers DNA testing for health, ancestry, pharmacogenomics, nutrigenetics, skincare genetic test, DNA sport test, and Whole Exome Sequencing. Customers can also upload raw DNA data from Ancestry.com, 23 and Me, MyHeritage, FTDNA, and other sites
Ordering: Patients can order an at-home DNA kit and only need to collect a saliva test to return to the lab
Consultation: Consultation services are not available
Data availability: patients can download their health data from their registered online space
Cost: $49-$199
24Genetics Introduction
24Genetics is a personal genetic testing company that offers a series of DNA tests to help patients understand their health and predisposition for conditions, including those that can be passed to children. The company's health test analyzes 700,000 genetic markers that cover over 200 diseases, dozens of genetic predispositions to medication, and much more regarding your overall health.

24Genetics was founded in Madrid, Spain in 2016. It has since grown into a worldwide company that offers client services globally. It started as a biotechnology start-up and now operates in over 100 countries with a large presence in Europe. It's also popular in the United States and has a couple of branches in the country, with its headquarters in Boston, Massachusetts.
This company specializes in direct to consumer genetic tests that are delivered to user homes and prides itself on the fact that its tests are recognized by the NCBI. Its DNA tests include ancestry, health, nutrigenetics, pharmacogenomics, sports, and skincare. The company's ancestry DNA test covers more than 400 geographical areas and is one of the most detailed of the market.
The company provides its service to patients directly with its at-home test kits, which are extremely easy to use and results are usually provided within 24 hours of customer samples being received at the lab. The PDF report presented is usually available within 3-8 weeks.
Review of the Science Behind 24Genetics
24Genetics states that its aim is to provide ancestry and health tests to help customers make better decisions about their lives. They state that they offer a complete genetic test in the form of their Health test product (700,000 genetic markers) as well as options for whole exome sequencing (40 million markers) and whole genome sequencing (3 billion markers).
The company's ancestry test can show patients their DNA percentage in more than 600 regions, making them one of the most comprehensive genetic testing companies as many others lag behind on delivering customers with only up to 50 regions. The company's standard health test can provide you with information on 700,000 genetic markers and over 200 diseases.
With its customized and unique Illumina technology, the company ensures that DNA tests are performed precisely for a very affordable price without compromising test quality. All the genetic tests are based 100% on the latest Illumina technology, providing the most accurate and reliable information.
Taking a 24Genetics Test
To order a test, users will order the test kit online and register their DNA extraction kit when it arrives. They will provide their email address, to which the company will send the reports when the test is concluded.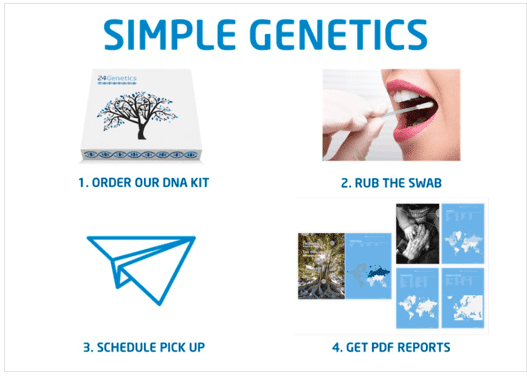 The company provides a video tutorial on their website that it recommends kit buyers to watch, so they know how to properly collect DNA samples (either saliva and swab method). The tutorial is easy to follow and is not different from the general sample collection process. Also, there is an instruction manual to guide patients as well.
Once the sample is collected, customers return it to the lab using the return shipping instructions provided with the kit.
Review of 24Genetics Products
24Genetics offers patients comprehensive testing and well-analyzed results with its wellness and ancestry testing. It offers various separate reports as well as comprehensive testing.
The company offers 8 major products, each drawing patients closer to their DNA and how their genes affect their life, health, and personality. The firm's overarching mission is to ensure that patients know more about themselves and their predisposition to certain types of disease and health conditions. The 8 products offered by the firm are listed below.
Review of 24Genetics DNA Health
This test is one of the most popular tests performed by the company and is usually performed to give customers information on their susceptibility to the most common disease from their DNA analysis. Information includes genetic health risks, oncological mutations, carrier status, and genetic biological traits such as high cholesterol and triglyceride levels.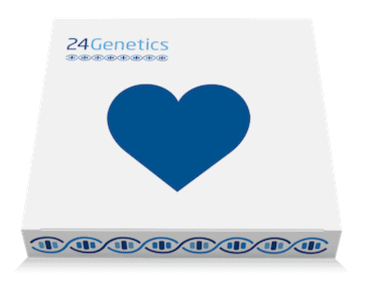 Review of 24Genetics Ancestry
24Genetics compare their genetic data to a vast DNA database, with genomic markers from many places around the world. They can help patients trace a patient's ancestral history through several generations. They go deeper than most genetic testing firms as they compare DNA from more than 1500+ regions.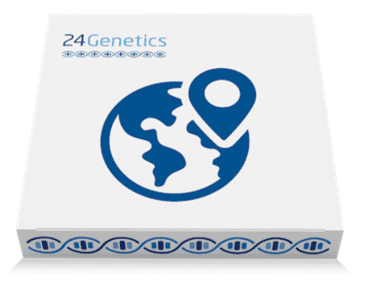 Review of 24Genetics Pharmacogenomics
With the pharmacogenomics test, 24Genetics provides information to customer predisposition to various medications. With this DNA analysis, they can determine whether a client is predisposed to a drug that might be toxic or simply ineffective as well as many more possibilities. With this example of personalized medicine, customers can work with their doctors who can prescribe the most effective and safe medications.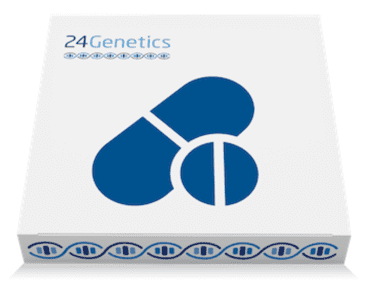 Note: This test is not available in the United States.
Review of 24Genetics Nutrigenetics
This genetic test helps customers assess the best diet and nutrients that need to be incorporated in their foods for healthy development and immune system health. 24Genetics studies patients' genes and helps them create a daily plan that ensures that they get the best meal. This can be based on genetic factors such as how your body reacts or doesn't react to certain nutrients and which vitamins and minerals your body absorbs poorly.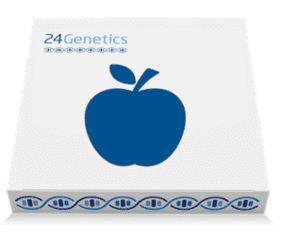 Review of 24Genetics DNA Sports
With this test, 24Genetics provides customers with a complete analysis of the fitness and exercise that fits their strength based on genetic analysis. The company helps customers design an appropriate training plan that brings out the best benefit during sports while reducing the potential for injury.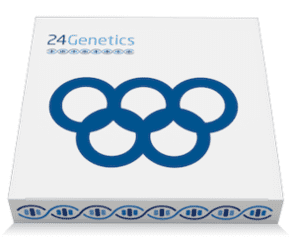 Review of 24Genetics Skincare
24Genetics analyses genetics' influence on skin characteristics, such as hydration, elasticity, and antioxidant capacity, which play a key role in the skin aging process. The firm cites the fact that genes are responsible for 60% of the aging process, and a good test will go a long way to help patients know what kind of skincare limits the effect of aging.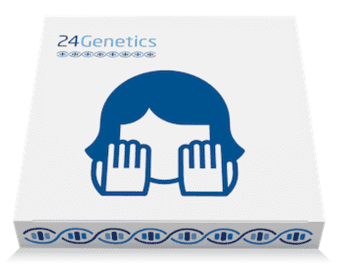 Whole Exome Sequencing
Through the exome, the protein coding section of the genome, 24 Genetics access 85% of all relevant data that concern a patient's health in terms of its genetics. Exome sequencing is performed only once in a lifetime, as it does not change. According to the company, patients can get any of the reports mentioned above with this test and your data will be ready for future reports based on new scientific discoveries. These customers also receive a Personality and Traits report, a report on a gene or pathology of interest, and a telephone genetic counseling consultation.
Whole Genome Sequencing
This test sequences all 3.2 billion bases in the human genome and is the most comprehensive DNA testing kit available. The company uses 30x whole genome sequencing to provide the most complete picture of the customer's genome, including health and trait aspects. Customers receive all of the reports and advantages in the exome sequencing kit as well as 2 15-minute genetic counseling sessions.
Review of 24Genetics Cost
The pricing and payment options for 24Genetics are based on the type of test ordered and generally increase with the amount of the genome sequenced.
The pricing for the at-home test kits are outlined below:
Health DNA test: $199 (free ancestry test included)
Ancestry test: $149
Ancestry from raw data: $49
Pharmacogenetics Plus DNA Test: $199
Nurtrigenetics DNA test: $199 (free ancestry test included)
Nutrigenetics test from raw data: $69
DNA sports test: $199 (free ancestry test included)
DNA sports test from raw data: $69
DNA skin care test: $199 (free ancestry test included)
DNA skin care test from raw data: $69
Talent and personality test from raw data: $69
Promo: Ancestry + Sport + Nutrigenetics + Skin from raw data: $99
Whole exome sequencing: $999
Whole genome sequencing: $1,999
Review of 24Genetics Reports
24Genetics offers specific reports when customers order a DNA test. These reports are provided as a PDF through the customer email provided. For former 24Genetics customers, they only have to indicate they need a kit code in the comments of the order.
Clients can interpret the reports themselves and do not need a physician to help them do so. However, if there is any reason for confusion, clients could meet a doctor to help them read out the report. 24Genetics results are not for clinical use and their reports are for research, information and educational purposes only. Reports available in English, German, French, Italian, Polaco, and Spanish
Sample reports for all of the company's services are available on their website. Additional information and a summary of each major report is provided below.
Health Report
The Health report is extremely detailed with over 250 pages for customers to review. There are 5 sections of the Health report: Genetic Health Risks: GWAS, Genetic Health Risk: mutations, Carrier status, Biomarkers, biometrics, and traits, and Pharmacogenetics. For an overview, you can refer to the summary section, which lists the various genetic aspects or conditions tested for and uses a color coded system to flag the characteristics of interest.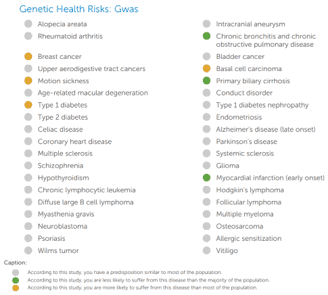 After the summary, each genetic result is broken down in detail with the following information: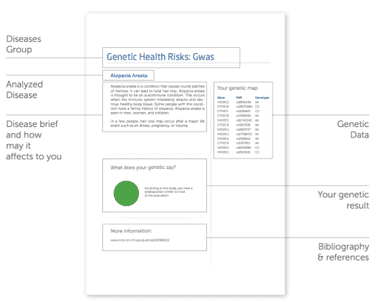 Pharmacogenomics, Nutrigenics, Sports, and Skin reports
The Pharmacogenomics, Nutrigenetics, Sports, and Skin reports are organized in the same way as the Health Report. They are shorter (30-50 pages) since they are more focused on certain aspects.
The Pharmacogenetics report describes how patients may respond to many different medications such as specific blood thinners and antidepressants. Nutrigenics will tell you how you are predisposed to nutritional intake such as how likely you are to have an increased appetite to carbohydrates and how well your body absorbs specific vitamins and minerals. The Sports report focuses on things like power, resistance, and aerobic capacity while the Skin report will give information on things like dermal sensitivity and acne.
Ancestry
With the 24Genetics Ancestry report, customers can receive information about their lineage from over 1500 regions. The reports are broken down into global, country-wide, and region-based percentages. So, even after discovering your country origins, you can explore more granular information, such as North East England (Europe) and Alaska Native (North America).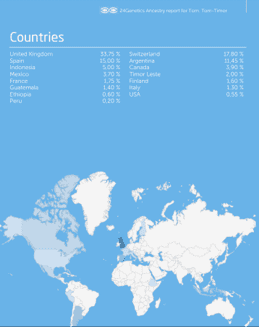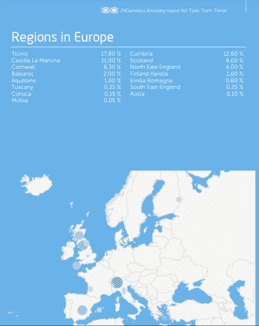 Whole Exome and Whole Genome Sequencing
The more comprehensive whole exome (WES) and whole genome sequencing (WGS) packages come with all the reports described above as well as some additional features:
24Genetics Health Report
Pharmacogenetics Report
Nutrigenetics Report
Sports Report
Skin Care Report
Personality and Talent Report
Ancestry Report
A Telephone Genetic Counseling Consultation [WGS: 2 15-minute calls]
Raw data files for cloud download (+/- 4GB) [WGS: +/- 100GB]
A Genetic Report about the area you indicate to us (gene or pathology)
Review of 24Genetics Privacy
24Genetics focuses on privacy and does everything to ensure customer data is not compromised. Based on that ground, the firm has several outlined binding rules on privacy protection and ensures that clients can file a complaint to the company on the perception that there has been a breach of these rules.
One of these rules is that they do not store patients' data online, which would have left them exposed in the event of hacking.
24Genetics Pros And Cons
Pros
Uses well recognized technology for better testing
Extensive options to choose from
Clients can interpret reports without them needing the help of a physician
Cons
Testing is narrowed
Whole exome and whole genome sequencing are expensive
Genetic counseling is only available with the most expensive tests
No user reviews
Nebula Genomics
Nebula Genomics is a 30x Whole Genome Sequencing company that provides the most comprehensive analysis of your autosomal DNA for the most affordable price. The cost of the 30x whole genome sequencing from 24Genetics is currently 10 times the price of the same service from Nebula Genomics. Additionally, with Nebula Genomics, you can upload your raw DNA data from other DNA testing companies and have it expanded and reanalyzed for free!
The individual reports from 24Genetics are insightful, but might not capture your most relevant health concerns, especially as more research is performed and more information in the genetic field is learned. Nebula provides weekly updated reports based on the latest research, ensuring that your genetic information continues to provide more relevant information for you.
We believe customers are the owners of their genetic data and should have full access to discovery. With DNA exploration tools, you can return to your genetic data whenever you like and ask additional questions.
| | | |
| --- | --- | --- |
| | 24Genetics | Nebula Genomics |
| DNA testing methods | Microarray, whole exome sequencing, and whole genome sequencing | 30x whole genome sequencing |
| Interpretation of results | Customers can interpret the results themselves | Customers can interpret the results themselves |
| Ancestry reporting | Yes | Yes; deep ancestry reporting with the complete Y chromosome and mtDNA sequencing |
| Data access | Users can access raw DNA data | Yes |
| Upload raw DNA | Yes ($49-$69) | Yes (free) |
| Cost | $49 – $1999 | $0, $99, $299 |
| Cost (WGS) | $1999 | $0, $99, $299 |
24Genetics vs Nebula Genomics
Did you like our 24Genetics review? You can read more reviews on our blog and check out our complete guide to the best DNA test kit and other home tests.
This company offers a variety of tests for different inquiries. Other companies that offer different testing options include:
Other companies that offer these types of tests include:
Ancestry
Diet and Fitness
Pharmacogenomics
Whole Exome Sequencing