7 Facts from our Organixx Review
Location: Stateline, Nevada, United States
Products: More than ten organic products available
Cost: Generally between $30-$55, with discounts for multiple purchasing and auto delivery subscriptions
Consultation: 30 or 60 minute consultations with a naturopathic physician
How it works: Visit the website and navigate an ordering platform
Reviews: Good-very good
Other Products: Nebula Genomics 30X Whole Genome Sequencing (WGS) to learn about genetic predispositions
This review is written with the intent to be as unbiased as possible. However, it represents the opinion of an individual reviewer and is therefore subjective. Furthermore, at Nebula Genomics we seek to educate the public about the benefits of Whole Genome Sequencing. Information about our Whole Genome Sequencing DNA test is therefore incorporated into the review.
June 1, 2022
Pros and Cons
Pros
Free shipping is available on orders above $99.
Excellent community with loyal customers
The website offers free educational materials – blogs, podcasts, videos and documents
Free nutritional recipes for home use
Excellent customer service – Money-back guarantee should you choose to cancel your order
Cons
Website contains selected reviews
Expensive products
No test-size product
Organixx Introduction
Organixx is a supplement company that prides itself in using only organic ingredients whenever possible to maximize healthy living. The company's mission involves delivering supplements and educating interested individuals.
Its proprietary fermentation process makes its products extremely bioavailable, ensuring very little nutrients go to waste. It notes that it also strives to keep its highly effective products affordable.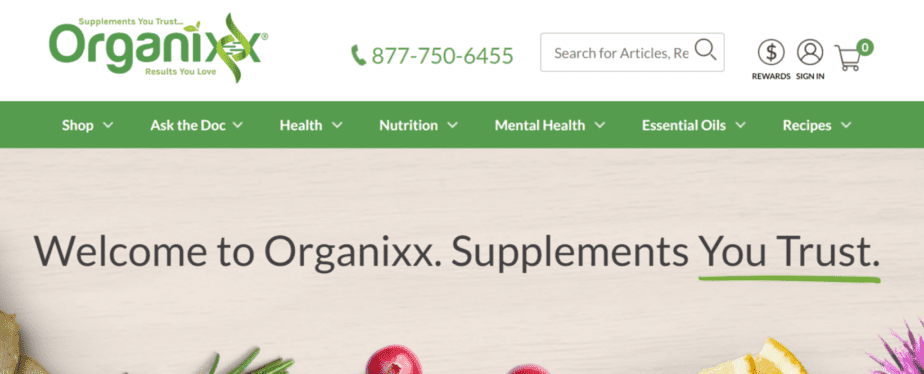 Besides the different supplements produced by Organixx, they also educate the general population on ways to help improve and live the best life. You find several blog posts, videos, and podcasts on how best to improve and enhance your health on the website.
Interested individuals can also get their health questions answers through the site. There is an "Ask the Doc" section where customers can either submit a question to be answered online or request a 30 or 60 minute consultation.
Jon Hunsaker, the founder of Organixx, was working on weight management when he noticed that many supplement-producing companies were focused more on making money than improving health.
His company aims to meet the health needs of its customers through clean, natural ingredients. Organixx has formulations designed to tackle common health problems like inflammation, obesity, and other health and wellness disabilities.
Review of the Organixx Mission – The Eight Pillars of Health
Organixx's mission is to empower you organically. It involves the education of individuals on ways to improve and enhance health.
According to Organixx, supplementation is merely one of the eight pillars of health. The eight pillars of health follow the acronym "INSPIRED." Below are the meanings of each letter in the abbreviation.
I – Chronic Inflammation.
N – Nutrition.
S – Supplementation.
P – Physical Exercise.
I – Immune System.
R – Rest.
E – Emotional and Spiritual Health.
D – Detoxification.
The company's official website contains many materials that focus on the eight pillars of health, 'INSPIRED'. Finding a balance between these items is key to achieving optimum health.
Review of Organixx Products
On the Organixx website, the products are separated into five categories. However, some products overlap into more than one group.
Stress and Anxiety: Turmeric 3D and Magnesium 7
Daily Nutrition: Multi-Vita-Maxx and Clean Sourced Collagens
Digestion and Detox: Enzyme 17, ProbBiotixx+, Clean Sourced Collagens
Pain and Inflammation: Ageless Brain, 7M+, Clean Sourced Collages Magi-Complexx Capsules, Magi-Complexx Essential oil Blend, Turmeric 3D.
Immune Support: Immunity 3, Multi-Vita-Max, 7M+, ProBiotixx+, Turmeric 3D, Clean Sourced Collagens
There are currently 15 products on the company website. Most are oral capsules although a few are liquids and creams. Each product page contains product details, benefits, and an ingredient list. They also contain customer reviews and rankings, which tend to be ranked 4 stars or higher.
Many also contain a link to third-party testing results. These lab tests are for purity, including the presence of glyphosate (the active ingredient in Roundup), GMOs, pesticides, herbicides, insecticides, and heavy metals. Organixx is one of the few companies that publicly shares these results.
The company prides itself in selling products that are non-GMO and have no artificial flavors, preservatives, colors, yeast, soy, added sodium, or starch.
A handful of products are reviewed below as examples:
Review of Organixx Turmeric 3D
The company notes that this product is a best seller and has over 10,000 5 star reviews.
Turmeric is a powerful antioxidant coupled with a potent anti-inflammatory activity that helps suppress pain.
Organixx triple fermented turmeric to utilize all the benefits of the plants and the probiotic bacteria adopted for the fermentation process. The supplement poses a triple threat for gut disorders, systemic inflammations, and bacteria imbalance in the body.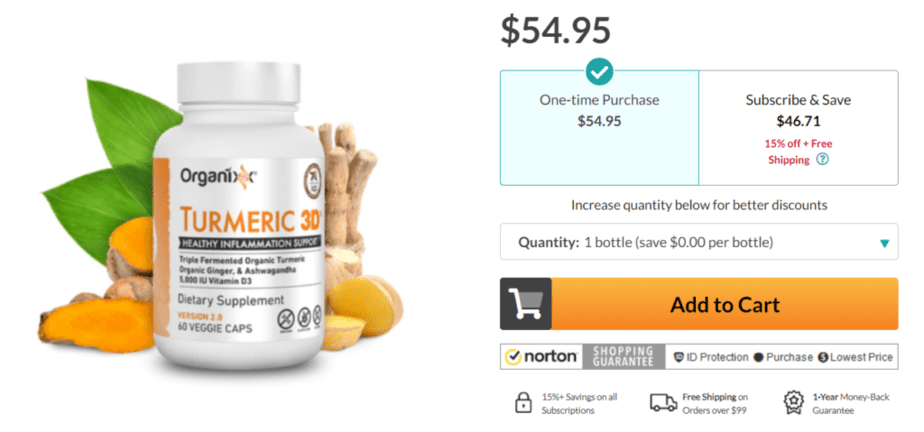 This supplement may also be effective in constipation, high cholesterol levels, and triglycerides. A capsule twice daily appears to be the recommended dosing with a bottle containing 60 capsules.
Review of Organixx Magnesium 7
Magnesium is crucial for muscle and nerve function, protein synthesis, bone and teeth formation, and blood pressure regulation. Deficiency in magnesium results in fatigue and a decrease in mental activity.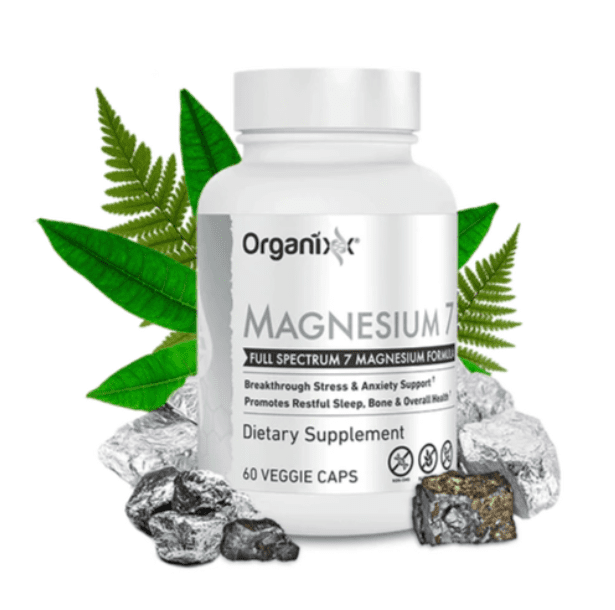 Magnesium 7 aids in providing the body with the needed amounts of minerals. It is a broad spectrum magnesium supplement that includes seven forms of magnesium for optimum activity. Each capsule of Magnesium 7 provides 500mg of magnesium minerals to the body. The absorption into the bloodstream is almost immediate for efficacy.
Review of Organixx Multi-Vita-Maxx
Experts have suggested that multivitamins are essential for maintaining daily bodily functions. These supplements complement the nutrients our body obtains from food. However, it is difficult to find pure multivitamins in today's market.
Organixx's Multi-Vita-Maxx is purely organic. It contains no additive, no filler, no allergen, coloring; purely based on plant nutrition. It has more than 21 organic vitamins and minerals at affordable prices. You meet the daily dietary vitamin and mineral requirements with a daily intake of Multi-Vita-Maxx.
Review of Organixx Clean Sourced Collagens
Collagen is the protein responsible for keeping our body tissues and bones in place for optimum function. It helps maintain a firm, supple and smooth skin. When the amount of collagen in the body decreases, aging sets in, and the skin begins to wrinkle and lose its firmness.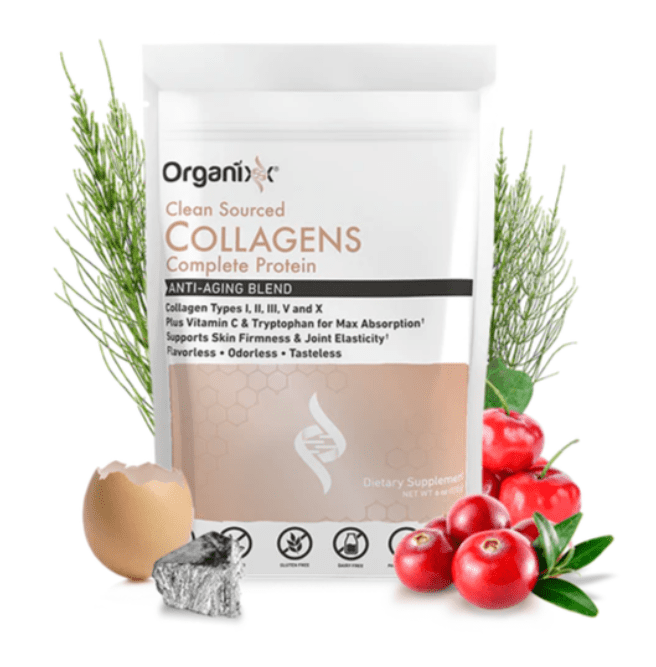 Therefore, collagen supplement has an anti aging effect. Clean Sourced Collagens is a blend of five forms of collagens for the best results. It helps improve skin appearance, optimize energy production, and ease joint pains. It contains five collagen types as well as other natural ingredients such as camu camu.
Adding a scoop of Organixx collagen to your milkshake, beverage, or yogurt is beneficial for gut digestion, immune system, heart health, etc.
Review of Organixx Enzyme 17
Enzyme 17 is a blend of more than five essential enzymes designed to improve gut health and enhance digestion and absorption. The health of the alimentary canal plays a crucial role in overall health and body functions.
Taking this digestive health supplement daily with your meals will enhance your body's ability to absorb nutrients for increased energy and immunity. They may also be effective against protein deficiency, autoimmunity, and sugar addiction.
Review of Organixx Ageless Brain
If you've noticed that you tend to forget things you intend to do, then it may be pertinent for you to add supplements, such as Ageless Brain, that enhance brain function.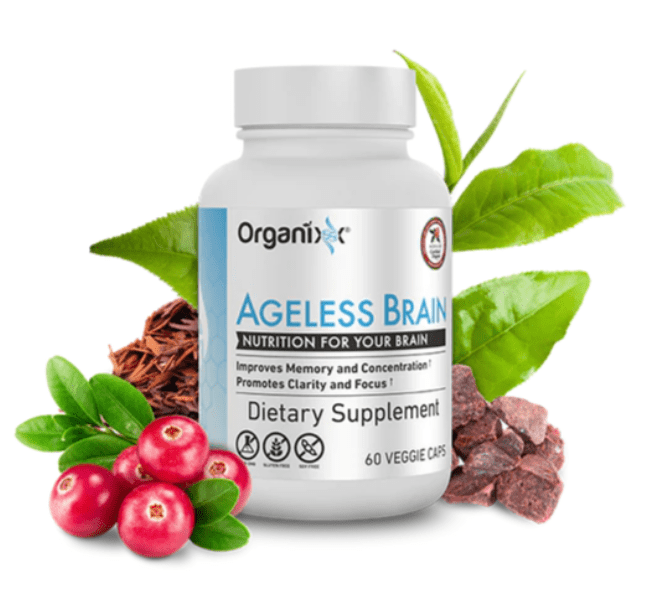 Ageless Brian consists of a mix of potent botanical herbs with lots of active brain-enhancing compounds. The blend of herbal constituents makes it perhaps the best nootropic supplement. It enhances memory, and focus, balances neurotransmitters, and improves mental clarity.
Review of the Cost of Organixx Supplements
The cost of Organixx products differs depending on the product you are purchasing. When you subscribe to receive automatic shipments every 1, 2, or 3 months, you get a 15% discount on every order plus free shipping.
You can also save money by purchasing more products at once. For example, one bottle (60 capsules) of 7M+ Immune Boosting Fermented Mushroom Supplement is $54.95. You save $1 per bottle when purchasing 2 at once, $3 per bottle when purchasing 3, and $6 per bottle when purchasing 6.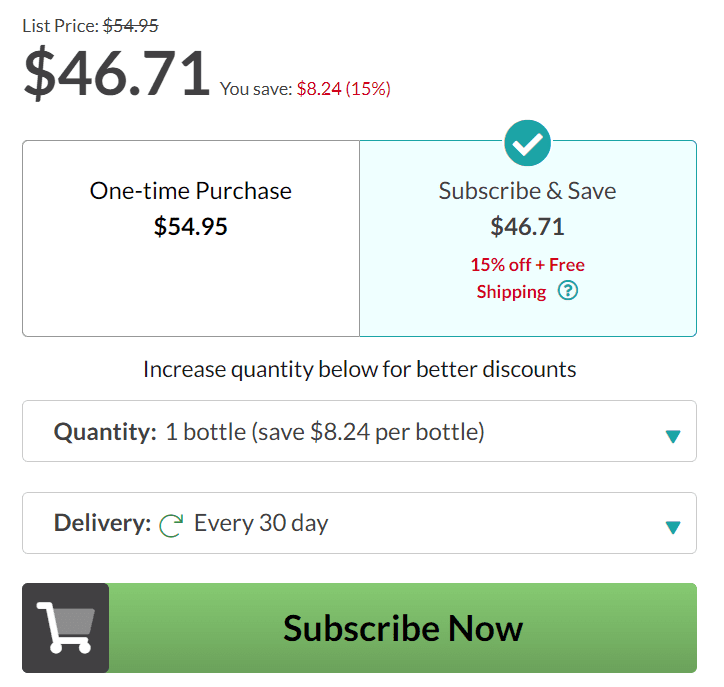 A single product without discounts costs between $30-$55. There are also two bundle options for optimal digestion (Enzyme 17 and Probiotixx+) and Memory and Focus (Organixx 7M+ and Ageless Brain) which cost $85 and $99, respectively.
Shipping rates vary by the amount of purchase and are free on order of $99 or more. If customers are dissatisfied with their purchase for any reason, they can request a full refund.
Other Organixx Reviews
The majority of Organixx products are available on Amazon.com. Overall, these items have ratings of 4.5 out of 5 stars with most products having between 200-400 reviews. Reviews are used to help only recommend high quality products to aid with purchasing decisions.
Clean Sourced Collegens, the anti-aging product has the most reviews with over 1,000. Many customers believe it is a great product. However, there are several complaints that the packaging is not environmentally friendly, the product continues to get more expensive, and the packaging has changed to be misleading. For example, the original packaging listing 30 servings while a company sticker corrects it to 20.
Customers in the U.S. can read additional reviews on the company on the Better Business Bureau website. The company has a 3.63 out of 5 stars, but this may be skewed as there are only 8 reviews. 5 customers were pleased with their purchase. The 3 complaints, which noted poor customer service, packages that were not delivered, and missing customer reviews. Organixx responded to each of these comments.
When it comes to supplements, it's important to remember that results vary. The company notes that testimonials on its website are from actual experiences and its products are not intended to diagnose, treat, cure, or prevent any disease. Statements on the website have not been evaluated by the Food and Drug Administration (FDA).
Nebula Genomics
Organixx, like other reputable health and wellness companies, strives to produce high quality products for their customers. They pride themselves in using organic ingredients whenever possible and a proprietary fermentation process to increase bioavailability.
They have also incorporated an education component to their ordering website where potential customers can read about various health topics and even consult a doctor through submitting a question or requesting a short consultation.
Before considering supplements, it may be beneficial to know more about your natural health. This is where DNA testing can help. Nebula Genomics offers 30x whole genome sequencing that provides unique info regarding your health. A DNA test is tailored for you alone – it can reveal insights into predispositions regarding your health history, diet, and whether you need to increase your physical activity.
Test results can be used in consultation with your health care professional and they can even show whether you may be predisposed to certain deficiencies that can be corrected with supplements. As with any change in diet, you should consult with your doctor before starting new supplements.
If you found this supplement review helpful, you may be interested in checking out these other supplement reviews:
Memory and Aging
Other