7 Facts about our Nurish by Nature Made Review
Location: Nature Made is located in West Hills, California
Services: Personalized vitamin and supplement recommendations
Cost: $4 to $15 per month
How it works: Customers take a quiz and receive their personalized supplement plan
Counseling available: No
How to order: Customers can order products directly from the website
Alternative Products: Nebula Genomics offers 30X Whole Genome Sequencing that decodes 100% of your DNA and gives reports on diet and much more!
This review is written with the intent to be as unbiased as possible. However, it represents the opinion of an individual reviewer and is therefore subjective. Furthermore, at Nebula Genomics we seek to educate the public about the benefits of Whole Genome Sequencing. Information about our Whole Genome Sequencing DNA test is therefore incorporated into the review.
November 7, 2023
Pros and Cons
Pros
Personalized care with custom vitamin packs
A cost-effective approach to health supplements
The convenience of having all vitamins in one daily pack
Helpful online quiz for personalized recommendations
Cons
Unclear who developed the quiz
No professionals available for questions
Limited information about why products were selected
Does not check for supplement-drug interactions
Introduction
Nurish by Nature Made offers high quality daily vitamins and supplements tailored to fit individual needs. Customers can start by taking a short quiz about their health and wellness goals. Based on your answers, the company recommends personalized vitamin packs, making sure that each person gets precisely what their body requires.
The quiz is not required to buy the products. Instead, customers can create their own customized pack or make a single purchase.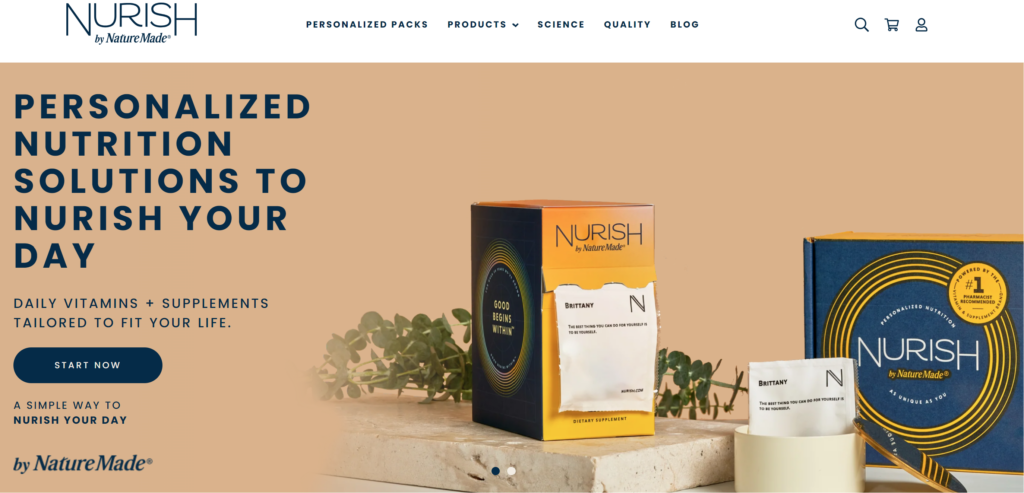 The company designed the plans to be a subscription service and customers receive a 30-day supply each month. The company claims there is no commitment to their monthly plan and that customers can skip, pause, or cancel monthly deliveries any time. A one-time purchase option is also available.
Nurish by Nature Made is a subsidiary of the long-standing Nature Made brand, offering a personalized vitamin and supplement subscription service. The company claims to be backed by 50 years of science and industry-leading expertise, which is most likely a nod to the parent company, Nature Made.
It mainly caters to customers in the United States and aims to provide nutrition solutions to help individuals achieve optimal health.
The Science Behind Nurish by Nature Made
Nourish by Nature Made is deeply rooted in scientific research. With over 50 years of experience in the health and wellness industry, it has a strong foundation in nutrition science.
Its ingredients undergo rigorous research, often with top universities and registered dietitians, to deepen the understanding of nutritional science. This commitment not only ensures the quality of their current Nurish supplements but also fuels future nutritional research.
Dr. Susan Hazels Mitmesser, who leads the scientific research team, dedicates herself to advancing innovation and making sure of the scientific integrity of all products. Furthermore, Pharmavite, the maker of Nurish by Nature Made, has been involved in 96 studies using donated products, 143 clinical trials, and has published 224 studies in peer-reviewed journals.
It also works with organizations like the Council for Responsible Nutrition and the Global Organization for EPA and DHA Omega-3s to uphold quality standards and support ongoing research.
Review of Nurish by Nature Made Services
Nurish by Nature Made offers a wide range of supplements that target various health and wellness needs.
On the website, customers can search by product type or health goal. The latter contains groups such as diabetes health, fitness, heart, immune health, sleep, and stress.
Personalized multivitamins
This collection offers multivitamins designed for different demographics, such as men, women, older adults, and expecting mothers. The company makes each product to cater to the specific needs of its target audience.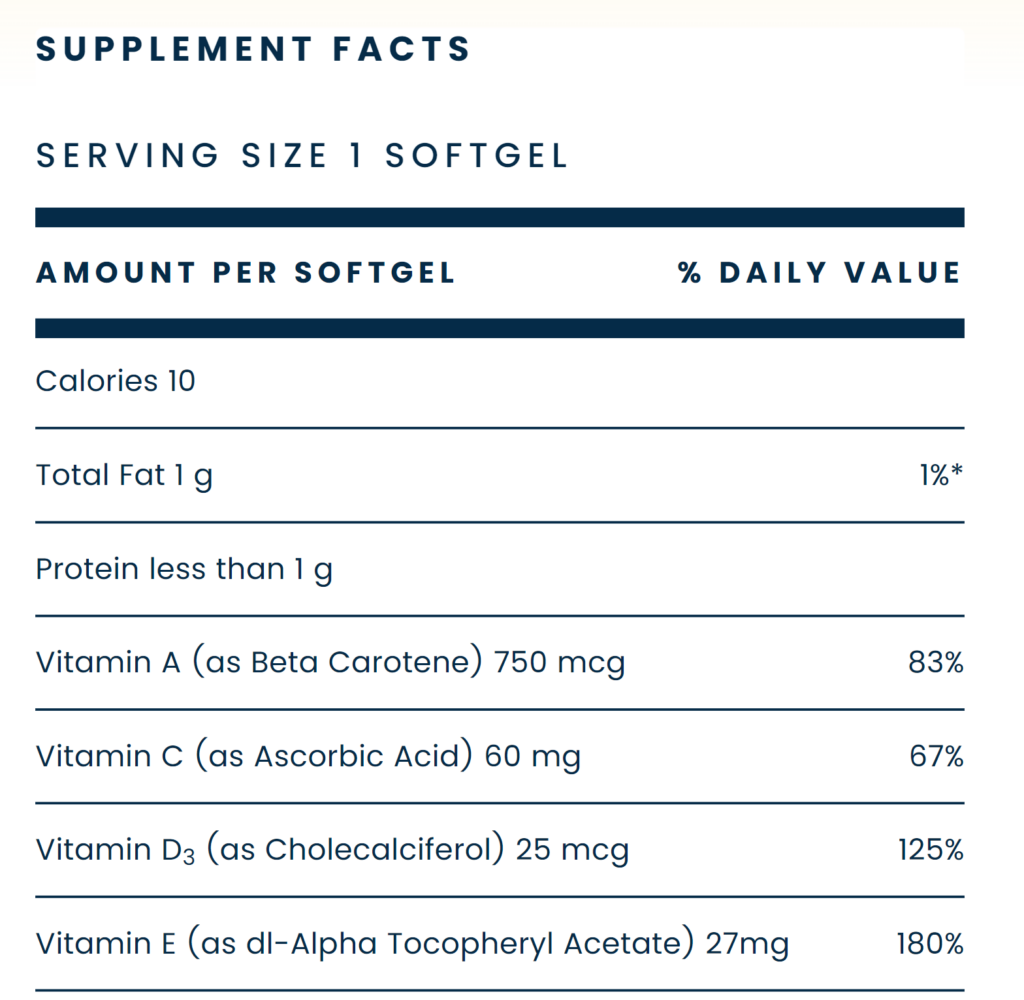 Generally, people take multivitamins to supplement essential vitamins and minerals that they may not get enough of in their diet. For instance, the Men's Multi is packed with 22 essential nutrients to support men's daily nutritional needs, while the Women's Multi 50+ is made for women over 50.
Letter vitamins and minerals
These nutrients play crucial roles in various bodily functions, from energy production to immune system support. The company may recommend them if the customer needs extra.
The four letter vitamins available are Super Energy B Complex, Vitamin B12, Vitamin C, and Vitamin D3.
The available minerals are calcium, chromium chloride, magnesium citrate, magnesium oxide, zinc, and a combination capsule of calcium, magnesium, and zinc.
Other options
Omega-3 fatty acids: Omega-3 fatty acids are derived from fish oil and known for their heart, brain health, and mood benefits. Nurish by Nature Made offers four options and several daily doses to meet various nutrition needs.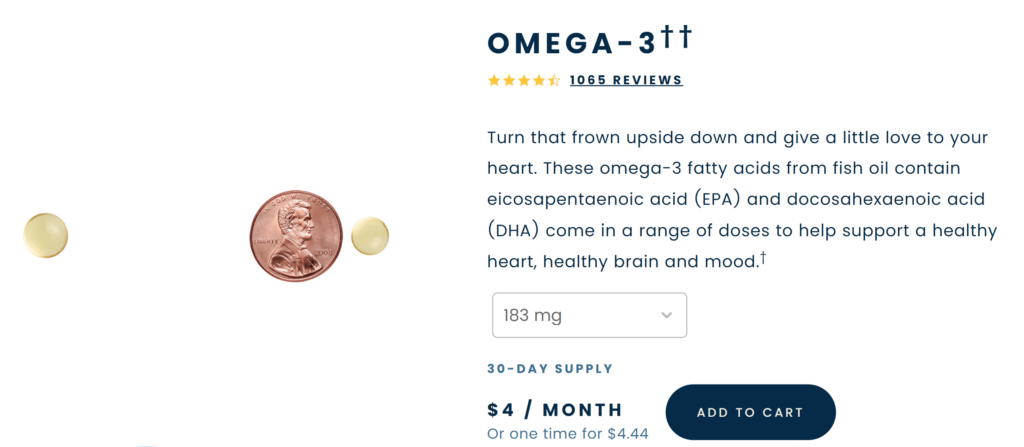 The four omega-3s are flaxseed oil, omega-3 + Vitamin D, Omega-3 Burp-less (300 or 720 mg dose), and Omega-3 (183, 300, or 720 mg dose).
Probiotics: Probiotics are beneficial bacteria that support gut health. Nurish's Multi-Strain Probiotic contains 8 billion CFUs of 12 strains to support a healthy gut flora.
Sleep: For those seeking sleep support, Nurish by Nature Made offers a sleep supplement containing 3 mg melatonin and 200 mg L-theanine to help promote restful sleep and relaxation.
Herbs: This collection includes herbs, defined as a plant or plant part used for supplementation. They include health benefits like reducing stress and antioxidants. The four options are ashwagandha, cranberry, elderberry with vitamin C and zinc, and turmeric.
Specialty: This collection includes supplements like Biotin, CoQ10, and Triple Flex®. These products cater to specific health needs, such as hair, skin, and nail support or joint health.
Taking a Nurish by Nature Test
Customers can take the 5-minute Nurshish by Nature Made quiz on the company website.
It first asks for data such as age and gender.. Then it focuses on your health goals. To access the rest of the quiz, customers must submit their email address.

After customers complete the quiz, they receive personalized recommendations. Customers are free to use them or not. They will then choose their vitamins and the company will ship a supply for 30 days.
At checkout, customers can choose whether they want a monthly subscription or one-time purchase. With the subscription, they can remove or add individual supplements at any time.
Review of Nurish by Nature Made Cost
Generally, Nurish by Nature Made vitamins cost between $4-$15 monthly. This price is for a single supplement type. Since the site encourages a pack, total monthly cost would be the total of all vitamins in the subscription.
Choosing the monthly subscription saves 10% on every order. Shipping is free on orders of $30 or more. Some example prices for the multivitamin, sleep, vitamin, and mineral groups are below.
Men's, Women's, Women's 50+, and All: $6 per month or one bottle for $6.67
Prenatal + DHA and Postnatal + DHA: $15 per month or $16.67 for one bottle
Melatonin 3 mg + L-theanine: $6 per month or one bottle for $6.67
Super B Energy Complex: $6 per month or one bottle for $6.67
Vitamin B12, Vitamin C, or Vitamin D3: $4 per month or one bottle for $4.44
Calcium, Magnesium, and Zinc: $4 per month or one bottle for $4.44
Chromium chloride: $5 per month or one bottle for $5.56
Magnesium citrate: $6 per month or one bottle for $6.67
Review of the Nurish by Nature Made Privacy Policy
Nurish by Nature Made® has a detailed privacy policy that notes the protection and responsible handling of user data. The company collects personal information from users directly, indirectly through tracking, and from third parties. This data is used to enhance user experience, for marketing, advertising, and legal purposes.
While they share information with service providers for operational reasons, they have robust security measures in place to keep this data safe. The website isn't designed for children under 16, and they take measures not to knowingly collect data from minors. Users have rights to their data, including access, correction, and deletion. They can also opt out of marketing communications.
The company retains user data as long as necessary for its intended purposes and complies with legal obligations. Although the website operates in the U.S., international user data might be transferred and processed in the U.S. The privacy policy is subject to updates, and significant changes are communicated to users. For any clarifications, users can reach out to Nurish by Nature Made® directly.
Other Nurish by Nature Made Reviews
Is Nurish worth it? On the Nurish by Nature Made website, the brand has a favorable rating, with customers praising the personalized vitamin recommendations.

Healthline gives a balanced review, noting the trustworthiness of the Nature Made brand but suggesting users consult with healthcare professionals. No specific star rating was provided.

WellnessVerge rates Nurish 5 out of 5 stars, highlighting its affordability and quality, but mentions potential limitations in the depth of personalization compared to other services.
Nebula Genomics
Nurish by Nature Made® focuses on nutritional supplements tailored to individual needs. Like other supplement brands, effectiveness varies between individuals. Before starting a new vitamin regime you may want to know more about your genetic blueprint as many things such as weight, sleep, and other traits are controlled by your genes.
Nebula Genomics delves into the genetic makeup of individuals to provide insights into health and ancestry. This service can provide insights into various genetic traits and predispositions.
Nebula provides a comprehensive DNA test highlighting predispositions related to aging. With reports, you can easily explore your DNA and learn about discoveries focused on longevity.
With 30x Whole-Genome Sequencing, Nebula sequences 100% of your DNA to get to the root cause of every biological inclination. The test is incredibly accurate and includes other additions, including ancestry reporting and genome exploration tools. Regularly updated reports ensure that you will not miss the latest genetic research.
Nebula is not a diagnostic test, but the results are of the highest quality and can be used in consultation with health care professionals.
For only $299 or less, customers will get access to their entire genome, allowing them to continue to ask more questions as more research is conducted.
Did you like our Nurish by Nature Made review? You can read more reviews on our blog and check out our complete guide to the best DNA test kit and other home tests.
Other companies
You may also be interested in these other supplement companies: