7 Facts from our Binto Review
Location: Philadelphia, Pennsylvania
Products: Vitamin subscription service for personalized supplements for women's reproductive health
Ordering: Order kits directly from the website after the personalization quiz is done
Privacy: Shares personal information for purposes such as providing services and marketing
Cost: $20 – $50 per month
Reviews: Good – Excellent
Complementary products: Nebula Genomics (DNA test that decodes 100% of DNA and provides the ability to explore genetic markers for longevity)
This review is written with the intent to be as unbiased as possible. However, it represents the opinion of an individual reviewer and is therefore subjective. Furthermore, at Nebula Genomics we seek to educate the public about the benefits of Whole Genome Sequencing. Information about our Whole Genome Sequencing DNA test is therefore incorporated into the review.
April 6, 2022
Pros and Cons
Pros
Supplement kits tailored for each customer
Subscribers have free access to a certified nurse
Monthly refills are automatic
Daily packages to help you remember to take the supplements
Regular discounts help to reduce costs
High quality ingredients and made in the USA
Strong customer support
Cons
Supplements cannot be returned as they are customized for each customer
Although there's a recycling program, the packaging may be considered excessive
Binto Introduction
Binto began in 2015 as the brainchild of Suzie Welsh, a women's health and fertility nurse. The company was born out of a commitment to the well-being of women after she witnessed the difficulties and long wait times women had to get access to answers relating to their reproductive health.

Binto's mission is to make quality healthcare products and qualified personnel available to women everywhere at friendly prices. Its focus is on preventive drugs rather than corrective ones. Suzie, an adjunct professor for the School of Nursing at Villanova University and a certified yoga instructor, wants the experience of receiving monthly supplements from Binto to feel like a nurse squeezing drugs into each woman's hand.
Binto's personalized supplement combos cater to each woman's needs for her different reproductive phases from period to menopause. The different reproductive stages Binto caters to are as follows.
The period years – the period between the first period and the last period
Fertility – the period when a woman is most likely to conceive and may try to birth a child
Pregnancy – the pregnancy period where people need special supplements to ensure the wellbeing of both mother and child
Postpartum – the period immediately after childbirth, usually a year after the child is delivered
Menopause and perimenopause (a period of extreme hormonal fluctuation, the years leading up to a woman's menopause)
How does Binto Work?
Binto personalizes its supplements for each woman according to her specific needs. After completing the questionnaire, you will receive a personalized kit. The process should take about 5 minutes and contains questions about your health. You will also need to fill in your date of birth and email address during the signup. Once you complete the questionnaire and the registration, you will be able to access your supplement recommendations.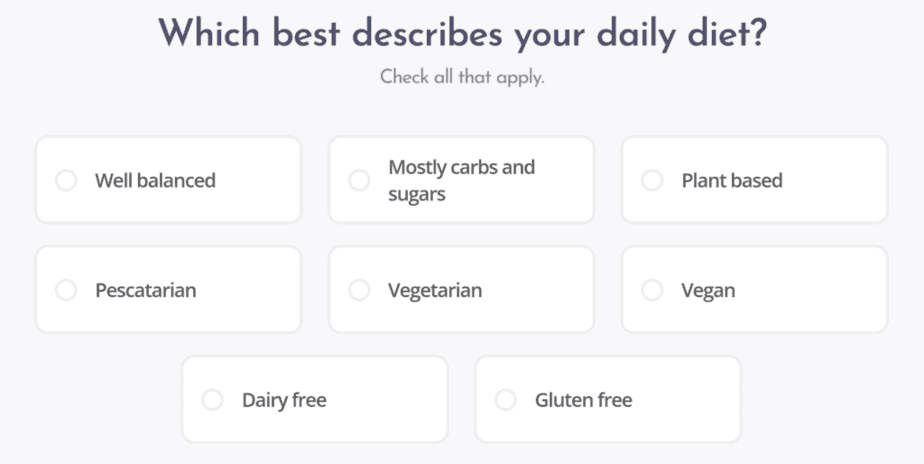 A nurse reviews submitted information, who makes adjustments to your recommendations. You can also choose to take off any supplements you will not need. This helps you because you can cut down on the amount of money you will have to spend or because you have already taken a supplement. The onus is on you to decide which supplements you would like to take.
The cost for each month is charged automatically from your balance. However, the Binto subscription is flexible as you can make adjustments to your supplements, request to speak to a Binto nurse to get new recommendations, pause your subscription for a maximum of six months, or cancel your subscription at any time.
Binto makes its products with clean and thoughtful ingredients. In many cases they are vegetarian and gluten free. They are also made in the USA.
Binto Review
Binto tailors its supplement kits to each customer's requirements and ships your every month. It packs the supplements in small packets for each day with little notes containing your name and health tips. Binto is so well-reviewed because it focuses on detail. Your kit also has fact cards, and recipe cards included.
Binto's packaging model means that a lot of packaging is used for each kit which is not the best for the environment. However, they have considered this and you can return all of the packaging for recycling, reducing their ecological footprint. Although we can argue that each day's supplements do not have to be packaged individually, reports reveal that it helps customers remember to take their supplements.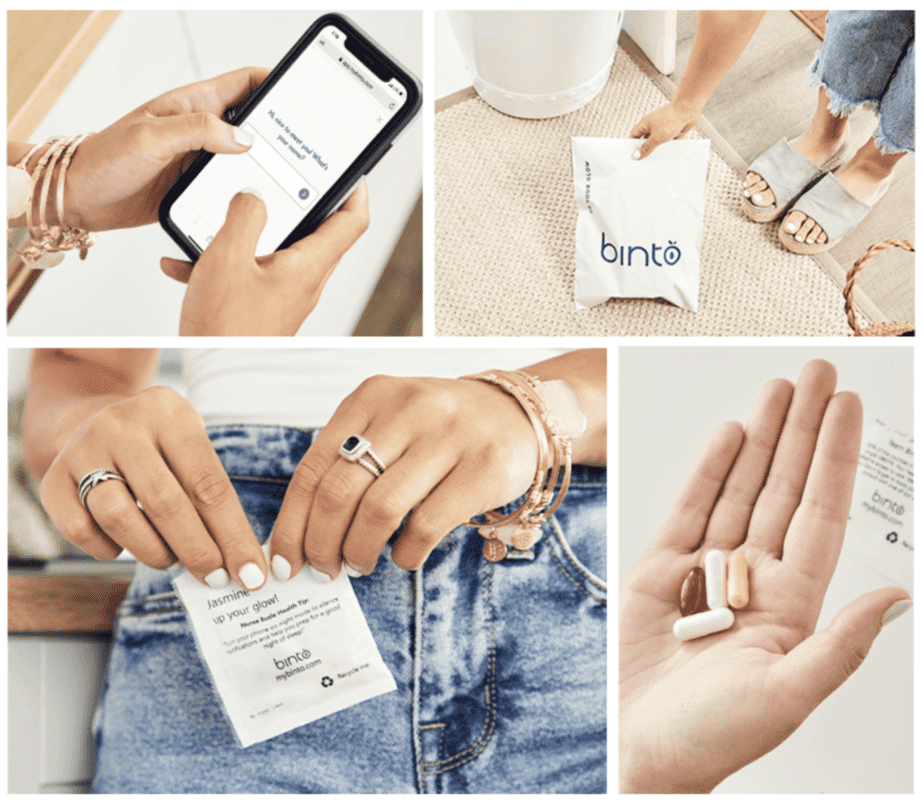 Binto's recycling framework is not the only testament to their thoughtfulness. It also uses methylated folate rather than the more commercially available folate, which is more difficult for the body to absorb. It also places a focus on essential nutrients and does not add irrelevant components to the supplements. In addition, all ingredients have a purpose, such as ginger and peppermint, which are part of the prenatal phase kit to help combat morning sickness.
Although made from ingredients acquired from various sources around the world, Binto manufactures its supplements in the United States. They also do not contain gluten, fillers, or any added preservatives and are also GMP-certified.
Review of Binto Products
The following supplement list includes stand alone supplements available at Binto.
Multivitamins
Bare Essentials Multivitamin
Essential Prenatal
Prenatal-Plus
Women's Complete
Gut Support
Synbiotic
Digest-Ease
Immunity
Vitamin C
Zinc
Vitamin D3
Fertility
NAC
CoQ10
DHEA
Omega fats
DHA
DHAFish Oil
Other supplements
Base blend
B12
B6
Folate (Methylated)
Binto Recommended Kits
In addition to individual supplements, the company also sells one-time purchase kits for specific conditions that contain a few different supplements. There are several options in each category (fertility, period, prenatal, postpartum, and menopause) as well as a starter kit (includes essential multivitamins and probiotic). Below, we provide examples from other categories.
Bloom Prenatal kit
This kit comprises three supplements to help supply the necessary nutrients to ensure optimal development of both mother and child during pregnancy. The supplements also help to relieve constipation and morning sickness.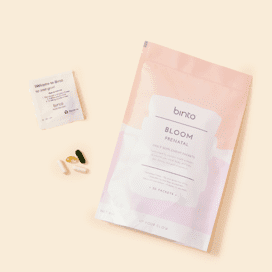 Glow Getter kit
The glow getter kit helps you manage your period with ease. With supplements that boost hormonal balance, gut and vaginal health, you can have a better period.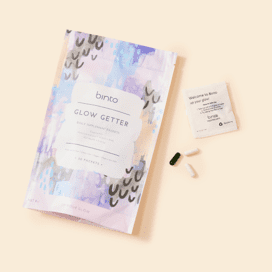 The Survival Kit (Menopause kit)
As its name implies, this kit helps you manage the years leading up to menopause and eventual menopause. The supplements help to alleviate the moodiness and tiredness associated with the hormonal shift in women approaching menopause.
Mates Kit
These supplements are meant for your partner. They help to promote sperm health and reduce the risk of infertility in men.
Balance Inositol
This supplement helps to boost your metabolism and regulate your blood sugar. Used as an additive to liquid drinks, including water, tea, and coffee, Binto claims inositol will help improve your mood and boost your mental health.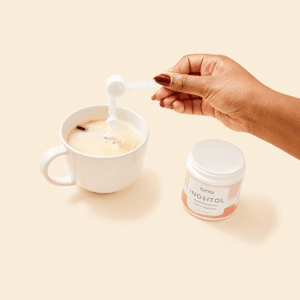 Glow Down
The glow down contains magnesium and six other essential nutrients to help relax your muscles and enjoy a good night's rest.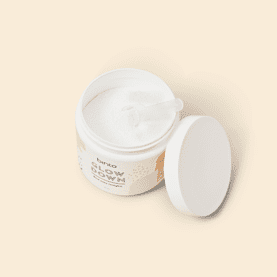 Binto Consultations
Paying for a Binto subscription gets you free online access to a registered nurse who you can ask questions relating to your health. In addition, you can pay for consultancy sessions with licensed healthcare providers for more support. These consultations are time-based and have different prices.
Fertility consult – $50 for 30 minutes
Health consult – $30 for 30 minutes)
Lactation consult – $120 for 60 minutes. Follow up – $80 for 30 minutes
Nutrition consult – $120 for 60 minutes. Follow up – $80 for 30 minutes
Postpartum consult – $50 for 30 minutes
Prenatal consult – $50 for 30 minutes
You do not need a Binto account to book a consultation. First, pick a date and select what consultation you will be interested in. Once this is done, you receive a list of available consultants and the qualifications of each consultant.
Review of Binto Costs
Depending on the contents of your supplement kit, the cost per month should range from $20 to $50. Personalized kits start at $35 per month.
There are often discounts that you can take advantage of to further reduce the cost of the products. The supplements are well priced, considering the quality of the service and the products. Binto also runs a referral program where the referrer and the referred get $10 off their next order. In addition, Binto supports the Maternity Care Coalition, and a percentage of its proceeds go to the coalition.
Binto Health Education Classes
Binto hosts monthly prenatal and infant care and childbirth classes for mothers and couples. The prenatal and infant care classes run for an hour and cost $50, while the childbirth classes are split into two one-hour sessions for $100. You pay the same sum regardless of if one or both parents attend the course. Binto also offers free periodic health education classes on Instagram and some free ebooks on their website.
Review of Binto Privacy Policy
All personal information collected by Binto is protected and is only shared when necessary(to process payment, for example). Binto claims to share only essential information with third parties.
Other Binto Reviews
Customer reviews for Binto products are generally very good. The company's brick and mortar store in Philadelphia Pennsylvania has a 5.0 star rating on Google Reviews with 25 reviews.
Two of Binto's kits, the prenatal and menopause kits, are available on Amazon. The prenatal kit has a 5 star rating while the menopause kit has a 4.5 star rating. It should be taken into account that these ratings are based on a small number of reviewers, 6 and 4 respectively.
In addition to positive comments on the products, customers also praised the friendly and knowledgeable staff, who helped them through their supplement journeys.
Similar reviews are noted on the company's Facebook page, where it has a 4.6 out of 5 star rating with 10 reviews. Many people on this site noted that the products helped their fertility or digestive issues and that they continue to take the supplements.
Nebula Genomics
When considering personalized supplements, it may also be useful to examine a big picture overview of your overall health. In most cases your personal physician can help you target areas of wellness. Another way to receive personalized health information is to take an at-home DNA test.
These tests analyze your genome and provide reports about your genetic predispositions to certain conditions, including reproductive issues for men (e.g. testosterone levels) and women.
Nebula Genomics provides accurate and affordable genomic sequencing. 30x whole genome sequencing allows Nebula Genomics to sequence 100% of your DNA to generate highly detailed reports on your ancestry, health, diet, and general wellbeing. Most other commercial DNA tests only look at 0.1%.
Nebula Genomics offers three different tiers of privacy-focused genomic tests available to consumers based on how much information you would like to uncover from your DNA. Nebula genomics also sends you periodic reports on the latest developments in gene technology relevant to your DNA.
Did you like our Binto review? You can read more reviews on our blog and check out our complete guide to the best DNA test kit and other home tests.
Other companies
If interested in reproductive health, you may want to check out Invitae and Myriad Genetics, which sell diagnostic test kits for this purpose.
Plus, we have reviews on other supplements including those that are designed to reduce signs of aging.
For aging:
Other: