Feature image: https://www.cheapsnowgear.com/collections/snow-backpack-for-ski
7 Facts from our Life Extension Review
Location: Fort Lauderdale, Florida
Products: Nutritional supplements for healthy living
Ordering: Can be ordered from the company website or on third-party sites like Amazon
Privacy: Life extension alludes to using your data to drive targeted ads, although you can opt out. However, personal data that can be used to identify you is not shared except with partner companies to serve you
Cost: Supplements cost $10 – $30 per bottle. The LabCorp tests can cost as much as $800
Reviews: Good – Excellent
Complementary products: Nebula Genomics (DNA test that decodes 100% of DNA and provides the ability to explore genetic markers for longevity)
This review is written with the intent to be as unbiased as possible. However, it represents the opinion of an individual reviewer and is therefore subjective. Furthermore, at Nebula Genomics we seek to educate the public about the benefits of Whole Genome Sequencing. Information about our Whole Genome Sequencing DNA test is therefore incorporated into the review.
April 19, 2022
Pros and Cons
Pros
Detailed scientific but easy-to-read reports on each product
Great customer service
Signing up for auto-ship gets you a discount and free shipping
Free access to wellness specialists
Cons
Some of their claims stretch the truth
They do not offer as many options as other supplement brands
Less focused on lab testing, although it is offered
Life Extension Introduction
Life Extension was established in the 1980s. It focuses on nutritional science with the goal to provide customers with supplements for a healthier life. The company has historically been on the forefront of nutritional improvements, including the introduction of a new standard of protocols for blood screening and its industry-first recommendation of low-dose aspirin for heart disease.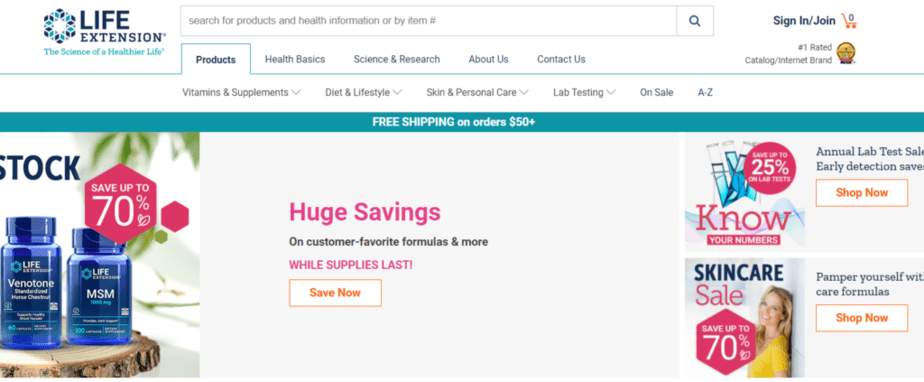 Life Extension's mission is to help people lead healthier lives by consuming nutritional products. The FDA cannot approve their products, and they are not allowed to make claims concerning the use of their products. If interested, you can call them to request a certificate of analysis.
The company employs its own clinical researchers to develop its products and recommendations. Its team of industry-leading pharmacists, scientists, and physicians are committed to producing the highest quality supplements. To date, the company has put more than $180 million into research towards improving its products.
As a testament to the founder's science journalism background, although Life Extension provides lengthy reports on each product, they use minimal science jargon and can be understood by nonprofessionals. Besides health supplements, Life Extension also offers laboratory tests through its partner, LabCorp. However, these tests are only available in the continental US, excluding Maryland.
Review of Life Extension
Life Extension offers a range of vitamins and supplements for diet, personal care, and even pet care. They also provide a variety of lab tests, including blood and saliva tests and magazines, and published books on disease prevention, treatment, and the health benefits of vitamins and minerals.
Review of Life Extension Products
Vitamins and Supplements
These form the bulk of products available from Life Extension. Customers can shop by type or health goal. The ordering page clearly notes how many capsules are in each order and how many days each bottle supplies.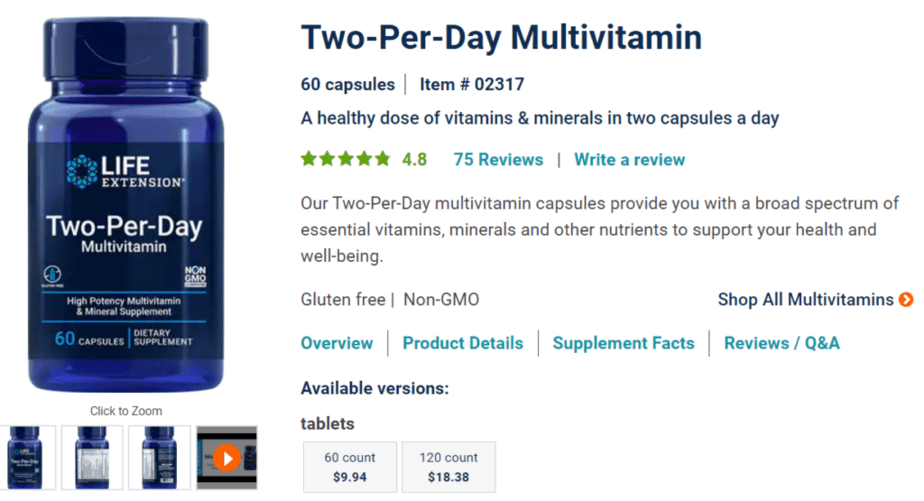 Supplements and vitamins are available under multiple categories, with about five to fifteen products under each category. Each page has a short quiz to receive personalized recommendations based on your health condition and goal. The supplements come in bottles as either soft gels or vegetarian capsules. You can order single bottles or four bottles in a multipack bundle that is slightly discounted.
Vitamins and Supplements Categories
The categories under type are as follows. Note that the costs reflect original prices and do not take into account sales.
| | | | |
| --- | --- | --- | --- |
| Type | Purpose | Products available | Cost |
| Amino Acids | Muscle health | 12 | $10-30 |
| ArthroMax® | Joint health | 3 | $21-$33 |
| Bone Restore | Bone strength | 3 | $17-$18 |
| Carnitine | Cellular energy | 4 | $11-$28 |
| CoQ10 | Cellular energy | 4 | $20-$47 |
| Curcumin/Turmeric | Inflammation | 2 | $20-$29 |
| Digestive Enzymes | Stomach health | 3 | $17-$20 |
| Fish oil and omega-3 fatty acids | Heart & cognitive health | 9 | $16-$35 |
| GEROPROTECT® | Anti-aging | 2 | $30-$38 |
| Hormones (DHEA) | Healthy body | 3 | $11-$36 |
| Life Extension Mix™ | Whole-body health | 7 | $19-$60 |
| Letter Vitamins (B, C, D, E, K) | Nutritional gaps | 27 | $9-$51 |
| Magnesium | Heart, bone, & brain health | 8 | $9-$30 |
| Melatonin | Sleep | 7 | $4-$21 |
| Minerals | Supplements & vitamins | 14 | $5-$21 |
| Multivitamins | Supplements & vitamins | 3 | $11-$45 |
| Pre- and probiotics | Digestive health | 10 | $25-$25 |
| Resveratrol | Longevity | 2 | $24-$34 |
These products are organized under health goals such as brain health and energy management. Other categories include:
Activity and fitness
Anti-aging and longevity (human lifespan)
Bone health
Brain health
Digestive health
Energy supplements
Eye health
Glucose management
Heart health
Hormone balance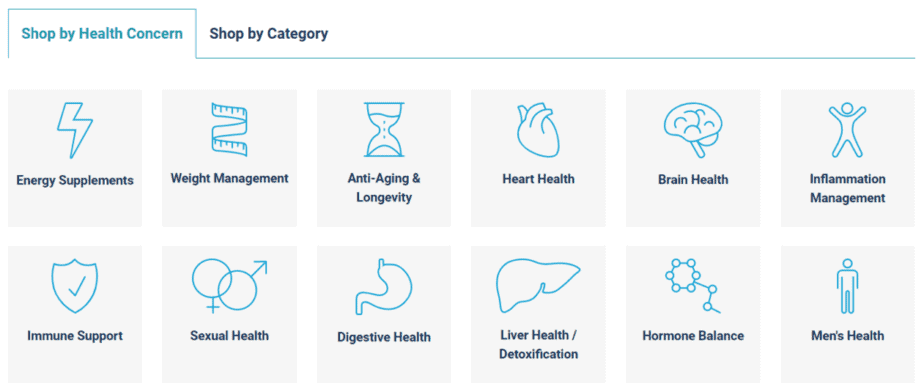 Immune support
Inflammation management
Joint health
Kidney, bladder, and urinary health
Liver health and detoxification
Men's health
Mood support
Nerve health and comfort support
Sexual health
Sleep
Stress management
Weight management
Women's health
Diet and Lifestyle
Besides the regular vitamins and supplements on offer, Life Extension sells some products classified as supplements for staying fit. These supplements are meant to help you boost the effectiveness of your workout and exercise. They include supplements for all needs, including carbs, proteins, and calories. They also have products that can help with weight loss or gain.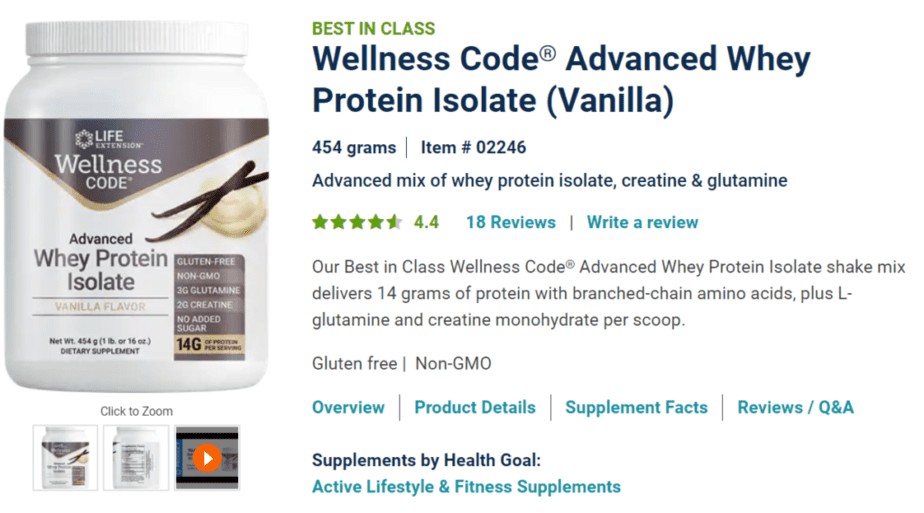 Categories available under the diet and lifestyle section are as follows:
Active Lifestyle & Fitness
Energy Management
Food & Drink
Men's Health
Pet Care
Protein
Weight Management
Wellness Code
Women's Health
Skin and Personal Care
Life Extension offers a range of skincare and personal grooming products. These products contain various nutrients needed to keep your skin healthy and ageless, including hyaluronic acid. Life Extension's skincare products include cleansers, exfoliators, moisturizers, anti-aging, and skin tightening serums. They offer products for all skin types, dry, oily, and combination.

Like with the supplements, you can take a quiz to receive product recommendations.
Pet Care
Life Extension offers products not just for you but also for your pets. These supplements provide your cat or dog with the proper nutrients for their growth.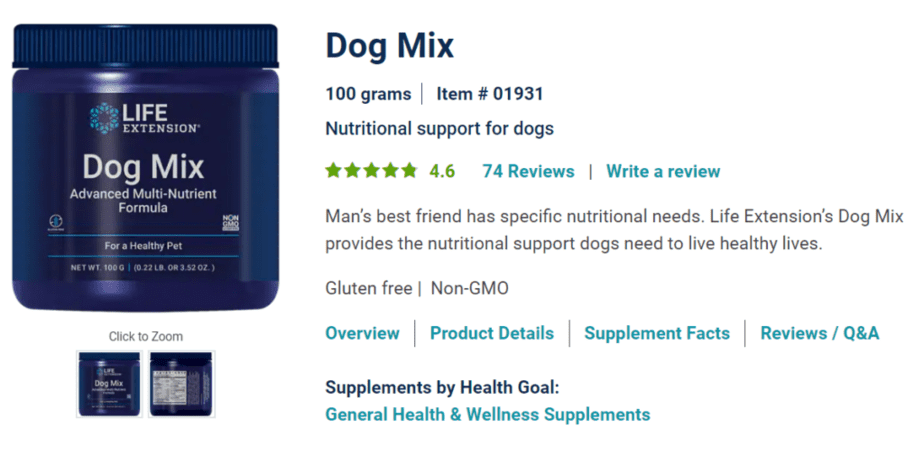 Testing
Life Extension offers lab tests through its partnership with LabCorp. Tests on offer include blood, breath, saliva, urinary and fecal tests. It should, however, be noted that these tests are only available in the continental United States.
Taking a test through Life Extension does not require visiting a doctor for a lab order as an order is provided for you by a licensed doctor in your state. You can carry out the blood test yourself in your house if it is only a finger prick test, but you will have to visit a LabCorp laboratory if more blood is needed to be collected. You can find LabCorp laboratories nationwide. To get priority, you can make an appointment online before visiting the lab.
Once you get your test results, you can decide to talk to one of Life Extension's wellness specialists for a review of the test results. It should be noted that Life Extension does not offer diagnosis or treatment and that the test results are informational only. We, however, recommend that you still discuss the results with your physician for a broader outlook on the state of your health.
Lab test categories include blood clotting/circulation, blood sugar, bone, cardiovascular, cholesterol, digestion, healthy weight, hormones, immune system, inflammation management, kidney/urinary, liver, men's testing, neurological, nutrition, thyroid/adrenal, and women's testing.
Review of Life Extension Cost
Life Extension's supplements are not exactly expensive, with a bottle costing between about $10 and $30. However, you should note that different supplements will have a different number of capsules in each bottle. Additionally, since supplements are designed to be taken continuously, customers will have to manage the cost regularly.
The same goes for the other nutrition and care products.
In most cases, customers can save 11% by ordering more than one bottle at a time. There is the option of signing up for auto shipping when you have products you would like to order periodically. This option allows you to receive the products automatically monthly with the added perk of free shipping and an 11% discount. You also do not have to worry about overpaying when there is a price reduction, as the amount charged is automatically updated each time.
On the other hand, the lab tests range from as low as $20 but can cost over $800 for the more complex tests.
Life Extension offers a premium membership subscription called Premier Rewards. It costs $50 annually and gets you unlimited free shipping via standard shipping and discounts on international orders. In addition, you get a 4% cashback on every order, a free subscription to Life Extension's monthly magazine, and surprise gifts during your birth month and at random times.
Review of Life Extension Privacy Policy
Life Extension's privacy policy page does not indicate any unique protocols that protect user information. Your test results may be used for research but are anonymized, so they cannot be traced back to you. In addition, user information is shared with partners, including advertisers, to serve personalized ads to you.
Life Extension in the News
The supplement company continues to perform research and release new products. In 2022, new supplements include Brain Fog Relief and Waistline Control.
Other Life Extension Reviews
The company sells many of its supplements on Amazon. Here, they receive top rated rankings between 4 and 4.5 out of 5 stars. The products have been reviewed hundreds of times and some of the more popular products even have close to 7,000 ratings.
As noted in the reviews for the Two-per-Day Multivitamin, many customers felt the company has quality products and that they have seen good results, especially as they cost less than competitors. Some customers even highly recommend it, noting that they have taken them for years.
However, some reviewers indicate that the vitamin does not absorb well and they have side effects such as feeling sick after taking them. With supplements, it's important to note that not every supplement works for every person and customers should consult with their doctor before adding supplements to their diet.
Nebula Genomics
Before considering supplements, you may want to know more about your genetic predispositions to conditions these supplements support. Nebula Genomics offers accurate DNA testing at a reasonable price. These tests indicate genetic predispositions to characteristics and health issues, among other things.
Results on ancestry, health, food, and exercise are produced with 30x Whole Genome Sequencing, which decodes 100% of the DNA. It also gives you complete control over how your test results are handled and raw data to further explore your DNA data. This knowledge may help you and your doctor decide if certain supplements are right for you.
You also receive exclusive access to genetic information to assist your genealogical study. Regular updates and reports from Nebula Genomics bring you up to date on the newest advances in genetic science, ensuring you have continued access to the latest research.
Did you like our Life Extension review? You can read more reviews on our blog and check out our complete guide to the best DNA test kit and other home tests.
You may also be interested in these other supplement companies:
Aging:
Other: