7 Facts from our Tru Niagen Review
Location: Los Angeles, CA
Products: NAD supplements for anti-aging purposes
Ordering: Can be ordered from TruNiagen.com or Amazon.com
Privacy: Share personal information for purposes such as providing services and marketing
Cost: $30 – $50 per month
Reviews: Good – Excellent
Complementary products: Nebula Genomics (DNA test that decodes 100% of DNA and provides the ability to explore genetic markers for longevity)
This review is written with the intent to be as unbiased as possible. However, it represents the opinion of an individual reviewer and is therefore subjective. Furthermore, at Nebula Genomics we seek to educate the public about the benefits of Whole Genome Sequencing. Information about our Whole Genome Sequencing DNA test is therefore incorporated into the review.
November 23, 2022
Pros and Cons
Pros
A large number of studies suggest that Tru Niagen increases NAD levels
May help people feel more energetic and able to complete daily tasks
Evaluated by the food and drug administration and determined to be safe at recommended doses
A scientific advisory board that includes two Nobel Prize winners
Cons
Anti-aging benefits have not been scientifically proven
Not intended to diagnose, treat, cure, or prevent any disease
May take several weeks or months to see results
Raising NAD levels is only maintained with consistent use
Tru Niagen Nicotinamide Riboside Introduction
Tru Niagen is a dietary supplement conceived to help raise NAD levels. Its parent company, ChromaDex, is a food ingredient and dietary supplement company that specializes in anti-aging products.
In 2012, it licensed its key ingredient nicotinamide riboside (NR), an NAD precursor. ChromaDex brought it to the market as Niagen nicotinamide riboside. Customers can purchase this product under the name Tru Niagen.
As you age, you face a decline in NAD (nicotinamide adenine dinucleotide) levels. Theoretically, Tru Niagen works to counteract anti-aging effects by increasing NAD. Tru Niagen ingredients include nicotinamide riboside chloride, which the body converts to NAD when ingested.
ChromaDex was founded in 1999 in part by Frank L. Jaksch Jr., who currently serves as a member of the board of directors. In 2004, while teaching at Dartmouth College, Dr. Charles Brenner found the active ingredient in Tru Niagen, a unique form of vitamin B3 called NR.
Dr. Brenner is now the Roy J. Carver Chair and Head of Biochemistry at the University of Iowa. He is also a founding co-director of the University of Iowa Obesity Initiative, and chief scientific advisor for Chromadex.
The ChromaDex company broadly provides services for reference standards, ingredient development, and consulting. Scientists at ChromaDex partner with universities and research institutions worldwide to perform scientific studies on NAD and to identify and develop novel, science-based ingredients.
Tru Niagen is Chromadex's flagship NAD-boosting product using its NR ingredient. The company's scientific advisory board hosts many renowned scientists, including two Nobel laureates.
The Science behind NAD Anti-aging Supplements
NAD is a key molecule in the cellular production of energy that has been studied for over 100 years. NAD participates in metabolic pathways that contribute to things like sleeping, breathing, and eating. It plays a major role in other important processes, such as DNA and cellular repair.
Low levels of NAD are associated with an increased risk of heart disease, elevated blood pressure, type 2 diabetes, Alzheimer's disease, and accelerated aging. Tru Niagen supports cellular function and metabolism lost with age.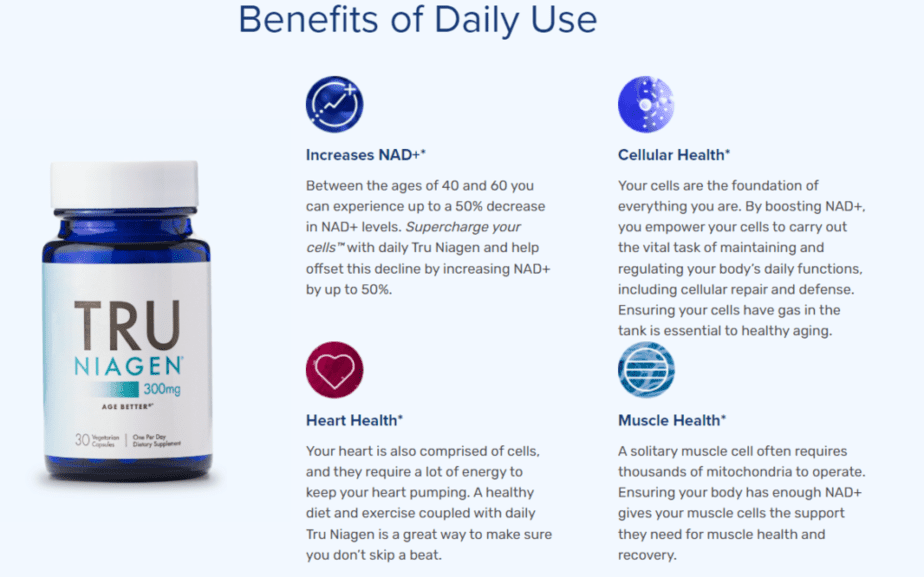 NAD levels decline with age and metabolic stress, with some studies showing a 50% decrease between the ages of 40 and 60. Tru Niagen claims that replenishing NAD can reduce the physiological effects of aging and increase energy in living cells as people age.
Taking Tru Niagen
Clinical studies funded by ChromaDex show that NR supplements safely and effectively increase individuals' NAD levels in the bloodstream after 6-8 weeks. Tru Niagen specifically claims that individuals taking a single capsule (300mg) per day of the supplement for eight weeks increased NAD by 40-50%. However, researchers have no published studies with evidence that NR improves human health or reduces aging.
Some scientists are concerned that increasing NAD may increase cancer risk because studies have shown that inhibiting the NAD-producing enzyme kills cancer cells. However, a link between increased NAD and cancer risk has not been demonstrated. Dr. Brunie H. Felding, a renowned Breast Cancer Researcher focused on NAD+ supplementation, serves on Tru Niagen's scientific advisory board.

A healthy aging process relies on both genetic and lifestyle factors. Customers may want to know how their genes affect their natural aging before buying an anti-aging supplement. People can also slow the process by eating a balanced diet, working out regularly, reducing stress, and living a healthy, active life.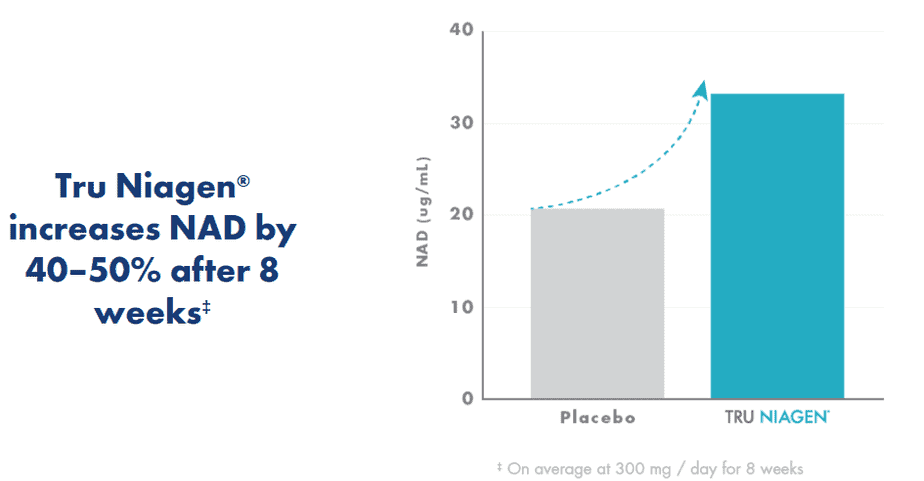 Reviews of Tru Niagen
What is Tru Niagen? This product is an anti-aging supplement that boosts NAD, a molecule that is important for the way cells use energy. Everyone faces a natural decline in NAD levels as they age.
ChromaDex, the parent company, claims that Tru Niagen benefits customers who want to age their best, whether it's through moderate activity or intense exercise. However, these statements have not been evaluated scientifically. Although the effectiveness of this dietary supplement is not proven, clinical trials are ongoing.
Review of Tru Niagen Products
Customers can purchase either capsules or portable stick packs.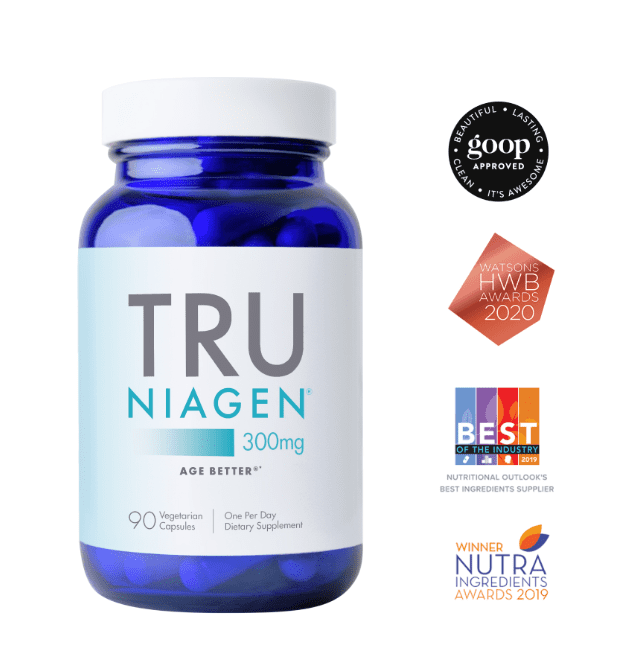 The vegetarian capsules contain NR, which boosts the amount of NAD in the body. They are available in either 1-month, 3-month, or 6-month increments. The company recommends that customers take a single 300 mg capsule daily with or without food.
The company also offers 150 mg capsules that are made for flexibility. They can be taken either separately or together at any time of the day. They do not need to be taken with food.
This dosage is only available as a 2-month supply. You should always read the label and use it only as directed.
Portable stick packs are individual packs that combine NR and fiber. Customers mix one packet daily into 16 ounces of a cold beverage. Amazon.com sells the portable sticks in packs of 30.
The website contains the following disclaimer that "If you are pregnant, nursing, or taking any medications, please seek the advice of a healthcare professional prior to use." This is because the supplement may not be recommended for use during pregnancy or lactation.
It is not intended for use by children under the age of 18. Additionally, supplements should not replace a balanced diet.
Review of Tru Niagen Costs
Generally, customers can save money by ordering multiple months in one payment. Auto shipments further lower the price by up to 26%.
300 mg capsules
1 month: One-time purchase $47 or auto-shipments $40
3 months: One-time purchase $119.95 or auto-shipments $105
6 months: One-time purchase $229.95 or auto-shipments $198
150 mg capsules
2 months: One-time purchase $87.95 or auto-shipments $79
Stickpacks
Portable stickpacks: $54/30 days or auto-shipments $49.95
Customers can save money with Tru Niagen promo codes offered periodically.
Legal Battle with Elysium Health
Elysium Health is a direct competitor to Tru Niagen, as both companies use the same form of NR in their supplement products. At the time, ChromaDex held patents on the use of NR as a dietary supplement. Tru Niagen and Elysium Health are now in a legal dispute over whether Elysium's NR source infringes on those patents.
Elysium Health was founded in 2014, and for a few years, it licensed the NR compound for its "Basis" product. In 2016, the supply relationship disintegrated. It started with a claim by Chromadex that Elysium did not pay its bill for a large number of deeply discounted NR products. Chromadex took away Elysium Health's license and went to court when the company didn't pay.
Chromadex argued that the NR patent was held by the Trustees of Dartmouth College and was licensed exclusively to ChromaDex. However, Elysium Health continued to use NR. In September 2018, Chromadex and Dartmouth College filed suit against Elysium, alleging patent infringement. A pretrial hearing was set for December 17, 2020, and the start of a human clinical trial was set for September 27, 2021.
Five years later, in September 2022, and after a four-day trial, jurors ruled in favor of Chromadex, ordering Elysium to pay $2,983,350 in damages. But jurors also favored Elysium, awarding the company's countersuit of trademark and royalty agreements dispute-for a total of $1.9 million.
Another legal dispute between the two companies is currently pending in the Southern District of New York.
Review of Tru Niagen Privacy Policy
The company will use personal data to perform its obligations, pursue its legitimate interests or those of a third party, such as marketing, or perform other actions to which the customer consents.
Chromadex has the right to use, transfer, sell, and share aggregated, anonymous data that does not contain personal information. Examples of such use include analyzing usage trends and seeking compatible sponsors.
The company deletes personal data 13 months after the last interaction with that customer. Customers may request changes or deletion of their data using the "Contact Us" section of the privacy policy.
Other Tru Niagen Reviews
As interest and research in NAD supplements increases, there is a similar trend in consumer consumption of these products. As such, there are a number of NAD Tru Niagen reviews for 2019-2022.
Tru Niagen Amazon reviews give the product 4.3 stars with almost 500 reviews. Most customers felt that they had more energy when taking the supplement.
Reddit reviews of Tru Niagen suggest positive results after a few weeks. However, many customers are still looking for personal experiences taking it long term. Additional Chromadex Tru Niagen reviews are available on the company's product page. Here, customers rate it as 4.5 out of 5.
Nebula Genomics
At Nebula Genomics, we aim to empower you to discover more about your genome, including your genetic markers for longevity. Furthermore, by understanding how your genome affects things like health and fitness, you can get a sense of how well you can control healthy aging naturally before investing in a Tru Niagen supplement.
Nebula Genomics offers the most comprehensive genetic testing using Whole Genome Sequencing to decode 100% of your DNA.
From your electronic device, you can examine genes of interest, identify relevant mutations, search for genetic variants, and even view your sequencing data. Data access, weekly reports, ancestry analysis, and exploration tools are among the results. For example, we report on genetic predisposition to longevity based on the latest research studies.
Summary
Other anti-aging supplement companies (not Tru Niagen) use NMR in their products. As of November 4, 2022 the FDA announced the withdrawal of the New Dietary Ingredients (NDI) status of NMN effectively excluding NMR from the definition of a dietary supplement. The FDA explained that NMR "has been authorized for investigation as a new drug" and thus cannot be sold as a supplement.
Tru Niagen contains NR, which is clinically proven as an NAD booster in the body. NAD is an important chemical for cellular health and cellular energy production. As we age, NAD levels decline because our body makes less of it, and more energy is needed to combat new metabolic stress. Markedly, such a reduction tends to lower the quality of life.
The Food and Drug Administration (FDA) has safety-reviewed NR and established it as safe in the doses prescribed by Tru Niagen. Patients do not report serious Tru Niagen side effects. So, there doesn't seem to be any reason not to take this dietary supplement, which may help slow down the aging process.
Anecdotal reviews suggest that a number of customers experience higher energy levels after taking Tru Niagen for a few weeks. However, scientists have yet to prove that increased NAD stops or reverses aging or has other health benefits. Chromadex is currently funding clinical trials to link increasing NAD levels with positive physiological outcomes.
It may be beneficial to take supplements, Tru Niagen or others, to raise NAD levels and increase energy. However, other lifestyle choices, especially those influenced by genetics, may also affect aging. Nebula Genomics offers DNA tests that can help people learn more about their health before trying Tru Niagen or taking other supplements.
Another anti-aging supplement company you may be interested in is Elysium Health (starting at $40 per month).
Other products
For other at-home anti-aging health products, you should check out:
Skin and hair care:
Hair loss:
Memory:
Focus Factor (a supplement for memory and focus)
Neuriva (supplement to improve brain function)
Prevagen (a supplement designed to improve memory)
Testosterone/ED:
Other:
Did you like our Tru Niagen review? You can read more reviews on our blog and check out our complete guide to the best DNA test kit and other home tests.