This review is written with the intent to be as unbiased as possible. However, it represents the opinion of an individual reviewer and is therefore subjective. Furthermore, at Nebula Genomics we seek to educate the public about the benefits of Whole Genome Sequencing. Information about our Whole Genome Sequencing DNA test is therefore incorporated into the review.
January 8, 2021
7 Facts from our Rootine Review
Location: Nashville, Tennessee, United States
Product: Rootine offers unique Nutrient Formula based on science and your biology
Costs: Their nutrigenetic DNA test had a price of $150, but now, Rootine reduced the price to $135. You can also get a 90 days supply at $2.33/ day, billed as $69.99/month for three months.
Data upload options: Options to upload data from 23andMe, AncestryDNA, and physician ordered blood panels for free
Reports: Reports provide comprehensive information about your nutrient requirements. They also reveal information about nutrients you may lack in your body system. For example, the reports reveal if your body needs more calcium for bone health, more minerals for detoxification, more antioxidants to offer you protection against cell damage, etc.
Privacy: With Rootine, your privacy is 100% guaranteed. Being a medically licensed genetics lab, they are bound by strict medical data privacy. Therefore, they won't share or sell your data to anyone or any organization.
Rootine Introduction
This is a review of Rootine, a company that provides unique scientifically advanced nutrient packs to their customers and are customizing vitamins unique to individuals. At Rootine, they examine your genetic makeup to identify your unique nutrient needs. The test will reveal if there is too much of a specific nutrient in your body or if there's a deficiency.
With over a decade of experience, Rootine is more than an ordinary company; it is a technological leader in personalized nutrition. Unlike several companies that claim to provide a "personalized" vitamin and supplement solution without analyzing your DNA to identify the nutrients you need, Rootine is well equipped and will take the time to analyze your DNA and blood. With that, they can engineer a 100% custom formula specifically for you.
This company doesn't believe in the one size fits all approach when it comes to nutritional supplements. They work based on the scientifically proven belief that every individual is unique in their respective DNA; therefore, their respective nutrient needs will be unique.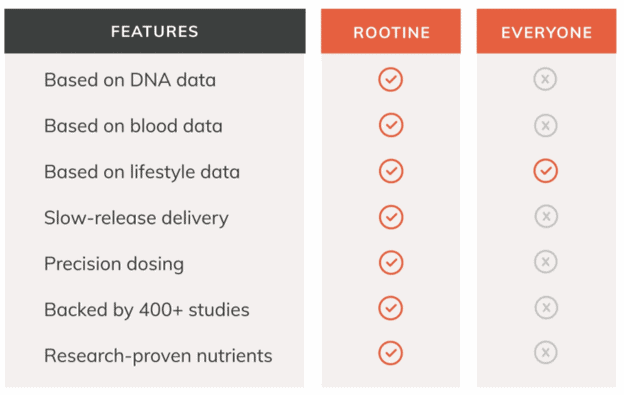 Besides the blood test and DNA analysis, they also examine your lifestyle. Some companies only base their decision on lifestyle examination and provide patients with a generic multivitamin solution. This alternative approach is not enough to choose a personalized multivitamin.
The unique formula Rootine provides comprises safe and effective doses. It comes with 18 vital nutrients and minerals, carefully chosen based on your test results.
Dr. Daniel Wallerstorfer, Ph.D., is one of the drivers behind Rootine. He's a biotechnologist, genetic scientist, and entrepreneur. He co-founded Rootine together with Rachel Sanders, a Harvard-educated entrepreneur in the health and wellness industry. Dr. Wallerstorfer is also the founder and CEO of Novogenia, a genetic lab.
Other members of the team at Rootine include Dr. Diaz, PharmD (Clinical Advisor), Dr. Harris MD (Clinical Advisor), Jordan Mazur Rd (Clinical Advisor / NFL), Tye Jensen BS (Founding Team).
Rootine Science and a Rootine Report
Activities in Rootine are based on three major fields, namely nutrigenetic science, technology, and algorithm. Through the combination of these three phenomena, Rootine examines genetics, blood, and lifestyle to choose suitable Rootine vitamins for individuals. Rootine offers two at-home tests: a genetic testing DNA Test for nutrigenic analysis (50+ gene variants) and a Blood Nutrient Test for metabolomics (80+ metabolites) in their licensed genetics lab.
The DNA test analyzes a phenomenon called Nutrigenetics. Over 50 common genetic variations can influence the way your body absorbs nutrients, metabolizes nutrients, and excretes them from the body. These variants affect nutrient sensitivities and deficiencies. Many people lack the vital nutrients their bodies need to function optimally. To understand what an individual needs, Rootine will look at the genetic factors that influence the absorption of nutrients. It is a science of how your genes influence which nutrients you need.
The Blood Nutrient Test allows them to perform Metabolomics — a study of your body's metabolism and nutrient function in blood levels. The report includes information on blood nutrient levels under the categories of micronutrients, amino acids, metabolism, detoxification, and science. Each section provides the current status and action items. A sample report for the blood test can be found on the Rootine website.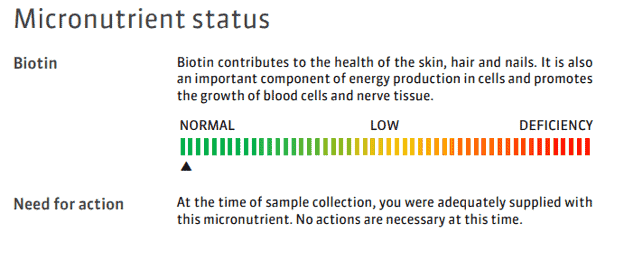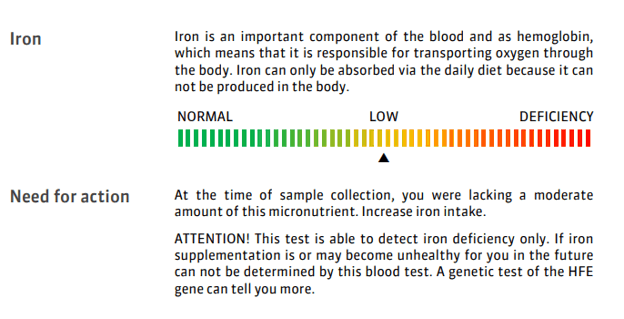 Both of these tests allow Rootine to hyper-personalize the nutrient formula needed by each customer. They then use their technology to engineer a suitable multivitamin for the individual.
To ensure proper absorption, innovative slow-release microbeads deliver customized dosages of vitamins into your bloodstream throughout the day. This slow-release strategy also helps to ensure that an accurate, Rootine customized dosage of vitamins is administered.
Did you know you can test your metabolism at home? Learn more in our article about metabolism tests at home.
Rootine Review
The unique Rootine formula you'll be provided will contain safe and effective doses of 18 vital nutrients and minerals. Your test results determine the quantity of each nutrient and mineral in your supplement. Each of these vitamins and minerals has different roles to play.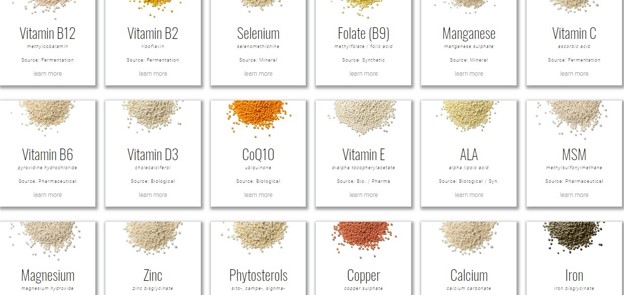 The 18 vital nutrients that will make up your unique Rootine formula include:
Vitamin B12 (methylcobalamin)
Vitamin B2 (Riboflavin)
Selenium (selenomethionine)
Folate (B9) (Methylfolate / folic acid)
Manganese (Manganese sulfate)
Vitamin C (Ascorbic acid)
Vitamin B6 (Pyroxidine hydrochloride)
CoQ10 (ubiquinone)
Vitamin E (d-alpha-tocopheryl acetate)
ALA (alpha-lipoic acid)
MSM (Methylsulfonylmethane)
Magnesium (Magnesium hydroxide)
Zinc (Zinc bisglycinate)
Phytosterols (sito-, campe-, signma-)
Copper (copper sulfate)
Calcium (calcium carbonate)
Iron (iron bisglycinate)
These ingredients are extremely important for maintaining health and wellness. For example, vitamin B12 serves the function of regulating the level of homocysteine in the blood. If you have a high level of homocysteine in the body, your heart may be negatively affected.
Calcium helps to keep the bone healthy and also aid in detoxification. Alpha-lipoic acid (ALA) is a mitochondrial compound that supplies your cell with energy. It also helps control the body's oxidation rate by increasing the number of enzymes that serve antioxidant functions.
The selenium contained in the Rootine formula is an essential part of some enzymes, some of which help neutralize free radicals. More so, some genotypes require a higher quantity of selenium to increase antioxidant protection.
Rootine provides an example of how genetic information is useful for determining supplement formulations on its website.
An example they provide is that of which 33% of the population has a genetic variation on 1 or both copies of their GPX-1 gene, which increases their selenium requirements.
On the other hand people with a variation on the HFE gene should avoid iron supplements and those with a variation on the NQO1 gene would waste time and money taking coenzyme Q10, which would not be effective.
How To Take a Rootine Test
A Rootine test requires a few steps.
First, Rootine requires you to answer an 18-question lifestyle quiz. Such questions include:
"Do you smoke cigarettes?"
"Do you follow any specific diet?"
"How tall and heavy are you?"
You should finish the quiz in less than 10 minutes. After that, you'll enter your contact information. If you have a DNA test result from 23andMe, AncestryDNA, or similar companies, you can upload it directly, and their scientists will analyze it for you.
You can also seek the service of a Healthcare professional to help you upload your blood panel results. This will provide Rootine with more data to better personalize your multivitamin.
However, there's a more straightforward approach that you can adopt to submit your DNA and/or metabolites via Rootine's kits. The DNA test involves swabbing your mouth very early in the morning as you wake. For the metabolite test, you will complete a painless finger-prick to place a few drops of blood onto filter paper. You will also collect a urine sample. All material can be sent back through postage-paid boxes.
You will receive your first set of vitamins less than two months after you mailed your DNA samples and/or other tests to the lab or upload your DNA test or blood panel to the website.
Review of Rootine Cost
The Nutrigenetics DNA test offered by Rootine costs $150. However, the company often sells their product at a discounted price. Most recently, the price had been reduced by 10% to $135. The 10% discount lasted untill 12/7/2020.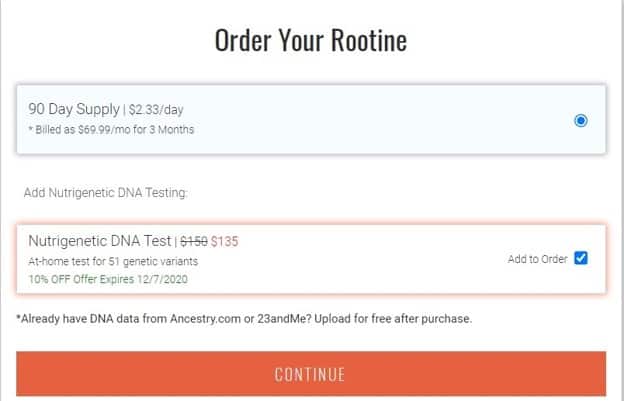 The Nutrigenetics DNA test covers 51 genetic variants. If you already have DNA data from Ancestry.com or 23andMe, you can upload it for free after purchase.
They offer 90 days supply of the multivitamins at $2.33/day. That amounts to $69.99 per month for three months.
Rootine Privacy Reviews
Boldly written on the site is "100% Privacy Guarantee," indicating that your test report is safe with the company and will not be shared with a third party. Immediately under the boldly written "100% Privacy Guarantee" on the site, there's a text that reads "what does this mean?" by clicking the text, a box drops down. It reads, "We are a medically licensed genetics lab, bound by some of the strictest medical data privacy and storage laws. We DO NOT sell or share your data."
The company's privacy policy explains how they collect, use, maintain, and disclose all the information collected from users. Users are required to agree with the company's privacy policy before they seek their service. If they do not agree with any of the policies, they're advised not to use the service.
Other Rootine Reviews
Reddit users attest to the authenticity of the service offered by Rootine. These Rootine vitamin reviews testify to the fact that Rootine gives peace of mind on vitamin selection.
Customer reviews are available on the Rootine website. Here, customers ranked the products as 5/5 stars with good reviews. Here's what people are talking about on Twitter about the #Rootine
Rootine Pros and Cons
Pros
Unique nutrient based on DNA, blood, and lifestyle data
Precision dosing
Research proven nutrients
No nausea, slow-release
Premium raw nutrients
Cons
If you don't have a DNA result, you need to first spend on tests before getting the required nutrients recommendations
Can be expensive (up to $60 per month)
For best results, semi-regular blood work is necessary to keep up with your changing biology
Nebula Genomics
At Nebula Genomics, we offer 30x Whole-Genome Sequencing (WGS), which provides detailed information about your DNA. We also allow users to upload their DNA data from 23andMe and AncestryDNA without being charged. With that, you can get a complete analysis of your genome for free.
However, if you don't already have your DNA data, you can purchase a DNA kit from us at the most affordable price. With that, we'll examine your DNA using the Whole-Genome Sequencing method.
Unlike companies like Rootine, which only provide DNA results on a single health aspect meant to sell their supplement products, Nebula Genomics analyzes your entire genome to provide you with the most comprehensive view of your genetics. With our whole genome sequencing technology, you can not only learn about the way nutrients are being absorbed, metabolized, and excreted in the body, but about countless other health predispositions as well.
We know how confidential your data is. Thus, we adopt blockchain-based technology and privacy-preserving computing to ensure that your data are well secured when working on our page. Hence, you don't have to worry about a third-party having access to your data without your consent.
Also, our privacy techniques are transparent. We use a combination of blockchain-based technology and privacy-preserving computing to ensure your data security while using our page.
Should you purchase our kits, we'll grant you access to Nebula Explore.This gives you access to weekly updates and personalized reports based on the most recent scientific discoveries. You'll also be permitted to access our genome exploration tools plus deep ancestry (Y-CHR and mtDNA sequencing).
| | | |
| --- | --- | --- |
| | Rootine | Nebula Genomics |
| Testing Method | DNA, blood, and lifestyle | 30X Whole Genome Sequencing |
| Reporting | information about the nutrient you need in your body system | Genetic predisposition |
| Ancestry Reporting | No | Deep ancestry reporting with full Y chromosome and mtDNA sequencing |
| Options to upload raw DNA data | Yes | Yes |
| Focus on Privacy | Yes | Yes (learn more) |
| Data Exploration Tools | No | No (learn more) |
| Cost | $135 | $0 – $299 |
Rootine vs Nebula Genomics
Persona Nutrition is a different kind of personalized supplement company that creates a plan based on an online nutrition assessment. If you're interested in gut health and personized weight loss programs and supplements, you may want to look at these other reviews:
Weight loss:
Gut health:
You may also be interested in virtual health care such as that offered by Teladoc and Lemonaid Health!
Did you like our Rootine review? You can read more reviews on our blog and check out our complete guide to the best DNA test kit and other home tests.