7 Facts from our Noom Review
About: Noom is a habit-based customizable weight loss app to help people make long-term changes
Company: The company was founded in 2008 by Artem Petakov and Saeju Jeong and was launched as an app in 2016
How much is Noom: The discounted subscription costs $150 for six months, with custom meal and workout plan add-ons for $120 each
Users: As of 2023, Noom users are up to 50 million people worldwide
Reviews: Noom diet reviews are mixed. While some users see incredible results in just 16 weeks, others have previously criticized the app's nutrition plans
Privacy: Noom uses TLS encryption to ensure that user data is safe. To enhance the user experience, Noom does use tracking technologies to collect some information
Complementary products: While Noom does its best to customize its plan for all users, it does not account for genetic data. Take a look at the Whole Genome Sequencing DNA test offered by Nebula Genomics!
This review is written with the intent to be as unbiased as possible. However, it represents the opinion of an individual reviewer and is therefore subjective. Furthermore, at Nebula Genomics we seek to educate the public about the benefits of Whole Genome Sequencing. Information about our Whole Genome Sequencing DNA test is therefore incorporated into the review.
March 26, 2023
Edited by Christina Swords, Ph.D.
Pros and Cons
Pros
Users can engage with calorie budgets, track exercise, and learn about nutrition
Personal coaching
Mental health focus
Cons
The Noom program is not useful for those who don't want to lose weight
Some Noom users don't respond well to caloric restriction
Does not offer personalized nutrition based on health history and genetics.
May share user data with business partners.
Introduction
What is Noom? Often referred to as "Weight Watchers for millennials," this company is a personalized nutrition program that helps individuals form healthier habits. It was founded in 2008 by Artem Petakov and Saeju Jeong and launched as an app in 2016.
In just one app, users have access to eating plans from registered dietitians and personal trainers, workouts, recipes, and support. Most users aim to lose weight, form healthy eating habits, reduce chronic health problems, and reverse diseases such as type 2 diabetes.
The Noom weight-loss program has received a lot of attention and recognition from the Centers for Disease Control and Prevention (CDC). This fast-growing company quadrupled its revenue to $237 million in 2020 alone.
In this review, we break down exactly how Noom works and dive into the genetics behind diet, fitness, and weight management.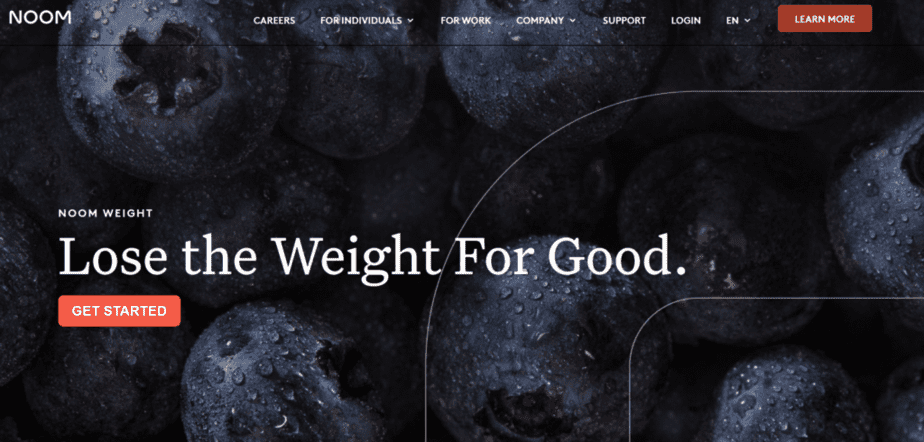 A Brief Dive Into Hunger
Like all other organisms, human beings need nutrition to sustain life. What we eat—and often, how much we eat—has important consequences for our health. Eating is essential to meet our immediate metabolic needs and to store excess energy to keep us alive when we're fasting.
One of our bodies' most important functions is to maintain energy balance. Our brain detects "hunger" and "satiated" signals from our gastrointestinal tract, fat cells, and internal organs. In response, it triggers a series of cellular and behavioral changes.
In simple terms, when our brain detects low blood sugar, we feel hungry. Similarly, when our blood sugar rises, we feel satiated.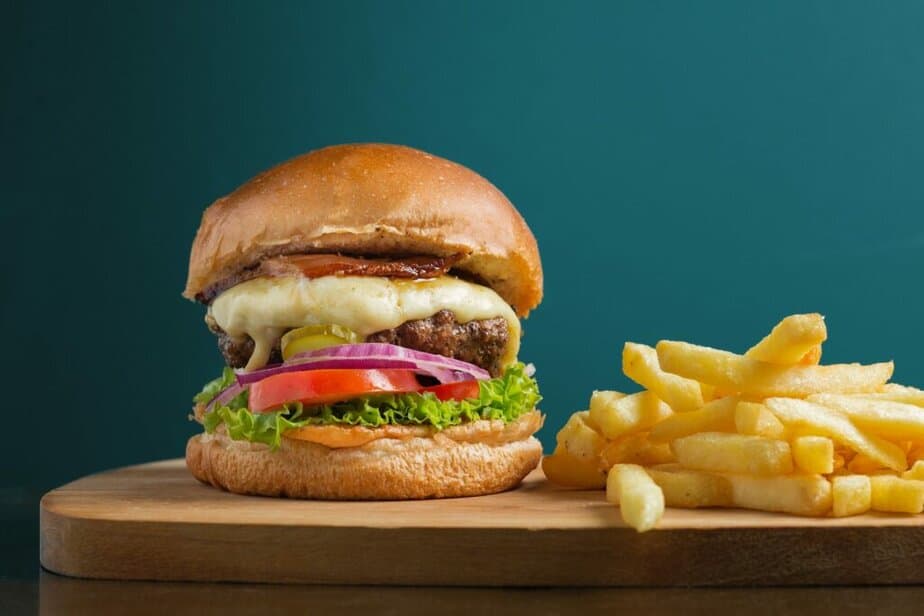 But if our bodies are hardwired to intuitively know how to eat, why is weight management one of the biggest problems in the modern world? From the ketogenic diet to intermittent fasting, weight loss seems to be a never-ending trend. However, despite the prevalence of these diets, it is becoming overwhelmingly clear that there is no "one size fits all" based approach to weight loss.
The Genetics of Weight, Eating, and Metabolism
What is a healthy weight? How much should one person eat? These are questions that many individuals ask themselves prior to embarking on a health journey. However, due to the role of genetics in body size and metabolism, a standard answer doesn't exist.
Genetics plays an essential role in determining both body size and energy requirements. Based on twin studies on body weight, genes can explain 50-90% of the variance in body mass index (BMI).
The same body size that can be healthy for one person may not be for another. BMI is not an accurate indicator of obesity. Individuals within a "healthy BMI range" can present metabolic disorders, while individuals in the "obese range" can be perfectly healthy.
Consequently, managing one's weight and living a healthy lifestyle is unique to each person. Body size, energy requirements, and signals of hunger and satiety can vary for each individual. Even some taste preferences, regarded as highly variable, can be determined by genetics.
Can You Personalize Your Diet Based on Genetics?
Nutrigenetics is a new field of research that studies the effect of genes on an individual's nutritional needs.
An individual's genes can determine their predisposition to overweight, insulin resistance, cardiovascular disease, and more. This is one of the reasons why doctors often ask individuals to report family history (such as diabetes) when signing on new patients.
On a gene level, studies show that the number of copies of certain genes can predispose individuals to overweight and obesity. For example, having a reduced copy number of the salivary amylase gene has been associated with a higher BMI.
Since individual needs can be radically different, the same nutritional regimen is not optimal for two people. In addition to preferences and lifestyle goals, genetics is an important factor to consider for personalized nutrition.
Noom Review
How Does Noom Work?
When signing up on the Noom website, users can fill out a basic survey.
Part 1: Fill Out the Survey
The first part of the survey is to create a demographic profile. This is where users input their current height and weight, in addition to a "goal weight."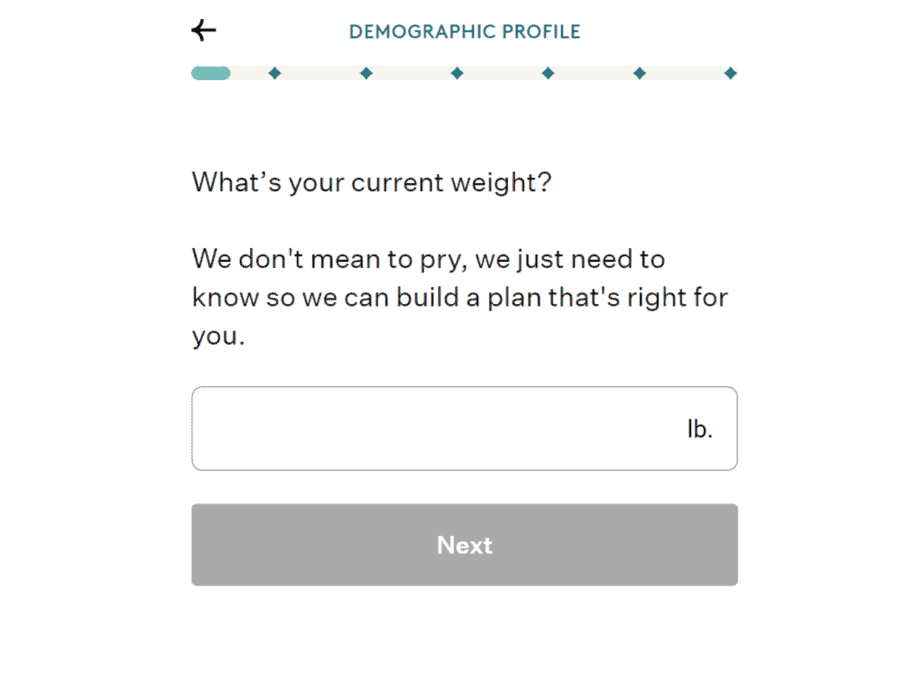 The company also asks users about current activity levels, how often they eat, what they eat (ex: sandwiches versus soups/salads), and where they live. The survey then asks about potential health risks, such as cardiovascular disease, kidney disease, diabetes, and depression.
After filling out each section, the Noom app estimates how long it would take the user to get to their "goal weight." It should be noted that the app doesn't include a separate interface for individuals who don't want to lose or gain weight. For example, if your current and goal weight are the same, Noom still tells you that it will take four months to reach your health goal.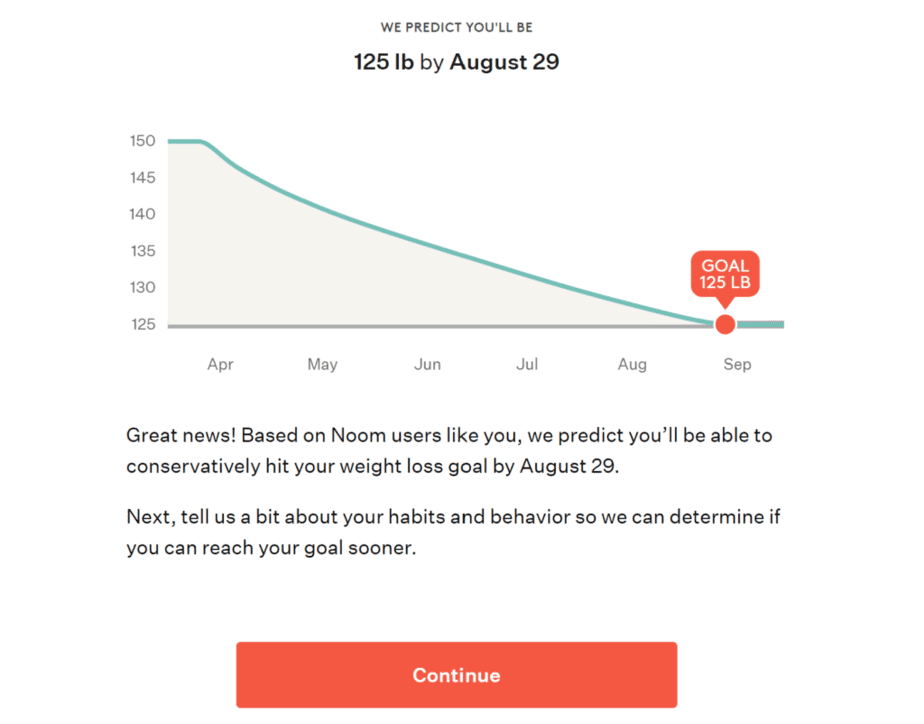 Customization
The next part of the survey focuses on customizing the user's plan based on habits and behaviors. Noom asks users about the reasons for weight gain in the past and how long it has been since the user was at their ideal weight. Other questions include details about previous attempts at losing weight and the user's ideal relationship with weight loss.
The last part of the survey is about physical activity, nutrition, and cognitive-behavioral therapy. Here, Noom tries to get a sense of the user's motivation, the current state of mind, and relationship with food. The survey also asks about dietary patterns, such as when and why you are most likely to grab a snack.
This is where users can also pick and choose the other things they want to work on, such as sleep, stress, and digestion. It also gives a sense of your current time commitments and workout regime. Users make their first goal, whether it is to run a 5K or feel more comfortable in their bodies.
At the end of the survey, users can sign up.
Part 2: Pick a Subscription Plan
After filling out the survey and creating an account, users can start a 14-day free trial.
How much does Noom cost? After the trial, users start a six-month subscription. Noom costs between $150 and $25 per month.
Noom discount codes are available on websites such as RetailMeNot. Users can choose to invest in the following additional custom plans:
Custom Meal Plan: A customized meal plan can be purchased for $120. This add-on is particularly useful for those with dietary restrictions.
Custom Workout Plan: A custom workout plan is delivered in a PDF document and is useful for those just starting their fitness journey. Like the meal plan, the custom workout plan cost is $120.
Custom Meal and Workout Plan: $240
The auto renewing plans (available for every 2-12 months) will bill the customer when the cycle runs out. Some sample prices are:
Monthly auto-renewing plan for $70
6-month auto-renewing plan for $179
Annual auto-renewing plan for $209
How to cancel Noom: You can cancel your subscription by accessing your smart phone's settings page and clicking on "Cancel Subscription." You can also let your coach know.
Part 3: Build Your Knowledge
Once all the above details are out of the way, users can download the Noom app. True to its word, the app is filled with pop quizzes, research, and positive quotes to uplift the user.
As a part of the plan, users go through a number of modules every day:
Module 1: This module is about building a solid foundation, learning what to eat, managing cravings, and more.
Module 2: Here, users learn how to master their motivation to keep going.
Module 3: This module is all about habit formation for success. This includes prioritizing breakfast, controlling portions, and eating regularly and mindfully.
Module 4: Lastly, this module tackles "psychology"
By including these learning modules along with the Noom diet plan, the app ensures that users are learning and creating healthier habits.
Part 4: Learn the Noom Method
What is the Noom diet? Noom presents a unique way of helping individuals achieve their goals. The Noom weight loss app is a one-stop shop for tracking calories, exercise, weight, blood glucose, blood pressure, and more.
In addition, users have access to a recipe library and articles. Lastly, Noom also includes access to a health coach and a chat with group mates.
Noom claims to teach users about the differences between caloric density meals that can be either calorie-dense or nutrient-dense. Food choices are categorized into "red foods," "green foods," and "yellow foods."
Red foods are generally calorie density foods and should be eaten less often. Unlike other weight loss apps, Noom does not label food as "good" vs. "bad" or "healthy foods" vs. "unhealthy foods." Instead, it uses a psychological approach to its coaching focused on behavioral change and does not engage in popular diets (keto, gluten-free, etc.).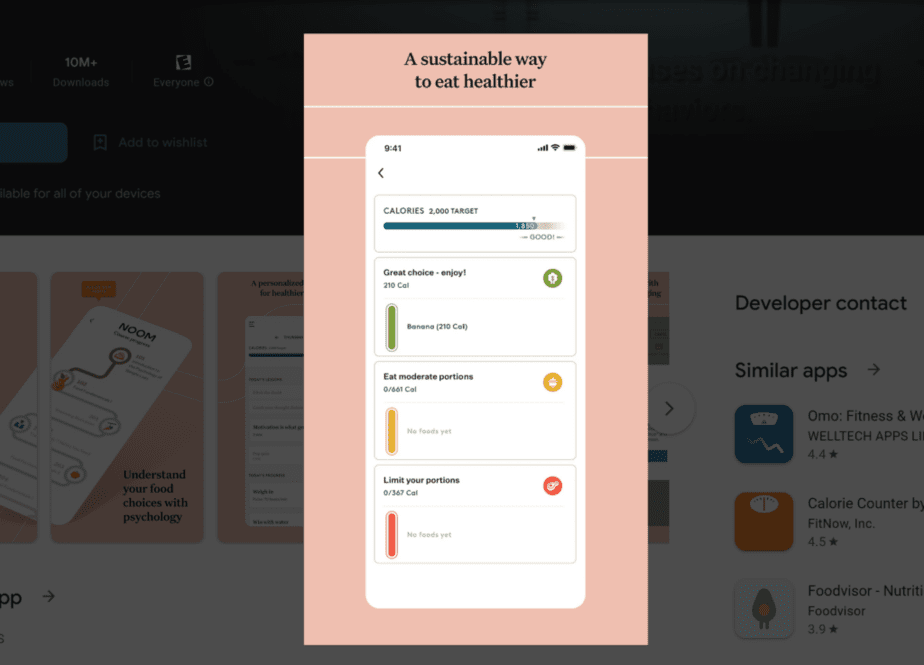 Once users use food logging to input their meals into the database, Noom analyzes the data and breaks down green, red, and yellow foods. The "Noom diet" consists of a balance of the three food groups in a quantity that matches the user's goals.
Similar to food goals, users can sync the Noom app with their Fitbit or Apple Health to add steps and exercise. The daily calorie goal changes based on the additional activity logged in.
Part 5: Implementation
The first few months of the plan are dedicated to eating in a calorie deficit to lose a set amount of weight. Once this phase is over, users move on to the maintenance phase, where they shift their eating patterns to maintain weight. To get additional support, users have access to a goal specialist and a group chat.
However, it is important to note that while Noom claims to be a personalized nutrition and health plan, some significant aspects are not customizable. Firstly, the daily caloric goals are calculated based on the Nerd Harris Benedict's Equation, which is a very generic method.
Furthermore, calorie and weight goals are not always healthy. For an individual who is 5'4" and 123 lbs, Noom defaults to a 10-lb weight loss plan, even if the user does not choose weight loss in the app's survey. In addition, Noom recommends a diet of 1380 calories, barely enough to cover an individual's Basal Metabolic Rate.
Such a low dietary intake level can be incredibly harmful, especially if an individual is genetically sensitive to prolonged caloric restriction. Studies in college-aged women have shown that a caloric restriction of as little as 8% of regular intake can disturb the luteal phase of the menstrual cycle.
The Noom app does not consider the user's genetics or body composition.
Review of Noom Data Privacy
Per their privacy policy, Noom is dedicated to safeguarding "Protected Health Information," which refers to a user's demographic, physical, or mental health information. In addition to user-provided information, Noom collects non-identifying demographic information using its website and mobile app.
Noom may share personal information with business partners, who may then use the information to offer products that may interest the user.
Lastly, Noom uses TLS encryption to ensure that user data is safe.
Other Noom Reviews
What you need to know about the weight-loss app Noom, according to a dietitian: Review by Samantha Cassetty, RD. The reviewer highlights some benefits, such as the fact that Noom is scientifically validated and that no foods are off-limits in the Noom diet. However, one major concern is that health coaching is superficial rather than personal. Furthermore, the suggested calories are often too low.
Does It Work for Weight Loss?: Review by Healthline. In this review, the authors gave Noom a score of 3.92/5.
What Is The Noom Diet—And Can It Help You Lose Weight?. Review by Women's Health Magazine, written by registered dietitian Nora Minno.
Us Weekly promotes that Noom Can Help You Lose 20 pounds Starting With 1 Simple Step.
A personal review was written on Active in 2023, detailing someone who tried the program for 30 days and found that they lost weight as intended.
The Noom Verdict: Not Quite Personalized
The bottom line of this review is that while Noom is an effective weight loss program, it is not necessarily a personalized nutrition app. As pointed out in a number of reviews, many of the "customized" features are generic. For individuals with underlying or chronic health conditions, a more personalized treatment approach is recommended.
Furthermore, while Noom is an excellent way to build healthy habits, it is only effective for a subset of people. The app may not be necessary for individuals who are not looking to lose weight. Lastly, for individuals who are genetically predisposed to conditions that are aggravated by extreme caloric restriction, this app may not be helpful.
Noom does not offer personalized nutrition advice based on health and medical history.
Noom vs. Weight Watchers (WW)
Noom and WW are both subscription-based food-tracking programs that claim to help you lose weight and feel good. The best plan for each individual largely depends on personal goals and motivations. While both plans make use of smartphones and other technologies to help you keep track of calories, WW is focused on community building, whereas Noom places more emphasis on individual habit building.
| | | |
| --- | --- | --- |
| | Noom | Weight Watchers |
| Includes tracking | Yes | Yes |
| Community-based support groups | No | Yes |
| Psychology-based | Yes | No |
| Price | $59 per month or $199 per year | $12 – $64 per month |
| Logging | Food color categories | Smartpoints |
| Fitness | Add-on | Add-on |
Nebula Genomics: Make Informed Decisions for Your Nutrition
As we identified before, every individual responds differently to weight, nutritional intake, and food. Consequently, there is no "one size fits all" approach when it comes to nutrition. How food and weight affect our health depends heavily on our genetics.
A weight loss regime that works for one person may be harmful to another. Furthermore, each person may need a different proportion of macronutrients and micronutrients.
There is a lot of trial and error involved in figuring out what works best for you. Furthermore, diet can change drastically when you become aware of your genetic predispositions. With our new 30x Whole Genome Sequencing service, you can sequence 100% of your genome. This includes lifetime access to our genome exploration tools and a collection of research studies that are updated every week.
Already have genome data? No problem. You can easily upload your DNA data from other platforms (such as AncestryDNA and 23andMe) onto our website.
There are a lot of benefits to knowing more about your genome. Since health goes far beyond just weight, learning more about your nutritional needs is essential to living a healthy life. With your data in your hands, you can make the decisions that work best for you.
Summary
While Noom is a very effective weight loss program, it is not a replacement for personalized nutrition. Weight management is not the only goal when it comes to health, and every individual responds differently to caloric restriction.
To tackle health holistically, it is important to know your nutritional needs. Alternatively, you can learn more about your dietary needs with our 30x Whole Genome Sequencing service.
In particular, you might be interested in these articles:
Or you could look into supplements that may help you lose weight, like Hydroxycut, Leptitox, and Resurge.
Health and fitness
If you are interested in genetic testing that will help you achieve your health and fitness goals, there are a lot of products to choose from. You can learn more about your options on our website, including:
Diet:
Fitness:
General Health:
Did you like our Noom review? You can find more reviews on our blog and our complete guide to the best DNA test kit and other home tests!