7 Facts from our Yoga Burn Review
Location: Puslinch, Ontario, Canada
Products: Yoga for women, weight loss instructional videos
How it works: Customers purchase a Yoga Burn program as a DVD or a digital copy. Most programs are 12 weeks
Privacy: Share personal information for purposes such as providing goods and services, marketing, and improving its products
Cost: Prices are typically $37 per program, plus shipping and handling. Options for continuous renewable subscriptions ($14 per month) and 6-month programs are available
Reviews: Good – Really good
Complementary products: Nebula Genomics (DNA test that decodes 100% of DNA and provides the ability to explore genetic traits associated with nutrition)
This review is written with the intent to be as unbiased as possible. However, it represents the opinion of an individual reviewer and is therefore subjective. Furthermore, at Nebula Genomics we seek to educate the public about the benefits of Whole Genome Sequencing. Information about our Whole Genome Sequencing DNA test is therefore incorporated into the review.
May 5, 2023
Edited by Christina Swords, Ph.D.
Pros and Cons
Pros
Follow along with instructions
Money-back guarantee for 60 days
Credible instructors
Tailored for all fitness and experience levels
Cons
At 45 minutes, some customers may find the videos long
Customers must adhere to a strict routine
Some programs are only available on DVD
Introduction
Yoga Burn is a digital body-shaping fitness program for women. The Yoga Burn program was designed by Zoe Bray-Cotton in 2014. Zoe is an internationally certified yoga instructor, personal trainer, and female body transformation expert. The product was made in collaboration with Digital Health Solutions, Inc.
The 12-week program aims to support weight loss and body shaping for women in the shortest amount of time. It is divided into three phases of increasing difficulty: Foundational Flow, Transformational Flow, and Mastery Flow. Zoe Bray-Cotton popularized this new form of "Dynamic Sequencing Yoga." One of the most attractive features of this program is that yoga workouts can be completed from home without going to a yoga studio.
Customers can purchase the Yoga Burn workout videos as a kit that includes DVDs as well as a digital version compatible with any mobile device, laptop, or desktop.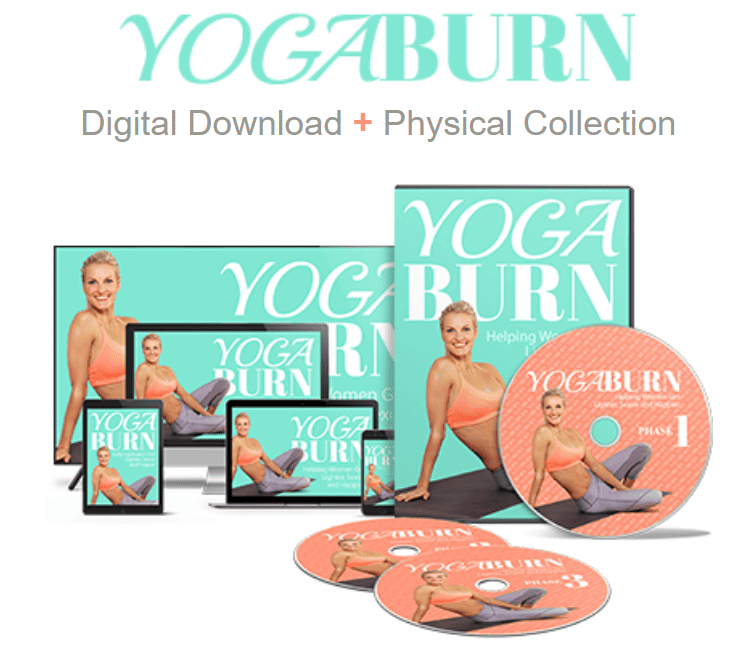 The Genetic Basis of Weight Loss
Your genetic makeup plays a role in how your body retains or loses weight. Some people are predisposed to obesity. Understanding how your genes affect your weight can help you choose a plan that best complements your body's natural ability to lose weight. Lifestyle choices that contribute to weight gain should also be taken into account.
Keeping a healthy weight is important to reduce the risks of diabetes, heart disease, and stroke. Genetic testing help clients create a personalized health plan. Specifically, genes contribute to where people carry fat, how fat is processed, fat burning, and how easily someone tends to gain back weight after a healthy diet. By using a genetic testing site like Nebula Genomics, you can know whether you carry certain genes that may affect your weight loss goals.
About the Dynamic Sequencing Science
Dynamic Sequencing Yoga was popularized by Zoe Bray-Cotton. She bases this new strategy on completing a program with three phases of increasing difficulty. This new approach differs from conventional yoga, which typically follows a sequence of poses.
Does yoga burn calories? Dynamic Sequencing is marketed as a fitness routine to burn calories. First, it continuously pushes the body to improve, a key component of physical change.
Another benefit is that it helps starters create a strong foundation in the first phase. Finally, since the routine is a constant yoga burn challenge, dynamic sequencing helps individuals avoid workout plateaus, which might discourage people from their exercise routine.
While other routines encourage core strength, increased flexibility, and other fitness goals, dynamic sequencing is designed for women who want to lose weight.
Phase I: Foundational Flow Phase
In phase 1 foundational flow, women will build a solid foundation. They prepare for the increased difficulty of the program by learning the proper poses. This section also focuses on building a strong "mind-body" connection through breathing exercises.
Phase II: Transitional Flow Phase
In phase 2 transitional flow, women combine the moves learned in phase I into smooth sequences that start to burn calories and increase heart rate. Each video focuses on one of three large muscle groups: upper body, lower body, and core.
Phase III: Mastery Flow Phase
In Phase 3 Mastery Flow, the final phase of the yoga workout, women combine the moves learned in Phases I and II into fast sequences that make up a particular yoga routine. These exercises are designed to keep muscle tone throughout the body and burn calories efficiently. In this section of yoga practice, the poses are more repetitive, and the instructor introduces combinations of upper and body movements.
Review of Yoga Burn
The program is a 12-week weight loss plan. Customers can choose their type of program, either the standard Fitness System for Women, programs that target specific muscle tones, or a subscription plan. The goal is to help customers feel comfortable while exercising and even offer stress relief.
Customers receive a DVD and a digital copy of the fifteen yoga classes. The classes divide the 12-week program into three phases, each lasting four weeks. Customers are encouraged to complete three of the 45-minute videos a week with the option to complete one of the free bonus videos, including Tranquility Flow, Beginner Flow, and Pose Tutorials.
Before purchasing a product, customers can take a quick, 7-minute quiz to get a suggestion on which program to buy.
Fitness System for Women
What you do: The 3-phase approach that teaches women how to perform each movement properly and then gradually increase the difficulty of burning fat
Fitness levels: Beginners to advanced
Age: All
Trim Core Challenge
What you do: The 3-phase approach that targets abdominal muscles. Called "Corset Core Training," this plan is designed to strengthen and shape the core
Fitness levels: Beginners to advanced
Age: 18 to 65 years old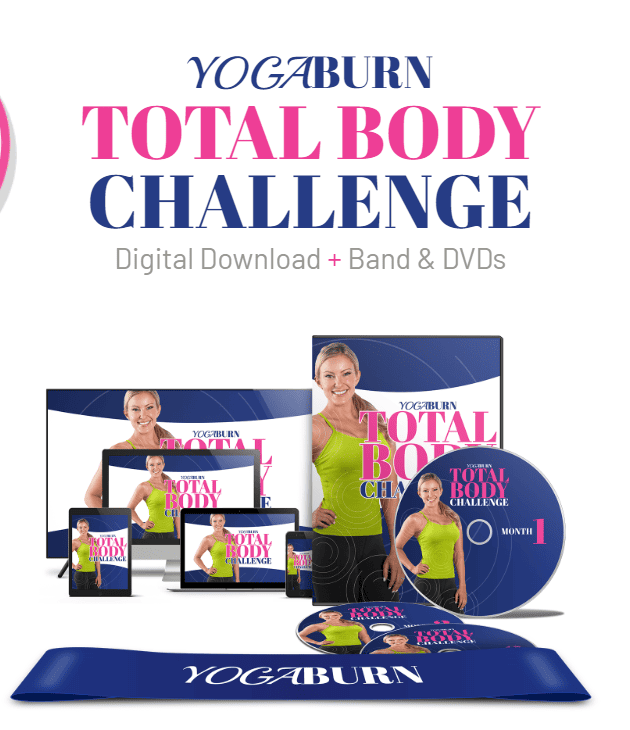 Total Body Challenge
What you do: Low-impact resistance training called "Extension Training"
Fitness levels: Beginners to advanced
Age: 18 to 65 years old
Booty Challenge
What you do: The 3- phase approach using the steps of Prime, Activate, Pump
Fitness levels: Beginners to advanced
Age: 18 to 65 years old
Inner Circle
What you do: Participate in an online community that provides access to health and fitness coaches, including nutrition. Customers also receive new workouts, recipes, and nutritional tools each month
Fitness levels: Beginners to advanced
Age: All
Meditation Solution
What you do: A choice of sessions that last 15 minutes and target either the mind, body, or spirit
Fitness levels: Beginners to advanced
Age: All
Yoga Burn Monthly
What you do: Once a month for six months, customers receive a set of DVDs that teach customers how to master each major style of yoga
Fitness levels: Beginners to advanced
Age: All
Yoga Burn Kick Start Kit
What you do: A one-month program that teaches fundamentals and basic techniques
Fitness levels: Beginners or others who wish to refresh their skills
Age: All
Review of Yoga Burn Cost
On the official website, The Fitness System for Women, Trim Core Challenge, Total Body Challenge, Booty Challenge, and most other programs are priced at $37 plus shipping and handling. The packages include a single digital download and a physical collection. Customers can double their order for $57 plus shipping and handling.
Meditation Solution: The Yoga Burn Meditation Solution is only available through digital download. On promotion, it costs $29.95.
Monthly: Currently, the Yoga Burn monthly program offers free DVDs for the first month, plus shipping and handling. The remaining five months will cost $37 per month plus shipping.
Kick Start Kit: Yoga Burn is holding a promotion where customers can order a free Kick Start Kit by only paying for the shipping and handling.
60-day money back guarantee: It also offers a 100% money back guarantee during the first 60 days of purchase where customers can be issues a full refund.
Review of Yoga Burn Privacy
Yoga Burn's privacy policy says that it collects information from its customers, such as their names, credit card information, and browsing activities. In addition, Yoga Burn will use a customer's personal information for purposes to provide goods and services, market, and improve its products.
Yoga Burn may share customer information with third parties, mainly for delivering its service, advertising, and marketing purposes. It encrypts financial information and protects it with SSL encryption software. Yoga Burn only uses financial information to process transactions.
Yoga Burn will delete or anonymize personal data once it is no longer necessary to provide the service for which it was collected. Customers can also request that their information be destroyed by emailing Yoga Burn.
Other Yoga Burn Reviews
Yoga Burn has a 3.5 star review on Trustpilot with just over 100 reviews. The feedback is mixed. Many customers felt that the products were easy to use and effective for their health goals. The lower ratings mainly focused on the payment process and being charged for things like subscriptions that they did not want.
It has a 4.4 star rating on Amazon, but with only 16 ratings. The two reviews noted that they enjoyed the program.
Additional customer reviews for each Yoga Burn program are available on each program's sale page.
Nebula Genomics
At Nebula Genomics, we aim to empower you to discover more about your genome, including diet, fitness, and weight loss. Research demonstrates that over 400 different genes may be associated with obesity. Specifically, genes affect things like appetite, sense of fullness, metabolism, food cravings, body-fat distribution, and the tendency to eat when stressed.
Sequencing your genome with Nebula Genomics lets you see how your genes affect your body weight before purchasing a diet product like Yoga Burn.
Nebula Genomics offers the most comprehensive genetic testing through whole-genome sequencing. With our new 30x Whole Genome Sequencing service, we determine 100% of your DNA. You can examine genes of interest, identify relevant mutations, and search for genetic variants.
You can even view your sequencing data from your computer. Results also include data access, weekly reports, ancestry analysis, and exploration tools.
If you have already participated in 23andMe or AncestryDNA, you can upload your DNA data for free and get an expanded DNA report. We use a process called imputation to fill in the blanks left by typical DNA tests.
Summary
The Yoga Burn system is an at-home instruction package designed to help women lose weight. The instructor, Zoe Bray-Cotton, is an internationally recognized personal trainer and yoga expert. The approach, Dynamic Sequencing, is especially designed to focus on weight loss. This product is ideal for women who love yoga and want to lose weight.
Most yoga training sessions are priced at $37 per program and include a physical DVD and a digital copy. The programs are designed for all levels so that beginners and more advanced yoga practitioners can experience new challenges.
How many calories does yoga burn? One of the most challenging aspects of the program is that customers must stick to the routine for many months and supplement yoga with other healthy life choices to see the calories burned. Burning results were noticeable to some reviewers. Genes may play a role in these differences.
By sequencing their DNA, customers can gain insights into how their genes may affect their weight goals before buying a product like Yoga Burn. This genomic information can help you prioritize health goals (nutrition, fitness, etc.).
You could also look into supplements that may help you lose weight, like Hydroxycut, Iaso Tea, Leptitox, and Resurge, or skin products like those offered by Arbonne.
Did you find our Yoga Burn review helpful? You can read more reviews on our blog and check out our complete guide to the best DNA test kit and other home tests. In particular, you might be interested in these articles: