7 Facts from our Natera Review
Location: Austin, Texas
Products: Women's health, oncology, and organ health via cell-free DNA tests.
Cost: Varies. Not available online.
Reports: Waiting period depends on the type of testing
How it works: Your physician makes the order and Natera ships the testing kit to you
Raw Data Access: Your physician's office receives the results
Other types of genetic testing: Nebula 30x Whole Genome Sequencing decodes 100% of your genome
This review is written with the intent to be as unbiased as possible. However, it represents the opinion of an individual reviewer and is therefore subjective. Furthermore, at Nebula Genomics we seek to educate the public about the benefits of Whole Genome Sequencing. Information about our Whole Genome Sequencing DNA test is therefore incorporated into the review.
November 9, 2023
Pros and Cons
Pros
It's a good company that reveals a lot about genetic conditions
Helps patients diagnose conditions early
Tests are more convenient than similar conventional ones
Cons
Individuals cannot order the kits
Billing department can be difficult to work with
331 complaints, mainly associated with things such as being billed for lab work, filed with the Better Business Bureau
Introduction
Natera is a global leader in cell-free DNA (cfDNA) testing that seeks to improve women's health, organ health, and cancer treatment. The company's mission is to use cfDNA testing to provide better management of various diseases, including hereditary cancer and chromosomal abnormalities.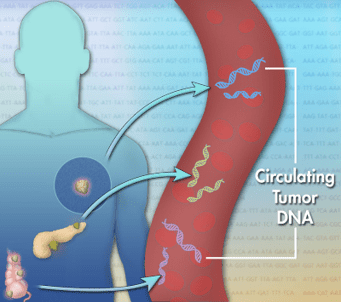 Matthew Rabinowitz and Jonathan Sheena founded Natera in 2004, initially going by the name Gene Security Network. Matthew had just witnessed his sister lose her son to Down Syndrome a few days after his birth, and this drove him to seek methods to help families diagnose hereditary conditions early. He continues to serve in upper management with the company. 
Natera's main headquarters are in Austin, Texas, with another branch in San Antonio, California. Natera's reach, however, spans more than 90 countries, with more than 3 million tests done worldwide. 
Since its founding, Natera has carried out various research projects and unveiled several groundbreaking innovations to improve the standard of healthcare all over the world. Natera also makes its research available to laboratories through a platform dubbed Constellation.
Natera Review
The company sells products in three health categories: Oncology, organ health, and women's health.
Review of Natera oncology products
Signatera – Residual disease test (RDT)
Signatera is for people who have undergone surgery for cancer and want to check for residues and lingering cancer cells after attempts to remove the tumor. This test is important for managing cancer as it enables one to detect molecular residual diseases as early as possible. It checks for the presence of circulating tumor DNA (ctDNA), which doctors use to detect if residues of cancerous cells are present in an individual after surgery.
Immediately after completing cancer treatment, doctors can confirm whether the patient needs adjuvant therapy to prevent the formation of secondary tumors. The Signatera test is tailored to each patient's genetic signature, which allows for closer monitoring of the disease. Research has found it more than 85% accurate for predicting cancer relapse.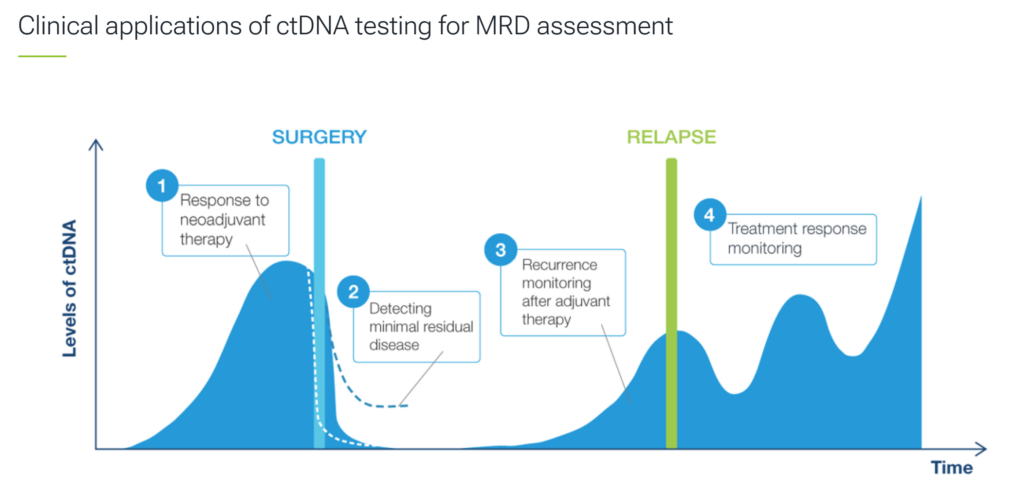 Altera – Tumor Genomic profile
The Altera test is one for tumor profiling. Altera uses Comprehensive Genome Profiling to detect the presence of more than 400 genes linked with the risk of cancer. Altera also incorporates the Signatera test to check for residue of cancerous cells. It gives a report that includes FDA-approved treatments for a patient's specific condition as well as unconventional methods when all else fails.
Altera allows you to carry out two tests using just one tumor sample through its tissue preservation service. This test helps determine an approach to therapy for cancer patients. 
Empower – Hereditary cancer test
The Empower test is for hereditary cancer. It is useful for assessing one's risk of developing cancer. It can also help determine the reasons for the frequency of cancer in a family and treatment options for cancer patients. 
Mutations in certain genes greatly increase the chances of developing cancer, and the Empower test checks for up to 53 of these genes. It helps an individual discover cancer early by influencing early screening, which increases the odds of treatment being successful. It also helps recommend treatment options that will provide the patient with the best benefits and little risk.
Additionally, the Empower test can alert family members of individuals with hereditary cancer of the risk of cancer in their lineage, allowing them to make lifestyle decisions and screening plans to help prevent and monitor cancer development. 
Interested in genetic testing for hereditary cancer? Check these out:
Review of Natera organ health products
Prospera Kidney – Transplant assessment
The Prospera Kidney Transplant Assessment can confirm the compatibility of a transplanted kidney from a single blood sample. Prospera uses advanced DNA techniques to ensure a donated kidney is compatible with the patient and prevent transplant rejection.
A Prospera test is more accurate than a conventional serum creatinine test. The Prospera kidney transplant assessment was developed after studies showed that more than 20% of kidneys transplanted fail in the first five years, with more than 50% failing within ten years. Medicare covers this test.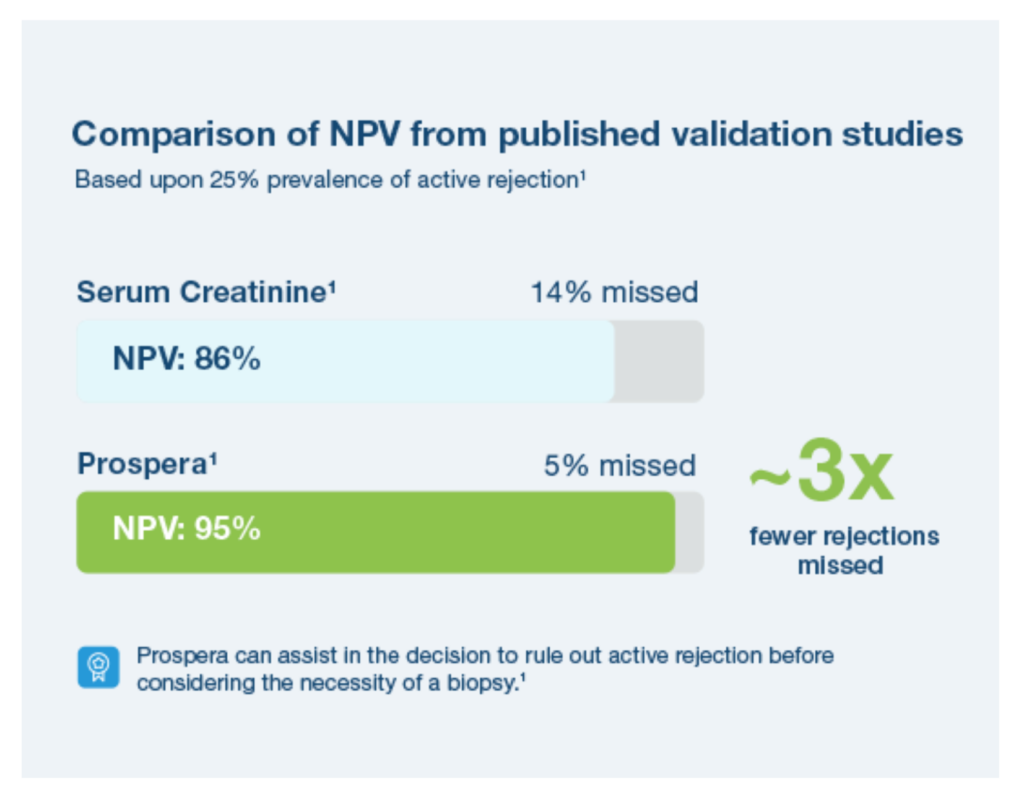 Prospera Heart – Transplant assessment
The Prospera Heart Transplant Assessment is similar to the test for kidney compatibility, except that it focuses on heart transplants. This assessment provides a non-invasive method to check for the compatibility of a donated heart with a patient. Studies have shown that a quarter of heart transplant patients experience complications within a year of their surgeries. This test is less costly and more convenient than conventional biopsies while retaining a high level of accuracy, making it a viable alternative to the traditional methods. 
Renasight – Kidney gene panel
The Renasight test helps pinpoint if the root cause of kidney disease is genetic. It helps answer questions about the cause of one's kidney disease and if it runs in the family. It also allows for the management kidney disease by predicting its progression.
The results assist physicians in drawing up a treatment plan tailored to a patient's specific conditions. The test also alerts family members of patients with hereditary kidney diseases to their risk of developing renal problems.
The Renasight genetic test uses genetic testing to investigate more than 380 genes responsible for chronic kidney problems. Physicians can order the kit and return it with either blood or saliva samples. The results are available about three weeks after they submit the sample.
Review of Natera women's health products
Horizon – Advanced carrier screening
The Horizon screening test is for parents who want to know if their children are at risk of inheriting certain genetic diseases. Pregnant people can perform it during pregnancy, although the company advises it before conception. As carriers are often not affected by the conditions they carry, the Horizon tests can confirm if the parents may pass any unknown diseases to their children.
The Horizon test can reveal over 270 genetic disorders that can be passed from parent to offspring. Natera has a team of genetic counselors available to provide more information on the test and the results. 
Panorama – non-invasive prenatal testing (NIPT)
Panorama provides a precise non-invasive test for pregnant women. It uses technology based on single nucleotide morphisms (SNPs) to carry out tests for chromosomal conditions in the baby. The technology adopted can tell the mother's DNA apart from that of the baby she is carrying. 
The Panorama test poses no risk of harm to the baby, unlike others like chorionic villus sampling. It can be used for conditions caused by absent or extra chromosomes. It can also determine the sex of the child.
The Panorama is the only non-invasive prenatal test for triploidy. It can also detect trisomies (such as trisomy 21, which causes Down syndrome), sex chromosome abnormalities, and microdeletions.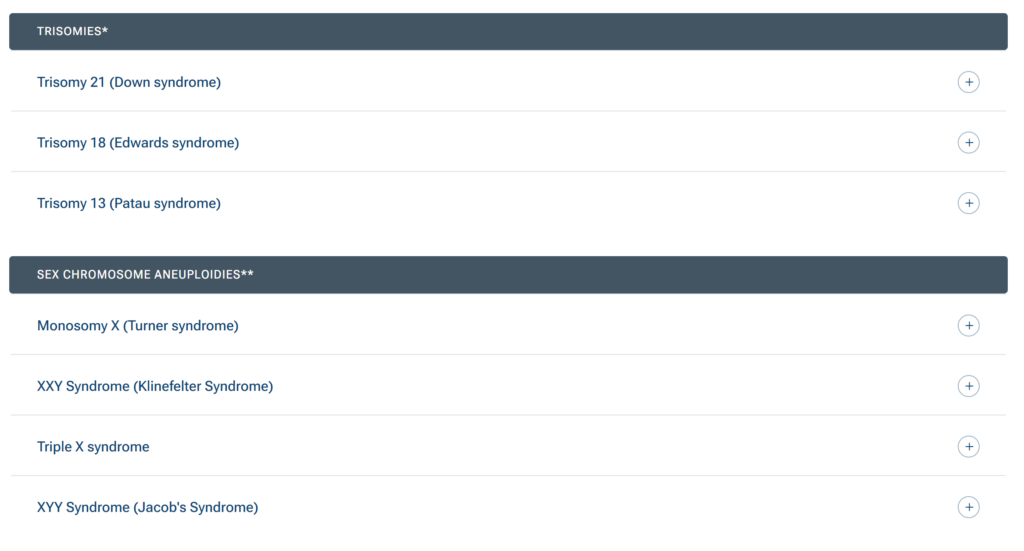 Vistara – Single gene NIPT
The Vistera genetic test for pregnant women helps determine serious genetic conditions that may otherwise be difficult to detect. It checks for 25 of the most serious single gene genetic conditions that doctors can manage if caught early. The Vistara, like the other Natera tests, needs only a blood sample from the mother. It delivers results in two or three weeks. 
Anora – Miscarrage test
The Anora determines the cause of a miscarriage. Testing is slightly different from other genetic tests by Natera as it uses a tissue sample from the miscarriage rather than a blood or saliva sample. The Anora can help women who have had miscarriages move on and try to get pregnant again by putting some of their worries about the miscarriage to rest. 
Some causes of miscarriage, such as chromosomal abnormalities, are unlikely to lead to a second miscarriage, and the family can go on to conceive again without any fears. The Anora test is meant for recent miscarriages only.
It can find out the reason for miscarriages that occurred a long time ago. The test can also determine if the problem arose from the egg or the sperm which can assist in predicting the likelihood of a miscarriage happening again. It delivers results in about seven days. 
Taking a Natera Genetics Test
The patient cannot directly order the Natera tests. Once the physician places the order for the kit, it gets delivered to the patient, who then provides the sample. The sample provided is usually blood or saliva. Some blood tests require blood drawn by a phlebotomist at home or in a Natera-approved lab.
Once Natera receives the sample and carries out the tests, it sends the results to the ordering physician, who reviews them before they make them available on the online portal for the patient to view. 
Review of Natera Cost
The prices of the Natera tests are not online as it needs a physician to place the order. Most health insurance companies cover Natera tests, and you can decide if you want to pay upfront or submit it as a claim to your health insurance. Natera also offers discounted prices for patients who have financial difficulties. 
Review of Natera Reports
Results of Natera tests usually arrive between one and three weeks after the doctor submits samples to the clinical laboratory, depending on the type. These labs are CAP-accredited and CLIA-certified. The results are detailed summaries of what is being tested and the risks involved.
Positive and negative sample reports for the Panorama non-invasive testing kits are below. While details are included, the ultimate result of high or low risk is clearly stated at the front of each report.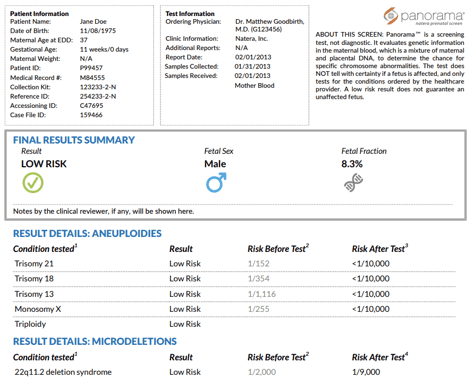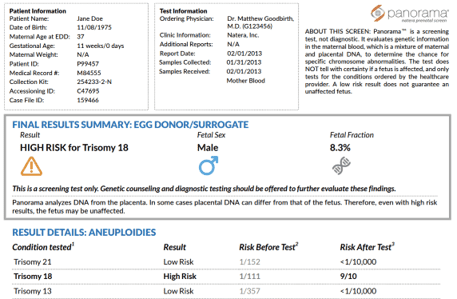 Other Natera reviews
There are several negative Natera reviews online. Health Testing ranks it 98 out of 101 and is rated 1 out of 5 at DNA Testing Choice.
A customer review mentions a negative experience with Natera's pre-natal screening service, citing disorganization, delays, and a lack of communication with customer service. 
Several reviews discuss issues with billing practices, where the customer was charged despite their insurance telling them that testing will be covered. 
Two years ago, a Reddit user made the same claim regarding insurance claims.
Review of Natera Privacy
You can request that your results are delivered using a secure method of your choosing. Your choice will be agreed upon as long as it is within reasonable limits. The company only shares your results with the professionals in charge of your treatment, and you can even choose to keep information that does not relate directly to your treatment away from them. 
The company uses DNAnexus's cloud based genomics platform to support data analysis, storage, and sharing for its genetic tests.
Natera in the News
Natera has had success in published research that demonstrates the validating and prognostic value of its genetic testing. In October 2021, the company released a peer-reviewed study in stage III colorectal cancer patients indicating the connection between ctDNA growth rate and patient survival as measured by the Signatera ctDNA test. This could be a new treatment tool for physicians and patients with colorectal cancer. 
Natera has been in the middle of a number of lawsuits. The latest is with the competing company, Guardant Health. In May 2021, Guardant issued a complaint alleging that Natera is misleading healthcare providers about the performance of the Guardant Reveal™, the first blood-only liquid biopsy test for colorectal cancer.
The complaint claims that Natera has suggested that Guardant Health is inaccurate and/or insensitive, and inferior to Signatera™. Both companies have reported on the lawsuit on their respective websites. 
Nebula Genomics
Nebula Genomics is one of the world's leading at-home genetic testing companies. The results are of the highest quality, so physicians can use them to help guide medical decisions. The company's 30x Whole Genome Sequencing allows it to decode 100% of the DNA, making its tests some of the most comprehensive on the market. 
Nebula focuses on genetic predispositions, like the Natera Empower for hereditary disease and the Renasight for kidney disease. Because whole genome sequencing decodes the entire genome, any gene that increases your risk will be detected instead of just certain ones known at the time of purchase. As more research is conducted and more genetic information is discovered, Nebula Genomic's gene exploration tools allow you to return to your genome at any time.
The Nebula Research Library is updated periodically with the latest scientific discoveries, providing personalized reports on the latest genetic information. 
Did you find our Natera review helpful? You can read more reviews on our blog and our complete guide to the best DNA test kit and other home tests. You may be particularly interested in Decipher Biosciences, Foundation Medicine, and Tempus Labs, other companies that use tumor genomics to help guide treatment.
Other companies
Several companies use DNA sequencing for diagnostics. Unlike Natera, these tests are designed to be conducted on healthy individuals to help assess whether they are at risk for certain conditions.
Diagnostics:
Includes carrier status:
Mental health:
GeneSight (clinical genomic test for psychotropics)
Genomind (pharmacogenomic testing for mental health treatment)
Rare diseases: