7 Facts from our GEDmatch Genesis Review
GEDmatch Location: San Diego, USA (Verogen)
Products: DNA data upload for open source ancestry analysis and comparing DNA to find relatives
Reports: Comparison tools of DNA segment with people who took various DNA test (e.g. 23andMe, AncestryDNA, etc.) and identification of relatives
Report delivery: Access to tools and results through the GEDmatch website
Cost: Upload data for free or $10/month (more results)
Privacy: Will share genetic data with consent only; a history of data breaches
This review is written with the intent to be as unbiased as possible. However, it represents the opinion of an individual reviewer and is therefore subjective. Furthermore, at Nebula Genomics we seek to educate the public about the benefits of Whole Genome Sequencing. Information about our Whole Genome Sequencing DNA test is therefore incorporated into the review.
July 18, 2022
Edited by Christina Swords, Ph.D.
Pros and Cons
Pros
Free tools if you have DNA data
GEDMatch Genesis allows for search and comparison with any public kit
You may help police arrest a family member
Cons
Offers limited analysis beyond finding matches
Not user friendly: all explanations of tools are external
You may help law enforcement agencies arrest a family member
GEDmatch Genesis Introduction
GEDmatch (Ged match) is a genealogy website founded by Curtis Rogers and John Olson in 2010 to help collate information for amateur and professional genealogists. In 2018, the company helped law enforcement catch the Golden State Killer. In 2019, Verogen, a forensic genomics company launched by Illumina, bought GEDmatch. The site is geared towards finding related individuals: the main DNA tool searches for relatives among the 1.3 million users.
In 2019, GEDmatch released an updated system called GEDmatch Genesis and the company ran the two DNA sites as separate, yet connected, entities. The intention was to migrate GEDmatch into the new Genesis system. However, it eventually merged the sites into one and called it "GEDmatch" instead. Therefore, GEDmatch and GEDmatch Genesis are used interchangeably in this review.
In addition, the site caters to professional and amateur genetic genealogists, lets its users upload DNA results from disparate sites, and provides family tree information. Read more in our GEDmatch Genesis review!
How to Get Started with GEDmatch Genesis
Users can join for free. To access the Genesis GEDmatch official site, they must use the GEDmatch Genesis sign in. If they attempt to find it on a Google search engine, they will be directed to a URL of Genesis GEDmatch com login1 php.
As users register, they can add an alias for identity within the Gedmatch site. It is important to note that, although GedMatch users can use a pseudonym in the GEDmatch Genesis login page, the site displays the user's name and email for any other user to see.
After completing the GEDmatch Genesis login, users can upload raw DNA data files from a variety of specific DNA databases, including 23andMe, Ancestry, MyHeritage, Family Tree DNA (FTDNA), Living DNA, and tellmeGen. Every genetic data upload is given a unique kit identifier that is used throughout the system. Users can also use the login to upload family tree information in GEDCOM file format, used in genetic genealogy databases.
Ancestry test results are available in minutes, but the main family finder tool takes several days to run.
How to Use GEDmatch
Review of GEDmatch Admixture
Before we go into our GED match Genesis review, let's take a brief look at the admixture analysis. These reports are very basic and not straightforward to use. The tools appear designed for an already expert user and there is almost no internal information about each tool.
GEDmatch does provide tools for querying DNA ancestry. For example, the admixture model, which reports a user's ancestry mixture, lets users "select project," or dataset to use to compare origins, but doesn't explain what each dataset is.
Further digging reveals some "projects" are population-specific and will only work if someone has 100% ancestry from a particular location.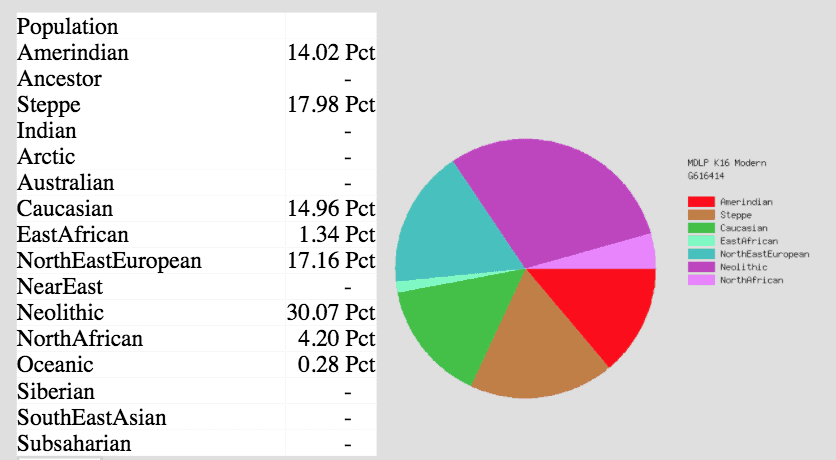 Review of GEDmatch Genesis
The Genesis GEDmatch tool is used for genetic genealogy research. The core feature is the One-to-Many DNA comparison tool. This tool searches the database to see which parts of the user's DNA match samples in the GEDmatch database. GEDMatch Genesis is also presented in a no-frills way and comes with a link to a step-by-step tutorial on YouTube.
The first column is the kit number, which uniquely identifies the GEDmatch DNA upload and permits any user to repeat any analysis using that kit number instead of their own data. The second column is whatever alias the user chooses to use for that kit, and the third is the user's email address. The user might not be the person the DNA is from.
Results
The following six columns are the results.
Largest Segment match in centiMorgans (cM): a measurement of DNA length that factors in how often certain parts are separated when they're passed down.
Total cM: Gives a sum of all segments of matches between two individuals.
Generations: An estimate for the number of generations apart two individuals are. For example, 1 represents a parent-child or twin relationship, 1.2 is sibling, 1.4 is half-sibling, uncle, or grandparent. A 2 would be a cousin (as the last common ancestor was 2 generations ago), 2.6 would be a first cousin once removed, and 3 would be the second cousin with the last common ancestor three generations ago. The prediction breaks down over 4.
Overlap: Describes how many SNPs were actually compared. Red highlights low numbers of SNPs, indicating that the comparison might not be accurate because the two kits differ greatly in which genetic sites were tested.
Date compared: If the kit was freshly run, all dates will be the same; new matches will show up with the date the newly matching kit was run. Finally is the company the matches kit is from.
Testing company: The origin of the database
The ability to pull information from different DNA testing kits is one of the original benefits of GEDMatch Genesis. If a user wants to search for their family, they do not have to buy both Ancestry and 23andMe kits. The user can search through all uploaded DNA profiling data regardless of the autosomal DNA testing service they used.
Other tools
GEDmatch Genesis also has a tool to see if your parents are related. It uses a similar idea to the One-to-Many tool. Given that everyone has two copies of every chromosome in their genome, one from their mother and one from their father, it is possible to look for relatedness between these two copies.
For the majority of users, this type of family history exploration is not very informative. For the rest, it might not actually be the information they wanted. Finding out that your parents are related or if you have an evil twin are not actionable health items and might lead to some awkward questions about a user's ancestry.

Review of GEDmatch Genesis Costs
GEDmatch is primarily a free DNA-upload site and a set of free DNA analysis tools. Thus, most of the features, including those described above, are free tools to analyze your DNA.
For $10 a month you can have access to "Tier 1" features. Tier 1 users have more results in the One-to-Many tool — going from 3,000 matched DNA kits to 100,000. Users are also able to see which segments match in the One-to-Many tool and which kits match on the same segment.

An experimental tool also lets users reconstruct a family tree from these results. There is also a tool that attempts to reconstruct the genome of an ancestor from the descendants' genetic data.
GEDmatch Genesis in the News
GEDmatch Genesis hit the news after it was used to identify the Golden State Killer, a serial killer and rapist who was active in California from 1974-1986. He was identified when a DNA sample left at a crime scene was run through GEDmatch's "One-to-Many" tool. Ten to twenty kits identified as third to fourth cousins were found in the genetic database.
Police worked with genealogists to narrow down to two possible suspects. Joseph James DeAngelo was confirmed to be the killer by comparing the crime scene sample to DNA DeAngelo left on his car door and in his trash.
This wasn't the first, or last, time that a GEDmatch test was used to solve a cold case. The DNA Doe Project is a forensic genealogy nonprofit that uses the genealogy site to identify bodies and notify families. On the corporate side, Parabon Nanolabs works with American law enforcement officials to identify perpetrators and solve crimes.
GEDmatch experienced a massive data breach that was discovered on July 19, 2020.
In 2021, Verogen announced a GEDmatch partnership with Genetic Affairs to make the tools Autocluster, Autopedigree, and Autotree available for customers.
GEDmatch Genesis Privacy
The privacy policy was updated in 2021 to meet required disclosure for residents in California, Nevada, the European Union, and the United Kingdom. There were no changes in how the company uses and shares users' data.
Privacy has become a concern for many of its users. GEDmatch provides three privacy options, "Private," "Public + opt-in," "Public + opt-out." Private data is not compared to other people's DNA kits. This means no one else will find you, but you also can't find anyone else.
"Public + opt-in" allows for the One-to-Many search and consents to law enforcement matching, for example, to identify suspects of violent crimes. "Public + opt-out" enables the user to find relatives and be found but does not consent to law enforcement searches. The company claims that raw DNA data is not accessible to any third party.
However, GEDmatch has complied with subpoenas and warrants to share raw data, personal information, and genealogy data with law enforcement even for people who have opted out or selected the "private" option. This has led to the withdrawal of a recommendation for GEDmatch by Legal Genealogist founder Judy G. Russell, a Certified Genealogist and former Law Professor.
When it comes to uploading Raw Data to GEDmatch, the description is pretty meticulous as to what kind of information you may upload. For example, you are authorized to upload not only your DNA but that of someone whom you are a legal guardian of, a deceased person known by you, one who has authorized you, or when obtained from an artifact under certain conditions.
GEDmatch Genesis Reviews
GenSoftReviews has eight GEDmatch reviews with a score of 4.23 out of 5 stars. Negative reviews complain that it is not user-friendly and hard to understand, while positive reviews highlight its utility for "motivated genealogists."
GEDmatch has a Facebook official page where 26 users have reviewed the service, giving it a 4.4 out of 5.
After initially calling it "A DNA geek's dream site" in 2012, the Legal Genealogist withdrew her recommendation of GEDmatch Genesis due to privacy concerns.
Nebula Genomics
We finish our GEDmatch review with a comparison to Nebula Genomics and other DNA testing companies. Nebula Genomics distinguishes itself from GEDmatch and other genetic testing companies by focusing on privacy, expanding the horizon of DNA information, and providing understandable reporting.
Privacy focused
At Nebula Genomics, privacy is as important as helping you learn about your health, personality, and ancestry. Nebula has built the first privacy-focused personal genomics service.
We eliminate personal genomics companies as middlemen between data owners (i.e. customers) and data buyers (i.e. third parties) so that you can be compensated if you choose to share your data.
Nebula does not turn over data to law enforcement access services and will not do so voluntarily. In fact, we are building protocols that will make it impossible for us to decrypt and share your data without your consent.
Nebula Expand
You can upload the raw DNA files to Nebula Genomics just as you would to GEDmatch to discover more about your genome with the Nebula Genomics expanded report. The typical microarray-based DNA genotyping test can be expanded on using statistical models, otherwise known as imputation, to figure out what was between the tested pieces of DNA.
This report gives you access to hundreds of traits and curated research studies through the Nebula Research Library, keeping you up-to-date with the most cutting-edge research and what it means to you and your DNA. This unlocks information that GEDmatch would never be able to find.
Nebula Genomics 30x Whole-Genome Sequencing
Nebula empowers customers with the option to go beyond the typical microarray-based DNA tests offered by other companies to unlock more information about themselves. With the 30x Whole-Genome Sequencing service, 100% of your DNA is read. In other words, you will get 10,000 times more data than with AncestryDNA or 23andMe, which only reads 0.01% of your genome!
Nebula makes science accessible
Nebula wants people to learn about their health, personality, and ancestry. Turning over results is not enough. Nebula is committed to explaining cutting edge science simply and accurately.
This encompasses both providing clear explanations as well as making it easy to discover what studies are available. Having the information isn't enough if it isn't accessible.
Other DNA upload sites
Other sites that allow you to upload raw DNA data for analysis are:
Ancestry:
Health:
If you have whole genome sequencing data, also take a look at YFull for Y-DNA and mtDNA analysis.
Other ancestry tests
On the other hand, if you're looking for more tests for ancestry or genetic genealogy, you should check out these other reviews:
If you're looking for an at home paternity test, you should also read our review of HomeDNA.
If you want to focus on your maternal and/or paternal lineages, you can look at YFull or YSeq, services that analyze mtDNA or the Y chromosome to determine specific lineage haplotypes. Full Genomes also offers Y chromosome sequencing and analysis.
Did you like our GEDmatch Genesis review? Reviews for other DNA testing and analysis companies can be found on our blog. Check out our complete guide to the best DNA test kit and other home tests.
Also, go over our GEDmatch tutorial to learn how to use this powerful tool!
Interested in finding out about other DNA upload sites? This post gives you an overview of paid and free options.