7 Facts From Our Genome Medical Review
Location: San Francisco, CA
Services: Virtual genetic counseling
Cost: $179; average cost with insurance is $50
Reports: Depends on the genetic test recommended
How it works: Initial consultation, testing, interpretation, and next steps
Type of service: Medical practice, not a genetic testing laboratory
Alternative Products: with Nebula Genomics, you will get 30X Whole Genome Sequencing, decoding 100% of your DNA and providing nutrition reports, among other things
This review is written with the intent to be as unbiased as possible. However, it represents the opinion of an individual reviewer and is therefore subjective. Furthermore, at Nebula Genomics we seek to educate the public about the benefits of Whole Genome Sequencing. Information about our Whole Genome Sequencing DNA test is therefore incorporated into the review.
April 26, 2022
Pros and Cons
Pros
Connects you with a medical professional who can help identify your genetic risk of having an illness
On-demand access and online scheduling through telemedicine
Personalized genome medicine
Billed through insurance
Cons
Genetic testing performed through third parties
Genome Medical Introduction
Genome Medical is a digital health company and nationwide specialty medical group that offers genetic counseling through virtual consultations. It works with individuals and their families with certain indications specializing in persons with a personal or family history of cancer, neurologic, or cardiac conditions. It also offers preconception or prenatal testing, proactive/healthy screening, pharmacogenetic testing, and counseling for those with a family history of other genetic conditions. Through its business, the company brings genome expertise to your phone or tablet.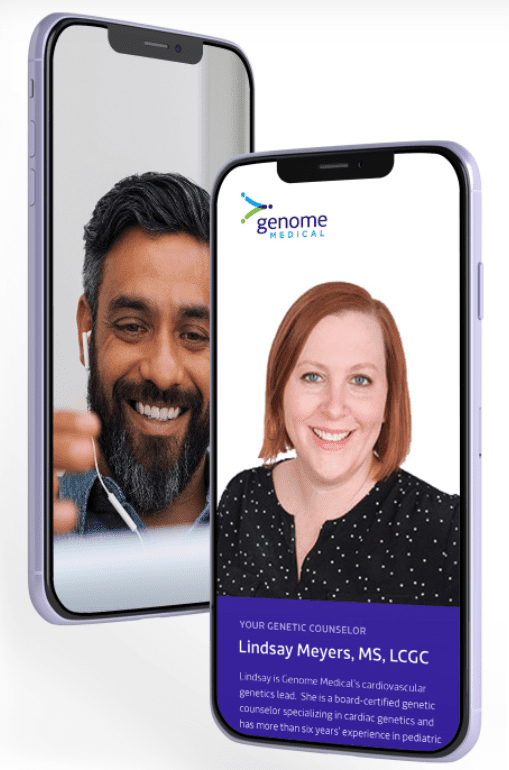 Genome Medical is a personalized health care company operating as an independent virtual medical practice specializing in genetic insights. In addition to individual patients, it also offers its services to help healthcare systems, labs, biopharma companies, employers, and health plans receive access to genetic counselors. Through its advanced technology platform and digital infrastructure, it provides a network of genetic specialists that is easily accessible hence reducing the cost of health delivery.
To date, the company is the first and only telemedicine service specializing in genomics and serving health systems, providers, employers and individuals.
Established in 2016, the company is located in San Francisco, California. Founders include Lisa Alderson, MBA and Randy Scott, Ph.D., the executive chairman of Invitae and founder of Genomic Health. Robert C. Green, MD, MPH, is also one of the co-founders, and he's a professor of medicine at Harvard Medical School. He's also a medical geneticist with significant experience in life sciences and the genetic industry.
Taking a Genome Medical Test
Genome Medical is a genetic counseling service, not a DNA testing provider. All counseling sessions are virtual. During the first consultation, the practitioner will evaluate a patient's genetic risk. They do this by reviewing your medical history and your family's medical history and explaining the benefits and drawbacks of genetic testing. A counselor can also assist you in determining whether or not your insurance will cover the testing cost.
After this consultation, they may recommend a genetic test from a variety of laboratories based on the patient's unique medical history. The patient and counselor will work together to determine the test that will be most beneficial.

The genetic counselor will order the test and coordinate collection of a DNA sample. Generally, this requires submitting a cheek swab or saliva sample to a DNA testing laboratory. However, it may alternatively require a blood sample that may be drawn at a lab facility. Once the test results are available, a genetic counselor will review and interpret them and help patients understand their implications. They will even work with patients to follow up with their primary care physicians.
Review Of Genome Medical Products
Genome Medical focuses on transforming health through its advanced technology while reducing costs and promoting digital health care. They offer quality and personalized genetics and genomic services by connecting their clients to genetic specialists who help identify their genetic or health needs and provide individualized care plans that enable actionable medical intervention.
Genome Medical products and services are in three categories:
Genetic services
Precision insights
Technology solutions
Genetic services
These are services for individuals and their families to help improve health through everyday care. Genome Medical comprises a team of specialists offering top-notch genetic services. Potential patients can investigate proactive, advanced, or family programs for the most efficient genome care. Proactive is solely based on family history or suspicion of an issue, advanced is for those who have a personal or family diagnosis or symptoms of a hereditary condition, and family is for the family members of someone who has been diagnosed.

Genome Medical has expertise in the following fields to help patients navigate these health issues. All specialties follow the same plan with a pre-consultation, genetic testing (if recommended), and post-testing consultation.
Cancer Genetics
About 5 in 10 cancer cases are genetic. This is where Genome Medical comes in. Their job is to examine their patients' genetic makeup to identify whether they are predisposed to cancer or not. If the former is the case, they can help with some practice measures to help prevent the individual from having cancer.  
Genetic testing is better at detecting certain cancers than others. Female breast cancer is most easily detected as 15.2% of new cancers are detected this way. Other types of cancer that can be detected with testing include prostate, colon, melanoma, pancreatic, thyroid, stomach, and ovarian.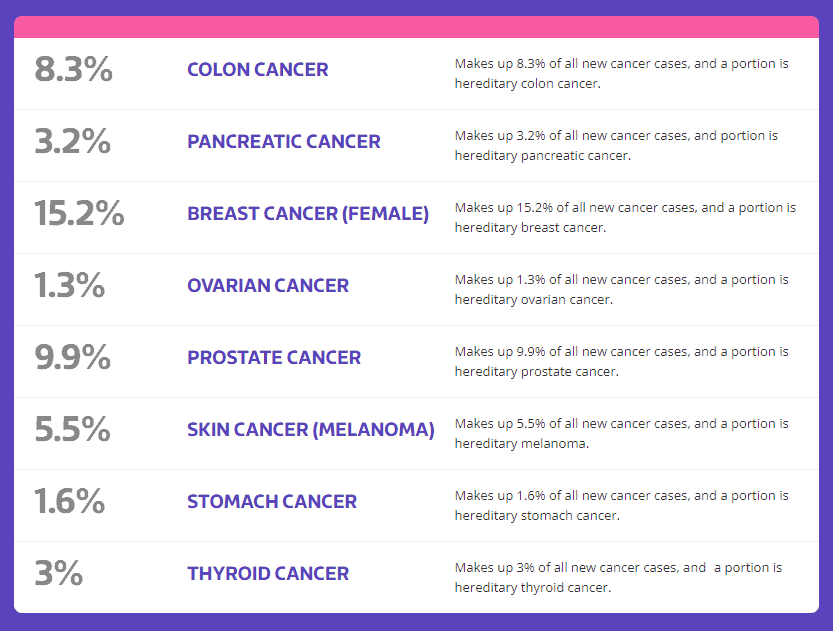 There are limitations. Like any genetic test, having a positive variant, or a gene that predisposes you to cancer, does not necessarily mean you will develop cancer in your lifetime. Likewise, not having a variant does not mean that you will never develop it. Environmental and unknown factors also play a role. The report may also come back with a variant of unknown significance (called a "VUS" result). This means that it is not yet known whether it is associated with increased cancer risk or not.
Cardio Genetics
1 in 250 people inherit heart problems. If you inherit a genetic mutation, it can alter the structure of your heart muscle, leading to heart failure symptoms. Gene mutations can also influence the heart's electrical system, potentially resulting in irregular cardiac rhythms. These inherited genetic diseases raise your chances of developing life-threatening heart arrhythmias and dying suddenly.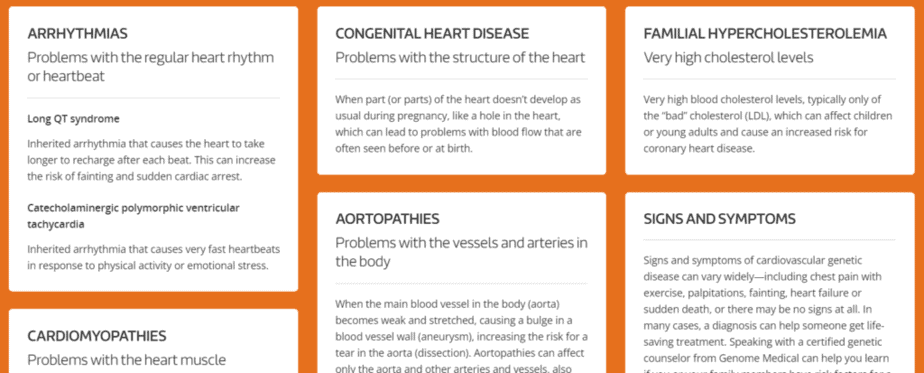 Because genetic heart disease runs in families, there may be risk factors in your family history that can provide information. Genome Medical's trained genetic counselors can help you figure out if you or a family member are at risk for genetic heart disease. However, you can discuss topics with your family members before speaking with a genetic counselor and bring what you discover to your session.
Pharmacogenetics
Pharmacogenetics is the study of how people's genetic makeup or genes influence how they respond to drug therapy. Diet, overall health, and the environment all have an impact on drug reaction, but genetics is the strongest predictor of how your body will process medication.

Thus, pharmacogenetics helps identify which drug will work best for a patient by analyzing their genetic makeup. Genome Medical has board-certified genetic counselors helping individuals learn about pharmacogenomics and how their genetic makeup may affect the medications they need to take. However, this is not meant for everyone. Such consultations are most suitable for persons with cancer, lung illness, mental health issues, and heart disease.
Other genetics services the company renders include:
Proactive genetics
Reproductive genetics
Pediatric genetics
Precision insights
Genome Medical offers the required precision insights needed by academic medical centers, health institutions, and biopharma to develop population genomics programs and precision medicine to help change people's lives.
They have expert advisors that can help your firm in different regards, including:
Adopting alignment-creating best practices.
Anticipate and avoid frequent stumbling blocks that lead to failure or delay.
Rapidly progress through all stages of the program's life cycle, from early design and engagement through long-term support, management, and beyond.
Technology solutions
As a digital health company, Genome Medical leverages their digital infrastructure and technology platform in aiding access to virtual genetic care. Thus, regardless of your location in the country, they have the appropriate technology to help identify and solve your genetic problems without you being physically present.
Review of Genome Medical Cost
A genetic counseling session with Genome Medical can be paid either through insurance or self-pay.
Because genetic counseling is a form of healthcare, patients who bill through their insurance are usually covered. However, there may still be out-of-pocket costs such as deductibles and copay. If you opt for insurance, the average charge is around $50. Price and coverage may vary depending on your insurance provider.
The cost for a genetic counseling session through self pay is $179. Patients can choose to pay this up front, set up a payment plan, or determine if you are eligible for the Financial Assistance Program, depending on financial hardship and needs.
The costs of genetic testing are not included in a genetic counseling appointment. Once a genetic testing laboratory receives the order, they will bill your insurance provider. If a patient meets certain criteria many insurance companies cover the costs of genetic testing – but that is not a guarantee. Plus, as with genetic counseling, you may have additional out-of-pocket expenses.
Genome Medical in the News
In 2019, the company released Genome Care DeliveryTM, a cloud-based platform that provides hospitals, health systems, and employers virtual access to a nationwide network of clinical genetics specialists. Genome Care Delivery is initially focused on oncology and reproductive health. Its goal is to provide wider access to education and engagement with genetic experts for virtual visits and provider-to-provider consults.
Review of Genome Privacy
As a medical company, Genome Medical protects your information without revealing it to a third party except after seeking your consent. With written authorization, the company may disclose Protected Health Information (PHI) with a patient's family members or other persons if they are involved in your care or payment for that care. Patients always have the opportunity to agree or object to any disclosures before they occur.
If you cannot agree or object because you are incapacitated or otherwise unavailable, Genome Medical will use its professional judgement to determine whether, based on the circumstances, the disclosure appears to be in your best interests. Even in this case, it will disclose only PHI that is directly relevant to medical care.
Nebula Genomics
Genome Medical offers quality genetic counseling services for individuals who want to explore their genetic predispositions and general health, especially if they were diagnosed with a genetic condition. This is specialty medical care that can be billed through most insurance companies.
However, if you are interested in genetic information without the health care visit, you may want to consider commercial genetic testing. These tests can be ordered directly from a company website, delivered to your address, and taken at home. Results are usually provided online or via email. Tests of the highest quality can help you determine your genetic predispositions.
At Nebula Genomics, we offer a vast range of highly accurate genetic tests. Our 30X Whole Genome Sequencing at Nebula Genomics will decode 100% of your DNA and read it 30 time for the highest accuracy.
With Nebula Genomics, you may start your path of discovery without putting your most personal information in danger. This is because we value our customers' privacy and take steps to protect their personal information. You can also use the advanced, browser-based genome exploration tools we provide if you have any questions regarding your DNA.
You'll also receive access to the Nebula Research Library, which houses over 200 research-based papers updated regularly to reflect new scientific findings.
Did you like our Genome Medical review? You can read more reviews on our blog and check out our complete guide to the best DNA test kit and other home tests.
Other companies
Some DNA testing companies that offer genetic counseling are: