This review is written with the intent to be as unbiased as possible. However, it represents the opinion of an individual reviewer and is therefore subjective. Furthermore, at Nebula Genomics we seek to educate the public about the benefits of Whole Genome Sequencing. Information about our Whole Genome Sequencing DNA test is therefore incorporated into the review.
February 17, 2022
7 Facts from our Mapmygenome Review
Location: Telangana, India
Products: Preventative health care products based on genetics
Cost: $21 – $1433
Reports: Over 100 pages of information on your personal genetics, traits, disease risks, and information on various conditions
How it works: Customers can buy some tests online. For others, a doctor will make the purchase on your behalf. Customers provide a sample and send it back to the lab. Depending on the chosen test, the result is generated and shared with you or your doctor.
Genetic Counseling: Yes
Alternative Products: Nebula Genomics offers 30X Whole Genome Sequencing that decodes 100% of your DNA and offers reports on diet and much more!
Mapmygenome Introduction
Mapmygenome is one of India's most trusted molecular diagnostics companies, growing consistently over the years since its establishment in 2012. It has currently served over 500,000 customers. The company performs genetic tests and diagnostics on different conditions, including wellness and fitness, nutrition, preventive genomics, and ancestry. They also include actionable steps for individuals to help improve their health.
As stated on its website, it seeks to enhance preventive health-care through healthy habits. It accomplishes this by combining genetic health profiles and health history with genetic counseling sessions. The company hopes to provide steps for individuals and their physicians towards a healthier life by combining genetic and lifestyle factors. The company is based in Telangana, India. Its major stakeholders are Anu Acharya, who is the company's CEO, and Dr. M. Vidyasagar, the head of the scientific advisory board.

Mapmygenome currently offers tests in many areas of genetic concerns in individuals. You can learn more about your genetic vulnerability to a specific condition, get ancestry reports, and know about the best fitness and nutrition plan for you based on your genetics.
Mapmygenome uses a personalized approach, advanced technologies, and experienced staff that make the test and diagnostic process easier. Many tests use microarrays to identify SNPs, or genetic markers, related to health. Smaller tests use real-time PCR assays and larger ones include whole exome and whole genome sequencing.
Review of Mapmygenome Products
Mapmygenome offers several products and tests under four major categories. Currently, test kits can only be picked up and shipped in India.
Preventive Genomics
The preventive genomics category includes several genetic products and tests that help people have better information about themselves, including traits and drug response, as well as specific conditions such as type 2 diabetes. Under preventive genomics, are the following:
Wellness (Genomepatri™)
Immunity (Genomepatri™ Immunity)
Drug & Response (MedicaMap™)
Sports & Fitness (Myfitgene™)
Nutrition (Mynutrigene™)
Diabetes (Sugagene)
Heart Health (Cardiomap)
Gyaec (Gynaecmap™)
Muscle Type (Smartsport™)
Nutrition Counseling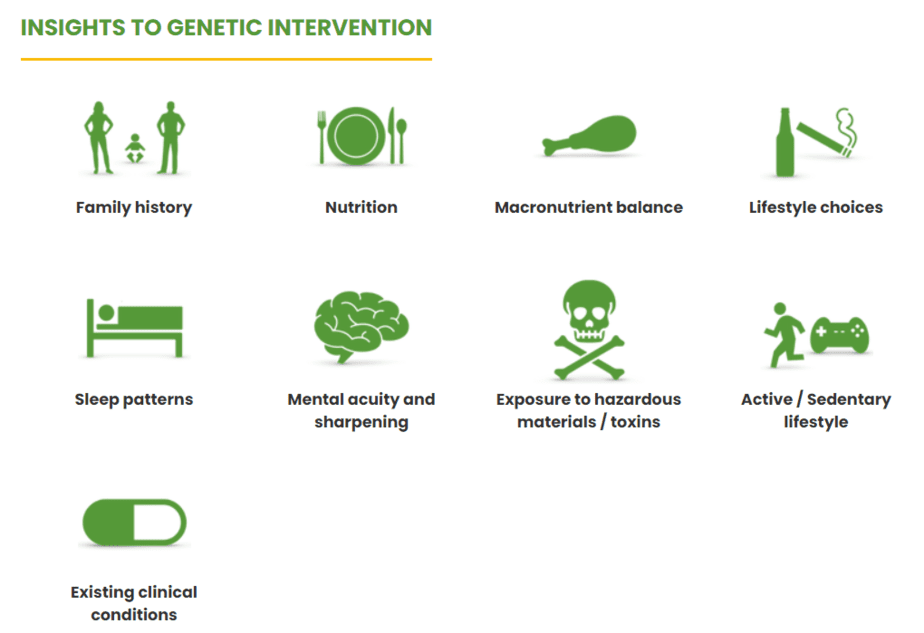 Diagnostic
Mother & Child (preconception, prenatal, and pediatric tests)
Cancers (general oncology screens, head & neck cancer, lung cancer, esophageal cancer, and thyroid cancer)
Genetic Counseling
Blood Tests
Ancestry
The Genomepatri™ Heritage test provides ethnic composition and Indian ancestry, which makes it a first of its kind. The test uses a comprehensive SNP panel analyzing almost 100,000 SNPs in the genome to identify 75 global ethnic regions. The matches are based on a database of thousands of Indian samples collected over 20 years.
Sequencing
The company also offers whole exome sequencing and whole genome sequencing products.
Whole Exome Sequencing
Whole Exome Sequencing (WES) is a technique for sequencing the exome regions on the DNA. The exome comprises about 1-2% of the whole genome, coding for ~23,000 genes in humans.
Being the protein-coding region, approximately 85% of disease-causing mutations in Mendelian disorders and many disease-predisposing SNPs are associated with the exome.
Whole Genome Sequencing
Whole Genome Sequencing (WGS) analyzes the complete genome, 100% of the human DNA. This technique picks up more than WES and is the most comprehensive genetic sequencing available. WGS helps identify genetic variants in the entire genome rather than a few selected regions. Ideal for molecular diagnosis and confirmation of heterogeneous, rare & complex diseases.
Taking a Mapmygenome Test
Mapmygenome offers over 10 genetic tests focused on preventative health and nine diagnostic tests that help you determine personalized healthy lifestyle choices plus your predisposition to certain diseases. Some of these tests require ordering through a doctor, while others can be ordered online.
Choose the test you want to order and determine if you can order yourself or need your physician's intervention. Then, either you or the physician will order the test from your account.
You provide a DNA sample with your blood or saliva in the sample collector and mail it back to the lab. The lab will sequence your DNA, analyze the test, and generate a result that will be uploaded to your account. Some tests require a paper form.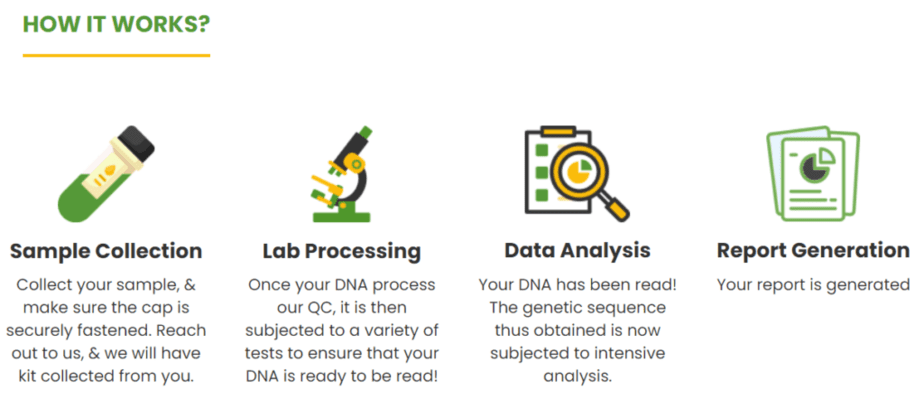 Review of Map My Genome Cost
A great part of Mapmygenome is its affordability. The company offers several products that cover many health conditions that range from general wellness to cancer. The cheapest test is $46, while the most expensive is $1177. It should be noted that since Mapmygenome is an Indian company, the prices on its website are in rupees. Thus, the dollar amounts shown below are estimates and may be different based on the exchange rate.
Sequencing
Whole Genome Sequencing – $1177
Whole Exome Sequencing – $344
Preventative Genomics
Genomepatri (Wellness) – $86
Genomepatri Immunity – $79
Medicamap – $86
Myfitgene – $86
Mynutrigene – $79
Sugargene – $79
Cardiomap – $79
Gynaecmap – $79
Smartsport – $46
Diagnostics
Preconception – $661
Prenatal/pregnancy – Contact your doctor
Pediatrics – $264
Oncomap – $79
Oncoscreen – $132
Head and Neck – $198
Lung – $198
Esophageal – $198
Thyroid – $198
Genetic counseling – $40
Ancestry
Genomepatri Heritage – $79
Review of Mapmygenome Reports
Mapmygenome offers genetic results that give customers a comprehensive analysis of their health status. They are designed to
Each report is unique based on the type of test it is for. The sample described below covers a Genomepatri report, the genetic predisposition test for general health and wellness. This test includes a comprehensive assessment of genetic risk for lifestyle disease, predisposition to traits, carrier status and drug responses and as such, the reports can be close to 100 pages long.
If shipped exclusively in India, the test is delivered 2-5 business days after being ordered and reports are available 6-8 weeks from when the customer sample arrives in the lab.
The different sections of a Genompatri report are color coded.
Traits
The first section of the report describes traits that are unique to you. It divides these traits into various categories and highlights results of interest in summary tables. The tables describe the condition, the interference level, and a clear interpretation. The example below shows five nutrition levels, with the health risk for low vitamin B6 levels highlighted.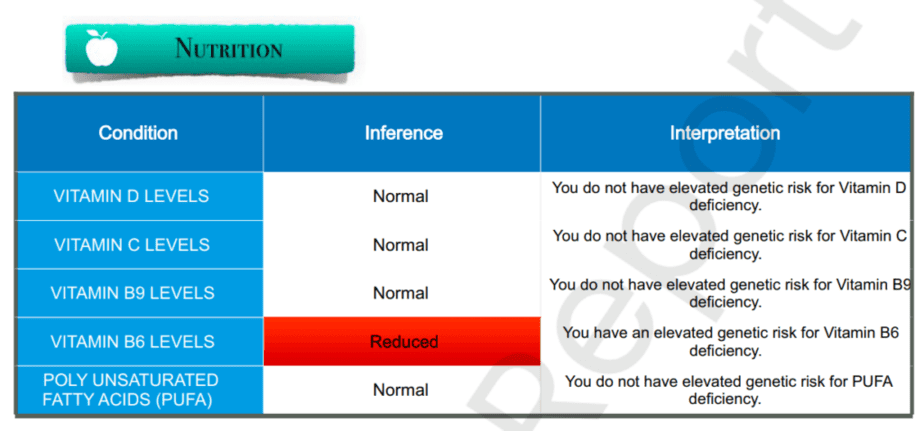 Disease
The second section of the report focuses on disease risk estimation. Like the trait section, the disease risk estimation is divided into different disease categories, such as endocrine, cardiovascular, and cancer. Each category lists the condition, population risk, your risk relative to the general population, and your genetic risk. Your relative risk is described as low, medium, or high risk. In the example below, this individual is at high genetic risk for two types of cancer, renal cell carcinoma and follicular lymphoma and medium risk for Hodgkin's lymphoma.
Remember that these risk factors only tell you genetic predispositions – they do not diagnose any disease or indicate whether you will develop the disease now or later in life. The risk of developing a specific condition is based on both genetic and environmental factors.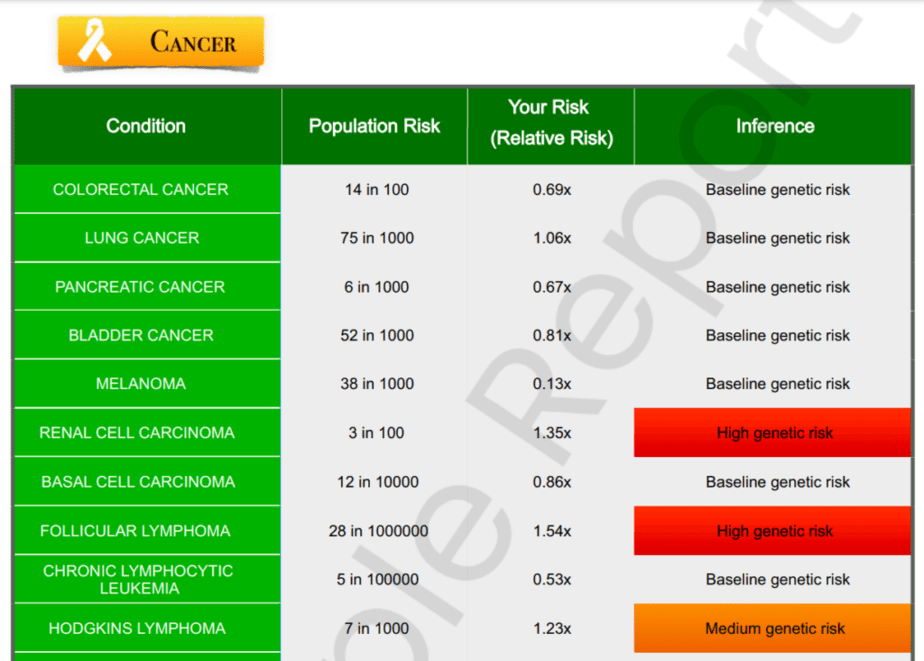 Other focuses
The next sections focus on carrier status for inherited conditions and a drug response profile, which will highlight the effectiveness and toxicity risks of certain medications based on your genetic profile.
The rest of the report provides detailed results on the conditions tested for, your genetic results, risk factors, and preventative measures.
The below example is the DNA results for lung cancer. The first scale reminds you whether you are at baseline, medium, or high genetic risk for the condition. The following table highlights the genes sequenced to come to this conclusion, which chromosome they are on, the risk allele, and your genotype.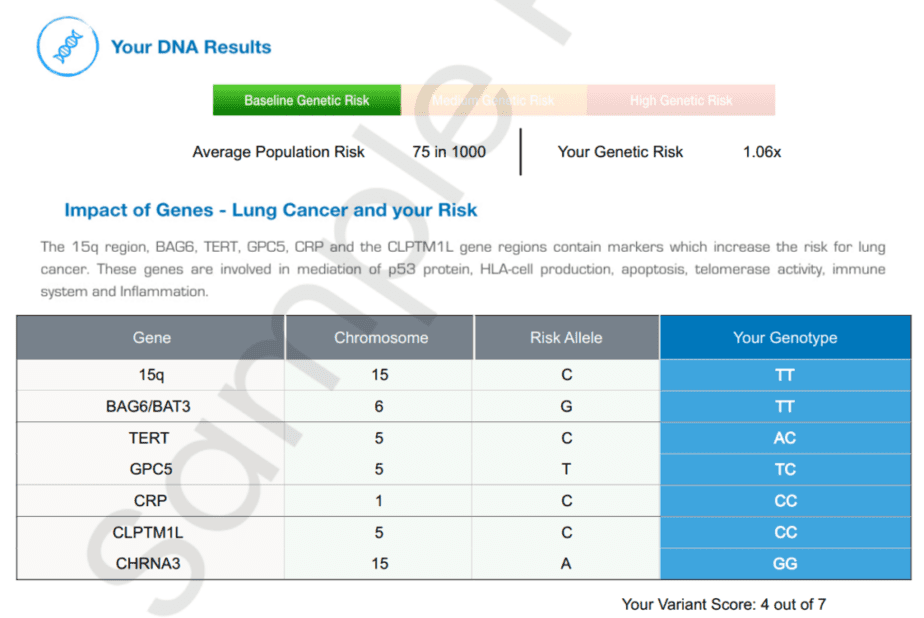 With the help of genetic counseling, Mapmygenome provides actionable diet and exercise steps to help customers reach their health goals.
Looking for genetic counseling in the U.S.? You may be interested in Genome Medical, a virtual consult company.
Review of Mapmygenome Privacy
Mapmygenome takes privacy seriously and does not share customer data with any unauthorized person. They may share personal details and medical records with other affiliated third parties to provide comprehensive and accurate results, but you can be assured of full data protection and security.
Every sample registered at Mapmygenome is de-identified with personal information, before being sent to the lab. They use a secure LIMS for lab processing, data analysis and report generation. At all stages in the process, client information and their genetic data is kept secure by restricted access and similar protocols.
Other Mapmygenome Reviews
There are not many third party sites with customer reviews of this service. Under each product on its website, the company includes customer reviews. As expected, these reviews tend to be very positive. Customers cited good results and an easy process. Many also appreciated the genetic counseling and customer service available. Most reviewers gave the products between a 4 and 5 star review.
On Facebook, the company has a 4.4 out of 5 stars. Many of the more recent reviews on this site discuss the company's COVID-19 susceptibility test. There reviews were generally positive.
Pros and Cons
Pros
Offers Whole Genome Sequencing and Whole Exome Sequencing.
Tests are vast and highly comprehensive
Only ancestry report based on Indian ancestry
Cons
Does not release raw data
Not all tests are directly accessible to customers
Only available in India
Nebula Genomics
A major limitation of Mapmygenome is that it is only currently available in India. If you are looking for a comprehensive DNA test at a reasonable price, Nebula Genomics ships to anywhere in the world. Like Mapmygenome, Nebula offers 30x Whole-Genome Sequencing that provides full and accurate information on a person's DNA. The testing method makes it one of the few standouts globally that provide extremely comprehensive analyses of a person's entire genome. Plus, whole genome sequencing with Nebula is affordable. Sequencing 100% of your DNA costs $299 or less, compared with Mapmygenome's service which is over $1000.
Because Nebula generates its various reports from one comprehensive test, customers do not need to decide between options or purchase multiple products. With one test, customers receive regularly updated reports on everything from traits to disease risks. Plus, Nebula gives its customers full access to their raw DNA data. Thus, if there is a question not answered by one of our reports, the individual can use our genome exploration tools to independently discover their DNA!
| | | |
| --- | --- | --- |
| | Mapmygenome | Nebula Genomics |
| DNA testing method | Microarray analysis, PCR assays, whole exome sequencing, and whole genome sequencing | 30x whole genome sequencing |
| Ancestry reporting | Yes | Performs deep ancestry reporting with the complete Y chromosome and mtDNA sequencing |
| DNA upload | No | Yes |
| Data access | No | Yes |
| Genetic counseling | Yes, at an additional cost | No, but data is of the highest quality and can be used by physicians and genetic counselors |
| Cost | $46 – $1177 | $0, $99, $299 |
Mapmygenome vs Nebula Genomics
Did you like our Mapmygenome review? You can read more reviews on our blog and check out our complete guide to the best DNA test kit and other home tests.
Other companies
This company offers a variety of tests for different inquiries. Other companies that offer different testing options include:
Mapmygenome's whole genome sequencing is currently only available in India. For other options, you can consider: