This review is written with the intent to be as unbiased as possible. However, it represents the opinion of an individual reviewer and is therefore subjective. Furthermore, at Nebula Genomics we seek to educate the public about the benefits of Whole Genome Sequencing. Information about our Whole Genome Sequencing DNA test is therefore incorporated into the review.
December 15, 2021
7 Facts from our PerkinElmer Genomics Review
Location: Pittsburgh, Pennsylvania, United States
Products: a vast range of products and services that are categorized into Clinical Genomics, Biochemical Screening and Testing, and Genetic Counselling. Services under these categories include Whole Genome Sequencing, Whole Exome Sequencing, AnyPanel test, CNGnome tests, Step One Comprehensive Biochemical Profile, and more
Ordering: Physicians must order the tests on behalf of the patient and interpret the results
Health consultations: the platform offers professional and expert services for patients who are considering genetic testing or want help and suggestions moving forward. The firm offers family sessions and individual therapy
Report availability: after a successful order and tests, physicians will access reports after receiving notification that results are ready
Costs: Not available online
PerkinElmer Genomics Introduction
PerkinElmer Genomics is a genetic testing company based in the United States. It offers a vast range of products and services that provide patients of all ages, including newborns, with their genetic data and how it may influence their health conditions. Overall, it's aim is to help physicians create better treatment plans for their patients.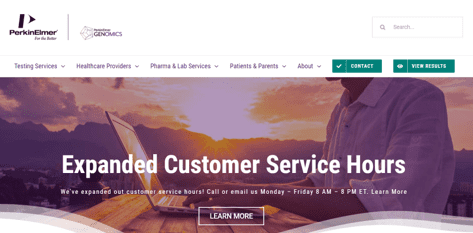 PerkinElmer Genomics has a long history of excellence, established in 1990. It is based in Pittsburgh. The company is a subsidiary of the incorporation of PerkinElmer Inc. and shares the goal and mission of the parent organization. The company has two state of the art CLIA-certified clinical laboratories in Pittsburgh, PA and Branford, CT that process more than 500,000 samples a year.
The Science Behind PerkinElmer Genomics
PerkinElmer Genomics' mission is to ensure that every person has access to a genetic test with corresponding reports to help them live their lives more healthily. The company focuses on deep testing and diagnoses on different genetic issues and has dedicated comprehensive tests for newborns.
PerkinElmer Genomics offers Whole Genome Sequencing, which decodes 100% of your DNA and is the most comprehensive way to analyze genetic predispositions.
PerkinElmer is highly physician-friendly and, as such, is a trusted platform that physicians and medical professionals can depend on to fully understand their patient's needs and how their health life can be improved.
PerkinElmer aims to ensure better results with diagnostics by focusing on three services: Clinical Genomics, Biochemical Screening, and Genetics and genetic counseling.
Review of PerkinElmer Genomics Products
Clinical Genomics
The clinical genomics products are some of the most popular next generation sequencing options and consist of four major categories.
Whole Genome Sequencing (WGS)
PerkinElmer Genomics offers Whole Genome Sequencing on a clinical basis to give patients a full reading of their genetics, susceptibility to certain diseases, and how they can better manage their lives by implementing health practices. The reports are reliable and can be used by a medical practitioner to set up a better treatment plan for patients.
The Whole Genome Sequencing covers at least 99% of the exome, and users can access results within six-eight weeks.
There are several options for WGS:
WGS – Proband only: Diagnostic whole genome sequencing and mitochondrial genome sequencing that decodes the whole genome with mean coverage of 40X and complete coverage of over 5,400 disease-associated genes.
WGS – Trio: This test allows the WGS-Proband test to be performed for the patient and 2 family members.
STAT WGS – Proband only: This option allows the WGS-Proband test to be performed with a smaller turnaround time of 10-12 days.
STAT WGS – Trio: This option allows the STAT WGS-Proband test to be performed for the patient and 2 family members.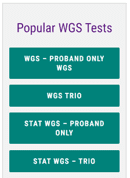 You can also opt for a reanalysis of your DNA data through the ordering page.
Whole Exome Sequencing (WES)
PerkinElmer offers users better coverage of known disease genes and regions with exon-level copy number variant detection through whole-exome sequencing tests.
This test is not as comprehensive as WGS as it only covers the exone coding region of the genome and not 100%. According to the company, studies have suggested that up to 15% of disease-causing variants are not associated with the exome. However, this test can save patients money if they are interested in a certain known disease causing variant.
Results for WES are available within four to six weeks for the WES tests and seven to ten days with the WES-STAT options.
CNGnome
With the CNGnome test, PerkinElmer Genomics leverages genomic sequencing technologies and bioinformatics tools to create a new standard that detects large copy number changes (CNV) throughout the genome. The CNGnome is designed to provide deeper analysis that medical experts can interpret for better treatment prescription
AnyPanel™
The AnyPanel test is the backbone on which all of the reports, analyses, and diagnostics lie. With its AnyPanel tests, PerkinElmer offers users the chance to access thousands of genes and panel combinations and tailor testing specifically to their needs. When ordering for this product, patients can choose from a list of over 200 expertly-curated panels or create a unique personalized panel by submitting the list of genes that they want to be analyzed.
Newborn Screening
Under the new birth screening, two tests can be performed. Generally, these tests are available within three to five days.
The StepOne® Comprehensive Biochemical Profile is a comprehensive biochemical newborn screening test that can detect more than 50 disorders in newborns by analyzing a few drops of blood.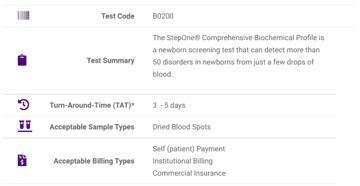 The second-tier testing options for a newborn are taken in the absence of The StepOne® Comprehensive Biochemical Profile, and a possible genetic disorder is suspected. These testing options may consist of follow-up biochemical screens and genetic tests comprising the most common disease-causing mutations for a specific condition.
Genetic Counseling
PerkinElmer Genomics also offers genetic counseling for patients who may want to know more about the roles their genes could play in certain conditions for themselves and their families. The firm houses expert HealthCare practitioners that help users grasp their conditions or predispositions and the important choices they may have to make to ensure great health.
The company's counselors offer services such as Ailment genetic risk assessment, education on handling genetic conditions, providing support, and helping patients on the road to recovery.
Other companies that offer genetic counseling include Genome Medical, a nationwide virtual consultation business.
Review of Ordering PerkinElmer Genomics Tests
PerkinElmer Genomics offers various types of tests, and the ordering patterns for these tests are slightly different. The tests must be ordered by a physician.
Below is a sample of how the AnyPanel test can be ordered and submitted by a physician.
AnyPanel
Physicians must select the correct test for their patients and fill the AnyPanelTM test requisition form. They can order a pre-curated test or create a custom test. For an AnyPanel™ pre-curated test, physicians will write the appropriate test code on the requisition form. For an AnyPanel™ – Custom test, physicians must include a full list of genes that should be analyzed for the patient.

They will obtain a sample for testing from the patient using one of the provided PerkinElmer Genomics test packs. The test pack can be obtained by contacting the company to ship or send it to the physician's office. They can also opt to send the testing kit directly to the patient.
When sending back, physicians must ensure that patients' samples are labeled with their name and date of birth and include a patient's sample, informed consent form, and test requisition form.
Patients' medical records or clinical notes should be included with the sample at the time of test submission. Results are available within 3-5 weeks.
Other tests that can be performed are:
Whole Genome Sequencing Tests
CNGnome
StepOne comprehensive biochemical profile
Other biochemical and metabolic testing
Review of PerkinElmer Genomics Reports
Some PerkinElmer Genomics offers public reports samples under the test resources of the ordering page.
Some examples include the WGS and WES reports, which have a similar format. The sample report below covers the Whole Genome Sequencing and Deletion/Duplication Trio Analysis.
At the top of the first page is the patient identification information. Immediately below that is the main results of the report, including the type of clinically significant variants detected and not detected.

Following this highlight is a breakdown of the relevant findings and interpretation of specific genes. Since this sample is of a Trio test, the results can be compared among the family members tested, which is why this sample result was able to note that one copy of the variant was detected in the patient's mother.

If additional findings were detected unrelated to the phenotype in question, they may be presented after this section in a similar table.
The next section of the report provides recommendations for the ordering physician.

Finally, the report concludes with notes, genetic statistics, and a methods and limitations section.
Review of PerkinElmer Genomics Costs
The company does not make its prices available publicly online. For pricing, customers should email PerkinElmer Genomics or call them at 1-866-354-2910.
While PerkinElmer does not make its pricing system known, it does note that it accepts different modes of payments:
Insurance billing
PerkinElmer Genomics states that it is generally friendly with users looking to offer insurance billing methods, and commercial insurance is accepted for most of its tests. However, it currently states that its services are considered an out-of-network laboratory for most commercial insurance plans, and users may not be able to use this option. This is expected to change with time as they get embedded with major insurance plans.
Institutional billing
Users who are connected with an institution or provider that handles individual medical costs may be able to use institutional billing. Institutional billing is different from insurance billing, as non-insurance companies are responsible for the payments. PerkinElmer Genomics sends the costs to the institutions or payments of services offered.
Patient billing
Users are responsible for this payment, and they can make their payments through different available means at the time of ordering the test. Physicians are, however, generally responsible for ordering the tests on behalf of patients.
Review of PerkinElmer Genomics Privacy
PerkinElmer Genomics uses the PerkinElmer Inc. overarching policies and states how the company protects users' data which are generally made available to them due to the information that patients fill when registering into the site or when performing various activities.
According to PerkinElmer Genomics, the company may use clients' personal and medical data to develop the brand and learn better ways to treat and address various issues. It also states that customers' data could be shared with third-party companies that help with the reporting or lab services.
However, the company emphasizes that clients' data are not sold, leaked, or used for anything not genetic-related. They also allow clients to take off their personal data from the sites once they are done with the services offered.
You can connect with the company on social media on LinkedIn, Facebook, and Twitter.
PerkinElmer Genomics Pros and Cons
This section will outline the pros and cons of PerkinElmer Genomics.
Pros
Offers a large range of tests
Has specified newborn and children tests
Offers Whole Genome Sequencing
Cons
Prices are not made public
Physicians must order the tests on behalf of the patient
May not be covered by insurance
Nebula Genomics
PerkinElmer Genomics is trusted worldwide by health institutes, and its reports are generally reliable. It is a clinical testing company, meaning that while its tests are diagnostic, they must be ordered in collaboration with a physician. Insurance may be able to cover some of the costs of testing, but PerkinElmer Genomics in particular currently has limited operations with major insurance companies.
Nebula Genomics is a genetic testing company that offers similar services to PerkinElmer Genomics and a bit more. While Nebula does not offer diagnostics, it does offer comprehensive testing that users can use to get reliable information on their genetic health.
Like PerkinElmer Genomics, Nebula offers a Whole Genome Sequencing and, as such, sequences all 20,000 genes and 2 million bases in the human genome. This means that just as PerkinElmer, users can get the full results on their DNA and know how it relates to their health. Nebula Genomics focuses on genetic predispositions that cover the entire genome at a reasonable price. Reports are easy to understand and do not require that a physician or health practitioner analyze them for users to understand their genetics. The company offers great pricing for its test kits and makes them available to the public.
| | | |
| --- | --- | --- |
| | PerkinElmer Genomics | Nebula Genomics |
| DNA testing method | Whole Genome Sequencing, Whole Exome Sequencing, and more | 30x Whole Genome Sequencing |
| Number of genes tested | Varied | 20,000 |
| Research Library | No | Yes |
| Ordering | Only physicians can order for tests and will also interpret the test results | Users can order the test and interpret the results themselves |
| Ancestry reporting | No | Perform deep ancestry reporting with the complete Y chromosome and mtDNA sequencing |
| Cost | Users must contact the company for a quote | $0, $99, $299 |
PerkinElmer Genomics vs Nebula Genomics
Did you like our PerkinElmer Genomics review? You can read more reviews on our blog and check out our complete guide to the best DNA test kit and other home tests.
This company offers a variety of tests for different inquiries. Other companies that offer different testing options include:
Other companies that offer these types of tests include:
Whole Genome Sequencing
Whole Exome Sequencing