7 Facts from our Nowgenome TM Review
Location: Brescia, Italy
Products: At-home genetic tests for various conditions and traits
Cost: $42 – $271
Reports: 11 individual reports on health and wellness
How it works: Customers receive a testing kit in the mail, collect a sample (usually saliva), and mail the sample back to the lab. Results are typically available within 4-6 weeks.
Data upload: Yes
Other Products: Nebula Genomics offers 30X Whole Genome Sequencing that decodes 100% of your DNA and offers reports on diet and much more!
This review is written with the intent to be as unbiased as possible. However, it represents the opinion of an individual reviewer and is therefore subjective. Furthermore, at Nebula Genomics we seek to educate the public about the benefits of Whole Genome Sequencing. Information about our Whole Genome Sequencing DNA test is therefore incorporated into the review.
May 23, 2023
Pros and Cons
Pros
A wide range of nutrition, fitness, health, and more information
Personalized reports based on individual genotyping
Access to raw data for additional reports
Cons
Cost for raw DNA data upload
Does not share report details online
Unclear if it ships to the United States
Introduction
Nowgenome TM genotypes DNA to obtain 700,000 variants related to unique features of your genetic code. It uses this data to provide a wide range of testing options, including single reports, multiple reports, and packages, for individuals seeking to learn more about their health and wellness.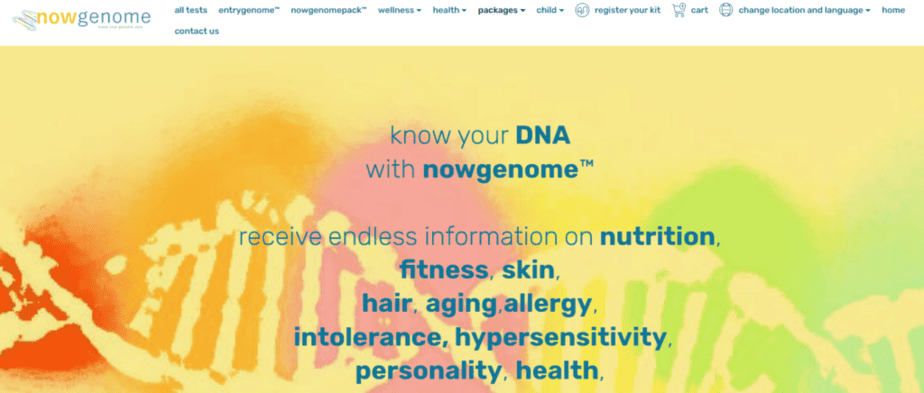 Nowgenome ™ is a DNA genotyping and analysis service offered by Innovagenome S.r.l., an international biotechnology company based in Italy. The company launched in 2015 to provide innovative genomics, bioinformatics, and precision medicine services to individuals interested in learning more about their DNA.
Innovagenome partners with international labs and claims to process thousands of samples per year. The company's DNA tests can provide information on various traits, including nutrition, fitness, skin and hair, aging, allergies, intolerances, personality, health, cancer risk, and pharmacogenomics.
The Science Behind Nowgenome TM
The science behind Nowgenome ™ is based on the latest research in genetics and genomics, which has made it possible to analyze an individual's DNA and obtain valuable information about their health and well-being.
The tests analyze specific genetic variants or mutations associated with various health conditions or traits. Its parent company, innovagenome, uses highly advanced proprietary tools of bioinformatics analysis and artificial intelligence (AI) to create and update the reports.
Review of Nowgenome TM Products
The company offers 11 individual reports, each with the option to perform genotyping. In addition, there are bundle packages and build your own report options.
Customers receive their raw data with their purchase.
With each option, customers can purchase either genotyping and the report or the report only.
Wellness – Diet and Nutrition
Nutrigenome ™: This test helps you understand how genetics influences your body's weight, nutritional habits, flavors, and the intake, use, and metabolism of carbohydrates, fats, proteins, vitamins, and minerals. It also identifies genetic predispositions for intolerances or allergies to more than 290 foods. This information can be used to create a personalized food plan and make positive changes to your diet.
Sportgenome™: This test reveals genetic characteristics that influence how your body behaves and reacts to physical activity. It helps you learn to train more effectively, improve your performance, and get better results. This information can tailor your exercise routine and optimize your workouts.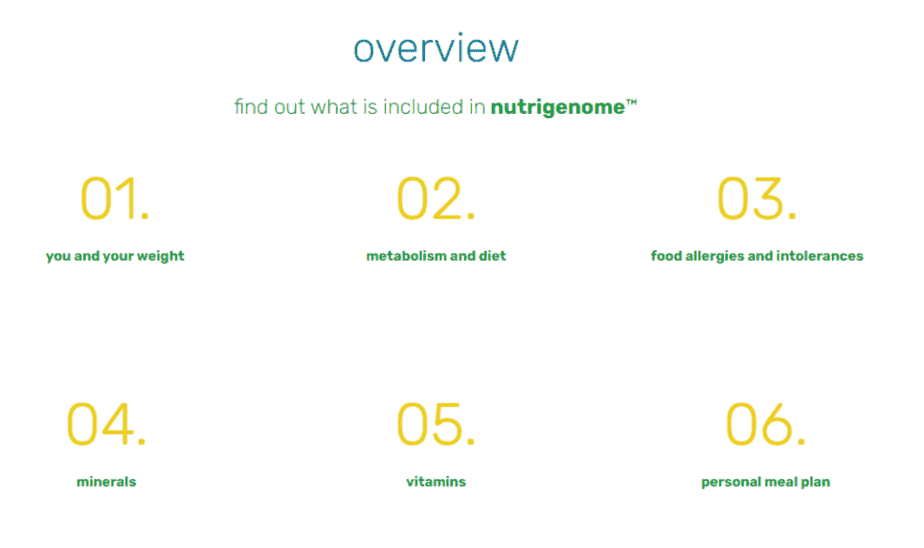 Wellness – Others
Allergenome™: This test helps you identify your genetic risk of developing one or more allergies, intolerances, or hypersensitivity to food, indoor and outdoor allergens, and chemical or physical agents. By avoiding inappropriate foods and other allergens or sensitizers, you can better manage your allergies or prevent them from developing in the first place.
Beautygenome™: This test identifies the role of your genes in your skin and hair's health and appearance. It helps you make positive changes, use only the skin and hair products and cosmetics most suitable for your genetics, follow a personalized plan, and effectively counteract the aging effects. This information can improve your skincare and beauty routine and maintain healthy-looking skin and hair.
Intelligenome™: This test helps you understand how genetics prepares you to relate to others, develop skills and learning, and be who you are with your unique personality. It identifies the genetic basis of your behaviors, choices, and habits.
The company claims this information can be used to enhance personality strengths while providing solid knowledge bases to change those you do not like. This information can be used to gain insight into your personality and better understand your behaviors and habits.
Health
Healthgenome™: This test helps you discover your risk profile for over 50 complex multi-factorial diseases, which depend on the interaction of multiple genes and non-genetic factors such as age, diet, lifestyle, and exposure to environmental or risk agents. It provides personalized recommendations that, with your doctor's help, can help you reduce and manage your overall risk.
Oncogenome™: This test enables you to identify your genetic risk of developing the most common cancers. If hereditary pathogenic variants are present, your lifetime risk of developing cancer increases. Knowing this information may help your doctor recommend screening strategies, lifestyle modification, or certain therapies.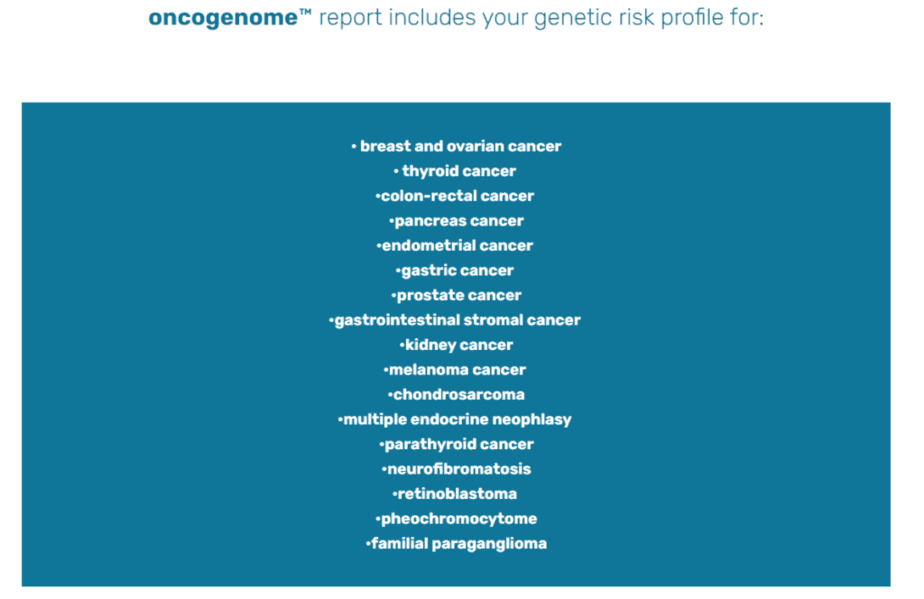 Carriergenome™: This test identifies mutations in your DNA that may be transmitted to your children and that your children may transmit. This information is useful for protecting your family's health and is especially important if you and your partner are planning to have children. Unlike complex diseases, a single mutation causes these conditions. This product tests for 250 diseases.

Farmagenome™: This test helps you understand how your body metabolizes and responds to more than 150 common medications. It provides information about the effectiveness, whether your body may require a higher or lower dose than the standard, and if you are at risk of developing side effects. This information can help you and your doctor make informed decisions about your medication.
Oncogyngenome™: This test helps you identify your genetic risk of developing breast and ovarian cancers. Being aware of this information allows you and your doctor to implement screening and prevention strategies.
Packages
There are three packages: one that includes all the wellness reports, one that includes all the health reports, and the final one includes all 11 options.
Wellnessgenome™: Includes five wellness reports: nutrigenome™, sportgenome™, allergenome™, beautygenome™, and intelligenome™.
Medigenome™: Includes four health reports: Healthgenome™, Oncogenome™, Carriergenome™, and Farmagenome™.
Totalgenome™: The most comprehensive package that includes the five wellnesgenome™ wellness reports and four medigenome™ health reports.
Build your own
Entrygenome™ allows customers to build their own report by selecting five traits or genes of interest. This option includes genotyping and customers can order more reports for an additional cost.
Tests for children
BabygenomeTM identifies over 200 metabolic, endocrine, lysosomal, and immune system genetic diseases and the response profile of more than 30 common pediatric drugs. The aim of this report is to diagnose genetic conditions early, when treatment is most effective.
Review of Taking a Nowgenome TM Test
Customers order a NowGenome TM report with genotyping if they need raw DNA data. Then, they collect the saliva sample at home following the provided instructions and register their kit online. To send back, the website notes that customers should contact the courier, suggesting that tests may not be available in the United States.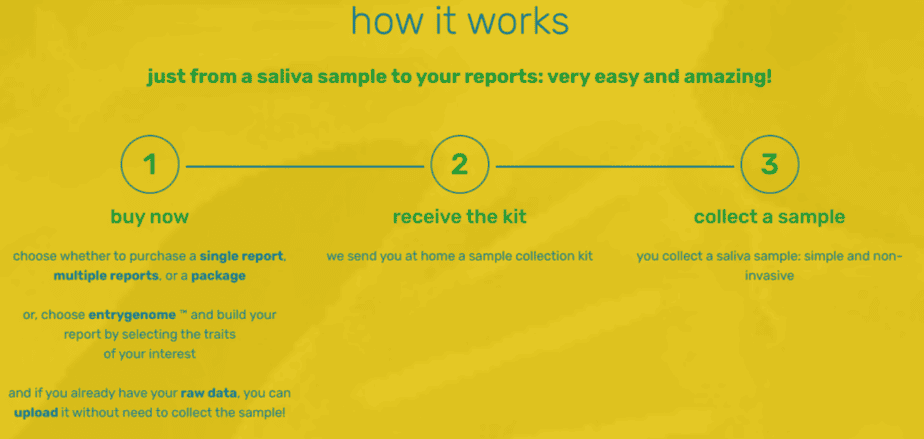 The lab analyzes the sample and makes the report(s) available online.
Raw Data Upload
Customers who already have raw data from companies such as 23andme, Ancestry.com, FTDNA, MyHeritage, 24Genetics, and others can select the "Report only" option from any of the tests and pay a reduced price price for the analysis.
Review of Nowgenome TM Cost
Each testing option has a price for the genotyping and the report and the report only.
An individual test that includes genotyping costs ~$173. Most report only options cost $42. Some of the more advanced ones, nutrigenome™ and allergenome™ cost $64. The oncogenome™, which only looks at genes for breast and ovarian cancers, cost $42.
The wellness or health package each cost $238 for genotyping and $86 for the report only. To get all the reports at once the price is $271 for genotyping and $173 for the reports alone.
Review of a Nowenome TM Report
The reports are based on the type of analysis desired. The company's website describes the report sections in detail, although it does not expand on what "analysis" means.
For example, the nutrigenome™ report contains sections on weight, metabolism, food allergies and intolerances, minerals, vitamins, and a personal meal plan.
Then, each section has information on traits specific to that category.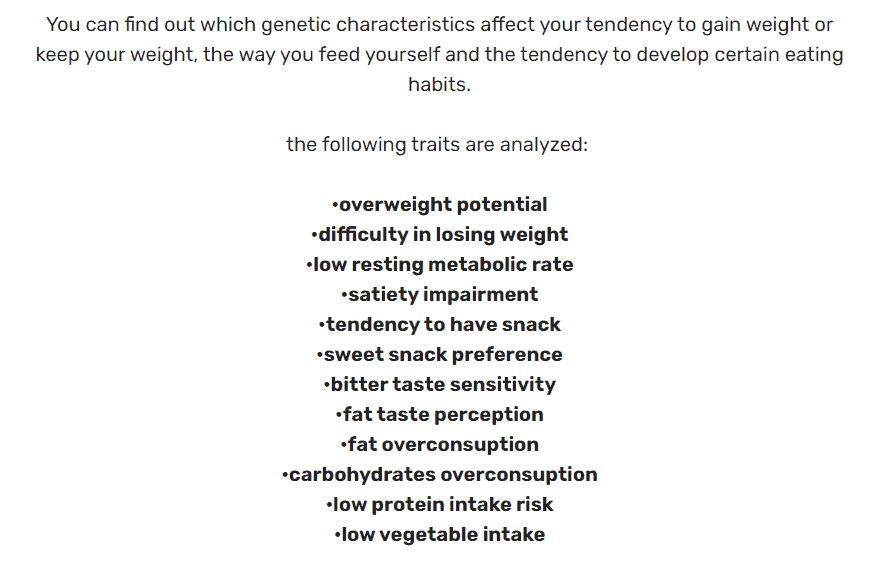 While the wellness reports focus on traits, the health reports will have sections divided into different types of health characteristics and specific conditions or diseases.
For example, the healthgenome™ report, which covers complex diseases has sections on cardiovascular, hormonal, liver and kidney diseases, and many more.
Review of Nowgenome TM Privacy Policy
The parent company, Innovagenome S.r.l., collects and manages personal data provided by the customer. The policy states that this information is used solely for providing the user with the requested services.
The policy also states that the company uses appropriate security measures to prevent unauthorized access.
Other Nowgenome TM Reviews
There are no reviews of Nowgenome ™ available on third-party sites like Trustpilot and Amazon.
Nebula Genomics
Nowgenome ™ and Nebula Genomics are personal genetic companies offering DNA testing services. Nowgenome ™ offers a more traditional genotyping service where users receive reports based on specific genetic markers. In contrast, Nebula Genomics offers whole genome sequencing, providing a more comprehensive view of a user's genome.
Nebula Genomics also believes that the latest genetic technology offers the best advantage to users looking to improve their health. That's why Nebula offers a comprehensive test highlighting predispositions related to diet, fitness, disease, and much more.
With 30x Whole-Genome Sequencing, Nebula sequences 100% of your DNA to get to the root cause of every biological inclination. The test is incredibly accurate and includes other additions, including ancestry reporting and genome exploration tools. Regularly updated reports ensure that you will not miss the latest genetic research.
Nebula is not a diagnostic test, but the results are of the highest quality and can be used in consultation with health care professionals.
For only $299 or less, customers will get access to their entire genome, allowing them to continue to ask more questions as more research is conducted.
| | | |
| --- | --- | --- |
| | Nowgenome ™ | Nebula Genomics |
| Testing method | Saliva or blood sample is used for testing. | Sequences of all 20,000 genes and regulatory regions |
| Raw data upload | Yes, cost is less than genotyping + report | Yes, free data upload |
| Results | Reports based on specific genetic markers | Genetic predispositions |
| Ancestry reporting | No | Performs deep ancestry reporting with the complete Y chromosome and mtDNA sequencing |
| Cost | $79 – $559 | $0, $99, $299 |
Did you like our NowGenome ™ review? You can read more reviews on our blog and check out our complete guide to the best DNA test kit and other home tests.
Other companies
Interested in other DNA tests like NowGenome ™? You should check out