7 Facts from our 23 and Me Review
Location: California, USA
Products: DNA tests for ancestry and health
Reports: Detailed ancestry composition, ability to find relatives, various traits, carrier status, and genetic health risks
Result delivery: Results are delivered through a web portal and mobile app (iOS and Android)
Privacy: Active sharing of aggregate customer data with scientific researchers
23 and Me cost: $99-$499; no free DNA analysis options
Alternatives: Nebula Genomics (Whole Genome Sequencing with advanced ancestry analysis and regularly updated reports)
This review is written with the intent to be as unbiased as possible. However, it represents the opinion of an individual reviewer and is therefore subjective. Furthermore, at Nebula Genomics we seek to educate the public about the benefits of Whole Genome Sequencing. Information about our Whole Genome Sequencing DNA test is therefore incorporated into the review.
June 13, 2022
23 and Me Introduction
In this review, we will be looking at 23andMe (23 and Me), a genetic testing company based out of Sunnyvale, California (Silicon Valley). Anne Wojcicki started the company in 2006.
23 and Me was one of the first direct-to-consumer genetic testing services that emerged in the early 2000s. It allows individuals to access information about their genetics without medical professionals as middlemen.
After purchasing a home DNA test, individuals collect and ship saliva samples to the 23 and Me lab. Customers receive reports about their ancestry and genetic predispositions to specific traits and diseases.
Over the years, the company has added a lot of genetic data. To date, there are over 10 million individuals in its database. Read more in our 23andMe review!
Did you know that the 23andMe test decodes only 0.02% of your DNA? How does getting the 100% instead sound? That is what you get at Nebula Genomics! Whole Genome Sequencing is the complete DNA test that decodes 100% of your autosomal DNA, mitochondrial DNA, and the Y chromosome. Whole Genome Sequencing will enable you to learn more about your ancestry, family connections, and health than any other DNA test! Click here to learn more!
Review of 23 and Me Products and Services
23andMe customers can order one of three DNA test kits on the website. Prices range from $99 to $199. They can also purchase products from major retailers such as Walgreens and Target. Learn more about how their prices compare to other companies on our blog.
The collection kit includes instructions on how to collect the saliva sample and ship it back. Customers must register their DNA kit using their 23andMe account login to access their results. Once results are ready, they can download raw data and use it with other analysis sites, like Nebula Genomics, and marketplaces such as GenePlaza and sequencing.com.
Sample processing of 23andMe DNA testing takes 3-5 weeks. Different kits include different reports.
The company often runs popular sales, including the annual Black Friday sale. These sales offer kits at up to 50% off. In addition, 23andMe coupon codes on sites like Groupon also offer discounts.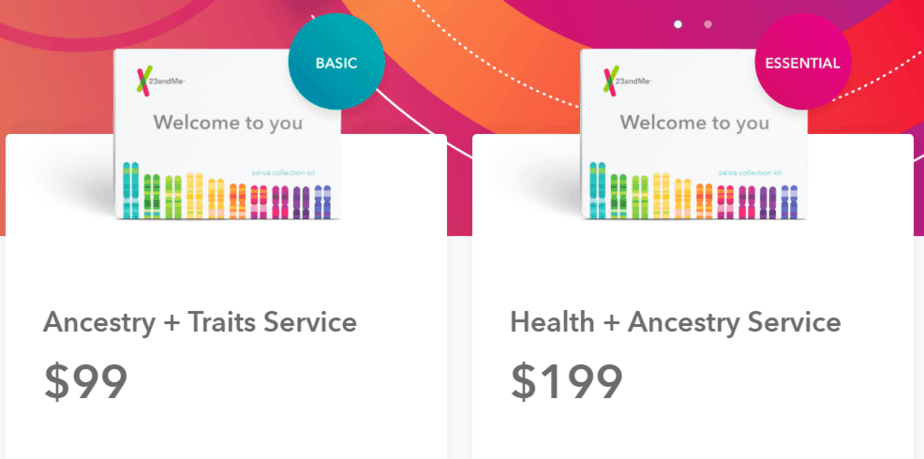 Review of 23 and Me Ancestry + Traits ($99)
The basic 23andMe Ancestry + Traits Service includes 80+ personalized reports, including:
Ancestry Reports. 23andMe is probably best known for its ancestry testing. From their Ancestry Composition Report, results show customers what proportion of their DNA comes from each of the 45 worldwide genetic populations (e.g. Ashkenazi Jewish, African, Native American, etc.).
Customers can also learn about the ancient origin of their ancestors via Haplogroup Reports based on their mitochondrial DNA (for males and females) and Y chromosomes (males). Moreover, the Neanderthal Ancestry Report allows customers to understand how much of their ancestry results can be traced back to Neanderthals.
DNA Relatives Feature. The DNA relative finder is an optional feature for DNA matches. It allows customers to connect with genetic relatives on their family tree by identifying shared DNA segments. This enables the reconstruction of family history.
Traits Reports. Customers can explore how their genetics contribute to their various traits, including reports on physical features (e.g., eye color), food preferences (e.g., cilantro), and some traits that are mainly for fun (e.g., ability to match musical pitch).
Review of 23 and Me Health + Ancestry ($199)
The 23 and Me Health and Ancestry Service includes all features of the Ancestry + Traits reporting plus additional 23andMe health reports:
Health Predispositions Reports
These are approved by the Food and Drug Administration (FDA).* They help customers understand how genetics influence health outcomes like breast, ovarian, and prostate cancer. In addition, reports include health predispositions and carrier status regarding increased risk for developing diseases, including but not limited to increased risk of breast cancer and ovarian cancer, type 2 diabetes, Parkinson's disease, and celiac disease. Remember that increased cancer risk or risk of other diseases does not necessarily mean that you will develop the conditions.
Interested in genetic testing for hereditary cancer? You may be interested in these posts:
Wellness Reports
This feature allows customers to understand how their genetics can influence their lifestyle.
Carrier Status Reports
These reports allow customers to understand what genetic variants they may pass down to their children that could affect their health. This report includes carrier status of diseases such as sickle cell anemia.
*In 2013, 23 and Me received a warning letter from the FDA to stop marketing its testing kit, which provided health information without FDA approval. With this in mind, the FDA issued guidance for companies producing direct-to-consumer tests. In 2015, 23 and Me launched a new service that meet FDA requirements for being scientifically and clinically valid. In 2017, the company was authorized to inform customers about their genetic risk of developing certain medical conditions like Parkinson's and Alzheimer's disease due to these more rigorous standards. According to the terms of service, results are for research, informational, and educational use only and do not provide medical advice.
How accurate is 23andMe? Despite its relationship with the FDA, 23andMe tests have been criticized by users as not being accurate enough for health care purposes.
Review of 23 and Me + Membership ($29/year)
The 23andMe+ membership program started on October 1, 2020. With this membership, users get access to 10+ exclusive genetic reports and new features as they become available.
Customers purchase their Health + Ancestry at a discounted price of $169 with this membership for a total of $198.
Some of the exclusive reports and features available in this yearly plan are:
Pharmacogenetic: Three reports to detect how your body processes certain medications.
Hearth Health: Influence of genetics on your chances of developing certain heart-related conditions.
Enhanced Ancestry: advanced features to those of the Ancestry report, like access to 3,500 more DNA relatives.
In general, this new service was not well received, especially by current customers. They felt that these features should be included in what they were already paying. Some clients agreed to participate in research to help 23andMe gain new insights into conditions. Hence, they felt that the results of this research they were part of were being locked behind a paywall.
Customer support had to come up front and explain the 23andMe+ membership option and why it was placed behind a paywall. The company still offers this plan, but there are no reports on how successful it has been.
Sample Reports are available on 23andMe's website, including those for information about your ancestry composition and cystic fibrosis.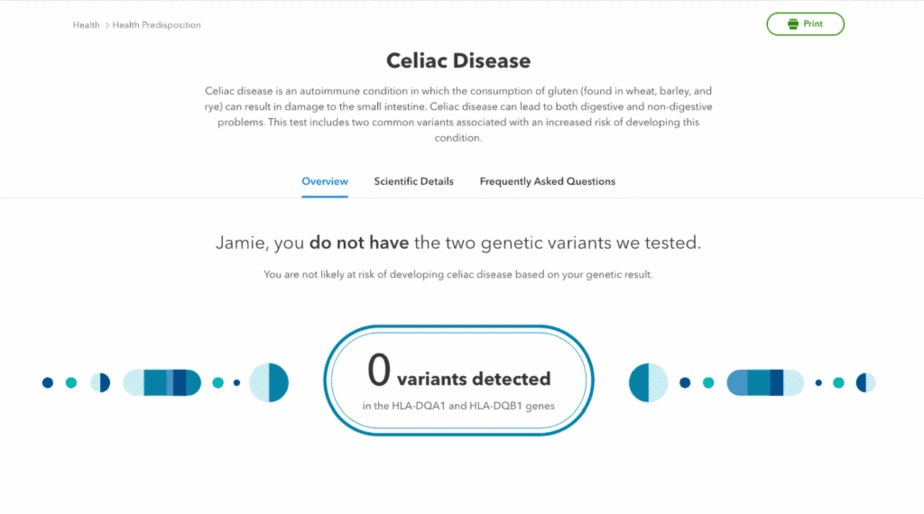 Review of 23 and Me Privacy Policy
The privacy policy was last updated in October 2020. 23 and Me secures customer data by stripping personal information, such as the customers' names and contact information, in the hope that "[the customer] cannot reasonably be identified as an individual." It also gives the customer the option of allowing the company to store their saliva sample​ after it has been analyzed.
What happens to the information 23andMe collects? 23 and Me states that it will not "sell, lease or rent [customer] individual-level information to any third party or for research purposes without [the customer's] explicit consent." However, the company does share aggregate information with third parties for other purposes, including research, business development, and sending marketing emails.
23 and Me in the News
23andMe focuses on using genetic information for medical research and drug discovery. With the sizable genomic database the company has built, it established its therapeutics group in 2015 and built strategic partnerships with pharmaceutical companies.
However, there have been some concerns about the privacy issues associated with 23anMe's partnership with pharmaceutical companies like GlaxoSmithKline. Moreover, 23andMe sold the rights to a new drug for inflammatory diseases it developed using aggregate customer data to the Spanish pharmaceutical company Almirall.
You can read more about data sharing and privacy concerns here: 23andMe is Terrifying, but Not for the Reasons the FDA Thinks.
In 2019, a journalist learns devastating health news from her 23andMe test results and seeks advice from genetic counselors. They highlight the personal dangers that may come with DNA testing, noting that they wished they had learned this health information from a person instead.
More recently, in April 2021, the company completed a merger with Richard Branson's VG Acquisition Corp. This merger helps make 23andMe more than just a genetics company but a healthcare and drug discovery brand, as pointed out by Anne Wojcicki, co-founder, and CEO.
In July 2021, Marion Star, the local Marion news site, reported a woman who found a long-lost brother through 23andMe.
Other 23 and Me Reviews
23andMe reviews are available on multiple websites and appear to be mixed.
The Health + Ancestry service on the company website has a 4.1 out of 5 stars with over 3600 reviews. This of course can be skewed since the website reporting this data sells the product.
The product was rated as 4.7 out of 5 stars on Amazon with over 26,000 reviews.
However, the company received only 1.5 out of 5 stars on Trustpilot with 200 reviews. Most people that gave poor reviews indicate that they never received a kit after paying for the service.
It received 3.5 out of 5 stars on consumeraffairs.com with over 130 ratings.
Nebula Genomics
Nebula Genomics distinguishes itself from 23 and Me and other genetic testing companies through its focus on privacy, the use of high-end testing technology, and comprehensive reporting.
At Nebula Genomics, we believe that learning how your genome encodes information about your health, personality, and ancestry can be invaluable. But we are also aware of the privacy risks. Therefore, we are building the first privacy-focused personal genomics service.
We eliminate personal genetics companies as middlemen between data owners (i.e., customers) and data buyers (i.e., third parties), so that you are compensated if you choose to share your data. You can read more about the importance of DNA privacy on our website.
With the Nebula Genomics expanded report, you can upload your DNA data from 23andMe to discover more about your genome. We create an expanded report by filling in the blanks of typical microarray-based DNA genotyping tests using statistical models. This process is known as genotype imputation. This expanded report gives you access to hundreds of traits and curated research studies through the Nebula Research Library. As a result, you can stay up-to-date with the most cutting-edge research and what it means to you and your DNA.
Nebula Genomics 30x Whole-Genome Sequencing
Our goal is to empower our customers to have the option to go beyond genetics tests offered by companies like 23 and Me and unlock more information about themselves. With our 30x Whole-Genome Sequencing service, we determine 100% of your DNA. In other words, you will get 10,000 times more data than with 23 and Me, which only reads out 0.01% of your genome! Here we compare the companies 23andMe, AncestryDNA, and Nebula Genomics.
| | | | |
| --- | --- | --- | --- |
| | AncestryDNA | 23 and Me | Nebula Genomics |
| DNA Testing Method | Microarray-based genotyping | Microarray-based genotyping | Whole Genome Sequencing (30x coverage) |
| Information available | Ancestry, health | Ancestry, health, traits | Regularly updated reports based on the latest research, data exploration tools, deep ancestry (learn more) |
| Able to upload raw DNA data | No | No | Yes (23 and Me and Ancestry) |
| Tools to explore data | Limited | Limited | Yes (learn more) |
| Data access | Yes (Ancestry format file) | Yes (23 and Me format file) | Yes (FASTQ, BAM, and VCF files) |
| Cost | $99 – $119 | $99 – $199 | $0, $99, $299 |
Other companies
Are you interested in other ancestry and genealogy services? Check out these reviews:
Many of these options also offer ancestry + traits or health test analysis for an additional price.
If you want to focus on your maternal and/or paternal lines, you can look at YFull or YSeq. These services analyze mtDNA or the Y chromosome to determine specific lineage haplotypes. Full Genomes also offers Y chromosome sequencing and analysis.
Did you like our 23andMe review? You can read more reviews on our blog and check out our complete guide to the best DNA test kit and other home tests.