This review is written with the intent to be as unbiased as possible. However, it represents the opinion of an individual reviewer and is therefore subjective. Furthermore, at Nebula Genomics we seek to educate the public about the benefits of Whole Genome Sequencing. Information about our Whole Genome Sequencing DNA test is therefore incorporated into the review.
June 9, 2022
Edited by Christina Swords, Ph.D.
7 Facts from our MyHeritage Review
Headquarters location: Or Yehuda, Israel
Products: DNA testing and collection of family records
Reports: ancestry, connecting with relatives, building family tree profiles
Data access: available
Privacy: had a data breach in the past
Cost: free data upload; $79 for ancestry test. Enhanced family tree subscription with two tiers: Premium at $79/year and PremiumPlus at $129/year. Data plan for $129/year and Complete plan for $189/year.
Pros and Cons
Pros
Many samples from Ashkenazi Jewish populations
One of the largest databases of European populations. So if you know you have ancestors from Europe, this company may help you find many matches
Offers free MyHeritage DNA upload to find matches
Extensive historical records database to find family members
Users can easily construct family trees. The company created the single largest family tree with over 13 million people
Cons
Many significant features of family lineage searches require a subscription
Access to historical records requires a yearly subscription
Ethnicity matches reported being inconsistent compared to other services
MyHeritage Introduction
Gilad Japhet, a software engineer, founded MyHeritage in 2003. Previously, he developed one of the first computer software to help people trace their family history.
The company is located in Or Yehuda, Israel. Its main user base is in Europe, but it also offers services to users in the United States. The company recommends this service for those with European ancestry since it has more detailed (over 12 billion) historical documents for Europeans, such as historical newspapers, family photos, and death certificates. In 2016, MyHeritage launched DNA testing to match users with their relatives based on genetics. Customs can access the reports online or through a mobile app.
The website gets over 15 million monthly visits, making it one of the most popular ancestry and DNA testing services. Read more in our MyHeritage review!
Taking a Test from MyHeritage
Customers use the setup to activate test kits on the website once the package arrives. It usually takes 4-7 business days for domestic shipping and 8-12 days for international shipping. The DNA testing kit contains a simple cheek swab. For best test results, customers should not eat, drink, chew gum, or smoke for 30 minutes before collecting the sample. Next, MyHeritage users mail their samples to the lab for analysis by expert technicians. After 3-4 weeks, users can view their results online using their MyHeritage login.
Once customers receive their DNA results, they can download raw data and use it with other analysis sites and marketplaces such as GenePlaza and sequencing.com.
Review of MyHeritage Reporting
Review of MyHeritage ancestry testing
The DNA test provides ethnicity estimates and smart matches. The ethnicity estimate breaks down ancestral roots and cross-checks your ancestral origins with 42 ethnic regions (i.e., Ashkenazi Jew).
You can view a sample report on the MyHeritage website. The sample report suggests the user has an extensive European heritage, with some Central American ancestry as well.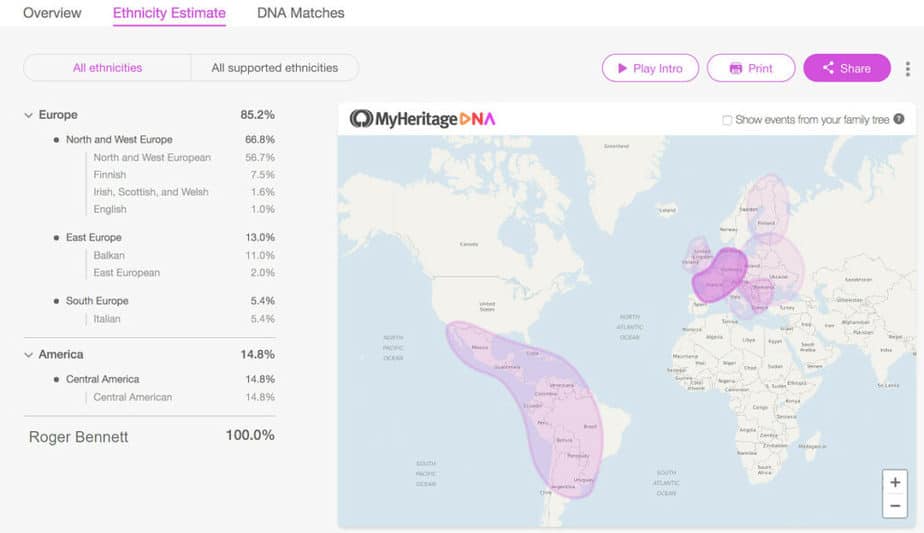 You can view each of the ethnicity percentage estimates and explore your ethnic origins on a map. The tool also shows shared ethnicities and shared ancestral places, where events such as births and deaths took place. This matching technology can be used to build a family tree. Customers can download the Family Tree Builder. To date, 81 million family trees have been built.
The report also indicates any DNA matches and includes the family tree.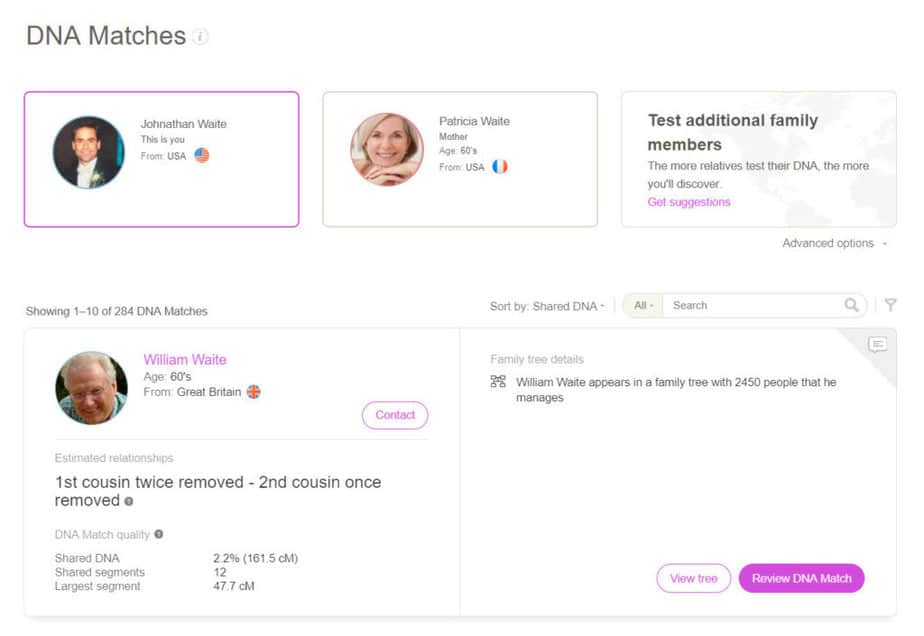 In addition to ancestry, MyHeritage matches users that share genetic sequences. Users can also upload raw DNA data from other DNA testing companies to match with relatives. This will also give access to a list of common ancestral surnames to track last name origins.
You can contact your matches and gain access to a chromosome browser tool. With this tool, you can graphically map your chromosomes and view shared DNA segments between matches.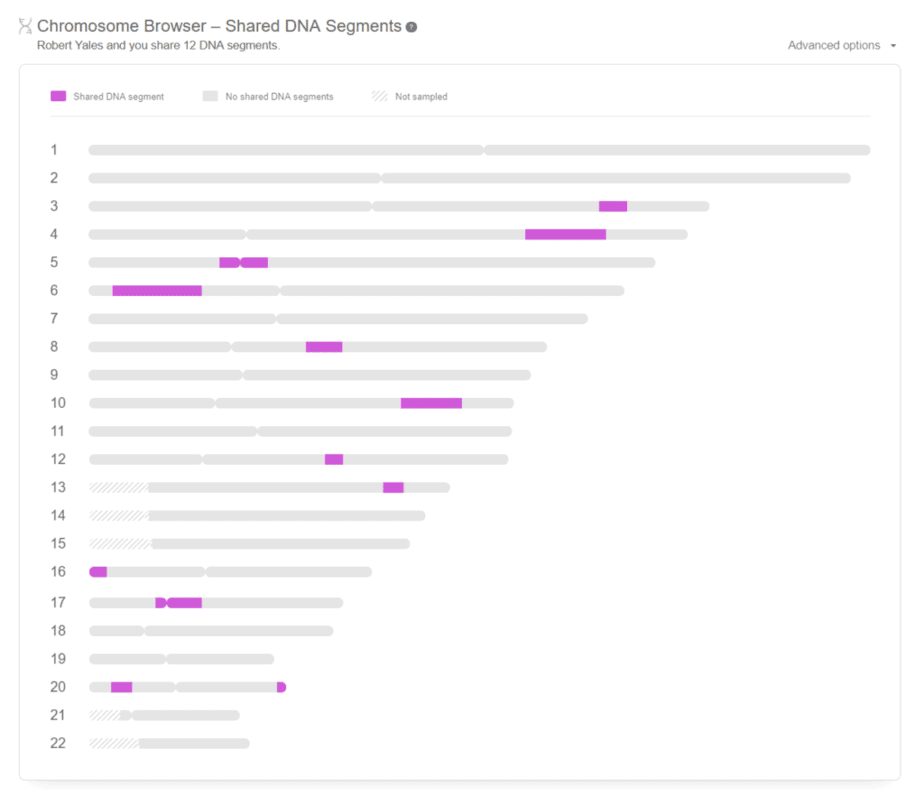 MyHeritage offers the Record Detective tools to help you connect a record to the right place in your family tree. Another functionality is Instant Discovery, a technology that automatically applies family history to a tree in just one click.
Review of MyHeritage subscription options
With a subscription, you can view an expanded tree of your DNA matches and explore them in more detail. Subscriptions give you access to 13 billion historical records. It contains extensive genealogical records, including census, death and birth, marriage, and immigration records. Collections include things like newspapers and yearbooks. Over 11 billion historical records are searchable through the MyHeritage database and search engine and can be automatically matched to your family tree. Customers can pay for a subscription with a credit card, PayPal, bank transfer, electronic check, or wire transfer.
DNA health kit
As of this writing, the company no longer offers a DNA health test. It seems to have scrapped this test in order to focus on its ancestry offerings.
Deep Nostalgia TM (New in 2021)
This new feature allows you to animate your ancestors in still photos. Licensed by D-ID, a company specializing in video reenactment using deep learning, faces are enhanced and users can experience the movement and smiles of their relatives before video.
Download Genetic Data
To download your raw data, go to the DNA tab and click 'Manage DNA kits.' Next, click on the kebab menu on the right, and choose 'download.' Follow the instructions to download the file.

Review of MyHeritage Cost
You can upload DNA for free. This will enable you to match with your relatives. Additional features, including the chromosome browser and ethnicity estimate, are available for an extra fee.
The typical cost of the DNA testing option is $79, although with MyHeritage discount codes and during sales, the price has been as low as $39, lower than many other services.
A subscription to access all services costs $299/year, although some features can be purchased separately. For example, access to searchable historical records costs $189/year and an expanded family tree subscription is $129/year.
Review of MyHeritage Data Privacy
Personal information is collected to provide its services. It is used to calculate relationships between relatives, test DNA samples, analyze raw DNA, provide DNA reports, and process payments. Information is used for internal business purposes. You can also consent to your data to be used for research to make scientific discoveries.
Personal information is never sold, licensed, or otherwise shared with third parties, except for limited circumstances. If enabled, this includes sharing with DNA matches. MyHeritage will share DNA data when legally required or in the event of an acquisition.
Information is secure, and security is reviewed frequently for enhancements. Only authorized personnel have access to personal information, and all communication is encrypted on a secure server.
At any time, you can choose to disable DNA matches and opt out of viewing MyHeritage results. Additionally, customer support is offered through its country-specific customer service number located on the website.
MyHeritage had a security breach in 2018 where hackers stole 92 million email logins and passwords from users. Personal data, such as DNA and users' family trees, was not compromised in the data breach. After the incident, the company began using two-factor authentication.
MyHeritage in the News
MyHeritage has been featured in the Boston Herald and the New York Post after reuniting families using its DNA test. Overall, the press coverage is generally positive. The company has been regarded as one of the best DNA testing and family lineage sites on the market.
In 2019, to promote MyHeritage, Dr. Phil and his wife got tested to learn more about their ancestry. They positively rated the product, especially after discovering previously unknown historical roots.
In the spring of 2020, MyHeritage partnered with the Chinese company BGI Genomics to test Israelis for COVID-19. However, the deal was not straightforward. The Israeli government required additional oversight to keep and protect Israeli genetic information.
In 2021, the company expanded by paying $37 million to acquire its competitor company, Filae.
Interested in COVID-19 travel tests? Kurix Health and Project Screen offer special testing meeting requirements for departing and arriving in the UK.
MyHeritage Reviews
MyHeritage reviews and DNA test reviews are available on a number of reputable websites.
3.7 out of 5 stars on Trustpilot with over 15,000 MyHeritage reviews.
4.4 out of 5 stars on Amazon with over 4000 MyHeritage reviews shared.
Find more DNA reviews on:
MyHeritage Review FAQ
Is MyHeritage free?
The company offers free raw DNA data uploads. However, the DNA test is not free.
How do I cancel MyHeritage membership?
On the website, click on your name in the upper right corner and go to 'My purchases.' Then, on the left, select 'Site subscriptions.' On the right, you will see the status of the subscription. Next, click on 'View details' and then click on 'Stop annual renewal.'
How much does MyHeritage cost?
The DNA ancestry test costs $79. Subscriptions are available for an additional annual cost.
How much does it cost to subscribe to MyHeritage?
Depending on the plan, the subscription cost is between $129/year and $299/year.
Is MyHeritage a safe site?
MyHeritage gets over 15 million monthly visits and many satisfied customers find that the site is safe.
Nebula Genomics
Our mission is to empower customers to learn more about their genetics. We go beyond standard genetic testing found on sites like MyHeritage.com and offer full DNA sequencing with detailed reports. This enables you to learn more about your ancestry than other DNA tests. In particular, we fully decode mitochondrial DNA and Y chromosomes to enable you to trace your roots many generations into the past.
This is possible because with our 30x Whole-Genome Sequencing service, we analyze nearly 100% of your genome. You get more data than with the average DNA test, which only reads 0.2% of your genome!
| | | | |
| --- | --- | --- | --- |
| | 23andMe | MyHeritage | Nebula Genomics |
| DNA Ancestry | Very accurate ancestry based on autosomal DNA testing | Uses autosomal DNA for record matching based on haplogroups | Uses Y chromosome and mitochondrial DNA in addition to autosomal DNA |
| DNA Kit Cost | $99 ($199 for additional health screening) | $79 for ancestry kit | $0, $99, $299 |
| Genealogy Tools Cost | None | $299/year subscription; $189/year for access to historic records, $129/year for an expanded family tree | $99/year for regular updates based on the latest research and access to data discovery tools |
| Data Exploration | Has tools for exploring DNA sequences | Has tools for viewing shared chromosomal DNA | Extensive data exploration tools, including regularly updated research library |
| Upload | You can not upload DNA data from other sites | Free data upload | Free data upload |
| Privacy | Focus on privacy protection | History of a data breach | Focus on privacy protection (learn more) |
| Family Tree Services | Provides DNA matches and automatically generates a family tree | Extensive genealogy features | Access to the world's largest Y-DNA and mtDNA databases |
Summary
MyHeritage is a popular DNA testing and family story discovery service. It has an extensive database of European individuals. Consider using its genealogy services if you believe that you may have European ancestry.
MyHeritage DNA testing is one of the most affordable options. But testing is not as extensive as with companies that do whole-genome sequencing like Nebula Genomics. There may also be privacy concerns, as there has been a hacking incident involving users' email addresses. But, overall, users have been satisfied with the company's services, especially the extensive family tree features and historical database searches.
Ancestry
Interested in ancestry or genetic genealogy? You should look at these other reviews:
If you want to focus on your maternal and/or paternal lineages, you can look at YFull (Y-DNA and mtDNA) or YSeq, services which analyze mtDNA or the Y chromosome to determine specific lineage haplotypes. Full Genomes also offers Y chromosome sequencing and analysis. Read about them all on our blog!
DNA upload sites
If you want more information about DNA upload sites, you might be interested in these other services focused on health:
Did you like our MyHeritage review? You can read more reviews on our blog and check out our complete guide to the best DNA test kit and other home tests.
Interested in learning about your pet's ancestry? Embark, Wisdom Panel, DNA My Dog, and Paw Print Genetics are DNA tests for dogs while Basepaws is genetic testing for your cat.