7 Facts from our AthGene Review
Location: Copenhagen, Denmark
Products: 4 DNA testing products (Premium, Fitness, Lifestyle, and Nutrition) and more than 30 reports or "insights" that focus on a single trait or condition
Cost: DNA tests cost $226-$395. Each insight is $10
Reports: A series of reports on different major genetic vulnerabilities related to diets, nutrients and fitness
How it works: Create an account and register. Choose the test and perform the sample. Send the test back to the lab and receive results within three weeks.
Counseling available: No
Alternative Products: Nebula Genomics offers 30X Whole Genome Sequencing that decodes 100% of your DNA and offers reports on diet and much more!
This review is written with the intent to be as unbiased as possible. However, it represents the opinion of an individual reviewer and is therefore subjective. Furthermore, at Nebula Genomics we seek to educate the public about the benefits of Whole Genome Sequencing. Information about our Whole Genome Sequencing DNA test is therefore incorporated into the review.
June 28, 2022
Pros and Cons
Pros
An easy to read way to gain insights into fitness and nutrition
The Premium test kit includes nearly all the reports
Website page navigation is very easy
Cons
It decodes only 30+ genes
Cost is high for the amount of reports received
Not all options are available outside of Denmark
AthGene Introduction
AthGene genetic testing is a DNA company that gives users personalized insights on fitness, health, and nutrition. It samples your unique genetic information and uses its algorithm to convert it into easy to understand, actionable insights.
This information could be about how your body reacts to exercise, stimuli, or whether a certain diet works for you. It could also be about the risk of muscle injuries, sleeping patterns, individual sensitivity, diet, and others. The information provided in the reports is designed to help improve people's lifestyles, help them make good nutritional decisions, and get the best out of their fitness routine.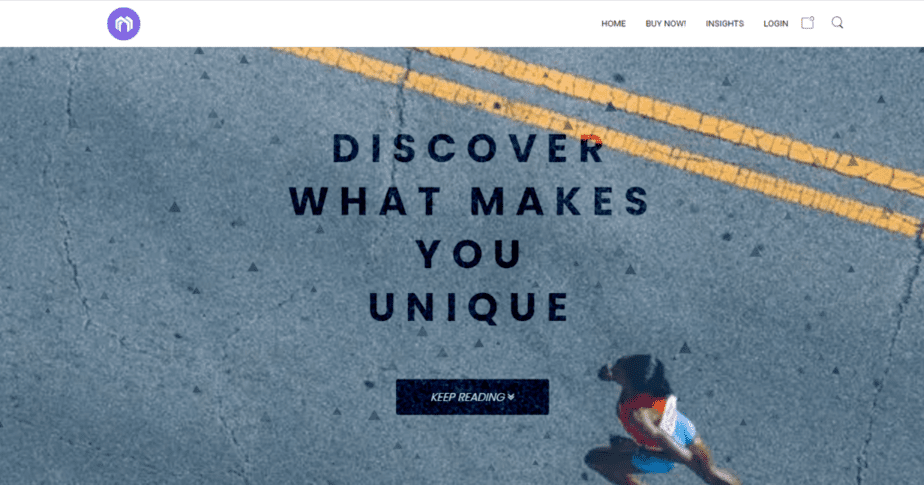 Athgene genetic testing was founded in 2015 by Yusafa Sey, Theis Thorn, and Sebastian Tomsen, who have a broad experience and knowledge in technology and science. The company is based in Copenhagen, Denmark.
In 2017, Nordic Group purchased the company for an undisclosed sum.
Review of Taking an AthGene Test
Customers can create an account by visiting the AthGene website and registering. After registration, you will select the product that you want and make an order. After receiving the product, follow the written instructions on how to collect your saliva sample and ship the test back to the labs.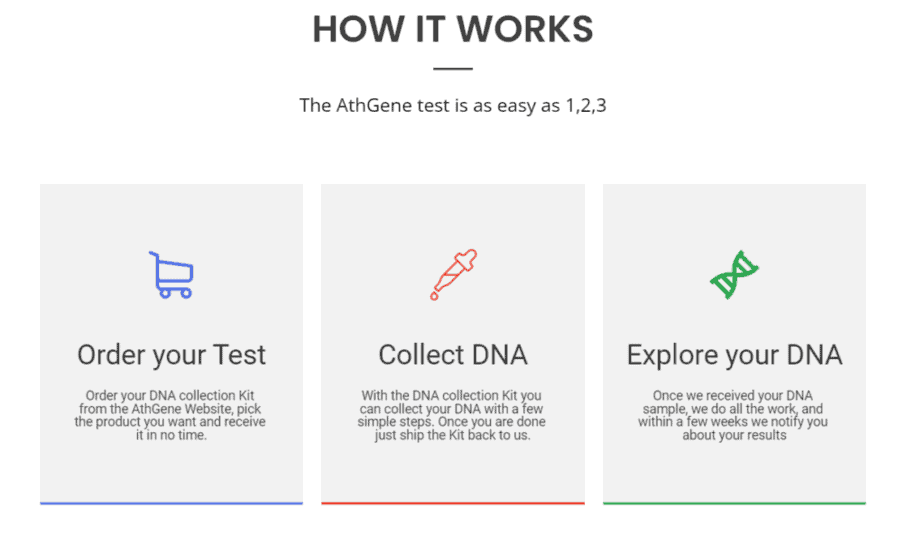 The laboratory will analyze your samples and notify you when your results are ready. This usually takes six to eight weeks after the sample arrives at the lab. The results are available online using the company's online portal.
Review of AthGene Products
There are 4 DNA products available in the Danish market: Premium, Fitness, Lifestyle, and Nutrition. In most other countries, including the United States, customers are limited to the Premium DNA test.
DNA Tests
Taking the test is the same in all cases. The difference is in the amount of reports or "insights" you receive with each test. The Premium is the most comprehensive option as it includes nearly all the reports and is a combination of the other tests.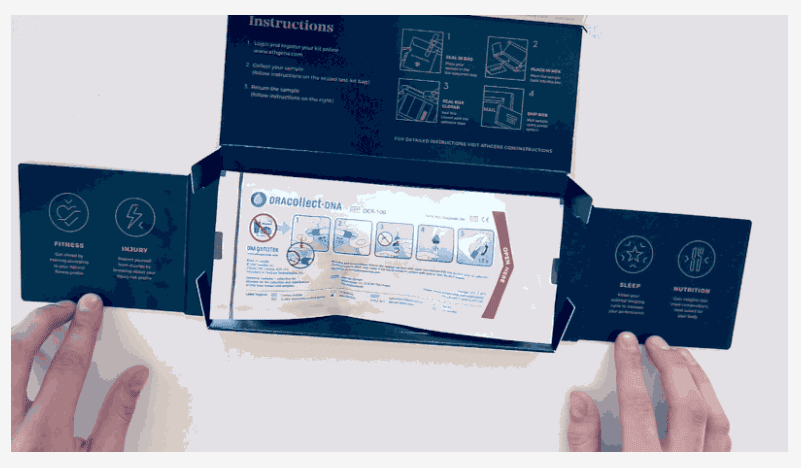 AthGene Fitness: Everyone is unique, and their body functions differently, and every sport puts your athletic capabilities through a new challenge in a different way. This is why some people get fit faster than others. Some also build their muscles with ease, while others find it difficult. This DNA test helps you become a better athlete by giving you information on your physical capability and the activities where you would perform better.
Athgene Lifestyle: Lifestyle contains several things at the same time. This is how you choose to live your life from day to day. It is what you do, who you are and how you do things. This includes all your daily decisions, whether you choose to eat clean, sip coffee, or live green. It is all part of your lifestyle, and it influences your well-being and health in the short and long term. This DNA test will help check your genes to help you choose ways to live a healthier life.
Athgene Nutrition: Dieting affects everyone differently because we are all unique. Foods that are bad for others can be good for you and vice-versa. This DNA test would teach you about your genes and the diet that best suits you. This will guide your food choice and help you get your body's nutrients.
Insights
The Single Insights are essentially individual reports on various genetic predispositions related to health and wellness. There are 32 insights available. Only a selection of the insights are available If you purchase the Fitness, Lifestyle, or Nutrition test. Therefore, the menu of available insights is useful for supplementing what you receive in these tests, if interested in a particular aspect.
The Premium test will include nearly all of the insights. 
Below are some examples. Each insight page includes the confidence level (1-3) which indicates how strong the evidence is that this gene correlates to the trait. It also lists the category the insight falls under (Fitness, Nutrition, or Lifestyle).
Examples
Sleep Quality: Are you at risk of having restless legs syndrome or periodic limb movement? Do you know how this can affect your quality of sleep? This insight helps you understand your risk of several leg issues that could affect your sleep quality. It also provides you with a means to manage the problem or solution to the situation, helping you improve sleep quality. Confidence: 2. Lifestyle.
Migraine: This DNA test would help you understand your body better and your predisposition to headaches or migraines. It also comes with recommendations on managing or avoiding headaches to help you live a better life. Confidence: 3. Lifestyle.

Athgene Appetite Insights: This insight gives you knowledge of how your hunger is regulated and your predisposition to having the urge to continue eating even when you are full. It is designed to help you know your appetite better and how to feed it or the food that will be ideal for you. Confidence: 1. Lifestyle.
Fat: This insight is designed to help you determine if your genes affect your ability to gain weight quickly from a diet rich in fat. It also gives you recommendations to help you handle your predisposition and how to add good fats to your diet to enable you to live healthier. Confidence: 3. Nutrition.
Muscle Injury: This insight will determine your susceptibility to muscle injury and if you recover faster than the average person from workout muscular stiffness. This is designed to educate you on how to avoid these injuries, exercise, the duration to spend exercising, and the exercise that suits your muscle type better. Confidence: 1. Fitness.
Review of AthGene Cost
AthGene cost is fairly high compared to competitors. Note that the company records its amount in Danish Krones, and as such, the dollar conversion is based on available estimates subjected to changes.
AthGene Premium: $395
AthGene Nutrition (Denmark only): $280
AthGene Fitness (Denmark only): $240
AthGene Lifestyle (Denmark only): $226
A single insight purchase will cost around $10.
Review of AthGene Reports
AthGene provides reports on 32 different genetic predispositions:
| Lifestyle | Fitness | Nutrition |
| --- | --- | --- |
| Sweet Tooth | Muscle Injury | Vitamin C |
| Appetite | Muscle Growth | Vitamin A |
| Caffeine | Muscle Fiber Composition | Vitamin B9 |
| Alcohol | Muscle Fatigue | Vitamin B6 |
| Migraine | Sweating | Vitamin B12 |
| Sleep Quality | Endurance vs Power | Vitamin D |
| Bone Strength | VO2 Max Potential | Vitamin E |
| | Connective Tissue Injury | Blood Sugar and Carbohydrates |
| | The Sprint Gene | Fat |
| | Power | Gluten Sensitivity |
| | Endurance | Lactose Sensitivity |
| | | Digestion and IBS |
| | | The Fat Gene |
| | | Iron |
The reports focus on how your genes may influence each of these traits. For example, you may find out that you are at high risk of not taking up enough Vitamin C from food. Thus, you may get actionable insights related to how to best supplement your diet and obtain the optimal daily intake.
A section of the report also includes detailed information on the gene analyzed to provide this result, including the variant name, association, and genotype.
Review of AthGene Privacy
AthGene genetic testing knows how important their client's privacy is, and this is why they take the initiative in protecting the client's information. Its terms and conditions state that any personal information entered into the website will only be used to provide the services.
The company does not sell, rent, share or disclose any customer's information with a third party who does not have any business in their service. Any third party from AthGene who has access to customers' information uses it only to provide the necessary service for the customer. Any information collected from other sites linked to the company or affiliates is also protected as they also have a privacy policy.
Other AthGene Reviews
The company has a 4.6 out of 5 stars rating on their Facebook page with 32 reviews. Most people liked how easy the test was and appreciated the recommendations to help them achieve their health goals through fitness and nutrition.
Additionally, the company has a 3.8 out of 5 star rating on Trustpilot with over 20 reviews. Most customers found the test interesting and beneficial to their training plans. They also appreciated the customer service. Others noted that they were expecting more detailed results.
Nebula Genomics
AthGene is a basic way to obtain interesting genetic information regarding various health aspects. It focuses on overall health and ways to meet your diet and fitness goals by providing genetic information on clients' fitness, metabolism, proneness to physical injury and more. This aims to ensure that people know exactly what may be wrong with them and the cause for certain vulnerabilities that they experience.
However, a limitation of this focus is that customers will not get the entire picture of their genetic health from this test, which only decodes select variants. For those interested in a comprehensive view, Whole Genome Sequencing will decode 100% of the human genome. It helps customers determine their predisposition to health variables and diseases they may be vulnerable to due to their inherited gene, metabolism, diet, and more.
Typically, a whole-genome sequencing test covers everything that AthGene tests from a standard level. So users may find more satisfaction with the former.
Nebula Genomics seeks to provide customers with their full genetic code to use however they see fit. This includes total information about their body, ancestry, and health predispositions. To do this, it offers the most complete 30x Whole-Genome Sequencing test at a cost less than specialized companies such as AthGene.
The test is incredibly accurate and comes with other additions that include ancestry reporting and genome exploration tools. Regularly updated reports ensure that you will not miss the latest genetic research.
For only $299 or less, customers will get access to their entire genome, allowing them to continue to ask more questions as more research is conducted. Plus, Nebula understands that your data belongs to you. All customers get full control over their entire sequenced DNA and are empowered to continue to ask questions and take your data elsewhere for more insights.
AthGene vs. Nebula Genomics
| | | |
| --- | --- | --- |
| | AthGene | Nebula Genomics |
| Testing method | Sequences 30 selected genes | Sequences all 20,000 genes and regulatory regions |
| Reports | Insights on certain fitness, nutrition, and lifestyle aspects | An extended genetic report that is updated regularly |
| Ancestry reporting | No | Performs deep ancestry reporting with the complete Y chromosome and mtDNA sequencing |
| Counseling | No | No, but data is of the highest quality and can be used by physicians and genetic counselors |
| Cost | $395 | $0, $99, $299 |
Did you like our AthGene review? You can read more reviews on our blog and check out our complete guide to the best DNA test kit and other home tests.
You may also want to check out these other at-home fitness DNA tests:
Or you could take a look at Noom and Nutrisystem, two popular subscription based nutrition services.