7 Facts from our GenoPalate Review
Location: Milwaukee, Wisconsin, USA
Products: DNA testing kit and DNA data upload
Reports: Diet recommendations based on DNA data analysis
DNA data access: Not available for download
Privacy: Will share anonymized customer data
Cost: $40 for data upload; $150 for DNA kit
This review is written with the intent to be as unbiased as possible. However, it represents the opinion of an individual reviewer and is therefore subjective. Furthermore, at Nebula Genomics we seek to educate the public about the benefits of Whole Genome Sequencing. Information about our Whole Genome Sequencing DNA test is therefore incorporated into the review.
June 27, 2022
Pros and Cons
Pros
Personalized nutrition recommendations based on your genetic profile
Reasonable price
You can upload 23andMe data and AncestryDNA data, or purchase GenoPalate's genetic test
An easy-to-access the report through an online account
Cons
One of the smaller DNA sites and less reviewed than other genetic testing companies
Unable to upload raw data files from genetic testing sites other than 23andMe and AncestryDNA
Unable to download raw DNA data
GenoPalate Introduction
GenoPalate is a nutritional genomics company that promises to help you optimize your nutrition and identify food intolerances based on genetic testing results. It is a startup out of Milwaukee, WI that provides personalized diet recommendations based on its ability to analyze DNA data.
For the most part, GenoPalate is a DNA interpretation site. The company specializes in decoding DNA to obtain nutritional analysis and diet needs. For those who wish to upload DNA for health, this company focuses on daily nutrition needs.
Dr. Sherry Zhang, Dr. Paul Auer, and nutritionist Matt Edwards founded the company in 2016. Dr. Zhang received her doctorate in molecular biology from Marquette University and then started research on obesity and metabolic health. She was working as an assistant professor at the Medical College of Wisconsin when she began the Genopalate company.
Taking the GenoPalate DNA Test
So, how do you get started? Customers have two options to obtain their nutrition reports. The first option is to upload raw DNA data from sites like 23andMe or AncestryDNA. Otherwise, they can purchase a GenoPalate home DNA testing kit.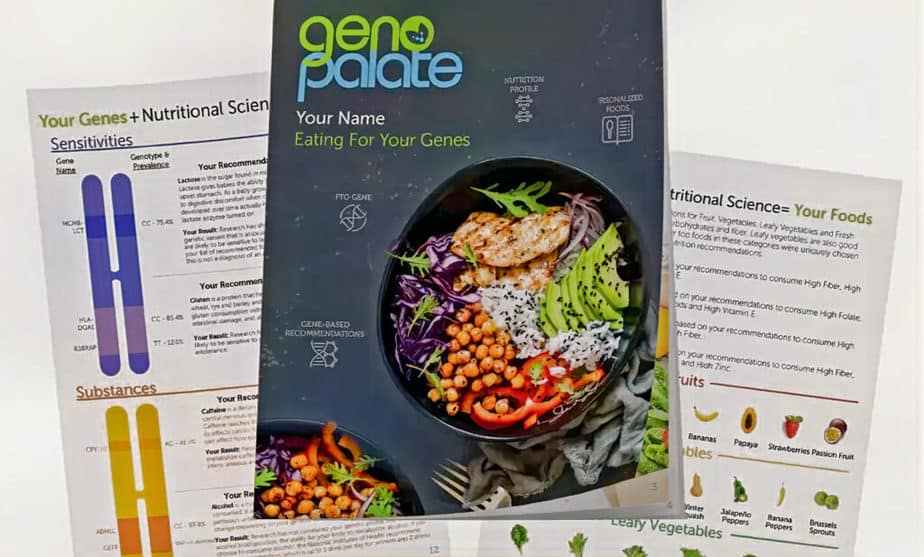 Review of GenoPalate raw data upload
GenoPalate is one of the sites you can upload raw DNA data. The company will not allow the upload of raw DNA data from sites other than 23andMe and AncestryDNA. Results using existing data will be ready in 1-3 weeks.
Purchasing a DNA testing kit
If customers choose to purchase a DNA testing kit, they must provide a saliva sample. GenoPalate analyzes DNA at a third-party lab. Results from these DNA tests will be ready in 4-6 weeks. Customers receive the DNA report from either their raw data upload or the GenoPalate test through an online account.
Review of GenoPalate Reports
With its reports, GenoPalate analyzes a user's nutrition profile to answer the question "Why Eat For Your Genes?".
To do this, the reports link the parts of your genes that are associated with nutrition. It then makes science based recommendations if a positive health outcome is associated with personalized genetic makeup. Specifically, the report contains:
Optimal intake for 23 nutrients, including amounts of vitamins and minerals.
The 85 best foods to build a meal plan for personalized nutrition needs.
Food sensitivities to lactose (lactose intolerant), gluten, alcohol, and caffeine.
You can access a sample report from its website. The nutrient list includes things like saturated fat, carbohydrates, protein, and calcium. The report then divides your recommended foods into 16 categories including fruits, vegetables, meats, seafood, and cheeses.
Sample report
The report recommends 85+ foods based on your DNA test, generating a genetic line of health food for you. Here's a breakdown of the sample report:
A crash course in genetics. The report begins by describing what genes GenoPalate analyzes and how those genes are related to processing food.
Your Genes + Nutritional Science = Your Foods. This part of the report focuses on your genes. It shows genes analyzed, the percentage of the population with your genotype, and recommended intakes of nutrients.

Your Genes + Nutritional Science = Your Foods. The third part of the report explains why it recommends certain foods over others. GenoPalate uses all of the nutritional information collected to recommend each food.
Your Genes + Nutritional Science = Your Foods. The final part of the report lists which foods to eat, divided into 16 categories. The recommendations are based on the analysis of hundreds of foods. GenoPalate matches you with the food that best fits your genetic profile.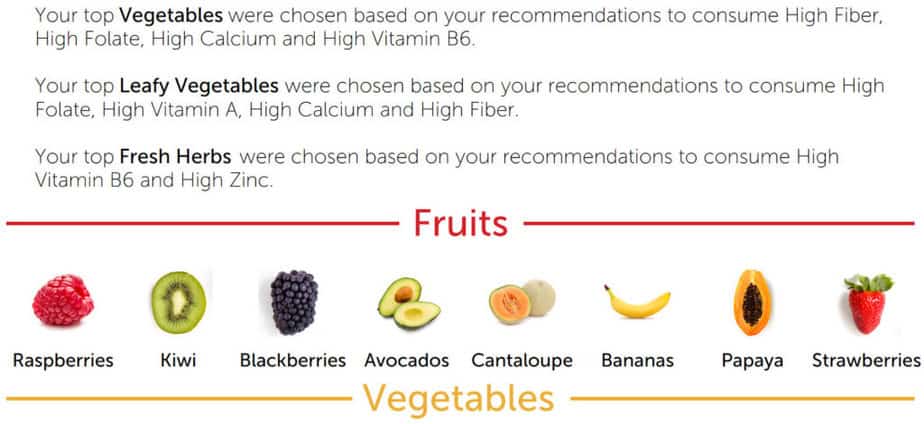 Review of GenoPalate diet recommendations
The company analyzes genes known to impact your nutrition. It makes diet recommendations based on research that found associations between genetic makeup and recommended foods. This section helps customers make educated decisions when shopping.  
For example, your report might recommend raspberries over nectarines in the fruit category. The genetic profile may also highlight the need for high fiber and high folate intake.
Raspberries are high in fiber and provide a medium amount of folate. On the other hand, nectarines only provide a medium amount of fiber and a low level of folate. Thus, raspberries would be recommended.
Similarly, certain meats may be recommended based on genetic predisposition to some vitamin and mineral deficiencies (folate, Vitamin B6, and Vitamin A and low levels of sodium). Some recommended meats that include high levels of these nutrients are chicken liver, veal, ostrich, and turkey breast.
GenoPalate also offers recipes for breakfast, lunch, dinner and other meals.
Review of GenoPalate Cost
GenoPalate offers two unique purchasing options. The cost of the DNA testing kit and the report is $150. If customers prefer the 23andMe upload or the AncestryDNA upload options, they pay $40 for the report alone.
Discount codes can be obtained from websites such as hotdeals.com. However, customers should be careful as these promotions are not always valid.
Review of GenoPalate Privacy Policy
GenoPalate extracts DNA in a third-party-owned lab from saliva samples collected by the customer with their testing kit. The DNA testing kit is registered with a barcode to separate a customer's identity from the testing results. The data is also encrypted.
Third-party laboratories will retain genetic information and DNA samples for ten years. Customers have the option of withdrawing their consent to research and biobanking at any time. If this is the case, the data and DNA sample will be deleted within 90 days.
GenoPalate states that it will not share customer genetic data with third parties as long as the data is identifiable. It reserves the right to share genetic data with government, law enforcement, and professional advisors.
In case the company is acquired, the data is also shared with subsequent company owners. GenoPalate may also share genetic data once it can no longer be identified.
GenoPalate in the News
GenoPalate has not been widely featured in national media or publications. Over the past few years, the company has appeared in Milwaukee media, including podcasts and newspapers. In 2018, it was featured in the Milwaukee Journal Sentinel. In this piece, the journalist describes how the DNA test recommended she eat elk and passion fruit.
Other publications, such as the Chicago Tribune, warn readers that genetics is only one part of the healthy eating puzzle. There may be other factors to consider when choosing a diet.
In December 2020, the company hit the headlines as it announced closing a $4 million Series A financing round. Earlier in 2021, food tech magazine, The Spoon, interviewed GenoPalate's founder and CEO, Dr. Sherry Zhang, on the past, present, and future of DNA-based nutrition.
GenoPalate Reviews
There are only a few online reviews of GenoPalate, and they are mainly split.
Amazon ranks the company 2.1 out of 5 stars with 27 reviews while Trustpilot reviewers gives it 3.4 out of 5 stars with over 300 reviews.
GenoPalate also posts customer stories on its website. Many customer reviews recommend GenoPalate because it helps them target specific diets without guessing what is best for their bodies.
Nebula Genomics
Nebula Genomics distinguishes itself from GenoPalate and other genetic testing companies through its commitment to customer needs. Specifically, Nebula Genomics focuses on privacy, comprehensive reporting, and personal control over your data.
Your privacy is central
At Nebula Genomics, we believe that learning about what your genome can tell you about health and ancestry is invaluable. We are also aware of the privacy risks.
Therefore, we have built, and are continuously updating, the first privacy-focused personal genomics service. We eliminate personal genomics companies as middlemen between data owners (i.e., customers) and data buyers (i.e., third parties) so that you can be compensated if you choose to share your data.
Nebula Genomics gives you control over your data. If using the GenoPalate DNA testing kit, you will be unable to download the generated data. At Nebula Genomics, you can download your data at any time, even if you decide to cancel your Nebula Genomics subscription.
You can read more about the importance of DNA privacy.
30x Whole-Genome Sequencing
Our goal is to empower our customers to go beyond genetics tests offered by biotech companies. For example, while GenoPalate focuses solely on nutrition and diet, Nebula Genomics provides insights into other genetic traits. We offer comprehensive genetic testing through whole-genome sequencing. With our 30x Whole Genome Sequencing service, we determine 100% of your DNA.
We believe you should have the power to explore your genome on your terms. Other DNA analysis websites like GenoPalate analyze your genes and send you a single report.
Our genome exploration tools, on the other hand, provide you with a dynamic exploration experience. You can examine genes of interest, identify relevant mutations, and search for genetic variants. You can even view your sequencing data from your computer. We also send our users periodic updates based on the latest scientific discoveries.

| | | | | |
| --- | --- | --- | --- | --- |
| | GenoPalate | 23andMe | AncestryDNA | Nebula Genomics |
| DNA Testing Method | Microarray- based genotyping | Microarray- based genotyping | Microarray- based genotyping | Whole Genome Sequencing (30x coverage) |
| Information available | Nutrition | Ancestry, traits, health | Ancestry, health | Regularly updated reports based on the latest research, data exploration tools, deep ancestry (learn more) |
| Able to upload raw DNA data | Yes (23andMe and Ancestry) | No | No | Yes (23andMe and Ancestry) |
| Tools to explore data | No | Limited | Limited | Yes (learn more) |
| Data access | No | Yes (23andMe format file) | Yes (Ancestry format file) | Yes (FASTQ, BAM, and VCF files) |
| Cost | $40 – $150 | $99 – $199 | $99 – $119 | $0, $99, $299 |
Other companies
Other DNA testing services that are similar to GenoPalate are FitnessGenes, GeneFood, Nutrigenomix, and Vitagene.
You can also check out our reviews of:
The list of companies offering great supplements to improve health is rather long. You can read about many of them under the Reviews section of our blog. But beware of dangerous experimental drugs like SR9009 and RAD 140 that are not approved for human consumption.
Did you like our GenoPalate review? You can read more reviews on our blog and check out our complete guide to the best DNA test kit and other home tests. Or check out our guide to DNA upload sites! Or, if you need more information, you can read more about DNA diet tests!