7 Facts from our PotentLift Review
Location: Los Angeles, California
Products: Formulations that visibly correct signs of skin aging
Cost: $39 – $49
Ingredients: About 30 natural ingredients. Products are hormone and gluten free
Counseling available: No
How to order: Products must be ordered on the company's official site
Alternative Products: Nebula Genomics offers 30X Whole Genome Sequencing that decodes 100% of your DNA and gives reports on diet and much more!
This review is written with the intent to be as unbiased as possible. However, it represents the opinion of an individual reviewer and is therefore subjective. Furthermore, at Nebula Genomics we seek to educate the public about the benefits of Whole Genome Sequencing. Information about our Whole Genome Sequencing DNA test is therefore incorporated into the review.
August 16, 2023
Pros and Cons
Pros
Most reviewers found effective results
Hormone, gluten, and cruelty free
Cons
Higher price
Some complaints on the return policy
Introduction
PotentLift focuses on providing effective solutions without the need for complicated steps, dermatologist treatments, or invasive procedures. As a result, this approach makes incorporating PotentLift into skincare routines more accessible. The company designs the products for creating tighter skin on the face and neck that is soft and smooth, combating environmental and lifestyle factors that wear on skin.
PotentLift's incorporation of a prominent Vitamin C serum plays a crucial role in promoting skin exfoliation and enhancing brightness, leaving the complexion refreshed and radiant. It also uses ingredients that promote skin cell turnover and enhance pH balance. The company claims to combine clinically tested and scientifically proven ingredients.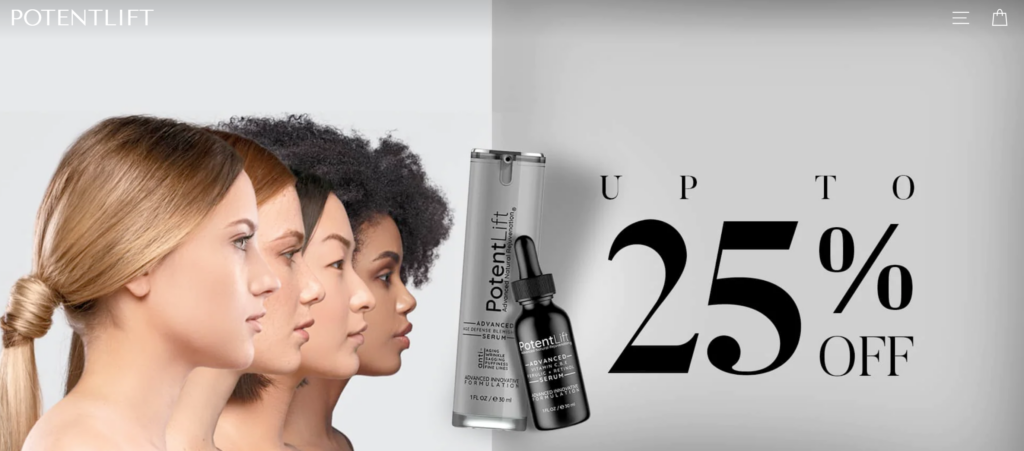 A team of skin-science experts and chemists developed a comprehensive line of anti-aging products. Its items are clinically tested, used by beauty experts, and cater to individuals of all ages seeking tighter, smoother skin without invasive procedures. Additionally, the ingredients are ideal for all skin types and have no known side effects.
Review of PotentLift Products
The company sells 11 products dedicated to skin health, including PotentLift eye cream, face lifts, and retinol cream. We review three of them in detail below.
Advanced Instant Face and Neck Lift
PotentLift's Advanced Instant Face and Neck Lift Serum is a fast-acting formula designed to provide an instant facelift and neck lift.
This PotentLift serum contains essential peptides, hyaluronic acid, and other active ingredients that reduce fine lines and wrinkles, boost collagen production, and hydrate skin. The company claims the product works within 60 seconds to remove wrinkles.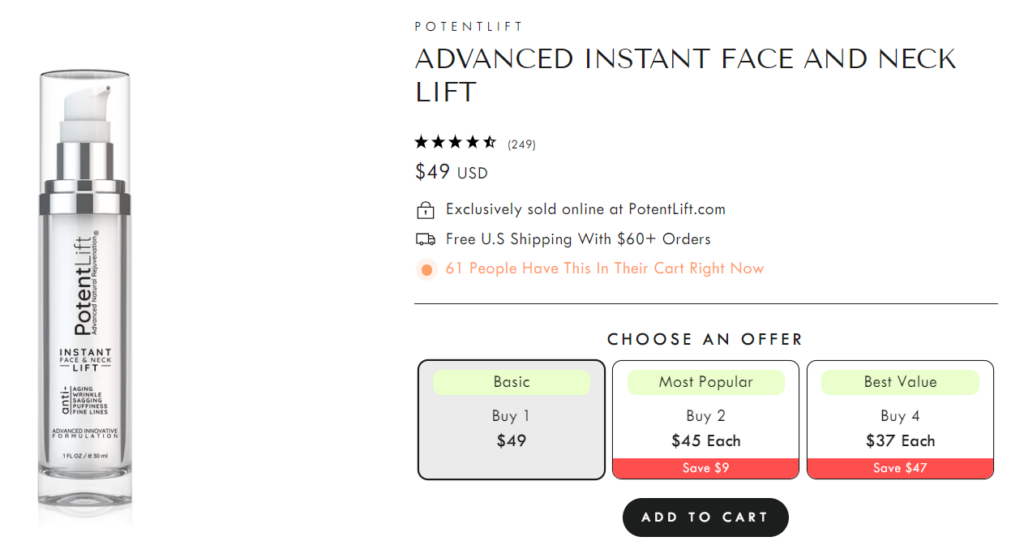 To utilize PotentLift facelift serum, customers should wash their face and apply a small amount over their face, smoothing it over lines and wrinkles. They should avoid facial expressions for about five minutes while the serum works.
Advanced Encapsulated 0.5% Retinol Cream
The Advanced Encapsulated 0.5% Retinol Cream by PotentLift contains 0.5% retinol, a vitamin A derivative known for its anti-aging properties. It targets premature signs of aging, fine lines and wrinkles, uneven skin tone, and hyperpigmitation.
In similar fashion to other retinol creams, this products produces anti-wrinkle results by increasing collagen production and helping the skin retain moisture. It also improves color by encouraging new blood vessel formation in the skin.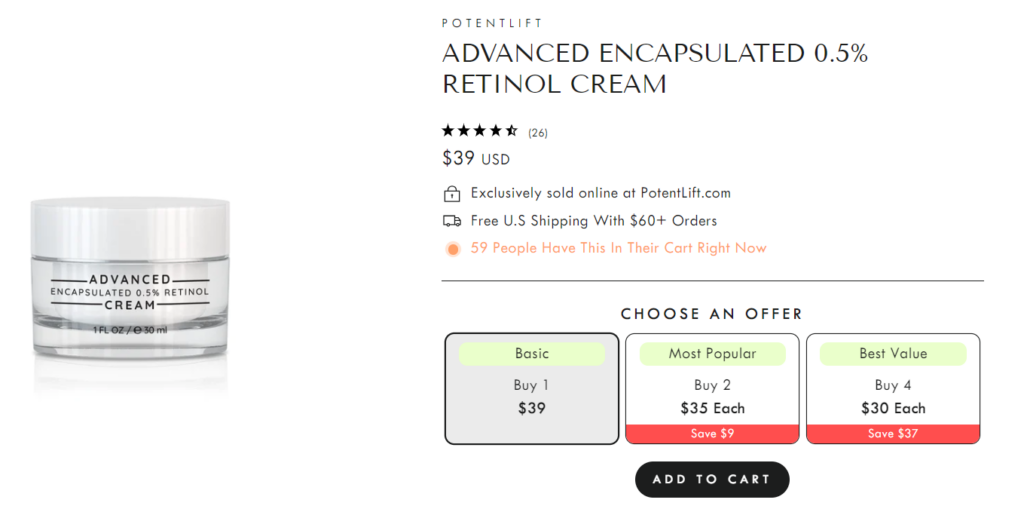 Customers are instructed to only apply once or twice a week at first before gradually increasing its use.
Advanced Neck Lifting and Firming Cream
The Advanced Neck Lifting and Firming Cream is a skincare product specifically formulated to address sagging and aging skin in the neck area. It is designed to tighten, rejuvenate, and moisturize the skin on the neck, chest, and décolleté.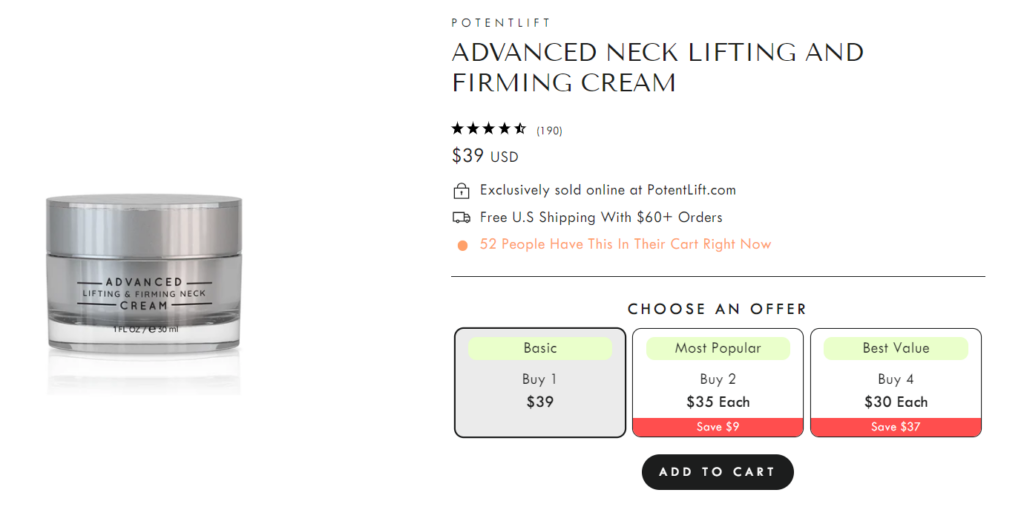 The cream contains high-quality ingredients such as natural plant extracts, peptides, and hyaluronic acid. These ingredients work together to provide immediate tightening and lifting effects. Peptides help reduce the natural loss of elastin and promote collagen synthesis, while hyaluronic acid helps retain hydration in the skin.
Other products include:
Multi-peptide Complex Serum
Diamond Extract Eye Cream
Vitamin C, B, E, Ferulic + Retinol Serum
Pure Hyaluronic Serum
Age Defense Blemish Night Serum
Ageless Rose Water Cleanser
Rose Clay Purifying Mask
Anti-aging Rose Moisturizer
Review of PotentLift Cost
Prices vary depending on the product. Customers can save money by purchasing 2 or more products at the same time. They can also get free shipping on orders over $60 in the United States.
All single products cost $39 except for the Advanced Instant Face and Neck Lift, which is $49. Customers who order two will pay $35 each and those who order four will pay $30 each. ($45 and $37 for the Instant Face and Neck Lift).
Review of PotentLift Privacy Policy
PotentLift's privacy policy outlines how personal information is collected, used, and shared. When visiting the site, the company collects certain device information automatically, including browser details, IP address, and cookies. When making a purchase, it will collect additional information such as name, address, payment details, and contact information.
The information is used to fulfill orders, process payments, communicate with customers, screen for potential risks or fraud, and provide personalized information or advertising based on customer preferences. PotentLift may share personal information with third-party service providers, such as Shopify and Google Analytics, to facilitate these purposes. Compliance with applicable laws and protection of rights may also necessitate sharing personal information.
The privacy policy also addresses behavioral advertising and provides opt-out links for targeted advertising. PotentLift does not change its data collection practices based on Do Not Track signals.
Other PotentLift Reviews
PotentLift has good reviews on Trustpilot, with an overall rating of 4.3 stars and around 50 reviews. The majority are positive PotentLift reviews, praising its effectiveness in reducing wrinkles, eye bags, dark circles, puffy eyes, and saggy skin. Overall, customers believe these are quality products. However, there are also a few negative reviews, citing issues with product effectiveness and returning products.
Since PotentLift is not sold on third-party sites there are no available reviews on sites such as Amazon. The reviews posted on the company's website are five stars.
Nebula Genomics
PotentLift offers skincare solutions with visible results, reducing wrinkles and promoting a youthful appearance. Did you know that skin aging may be controlled by genetics? Nebula Genomics specializes in personalized genetic testing and analysis. Through DNA sequencing, we provide insights into ancestry, health predispositions, and traits, including skin features.
Nebula provides a comprehensive DNA test highlighting predispositions related to aging. With reports, you can easily explore your DNA and learn about new discoveries. With 30x Whole-Genome Sequencing, Nebula sequences 100% of your DNA to get to the root cause of every biological inclination.
The test is incredibly accurate and includes other additions, including ancestry reporting and genome exploration tools. Regularly updated reports ensure that you will not miss the latest genetic research.
Nebula is not a diagnostic test, but the results are of the highest quality and can be used in consultation with health care professionals.
For only $299 or less, customers will get access to their entire genome, allowing them to continue to ask more questions as more research is conducted.
Did you like our PotentLift review? You can read more reviews on our blog and check out our complete guide to the best DNA test kit and other home tests.
Did you know that some genetic companies test specifically for skin-related issues? These include 24Genetics. DNACode, and Dynamic DNA Labs.
You may also be interested in these other skin care products: