This review is written with the intent to be as unbiased as possible. However, it represents the opinion of an individual reviewer and is therefore subjective. Furthermore, at Nebula Genomics we seek to educate the public about the benefits of Whole Genome Sequencing. Information about our Whole Genome Sequencing DNA test is therefore incorporated into the review.
June 27, 2023
7 Facts from our DNAcode Review
Location: Singapore
Products: Three test options that include Fitness & Nutrition, Skin, and Ancestry
Cost: $150-$205; $530 for a bundle
Reports: A persoanlized report that includes the test results, an interpretation of the findings, and other relevant information
How it works: After registering a kit and collecting a DNA sample with a cheek swab, the customer mails the sample in a prepaid envelope to a partner laboratory. The report is then emailed to the registered email address within 4-6 weeks
Counseling available: No
Other Products: Nebula Genomics offers 30X Whole Genome Sequencing that decodes 100% of your DNA and gives reports on diet and much more!
Pros and Cons
Pros
Simple at-home DNA test process
Offers a bundle deal
Cons
Reports may not be as comprehensive as other DNA testing companies
Longer than average wait time
Introduction
DNAcode is a genetic testing service that gives individuals personalized insights into their unique genetic code. By analyzing an individual's genetic blueprint, DNAcode offers a range of tests that provide information on ancestry, fitness and nutrition, and skin health.
Through this knowledge, DNAcode aims to empower individuals to make informed choices about their lifestyle, diet, and exercise regimen tailored to their unique genetic profile. DNAcode partners with CAP-accredited and CLIA-certified laboratories to provide accurate and precise customer results.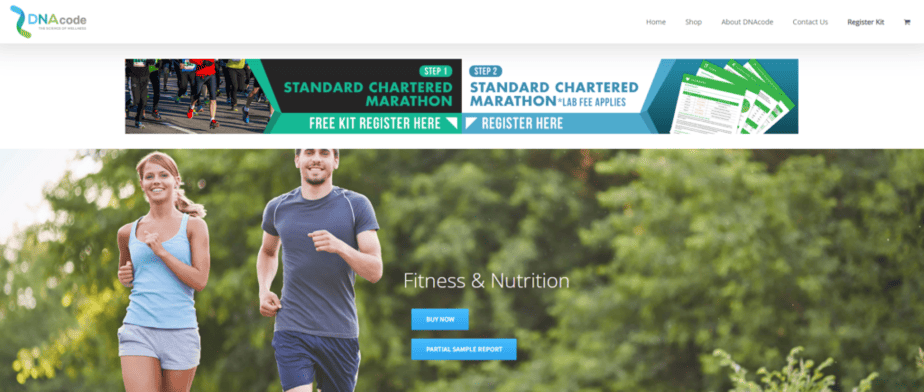 Ron Hanerfeld founded DNAcode. His vision is to empower people with the knowledge of their unique genetic makeup, allowing them to make informed decisions about their health and wellness. The company aims to provide a detailed report on how the body responds to a variety of fitness and wellness factors. Understanding this knowledge allows individuals tailor their diet and fitness routines to optimize gains from a genetic perspective.
The Science Behind DNAcode
DNAcode is based on the study of genetics and the variations in our DNA sequences. Our genetic profile, known as our genotype, is inherited from our parents and is expressed in physical appearances, known as our phenotype. Phenotypes differ due to gene variations, particularly in Single Nucleotide Polymorphisms (SNPs).
Advances in scientific technology have allowed scientists to study lifestyle and wellness genes and their impact on the human population. DNAcode uses established laboratories with state-of-the-art scientific technology to provide personalized plans for achieving the best version of oneself through a painless, non-invasive swab test.
It is important to note that while genes play a role, they do not determine everything, and environmental effects, hard work, and effort also play a significant role.
Review of DNAcode Tests
The DNA Code offers three tests: Fitness & Nutrition, Ancestry, and Skin.
Fitness & Nutrition
This test looks at more than 40 genes related to fitness and nutrition, providing personalized exercise and diet strategies based on your genetic makeup. It can answer questions such as how easily you can lose weight, how well you metabolize carbohydrates, and how your body responds to cardio exercises. The test results will provide personalized meal and exercise plans to help you achieve your fitness goals.

Ancestry
This is the GPS Origins kit, which uses autosomal DNA (not x or y chromosomes) to provide detailed ancestry information. Overall, it tests more than 80,000 unique genetic markers to compare your DNA to dozens of gene pools and 1,000 reference populations. The result is a detailed report that identifies the geographic areas that contributed to your DNA and how it moved around the world. It can answer questions such as where your ancestors came from and which population groups are are common to you.
Skin
This test analyzes more than 20 genes related to your skin's genetic potential and provides personalized skincare recommendations based on your genetic makeup.

It can answer questions such as how easily you get wrinkles, how sensitive you are to sun exposure, and what is the best approach for maintaining collagen production. The test results will recommend personalized topical ingredients, supplement ingredients, and professional treatments.
The results of each test will be back 4-6 weeks from the receipt of the sample in the lab.
Review of Taking a DNAcode Test
After buying a test, customers register the product online. Then, they follow the instructions for collecting a DNA sample and use the prepaid envelope to mail the collection swab back to the lab. DNAcode processes the sample and delivers the results via email within 4-6 weeks.

Review of DNAcode Cost
The cost of the product depends on the type of test.
Fitness & Nutrition: $175
Skin: $150
Ancestry: $205
Fitness & Nutrition / Skin / Ancestry bundle: $530
Review of a DNAcode Report
Each report includes personalized genetic analysis and detailed explanations of the genetic markers used. The Fitness & Nutrition and Skin tests also include recommendations for lifestyle changes based on the results.
Below, we will review the Fitness & Nutrition report. Other sample reports are available on the company website.
The first few pages introduce the types of information the report contains and how it was analyzed. The next page is a report summary, which summarizes the categories analyzed, your results, and the genes used to make this conclusion.

Next, the report presents each category in detail. This section includes a summary, your results, tips for a healthy lifestyle, and how genes relate to this overall goal.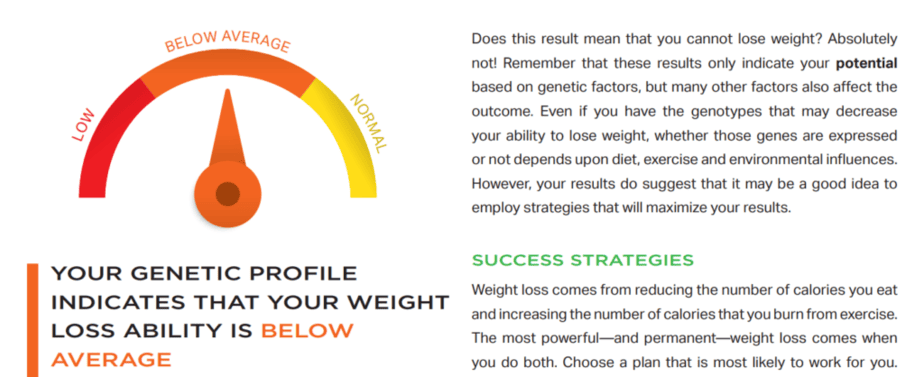 For the Weight Loss Ability category subsections include ways to achieve success, tips for effective dieting, tips for maximizing calorie burn, and related genes/SNPs.
Different categories will present different types of information. The list of categories in this report are:
Weight loss ability
Food
Nutrients
Exercise
The final report sections provide custom meal and exercise plans. There are also links to related studies.
Review of DNAcode Privacy Policy
DNAcode is owned and operated by Health & Wellness Decoding (HWD) Pte Ltd, which follows the Personal Data Protection Act 2012 (PDPA) as the primary governing law for protecting individual privacy. DNAcode's privacy policy was last updated on May 25, 2018 with more information required by new EU data protection legislation.
The privacy policy explains how personal information is collected, used, communicated, and disclosed and how reasonable security safeguards protect personal data against loss or theft and unauthorized access, disclosure, copying, use, or modification.
DNAcode states that it does not sell or rent personal information to third parties for marketing purposes. Shared information is provided to partners to supply the requested services.
The website collects personal information by lawful and fair means and will retain it only as long as necessary to fulfill its purposes. In most cases, it stores samples for six-eight weeks and data for one year. It will destroy this information at intervals annually. The website makes information about its policies and practices for managing personal information readily available to customers.
Other DNAcode Reviews
There are no obvious third-party reviews for these products online. Additionally, there are no testimonials on the company website.
Nebula Genomics
DNAcode offers DNA testing for a limited number of items including fitness and nutrition, ancestry, and skin. This product may be ideal for customers interested in a few traits. In contrast, Nebula Genomics provides a broader DNA test, one that includes ancestry and predispositions to traits and disease.
Nebula Genomics also believes that the latest genetic technology offers the best advantage to users looking to improve their health. That's why Nebula provides a comprehensive test highlighting predispositions related to diet, fitness, disease, and much more.
With 30x Whole-Genome Sequencing, Nebula sequences 100% of your DNA to get to the root cause of every biological inclination. The test is incredibly accurate and includes other additions, including ancestry reporting and genome exploration tools. Regularly updated reports ensure that you will not miss the latest genetic research.
Nebula is not a diagnostic test, but the results are of the highest quality and can be used in consultation with health care professionals.
For only $299 or less, customers will get access to their entire genome and they can continue to ask more questions as more research is conducted.
DNAcode vs. Nebula Genomics
| | | |
| --- | --- | --- |
| | DNAcode | Nebula Genomics |
| Testing method | Cheek swab | Saliva |
| Results | Limited view on fitness, nutrition, and/or skin | Sequences of all 20,000 genes and regulatory regions |
| Ancestry reporting | Yes | Performs deep ancestry reporting with the complete Y chromosome and mtDNA sequencing |
| Counseling | No | No, but data is of the highest quality and can be used by physicians and genetic counselors |
| Cost | $150-$205; $530 for a bundle | $0, $99, $299 |
This company offers a variety of tests for different inquiries. Other companies that offer different testing options include: