7 Facts from our Dynamic DNA Review
Location: Springfield, MO
Products: Nutrition, Fitness, Health, Dermatology, Personality, Ancestry, cancer/disease predisposition, and Pharmacogenomics. More recently, local COVID-19 Testing. Artwork consisting of a portrait of a person's DNA on a canvas, mug, mousepad, and phone case
Cost: $99 – $249
Reports: PDF file attached to an email 3-4 weeks after sample sent. They are informative, not too specific, and include recommendations
How it works: You may order a kit from the website or other vendors like Amazon. You must register the kit, scrape cheeks with a swab, store the swab in the envelope, and ship it back
Raw Data Access: It is provided in the report but not available for download
Alternative Products: Nebula Genomics decodes all the information in your genes. This broad spectrum of DNA data allows for a highly reliable and comprehensive report covering ancestry, pharmacogenomics, health, fitness, and much more.
This review is written with the intent to be as unbiased as possible. However, it represents the opinion of an individual reviewer and is therefore subjective. Furthermore, at Nebula Genomics we seek to educate the public about the benefits of Whole Genome Sequencing. Information about our Whole Genome Sequencing DNA test is therefore incorporated into the review.
March 16, 2022
Pros and Cons
Pros
Variety in the number and types of tests
Extensive reports
Confidential and reliable results
In-house lab testing
Cons
Prices are above the average for similar products
The Ancestry test has a limited database
Dynamic DNA Labs Introduction
Dynamic DNA Laboratories is a biotechnology and direct-to-consumer genetic testing lab specializing in molecular, cell, and microbiology research. Its headquarters are located in Springfield, Missouri.
The company's product offer includes ancestry testing and other specialized DNA tests to help customers get fit, lose weight, and learn about their genetic predispositions. More recently, they also have a local COVID-19 testing lab in Springfield.
With a simple cheek swab, Dynamic DNA labs will open doors to your health predisposition, ancestry, fitness, dermatology, and more. One remarkable aspect of this biotech company is that the state of the art labs are in-house, eliminating the need for a third party.
Learn more about Dynamic DNA labs in our review below!
Review of Dynamic DNA Labs Products
The website splits the products into four main categories and offers a range of products. Besides this, it offers a Nutrition DNA Test + Personalized Vitamin bundle. Let us explore each product in detail.
Proactive Health
This set of tests is the company's main focus. They help you understand your genetic composition to make better decisions towards a healthier life. All of these tests are run in HIPAA-compliance labs.
Nutrition ($129)
Since each has a different genetic composition, our body's nutritional needs will vary. This test can help determine which nutrients are better for your unique needs and which ones you should avoid.
What you get:
43 genetic traits related to dietary requirements, eating habits, and nutrition
A DNA-based actionable dietary plan
Information on how the body reacts to different types of foods
Details on your metabolic health factors
What vitamins your body quickly absorbs and which ones it does not

Fitness ($129)
Your unique genetic composition makes your body respond differently to exercise and weight loss. This DNA test will help you discover which exercises will work best to reach your goals.
What you get:
31 genetic traits related to strength, recovery, and performance
The type of training that works best for you
Information on the amount of fast-twitch and slow-twitch muscle fibers you have
How quickly your body can recover from exercise
Metabolic rate
Joints and build strength

Skin ($99)
The largest organ in your body has its genetic particularities. The Dynamic skin DNA test is developed to help develop an effective skin maintenance routine.
What you get:
25 genetic traits to help develop and maintain a healthier skin
Personalized treatment recommendations
Analysis of specific markers related to allergies, aging, nutritional needs, moisture, texture, etc.
Collagen levels
Allergies or skin sensitivities to certain ingredients

Personality ($99)
Your genes not only determine your physical appearance but also play a role in determining your personality, mood, and behavior. This test explores genetic traits that uncover these predispositions.
What you get:
30 genetic traits related to your personality, mood, and character
Insight into the propensity for addiction and motivation levels
Five-factor model of analysis (openness, conscientiousness, extroversion, agreeableness, and neuroticism)
Family + Ancestry
Dynamic DNA offers three different tests in this category: ancestry, paternity, and siblingship. The ancestry test is very similar to Nebula, MyHeritage, and AncestryDNA.
Ancestry ($99)
The ancestry test analyzes three types of DNA: autosomal, Y-DNA (for males only), and mtDNA. Despite these tests not being Dynamic's main focus, the results are reliable and detailed.
With this test, Dynamic DNA enables you to discover your migratory ancestry paths through your mother and father.
What you get:
Ethnicity percent
Migratory routes traveled by ancestors
Testing of maternal and paternal haplogroups
Results via an online dashboard

Paternity ($195)
This test can determine if a father and a child are genetically related. People share genetic markers with their parents, and this test finds them. Both the suspected child and parent should submit a sample.
Albeit accurate, this at-home test is not court-admissible. However, the company does offer court-admissible tests in-lab only.
What you get:
Industry-standard technology
Confidential reports accessible via a HIPAA-compliant online portal
Easy-to-understand results
Results available within 3-4 weeks

Siblingship ($249)
Our DNA can reveal the human relationships we have with other people. If two people share a father or mother, their markers will be similar. DNA testing can also show if two people have other close family relationships, such as grandparents, aunts, or cousins.
Like with the paternity test, both parties have to submit a sample.
What you get:
Modern microarray technology
Strict, confidential, and easy-to-read reports
Results are available through a confidential HIPAA-compliant online portal

Personalized Medicine
These are all pharmacogenomics (PGx) tests to help determine your response to a series of drugs. As the company says, this eliminates the guesswork and reduces the unnecessary use of ineffective medication.
The tests in the Personalized Medicine category could be covered by health insurance.
Pain management
Many patients get medication to treat pain with little to no avail. The solution has usually been a different drug or increased the dose. The Pain Management PGx testing can help find the right prescription for your particular pain.
What you get:
Your body's genetic response to 40+ pain medications
Dosage recommendations
Alternative treatment suggestions in case of sensitivities or negative response
Information on which medicines carry more side effects and which ones to take at lower doses

Cardiovascular health
This test evaluates your response to medication used to optimize your cardiovascular health. Cardiovascular medicines are critical to the improvement of a patient's life quality. Getting the proper one is pivotal for a more effective recovery program.
What you get:
Your body's response to 30+ different drugs to treat cardiovascular disease
A personal medicine report
A patient-centered treatment plan to fit your genetic build

Mental health
Bodies respond differently to antidepressants, anti narcotics, and antianxiety drugs. Hence the importance of shedding some light on your genetic predisposition to these chemicals.
Dynamic DNA Laboratories delivers a personalized result to help the patient and their health provider decide on a more favorable course of treatment.
What you get:
Analysis of your body's response to 90+ different medications used for the treatment of mental health
Personalized results with predictions on your response to several antidepressants

Comprehensive
This grab-it-all combines the aforementioned PGx test, plus infectious disease and gastrointestinal treatment. Knowing how your body will react to medications before even trying them will save you a ton of money.
What you get:
Testing of 150+ different drugs prescribed for pain, cardiovascular health, mental health, infectious disease, and gastrointestinal conditions
Personalized medicine report
Dosage recommendation
In case of sensitivity, it offers an alternative method

Substance
Cannabis ($129)
Your genes also determine how your body will react to cannabis. This test aims to shed light on ways to maximize the health benefits of this drug.
What you get:
13 genetic traits that can show how to better harness cannabis health properties
An understanding of how your body metabolizes several types of cannabis
The best CBD-to-THC ratio of cannabis and hem products for your body
Dosage recommendations to control pain, sleep, stress, and anxiety
Insights into potential side effects

Bundle
Nutrition + Vitamins ($169)
At the time of this post, Dynamic DNA Labs only offers this bundle. This catch-all option gives insights into all aspects of nutrition, including processing, absorption, metabolism, and distribution of vitamins and nutrients.
What you get:
Analysis of 43 genetic traits related to critical aspects of nutrition
Customized formulas based on DNA analysis in partnership with Vitaminlab
Insights into improved nutrition and eating habits
Characteristics included: food sensitivities and allergies, metabolic health factors, vitamin deficiencies, and eating behaviors

The Science Behind Dynamic DNA Labs Products
One aspect that most customers appreciate about the company is that it owns its CAP accredited and CLIA certified lab. This eliminates outsourcing and the need for third parties to access sensitive data.
Dynamic DNA Laboratories specializes in advanced DNA testing. The facility is equipped with genetics, microbiology, and cellular and microscopy lab sections. A staff of experts applies 35 years of experience to the methods and processes to unravel a patient's DNA.
The research solutions and capabilities include DNA sequencing, gene expression, epigenetic analysis, microbial identification, and more.
Review of Dynamic DNA Labs: Are results reliable?
Since its foundation in 2015, Dynamics DNA has established itself as a versatile and complete DNA-testing company. Results are accurate, and although reports are sometimes challenging to read, it enjoys users' trust.
How does it work?
The process for these at-home DNA tests is relatively simple. Once you place your order on the website or through online stores, you will get your DNA kit within 3-5 days.
Using the provided cheek swabs, scrub 60 seconds on both cheeks. Snap the swab, put the halves in the envelope, and mail. Of course, just like with all testing companies, you will be given a registration code to use on the website.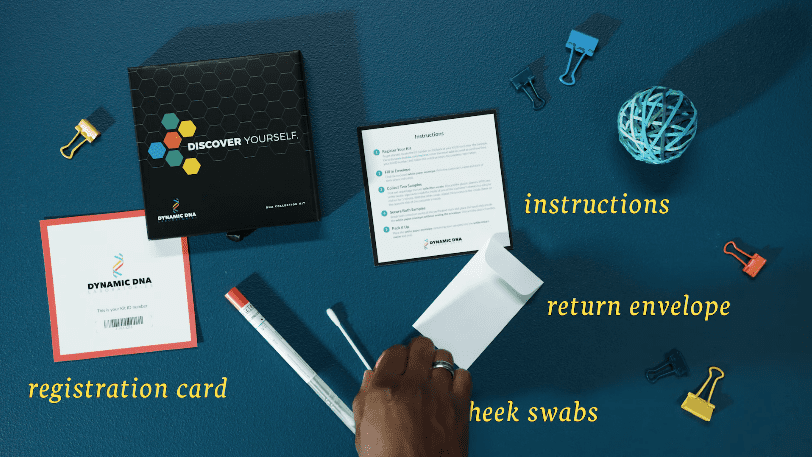 After 3 to 4 weeks, you will receive an email telling you to log into a secure HIPAA-compliant client portal to see your results.
Review of Dynamic DNA Labs Cost
Compared to other companies that offer services similar to Dynamic DNA, we find it rather expensive. The Ancestry DNA test price is the only one closer to other competitors. So, if you are on a budget, you might want to consider turning elsewhere.
If you need a paternity test, you can get one at a slightly cheaper cost from HomeDNA or EasyDNA.
Vitagene offers quality health + ancestry testing at a better price. If you already have DNA data, try Xcode Life. Its thorough reports on ancestry and health range from $20 to $99.
Keep in mind that, although the product prices are relatively elevated, the real value rests on how much information you need. A pharmacogenetic test would pay itself if it avoids you taking medication that will cause more significant issues down the line.
One point that strongly favors Dynamic DNA Labs is that insurance may cover the tests.
Review of Dynamic DNA Labs Reports
The Dynamics DNA Labs reports contain ample information on what is being tested and why, plus the individual results on each category. The document begins with an introduction from the founder, followed by some basics on biology to help readers better navigate.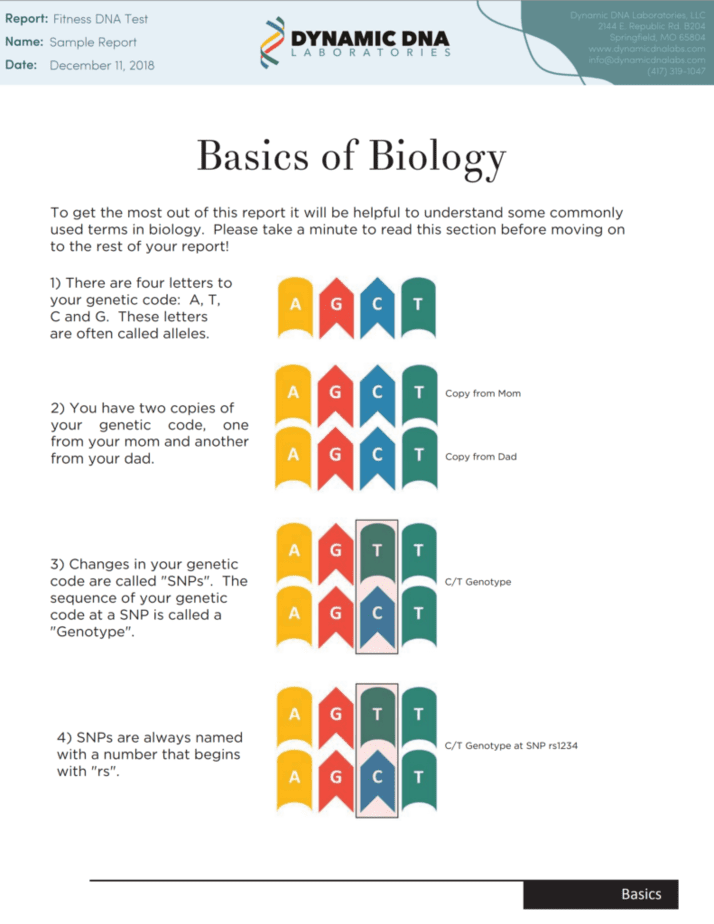 You get a nice overview of all the categories' results within the table of contents.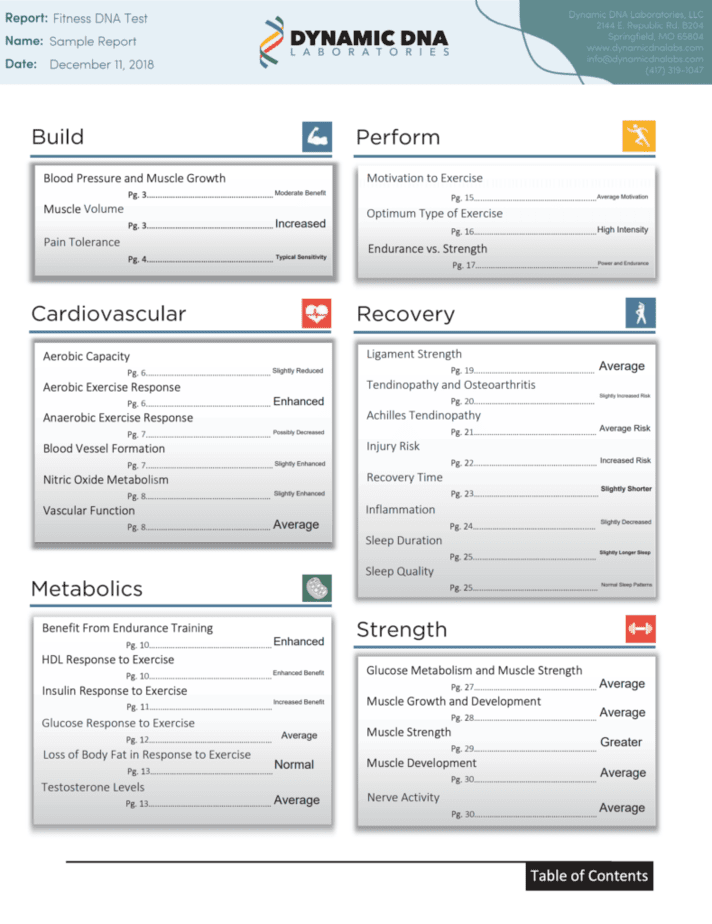 Every section begins with an introduction to what each category means and how genetics influences it. More specifically, each section tested gets its detail along with specific results for the marker tested, its SNP, and your genotype.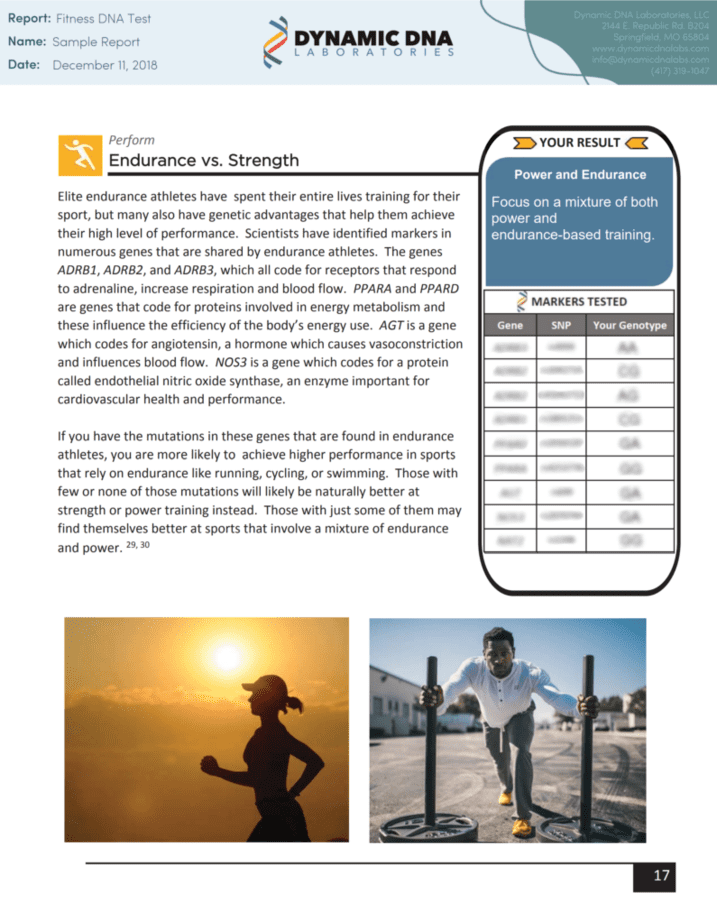 In general, the reports are extensive and complete. They include the technical data on markers, SNPs, etc., plus insightful recommendations on how to improve one's numbers.
Review of Dynamic DNA Labs Privacy
Dynamic DNA offers the advantage of in-house labs. This eliminates the need for a third party to manipulate the sample and data. However, Dynamic DNA Laboratories does point out that certain content, products, and services are made in connection with third parties. They are not liable for any harm or damages stemming from those.
All the information you enter into their website may be transferred unencrypted for network and technical requirements. Credit card information is always encrypted.
The company claims it values privacy as a feature of utmost importance. There's not much information on how it handles customer data, except what is stated in the Terms of Use. However, the security measures applied are standard. They do not upload their DNA to any database and never share it with anyone.
The Privacy Policy mentions an informed consent you must sign before engaging in a genetic testing service through Dynamic DNA Laboratories. Unfortunately, we could not find a copy of such Informed Consent on the website.
Dynamic DNA Labs in the News
Dynamic DNA Laboratories joined the efforts to test COVID-19 in March 2020. These tests are taken on site at their Springfield lab.
It is estimated that by 2027, the pharmacogenomics (PGx) markets will reach USD 11.96. Dynamic DNA Labs stands as a key player in this growth.
Other Dynamic DNA Labs Reviews
Reviews from the public are mostly positive. Highlights refer to a responsive staff, professional work, and the usefulness of the information provided. Clients' negative feedback includes the high price and how they felt the info provided with each test was too "common sense."
Eight reviews in Trustpilot average a "Great" score of 4.1 out of 5. Most users of the FB page would recommend the product.
Customers at Amazon seemed a bit more critical about the product. The Nutrition DNA Test has, at the moment of publication of this post, a score of 3.3 out of 5. It is worth mentioning that this is the opinion of only five verified customers.
The company's website has a section of reviews for every product, including positive and negative, which is good for transparency. Also, this is the place where customer service will reply to negative comments.
Nebula Genomics
Privacy has become a serious concern in the last few years. So shouldn't you trust a company that places your privacy at the top of its offer?
Nebula Genomics' blockchain platform ensures that your data is safe and secure while it decodes 100% of your genome. Regularly updated reports ensure that you are kept up to date on the latest scientific research when it comes to your genome.
Nebula uses 30X whole genome sequencing. This DNA test gives you more information than any other tests on the market. Most tests, like the microarray analysis, only decode certain genes the company is looking for. In most cases, this covers less than 1% of your genome. Nebula Genomics decodes 100% and provides you access to this raw data so that with one test, your entire genetic information is in your hands.
To make sure nothing gets left out, your DNA is sequenced an average of 30 times. Now that is actual accuracy at your fingertips!
The best part? All this information about your DNA is available to you at hard-to-beat prices.
Start on a path to a better you today. Nebula Genomics is your first giant leap towards it.
| | | |
| --- | --- | --- |
| | Dynamic DNA | Nebula Genomics |
| DNA testing method | Microarray | 30x whole genome sequencing |
| Sample collection | Cheek swab | Saliva |
| Reports | Single reports based on the product ordered | Regularly updated reports based on the latest research |
| Ancestry reporting | Yes | Perform deep ancestry reporting with the complete Y chromosome and mtDNA sequencing |
| Raw data access | No | Yes |
| Cost | $99 – $249 | $0, $99, $299 |
Dynamic DNA vs Nebula Genomics
Did you like our Dynamic DNA Labs review? You can read more reviews on our blog and check out our complete guide to the best DNA test kit and other home tests.
Other companies
This company offers a variety of tests for different inquiries. Other companies that offer different testing options include: