7 Facts from our Xtend Life Review
Location: Woolston, Christchurch, NZ
Products: Supplements, skincare, and superfoods products for anti-aging purposes
Ordering: Order online and have products ship directly to your home
Privacy: The company protects users' information and only share it with approved parties to develop better anti-aging products
Cost: $13-$167
Reviews: Good – Really good
Complementary products: Nebula Genomics (DNA test that decodes 100% of DNA and provides the ability to explore genetic markers for longevity)
This review is written with the intent to be as unbiased as possible. However, it represents the opinion of an individual reviewer and is therefore subjective. Furthermore, at Nebula Genomics we seek to educate the public about the benefits of Whole Genome Sequencing. Information about our Whole Genome Sequencing DNA test is therefore incorporated into the review.
April 12, 2022
Pros and Cons
Pros
Vast number of products for both women and men
Easy to use
Clean, high quality products
Cons
Only sells products – no testing
Can be expensive, especially for long term use
Some products require taking up to 7 supplements per day
Xtend Life Introduction
Xtend Life (XtendLife) is a premium supplement, skincare, and superfood company that prides itself in producing effective, top-quality products from raw and natural ingredients. The goodness of nature inspires their unique formula, and with a combination of clinically proven results, they have created highly effective vitamin supplements, superfoods, and skincare products.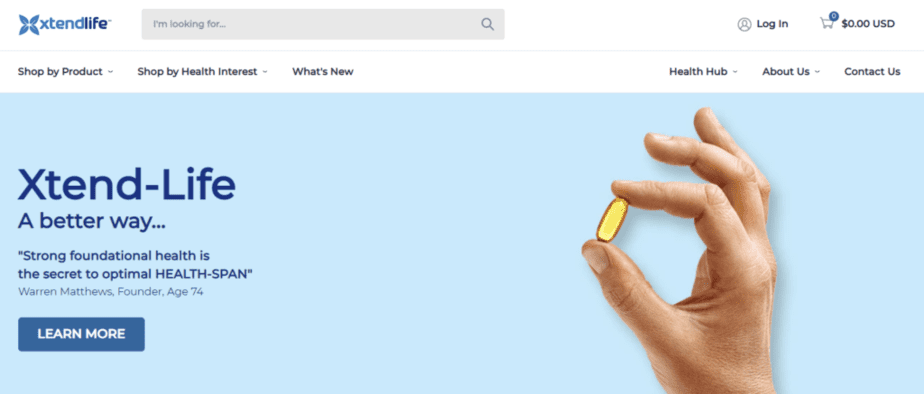 These products provide nourishment targeting the body organs and cells to help correct imbalances or nutrient deficiencies in the body. Xtend Life is a family-owned company founded in 2000 by Warren Matthew, an advocate for natural health and research. The company is based in Woolston, Christchurch, New Zealand. According to its website, it serves over 400,000 customers globally.
The supplement company divides its products into three categories that include natural supplements, superfoods, and skincare. The products in each category offer unique benefits in enhancing a healthy, stronger, and younger sense of being mentally and physically.
It also divides some of its treatment into several health packages based on General Health, Health & Cardio Health, Immune Support, & Bone and Joint Health.
Review of Xtend Life
Xtend Life has a strict quality control standards and personalized customer service.
Review of Xtend Life Products
Xtend Life has up to 50 products. We show examples of several of them here.
Review of Xtend Life Supplements
These dietary supplements are for customers looking to add specific vitamins and minerals to their diet. The Total Balance TM complete nutrient system contains a wide range of clean ingredients, including amino acids, leaf extract, fruit extract, fish oil, and an enteric coating.
For men and women
Total Balance Men's Premium ($106): This is a balanced multi vitamin that helps to support men's bone and cardiovascular health. It also helps men's prostate support and testosterone health, stimulates stem cells, improves bioavailability, and provides the body with age-defying nutrients.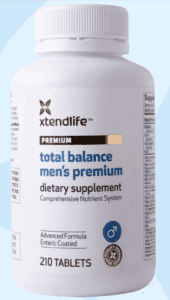 Customers take 7 tablets per day, either in the morning or split into 2 doses in the morning and later in the day. They can be taken with or without food. Each tablet is at its highest level of potency so it is not possible to reduce the number of tablets.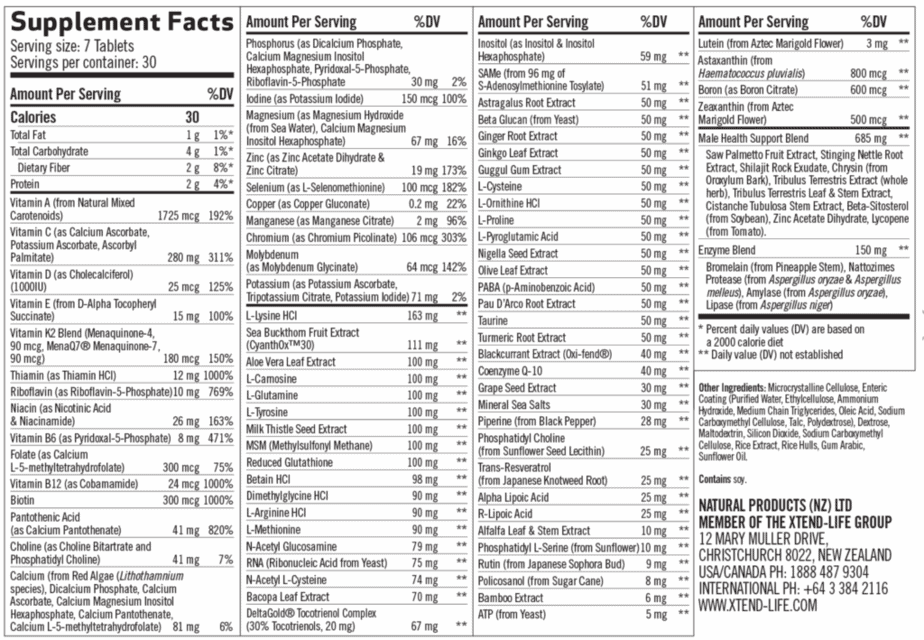 Total Balance Women's Premium ($106): This improved balance supplement includes health benefits such as women's cardiovascular and bone health. It also helps to improve hormone levels, provide support for PMS and menopause, stimulates cell growth, and prevent the body from premature aging. Like the men's version, customers must take 7 capsules per day to get the full dose.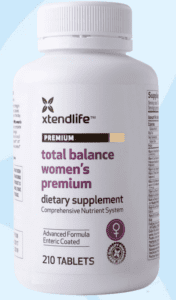 For all
Green Lipped Mussel Powder ($33): This powerful powder focuses on joint health. It contains natural ingredients that help manage inflamed joints, improve mobility, relieve joint pain, and help you get back on your feet. It also helps support cardiovascular and brain health and your overall immune system. Unlike the men and women's premium supplements, customers only need to take 4 capsules per day. This product contains shellfish.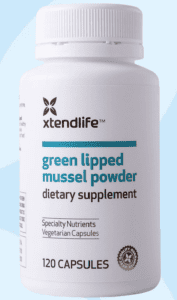 Organ Ultra ($50): This is an Xtend Life natural product containing five organ meats from New Zealand sheep fed with 100% grass to provide your body with minerals and essential nutrients. These organ meats contain vitamins with folate, B12, CoQ10, selenium, and iron that support fertility, liver, kidney, immunity and strengthen the body's detoxification pathways. Customers take 6 capsules per day.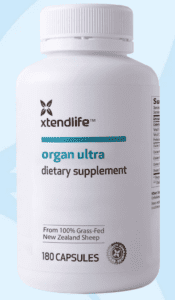 Skin support ($40): This is an exclusive collagen supplement that provides the skin with nutrients to keep it looking youthful smooth and solve issues that cause the appearance of wrinkles, fine lines, spots, stretch marks, and dryness. Customers take 3 capsules per day.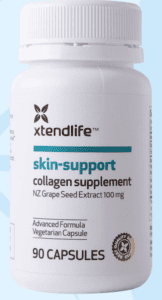 There are 32 additional supplement products, including pills for eye health, prostate health, hormones, and a prebiotic called Kiwi Klenz as well as special products for children and pets. On each product page, customers can view directions, notably how many capsules are needed per day, ingredients and nutritional information, and other products that pair well with the supplement.
Review of Extend Life Skincare
Xtend Life has over 20 KanapaTM skincare products. This blend uses natural oils, active ingredients and Omega 3, 6 and 9 fatty acids to make skin look young. It claims to reduce the number of wrinkles by up to 34%, even out skin tone and texture, and reduce the appearance of age spots and discoloration.
Hydrating Facial Fluid for Men ($50 for 100 mL/3.38 oz): This non-greasy lightweight facial cleanser for all skin types helps to soothe irritated skin. This formula helps reduce wrinkles and fine lines while providing the skin with lasting hydration. It also helps to reduce visible aging effects. Customers should use morning and night.
Nourishing Day Cream ($35 for 50 mL/1.69 oz): This day cream is an advanced moisturizer scientifically produced to reduce wrinkles and fine lines while providing the skin with lasting hydration. It contains healthy, active ingredients and antioxidant blends that protect the skin and neutralize free radicals. This product can be used under makeup after giving it a few 5-10 minutes to dry. It is formulated to be used along with Restorative Night Cream to support skin health 24 hours.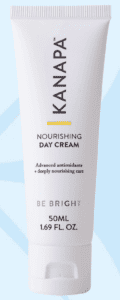 Nourishing Facial Oil ($38 for 25 mL/0.84 oz): This facial oil contains potent antioxidants and botanical extracts to help keep the skin looking younger and more radiant. It was formulated with robust rosehip concentration, pomegranate seed oil, avocado, Astaxanthin antioxidant to penetrate the skin deeply for complex nourishment and rehydration. This product can also be used under makeup.

There are 14 additional products currently listed on the company's website. These include night creams, contour creams, body lotions, and hand creams.
Review of Xtend Life Superfoods
Xtend Life sells superfoods under the name ZupafoodTM. These products were formulated over the curse of 18 months in research and development. They contain all natural ingredients with no added sugar. Some ingredient examples include: medicinal mushrooms, marine calcium, organic spirulina, chlorella, barley grass, wheatgrass, kiwifruit extract and grape seed extract.
These products come as powder in packets. Customers should mix the contents of the packets with water, juice, etc. in the Zupafood shaker (sold separately) and consume immediately while the powder is in suspension.
Zupafood for Skin ($60): This is an organic superfood scientifically formulated to help reduce the appearance of fine lines and wrinkles in the skin. It contains more collagen than the other superfood products to target skin nourishment.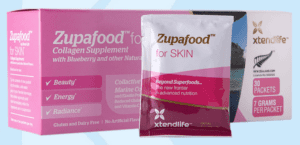 Zupafood Greenz ($45): This formula helps boost your daily supply of greens with more than 2,800 mg of alkalizing greens that improve digestion, support the natural detox process of the body, and increase your energy levels for daily performance.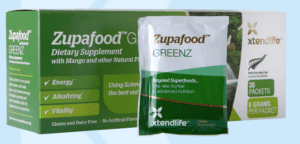 Zupafood Elite ($68): This superfood powder helps boost your appearance, energy, and overall health. It contains rich nutrients like ingredients grown in New Zealand, collagen sourced from the marine, rare medicinal mushrooms to help you look and feel your best. It contains the largest range of ingredients to help reduce the appearance of aging.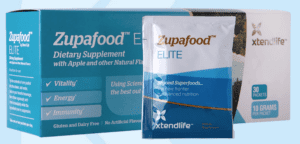 Review of Xtend Life Costs
Xtend Life features over 50 products with varying costs. As already stated these products are shared into categories with certain featured products. As such, most of them differ in prices.
Most supplements cost between $20-$40 per month although a few are as high as $70. The Xtend Life total balance products and total balance premium options, which are the most comprehensive, are between $50-$106 per month.
In skincare, products range between $15-$69 per bottle. However, they come in different sizes so customers should note how much they are getting and calculate the dollars per mL or dollars per ounce when comparing products for price.
The three superfood products cost between $45-$68 for 30 packets. The directions recommend taking 1-2 packets per day. The shaker, which is needed to use the packets, costs an additional $3.
The company also offers a 365-day money back guarantee and free customer service.
Review of Xtended Life Privacy
Xtend life has put measures to help protect their customer information from unauthorized access online or through their website. The company collects your personal information, including name and email address, during registration and uses it to process your order or send you the newsletter you subscribed for.
The information you provide would only be used to provide you with the service you require. The company does not disclose rent, sell, or share customer information to any third party apart from the personnel who ship out your orders. Please visit the website for more information.
News About Xtend Life
Xtend Life has been in the news for the right reasons, with both global and local news websites citing it as a company that offers people, especially New Zealanders, the chance to control their health. The company was quoted by a news blog to have given a rallying call to New Zealanders to step up and get its products so that they can gain better control of their heath. The call was to create awareness about the company and what users will get buying its vast products.
Xtend Life was also in the news in 2016 after a proposed launch of Xtend Health Asia, a company that features only the products of the former. The Asian Firm CEO stated the company was focused on bringing Xtend Life's various top products to Asian users.
Other Xtend Life Reviews
The company includes ratings of each product on that product's ordering page. Ratings generally range between 4.5 to 5 with hundreds of reviews. The company also posts customer reviews in addition to the ratings. These include both high and low rating reviews, demonstrating the company's commitment to transparency.
Xtend Life offers many of its supplement products on Amazon, where they all receive a 4.5 out of 5 star rating with most having at least 50 reviews.
Innerbody Research has also reviewed the company, giving it an expert review of 8.5 out of 10, noting its transparency and quality but also recognizing its cost.
Nebula Genomics
While Xtend Life does a great job with its high quality products, it is important to note that there could be genetic factors to possible health vulnerabilities and skin. Understanding these genetic factors can help go a long way to help you know if using supplements like that of Xtend Life can actually make a difference.
Nebula Genomics is a top genetic testing company that offers a comprehensive test that highlights predispositions related to diet, diseases, fitness, and metabolism. With 30x Whole-Genome Sequencing, Nebula sequences 100% of your DNA to get to the root cause of every biological inclination. This means that if your condition is genetic, the analysis of the test can give you an idea of what you can do.
The test is incredibly accurate and comes with other additions that include ancestry reporting and genome exploration tools. Plus, regularly updated reports ensure that you will not miss the latest genetic research.
Did you like our Xtend Life review? You can read more reviews on our blog and check out our complete guide to the best DNA test kit and other home tests.
Other companies
You may also be interested in Elysium and Tru Niagen, supplements that claim to have anti-aging properties.
Other companies that sell anti-aging products you may be interested in include:
And you might be interested in these companies that support aging well: