This review is written with the intent to be as unbiased as possible. However, it represents the opinion of an individual reviewer and is therefore subjective. Furthermore, at Nebula Genomics we seek to educate the public about the benefits of Whole Genome Sequencing. Information about our Whole Genome Sequencing DNA test is therefore incorporated into the review.
January 24, 2023
7 Facts from our Zion Health Review
Location: San Francisco, CA, United States
Products: Clay-based body care products
Cost: $4 – $50
How to order: Products are available from the company website. Customers can access select products on third party sites like Amazon
How it works: Customers purchase their desired body care online and use it as instructed
Reviews: Very good
Other Products: Nebula Genomics offers 30X Whole Genome Sequencing that decodes 100% of your DNA and offers reports on diet and much more!
Pros and Cons
Pros
Natural ingredients
Mainly positive reviews on alternative treatments
Cons
Can be expensive depending on how often it is used
Some reviewers do not like changing formulations
Introduction
Zion Health is a natural health company offering a vast catalog of mainly anti-aging products, such as creams, etc. The company manufactures and sells skincare, hair care, and other products using Kanwa Clay Minerals which some believe contain natural healing powers. Its stated mission is to offer customers natural health alternatives with positive results while minimizing impact on the planet and maximizing benefits for its community.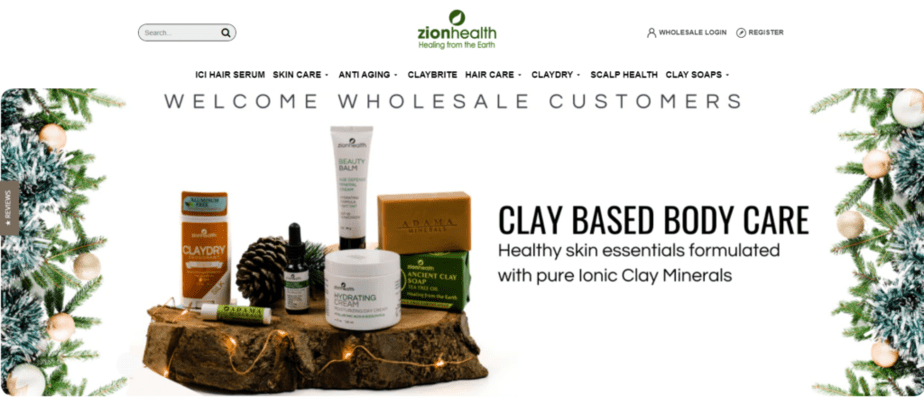 Zion Health was founded in 2010 and is currently based in San Francisco. Although the founder is unnamed, the website states that he started the company after battling gum disease. Close to surgery, he applied the clay minerals and his gums began to heal on their own.
Then, he brought together a team of natural health chemists and formulated his first product called ClayBrite Toothpaste. The company grew to offer an extensive line of products based on Kanwa (Calcium Montmorillonite edible grade clay).
The Science Behind Zion Health
Zion Health uses natural medicine experts that have significant experience in skincare to create its products. The items are all based on the studied nutritional and detoxifying properties of Clay. Historically, the company cites instances over time in which Clay has been used to treat ailments of the skin and internal body including rashes, red skin, stomach illness, and food poisoning.
The Clay used in Zion Health products is called Kanwa, or Calcium Montmorillonite. The idea is that youthfulness and energy is achieved through remineralization through supplementation and detoxification through absorption. Claims state that the clay can cling to toxins in living cells and remove them when it is dispelled from the body. The clay facilitates an internal cleansing or detox process that when taken over time claims to remove years of accumulated toxins.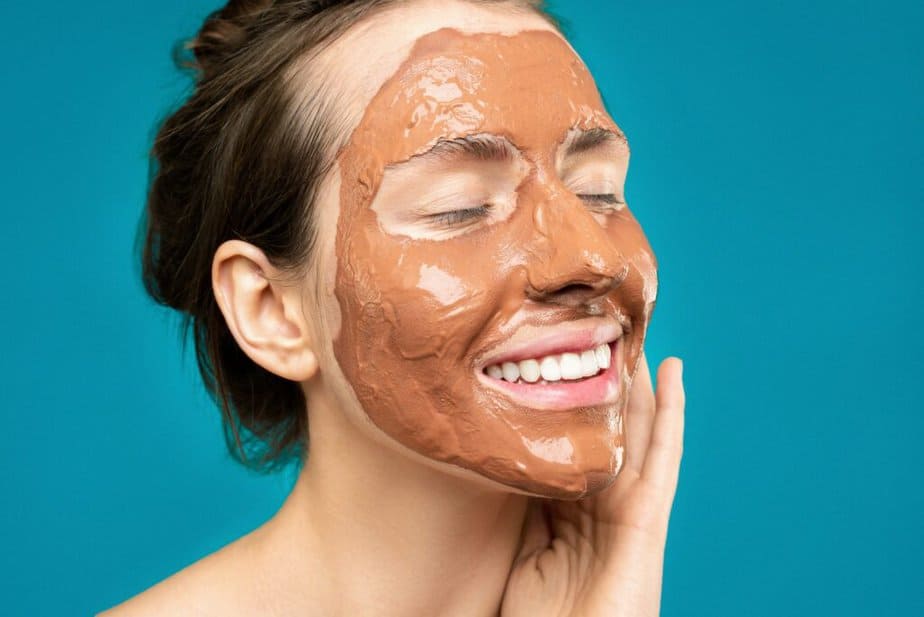 Calcium Montmorillonite works in two stages. First, you may feel better or worse as it removes the toxins before feeling consistently better. The second stage is the recovery stage which lasts weeks, months and years.
This treatment is classified as an alternative therapy, meaning that it is outside of western medicine.
Review of Zion Health Products
Zion Health manufactures products from natural materials to help users look healthy and young. As of January 2023, the company lists over 200 products on its website. A review of the categories and an example of the product details will be discussed below.
Zion Health Categories
Skin Care
Ancient clay bath
Cleansers
Lip balm
Sunscreen
Toner
Acne terminator
Body scrub
Calming cream
Face masks
Moisturizers
Repair cream
Bath minerals
Feet treatment
Pain relief spray
Anti-aging
Daily perfection serum
Hydrating cream
Retinoid serum
Hand repair
Anti wrinkle
Eye cream
Vitamin C serum
Looking for other online skin care and anti-aging options? You can read our reviews on Curology, Life Extension, Plexaderm, and Xtend Life.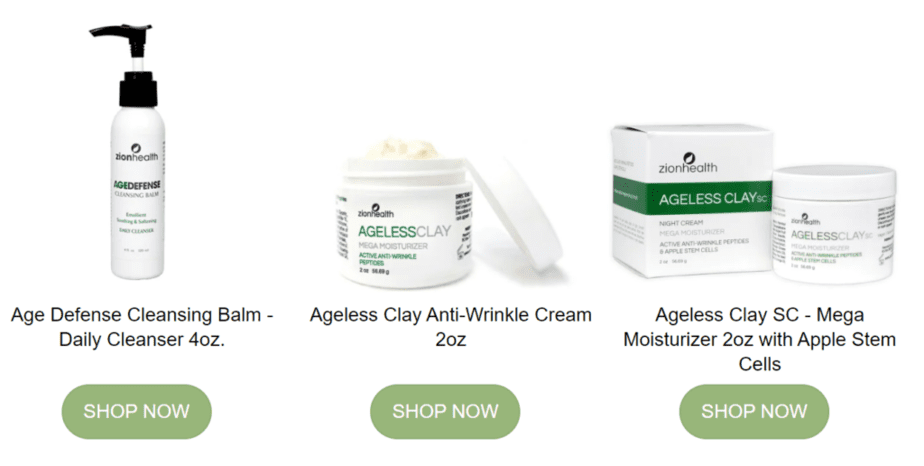 Hair care
Ancient minerals shampoo
Ancient minerals conditioner
Treatments
Hair scrub
Hair mask
In addition to hair care, you may also be interested in hair regrowth. Some products for this include Capillus, Keeps, Nutrafol, Vegamour, and Viviscal.
Other products
Claybrite (toothpaste)
Claydry deodorant
Scalp health
Clay soaps
ICI Hair Serum
Product Examples
Each product page also contains a full list of ingredients and the healing properties associated with each.
Calming Cream
The company designed its calming cream for issues with skin irritations. Made from natural materials, the cream helps keep users' skin fresh and new. The cream is made to soothe everything from bug bites and sunburn to chronic skin diseases.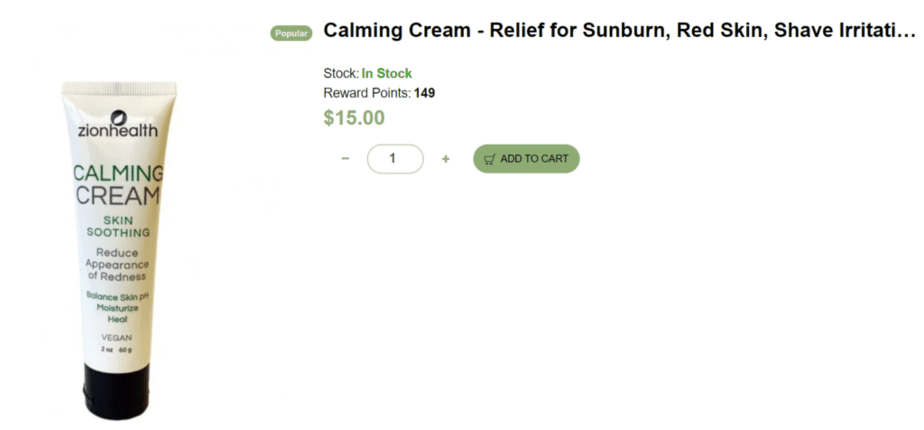 The herbs used in the manufacture of this calming cream have their own healing abilities. They help neutralize contaminants and keep the skin free from adverse reactions resulting from dead cells.
The Zion Health calming cream reduces redness, itches, dryness, and other skin sensitivities. The cream also assists in normalizing the skin's pH and locks in moisture to protect against future irritants.
Ageless Clay Anti-Wrinkle
The Zion Health Ageless Clay anti-wrinkle cream helps keep users' skin firm and free from wrinkles. An advantage of this cream is that it doesn't dry out skin to remove wrinkles.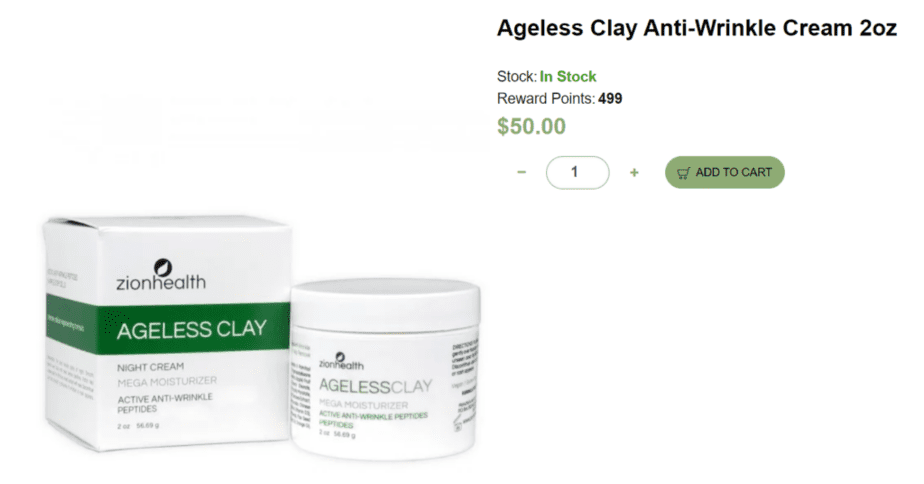 The cream combines natural products such as fruit acid and amino acids with ionic minerals to help prevent and reduce skin lines. The cream also contains a high concentration of vitamin C and fatty acids to brighten and improve the skin's appearance.
Deep Cleansing Scalp and Hair Scrub
The deep cleansing scalp and hair scrub are made to bring dead hair back to life. It comes in five different fragrances. Experts designed it specifically for fragile hair.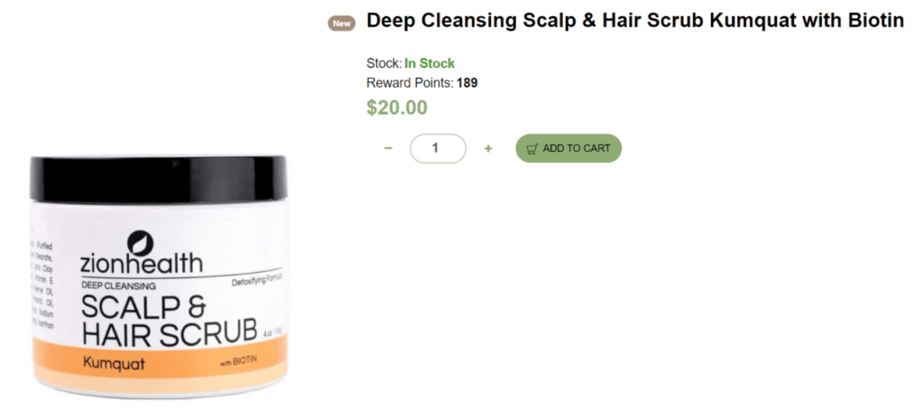 The combination of gentle exfoliation and penetrating nutrients purifies the scalp to create a healthy environment for hair growth. The cream removes a range of impurities and excess oil. The cream also helps to revitalize hair cells to improve hair growth. It features natural ingredients such as Vitamin E, biotin, argan oil, and ionic minerals from calcium montmorillonite clay, which contribute massively to hair growth.
Review of How to Use Zion Health
Customers can review the instructions on how to use each product on the packing as well on the company website. In most cases, it involves gently applying the product to the skin. Products should be kept away from eyes unless specifically designed for that purpose.
Review of Zion Health Cost
The Zion Health products may be expensive for some customers depending on how often the items are used. Overall, the costs vary based on the type and quantity of product.
Many skin products, like the calming cream, are around $12-$15 with some smaller sizes and items as low as $4.
Anti-aging products tend to be higher in price, around $40. Some small products are around $15. On the other hand, more detailed products, like the Ageless Clay anti-wrinkle cream are $50.
The toothpaste, based on the formulation that helped the company founder fight gum disease, is $8.
The other estimated price points are:
Shampoo, conditioner, and other hair care products: ~$20
Deodorant: ~$10
Scalp health: $20
Soaps: $7
Shipping is free within the United States on orders over $30.
Other Zion Health Reviews
When looking for Zion Health reviews online it's important to ensure you are looking at Zion Health and not Zion Healthcare, a non-religious healthcare sharing service.
The company sells some of its health and beauty products, including some soaps and deodorants, on Amazon. These items almost all have ratings of 4.5 stars or higher. Some products have only a handful of reviews while others have over 100 or more.
For example, ClayDry Bold Sweet Amber Deodorant has close to 450 reviews and a 4.4 star rating. Most customers say that the product works well and they appreciate the natural ingredients. A few customers felt the product was too dry or did not like changing formulations.
Zion Health also sells its products on the third-party site iherb. There appears to be more of a selection on this site than Amazon. Reviews are similar, with an average star rating of about 4.5.
Review of Zion Health Privacy Policy
Zion Health is seriously committed to the privacy of users' information. The company does not disclose the information of anyone who uses the website to outside parties. The information you provide when you visit the site is used to fulfill your order.
The information collected includes but is not limited to the user's full name, mailing address, email address, telephone number, or any other relevant information.
Nebula Genomics
Zion Health is a quality health and beauty company that specializes in skin-applied treatments and creams. The products are manufactured using natural clay ingredients, giving customers an alternative to traditional products. Trying new or different beauty products is just one way to optimize your daily health.
If you want deep knowledge about your health, especially concerning how genetics affect your skin and why you may look older than your age, then Nebula Genomic is the company to check out.
Nebula Genomics is a genetic testing company you can trust to give a comprehensive DNA test. With 30x Whole-Genome Sequencing, the kit analyzes every gene in the human genome. This is compared to only about 0.2% of other at-home genetic tests.
Nebula includes reports on metabolism, fitness, immunity, ancestry, and more. Plus, with regular updates, your reports can keep you up to date with the latest genetic research.
Did you like our Zion Health review? You can read more reviews on our blog and check out our complete guide to the best DNA test kit and other home tests.
You can also read our reviews on other online catalogues such as Arbonne and anti-aging prescription services such as AgelessRx and Obagi. Or you may be interested in companies like Elysium Health and Tru Niagen that offer supplements to help preserve cellular health as we age.