7 Facts from our Obagi Review
Location: Woodlands, TX
Products: Skin products such as skin rejuvenation systems, acne treatment, chemical peels, eye and neck care, and sun protection
Cost: Varies based on product type. Generally, $44 – $212. Some prescription-only products do not list prices
Ingredients: L-Ascorbic Acid (Vitamin C), Retinol, Salicylic Acid, Benzoyl Peroxide, Glycolic Acid (AHA), Zinc Oxide, GlycerinAloe Witch Hazel, Arbutin, Tretinoin, and Hydroquinone
Counseling available: No
How to order: Create an account and purchase the desired product. Users can find a physician on the website to order prescription products
Alternative Products: Nebula Genomics offers 30X Whole Genome Sequencing that decodes 100% of your DNA and gives reports on diet and much more!
This review is written with the intent to be as unbiased as possible. However, it represents the opinion of an individual reviewer and is therefore subjective. Furthermore, at Nebula Genomics we seek to educate the public about the benefits of Whole Genome Sequencing. Information about our Whole Genome Sequencing DNA test is therefore incorporated into the review.
March 28, 2023
Pros and Cons
Pros
A wide range of skincare products
Products are clinically proven to provide anti-aging appearance
Fragrance and paraben-free products
It offers a quiz that assesses skin conditions
Cons
Expensive compared to other brands
Some products need a prescription to purchase
Only five products per order, with a maximum purchase price of $3000
Cannot return opened items
Introduction
Obagi products help minimize the appearance of premature skin aging, skin damage, hyperpigmentation, acne, and sun damage and are primarily available through dermatologists, plastic surgeons, medical spas, and other skin care professionals.
Also known as Obagi Medical, the brand's website notes, "skin care is more than 'correcting' or even 'preventing,' it's about unleashing your skin's full potential." To back its approach to skincare it is worth noting that Obagi won two awards at the Beauty Choice Awards by NewBeauty Magazine, including Best Overall Brand Sold at a Doctor's Office and Best Overall Dark Spot Eraser for their Obagi Nu-Derm® Clear™.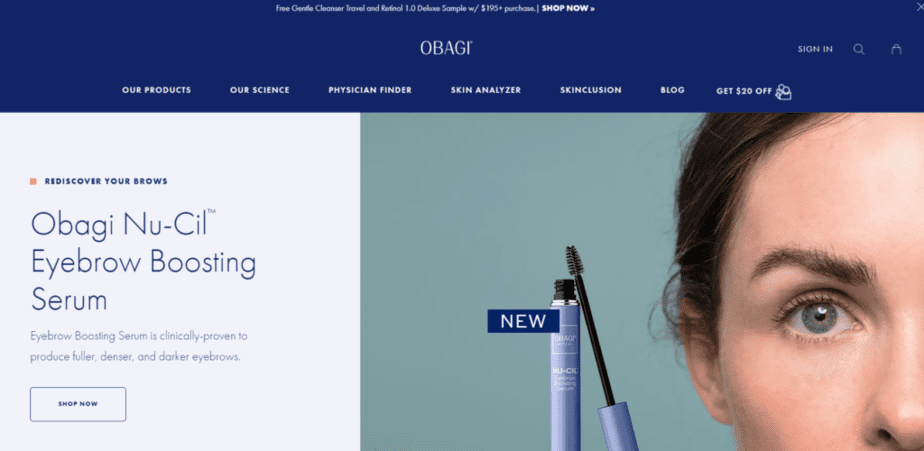 Board-certified dermatologist Dr. Zein Obagi founded Obagi in 1988. He wanted to help those suffering from tired, aging skin by creating prescription-based skincare products that did the job well. The main idea around Obagi is that your skin is more than a product of your past: it's a window into your future.
Even though a lot has changed for the brand, they uphold its same goal to slow the appearance of aging skin, heal scars, root out acne, even out tone, and shield from sun damage. The company designs its products for any skin tone.
Logistics
Obagi ships within the United States. For customers outside of the U.S., they can look for a distributor in their country on the company's website. If the country is not listed then Obagi cannot ship to that location. There are also some restrictions on prescription products in Massachusetts, Montana, New Hampshire, New York, and Texas.
Unless mandated by the FDA for drug safety purposes, Obagi does not test its products on animals. Non-prescription Obagi products have not been tested on animals.
Review of the Science Behind Obagi
The science behind Obagi products primarily focuses on promoting cellular turnover, which helps to renew and rejuvenate the skin. This is achieved through the ingredients glycolic acid, tretinoin, and vitamin C.
Glycolic acid is an alpha-hydroxy acid (AHA) that exfoliates the skin by breaking down the bonds between dead skin cells, allowing them to be shed more easily. This process can help to improve the appearance of fine lines, wrinkles, and hyperpigmentation.
Tretinoin, also known as retinoic acid, is a form of vitamin A used to increase cellular turnover and improve the appearance of fine lines, wrinkles, and hyperpigmentation. It works by promoting the production of new skin cells and decreasing the production of melanin, which can cause hyperpigmentation.
Vitamin C is an antioxidant that helps to protect the skin from damage caused by free radicals, which can cause skin aging. It also helps to brighten the skin and improve the appearance of hyperpigmentation.
The company has its own research and development team that investigates thousands of ingredients for its formulations. Afterwards, it will evaluate the possible forms for things like bio-availability and quality.
Review of Obagi Products
Obagi sells almost 100 products, bundles, and prescriptions on its website. Users can shop and buy Obagi products online and search by product type, skin concern, skin care line, ingredient, or skin type.
Product types include:
Acne products
Antioxidants
Eye care
Eyelash serum
Facial cleansers
Facial exfoliators
Facial masks
Facial acid peels
Facial serums
Facial toners
Mosturizers
Night creams
Retinol creams (Obagi retinol 1.0 – 0.5)
Sun screens
Skin care systems
For tailored recommendations, users can start with the Skin Analzyer quiz. This survey asks a series of questions about the user's skin and health. Afterwards, it will generate a list of products most likely to fit that individual's needs.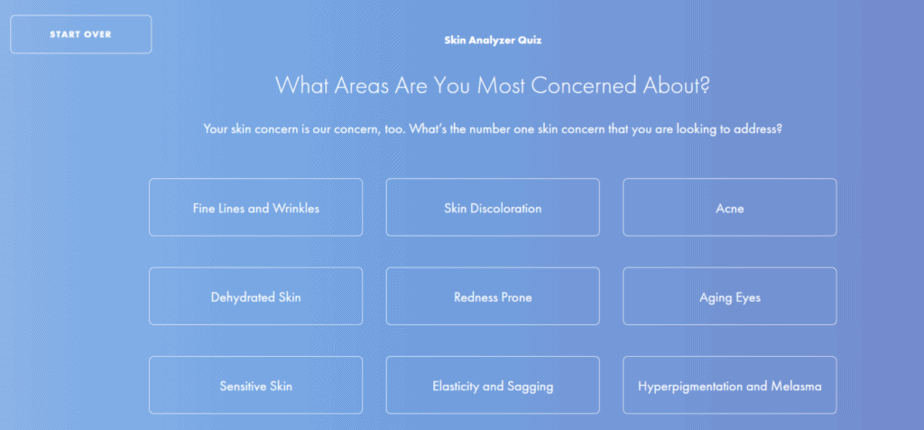 Even with this quiz, the company recommends that customers talk to their physician about their skin care needs.
While we will not go over every product in the brand, we will look at a few offerings.
Obagi Tretinoin
Tretinoin is a type of Vitamin A intended to treat and prevent acne. Available by prescription only, it has been clinically proven to improve breakout symptoms and prevent the development of acne. These products are for topical use only and are all fragrance free.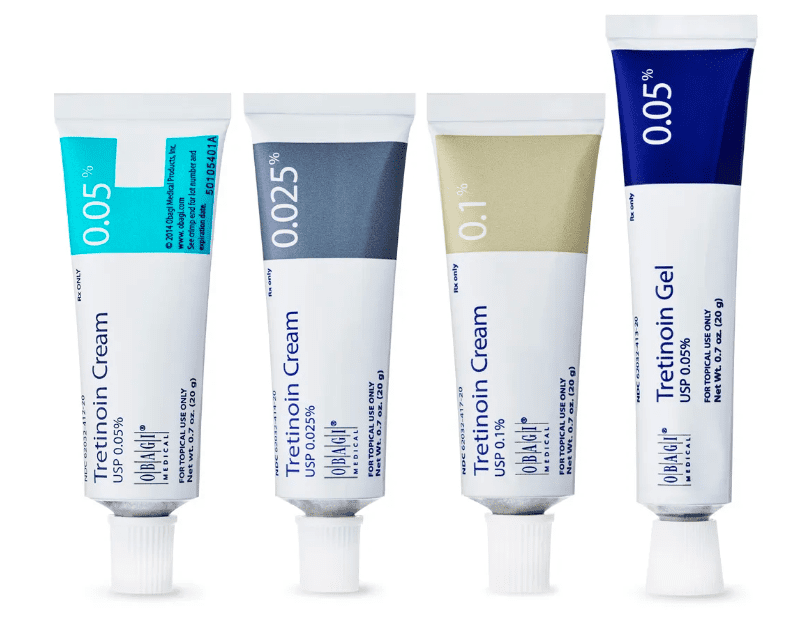 Obagi brand's tretinoin products come in various strengths (0.025%-0.1%) and two forms (gel or cream).
To purchase, users should contact their healthcare provider to obtain a prescription or they can locate a nearby physician who offers this product using the Physician Finder tool on the website.
ELASTIderm® Eye Serum (Eye care)
This product refreshes the appearance of delicate skin around eyes. One of its key ingredients is the antioxidant caffeine, which reduces the appearance of under-eye puffiness.
Obagi combines caffeine with its Bi-Mineral Contour Complex™ consisting of zinc, copper and malonate. This mixture helps promote healthy elastin around the eyes, resulting in tighter-looking skin.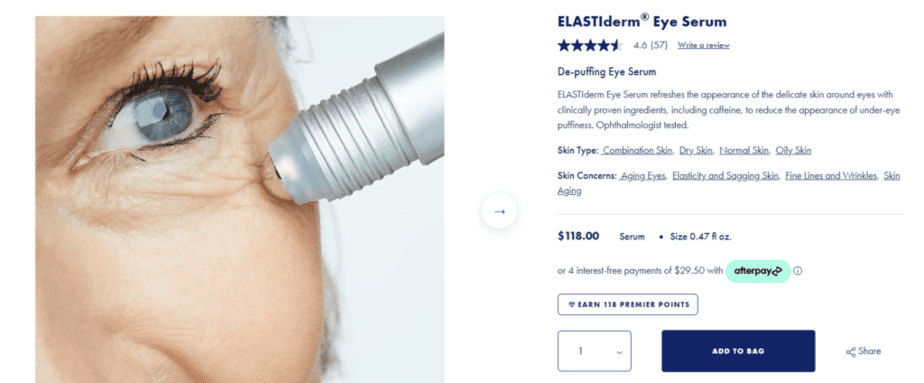 Customers apply the product using the rollerball to gently roll the product outside and underneath the eye area. Then, they smooth in until the skin absorbs the product. The recommendation is to apply twice daily, in the morning and the night.
Professional-C® Peptide Complex (Facial serums)
This peptide serum includes pro-Vitamin B and Vitamin E as well as synthetic forms of plant growth factors and the SNAP-8 peptide. The vitamins help brighten skin while growth factors improve the appearance of firmness, and fine lines and wrinkles.
It also includes Kinetin, Zeatin, and a ß glucan derivative with Vitamin C to diminish the appearance of skin aging. Overall, this product is designed to promote a healthy, youthful glow.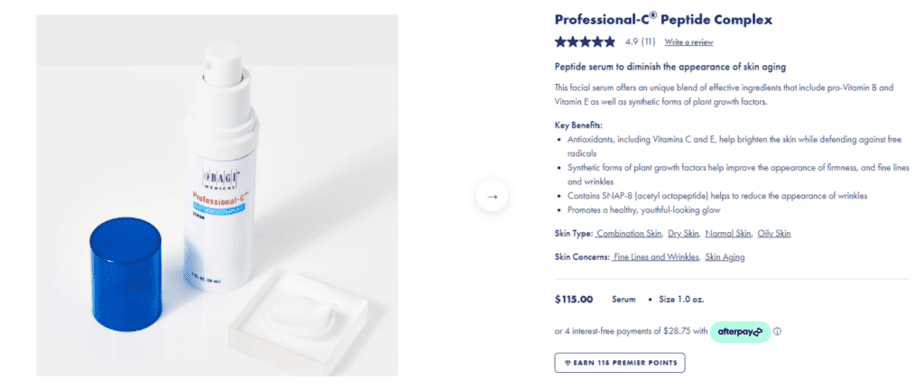 Customers should apply 2 to 3 pumps to the face in the morning and evening. For optimal results, they should use in combination with Obagi moisturizer and sunscreen.
HydraFactor® Broad Spectrum SPF 30 (Suncreen)
This is a dual-function moisturizing cream containing ingredients that hydrate skin as well as broad spectrum SPF 30 to help prevent skin damage caused by UVA/UVB rays.
The sunscreen agents are avobenzone 1%, octinoxate 7.5%, octisalate 5%, and oxybenzone 5%.

Customers should apply liberally 15 minutes before sun exposure and reapply every two hours as needed. This sunscreen is not water-resistant.
The company does have a return policy. However, items received more than 30 days after purchase date or that have been opened may not be returned.
Review of Obagi Cost
Obagi products can be considered more expensive compared to other over-the-counter skincare brands. However, the brand's premium pricing reflects the quality and effectiveness of the products.
Prices for Obagi products can range anywhere from $25 (SUZANOBAGIMDTM Acne Cleansing Wipes) to $250 (ELASTIderm® Neck and Décolleté Concentrate) for a single product. It's important to remember that these items differ in quantity.
The company also sells "systems" which are a package of multiple products designed to achieve a single goal. These bundles range from $166-$470.
The prescription products are listed as $0 on the website. This is due to differences in prices once the products depending on the customer's insurance.
All orders are subject to sales tax, depending on the the state and city to which the order will be shipped. Shipping rates also apply.
It's important to note that while Obagi products can be more expensive, many customers feel that the results are worth the investment. The brand's products are formulated with high-quality, active ingredients scientifically proven to improve skin health and deliver noticeable results.
Review of Obagi Privacy Policy
Obagi Cosmeceuticals LLC ("Obagi") values the privacy of its customers and website users. Its privacy policy explains what information it collects and how it uses it.
Obagi collects information from customers when they place an order, register for an account, subscribe to a mailing list, or participate in promotions or surveys. This information may include name, address, email address, phone number, and payment information. It uses this information to process orders, provide customer service, send promotional materials, and improve our website and services.
It will not sell or rent customer information to third parties. However, it may share information with third-party service providers who perform functions on their behalf, such as shipping, payment processing, and data analysis.
Obagi may also be required to disclose information in response to legal processes, such as a subpoena, or to protect the rights, property, or safety of Obagi, its customers, or others.
The company will retain information for as long as the account is active or as needed to provide services. Customers can request their data be deleted by contacting the company.
Other Obagi Reviews
The company generally has good reviews from customers online. Obagi has a consumer rating of 3.89 stars from 53 reviews on SiteJabber indicating that most customers are usually satisfied with their purchases. According to this platform, the company ranks 5th among acne sites.
Many people found that the products worked as intended to treat their skin. Some customers even noted improvement within the first few weeks of usage. However, some reported that the products were not effective for them or caused side effects, such as redness and burning.
Amazon carries several over-the-counter Obagi products. Generally, customers give the products 4.5 out of 5 stars, most from a verified purchase. Some of the products contain almost 3,000 reviews.
Many customers highly recommend Obagi, appreciating the healthy nature of the product and saying that the product works for them. Those that gave lower reviews noted that the product was costly.
Obagi in the News
In 2022, Obagi relocated its corporate headquarters from southern California to Woodlands, Texas. The company claimed that the move was related to evaluation of opportunities for future success.
Obagi has seen success in popular magazines and media outlets. For example, the ELASTIderm Eye Cream was featured in US Weekly in January 2023. According to the article, 97% of users say this product helped with tightness and fitness around their eyes.
Nebula Genomics
Obagi is a skincare brand designed to help minimize the appearance of premature skin aging, skin damage, hyperpigmentation, acne, and sun damage, thereby improving skin health and appearance. 4
Though there is a significant environmental component to aging, such as sun exposure, genetics can play a role too. Before investing in expensive skin care products, you may want to best understand how your genes may be effecting your skin and talk with your doctor.
There are many ways to assess genetics. Nebula Genomics provides a comprehensive DNA test highlighting predispositions related to skin and aging. With reports, you can easily explore your DNA and learn about discoveries focused on things like vitiligo, psoriasis, and more.
With 30x Whole-Genome Sequencing, Nebula sequences 100% of your DNA to get to the root cause of every biological inclination. The test is incredibly accurate and includes other additions, including ancestry reporting and genome exploration tools. Regularly updated reports ensure that you will not miss the latest genetic research.
Nebula is not a diagnostic test, but the results are of the highest quality and can be used in consultation with health care professionals.
For only $299 or less, customers will get access to their entire genome, allowing them to continue to ask more questions as more research is conducted.
Looking for more genetic tests that focus on skin? You may be interested in 24Genetics and Dynamic DNA Labs.
You can also read about more skin products on our blog: