7 Facts from our AgelessRx Review
Location: Ann Arbor Michigan, United States
Products: Anti-aging treatments, biological age testing/monitoring, and longevity support
Cost: Treatments: $25/month-$1695/month; Testing: $0-$495
Active ingredients: Vary (NAD+, Glutathione, B12, etc.)
How it works: Patients review available treatments, complete a medical form, receive approval from a licensed medical professional, and receive the products at-home
Physician approval needed: Yes
Alternative Products: Nebula Genomics offers 30X Whole Genome Sequencing that decodes 100% of your DNA and offers reports on diet and much more!
This review is written with the intent to be as unbiased as possible. However, it represents the opinion of an individual reviewer and is therefore subjective. Furthermore, at Nebula Genomics, we seek to educate the public about the benefits of Whole Genome Sequencing. Information about our Whole Genome Sequencing DNA test is therefore incorporated into the review.
October 26, 2022
Pros and Cons
Pros
Offers both aging treatments and test kits through partner companies
Products for men and women
Shares its scientific background
Cons
Does not focus on health vulnerabilities
Research pages can be confusing
FDA approval is for other diseases, not the product intention
Introduction
AgelessRx is an online anti-aging platform. Its major products are its longevity prescriptions that it has delivered to home. The company offers many different age control treatments designed to help people enjoy agility and slow aging for as long as possible.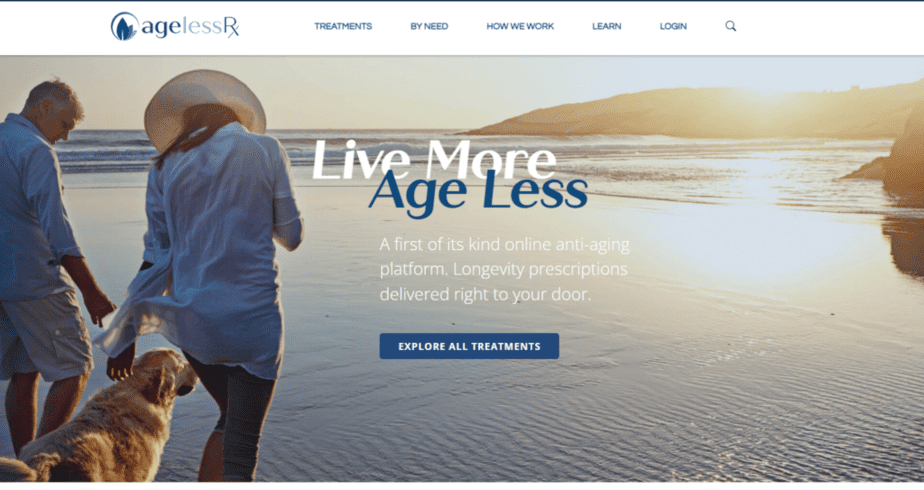 Anar Isman co-owns the company and also serves as CEO and oversees the development. Joshua Rosenthal is also a major stakeholder. Both have pushed the firm as one of the most popular Age control organizations.
AgelessRx is located in Ann Arbor, Michigan, United States, and provides services to the entire country and neighboring ones.
Review of the Science Behind AgelessRx
AgelessRx prides itself as a company whose treatments and medications are based on research. It defines aging as the progress loss of physical ability and function, leading to an increased risk of death. Scientists understand many of the mechanisms that cause this process. AgelessRx believes that aging is a malleable process that can be slowed or even reversed by applying the proper treatment.
The basis of many of the available products is the "9 Hallmarks of Aging", cellular and molecular markers defined by a group of researchers in 2013. They explain how each of these markers drives the onset of age-related disease.
Each product has a link to detailed scientific research on how the treatment works.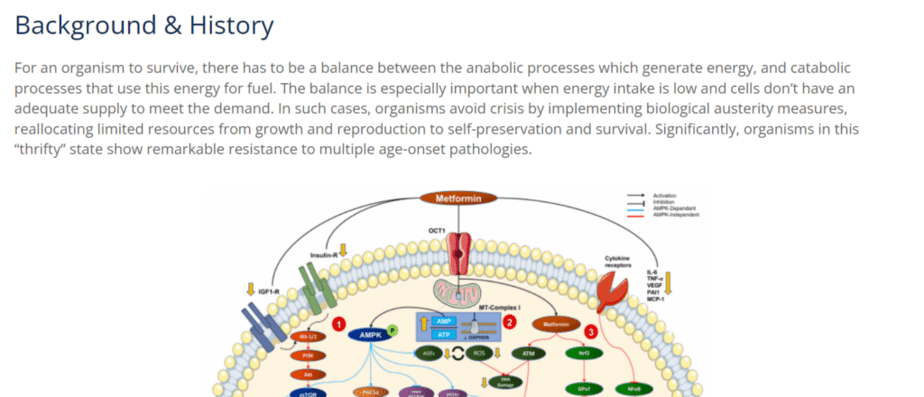 It also includes the product's background and links to peer reviewed publications.

Review of AgelessRx Products
The company divides the products into three categories: treatments, biological age testing and monitoring, and longevity support.
Treatments
All treatments on AgelessRx are prescriptions. Thus, a doctor must approve the type and dose. The company allows patients to fill out a medical form to have their case reviewed by a physician online with no in-person appointment needed.
The online prescriber may recommend a different dose during the medical intake process and patients can request dose adjustments between refills. The company bills and sends refills automatically based on the plan.
Some products are FDA approved. However, most are approved to treat age-related diseases, not aging itself. Scientific studies back most of the treatments, many of which the company provides links to on the product page.
In addition to the science, background, and history of each treatment, each product page contains a list of the aging pathways the medication affects.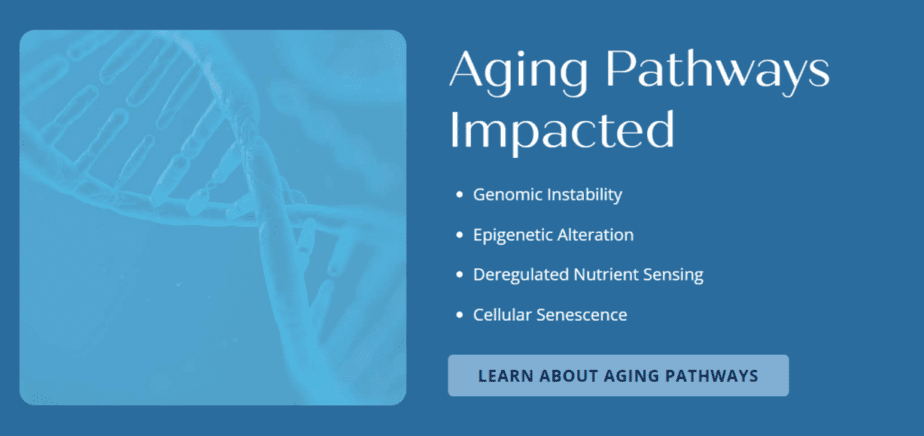 Finally, the bottom of each product page contains safety information and side effects.
If you are unsure which product is right for you, patients can take a free personalized wellness assessment, designed by doctors and longevity experts. After inputting what is mainly lifestyle information, you receive longevity and wellness scores. Based on these results, AgelessRx recommends certain products tailored to goals and health status.

Review of AgelessRx treatment samples
The categories of treatments are:
Featured treatments
NAD+ Support
Glutathione Support
B12 Support
Heart Health
Aging Skin
Men's aging
Women's aging
Metformin: This treatment is designed for seniors over 60 years. It has an excellent health and safety record over the 60+ years of its use. It is made from natural compounds of the French Lilac plant.
Metformin is FDA approved to treat diabetes and scientists believe it also helps to activate longevity pathways. It may offer seniors the strength to do more even as they grow older.
Metformin may also help reduce the risk of serious health impairment or diseases including colon and pancreatic cancer, dementia, etc.
Low Dose Naltrexone (LDN): Unlike other drugs, LDN works with your immune system to create a therapeutic effect against health invaders. Doctors prescribe it for seniors over 40 years.
LDN helps regulate the human immune system to ensure the body has a well-built therapy for health issues. It also reduces inflammation markers, fatigue, and chronic pain. It is FDA approved to treat opiate dependencies & obesity.
Injections, sprays, and more
B12/Mic Injection: This injection is a blend of B12 and a mixture of ingredients that stimulate the loss of excess weight. It includes B12, methionine, inositol, and choline. B12 helps boost energy and discourage the onset of fatigue while inositol helps initiate weight loss and choline may help build lean muscle mass.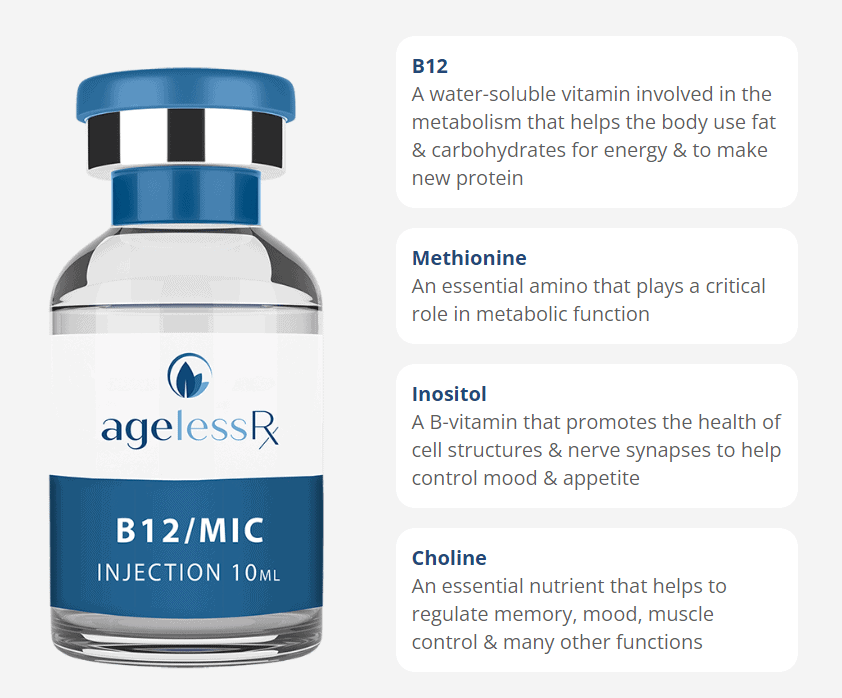 NAD+ Nasal Spray: This spray replenishes NAD+ levels in the body, which decline with age. NAD+ helps promote health and repair DNA.
This product also helps to improve energy levels, mood, and mental clarity. It is an effective therapy for dark moods. It is also great for reducing cravings and fatigue.
You can read other product reviews of companies that offer NAD+ support including Elysium and Tru Niagen.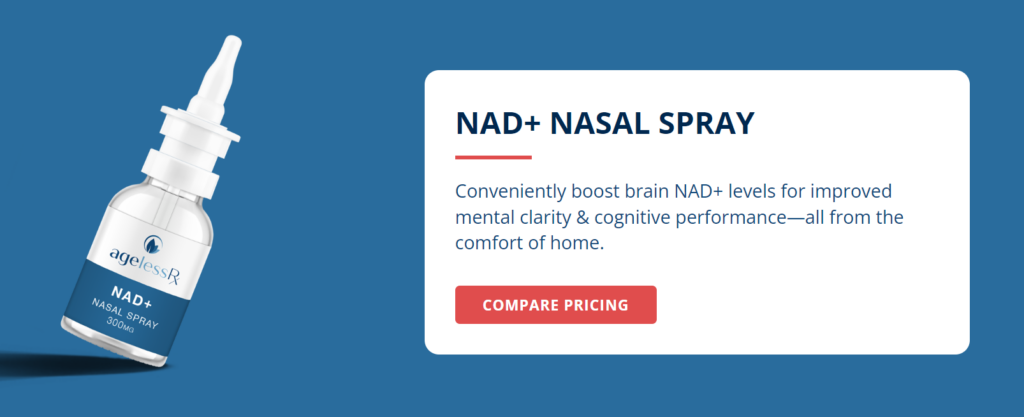 DMAE Firming Gel: This prescription compounded gel helps restore youthfulness. It hydrates, smoothens, and tightens the skin, ensuring a younger look.
Other skin care products you may be interested in include Life Extension, Plexaderm, SeroVital, and Xtend Life. Additionally, 24Genetics and Dynamic DNA Labs offer DNA tests for skin.
Tadalafil: This product is exclusively for men as a daily or as needed treatment for erectile dysfunction.
You may also be interested in BlueChew, an at-home diagnostic company for ED.
Biological age testing and monitoring
There are four different tests available on the company website:
At-home bioage blood test (TruDiagnostic™)
At-home methylation saliva test (TruMe™)
Lab-based phenotypic blood test (Quest Labs)
Online phenotypic calculator
These tests are not AgelessRx products. Instead, companies that partner with AgelessRx offer these items. They each provide varying levels of biological age information through things like telomere length and CpG sites.
Longevity support
These products and services help customers keep track of their aging. They include consultations, sensors, a longevity panel, and a test for cancers.
Review of Ordering an AgelessRx Treatment
To order a product, customers must review the available treatments and get approval from a doctor. The products are sorted by either type (NAD+, heart health, etc.) or need (chronic pain & arthritis, energy & fatigue, weight loss, etc.). Customers can get help with selecting a product through either an online consultation ($139) or the free wellness quiz.
Next, they complete the free visit by completing a brief (less than 10 minutes) medical Intake form. The AgelessRx medical team reviews the information and decides if the requested treatment is right for the patient.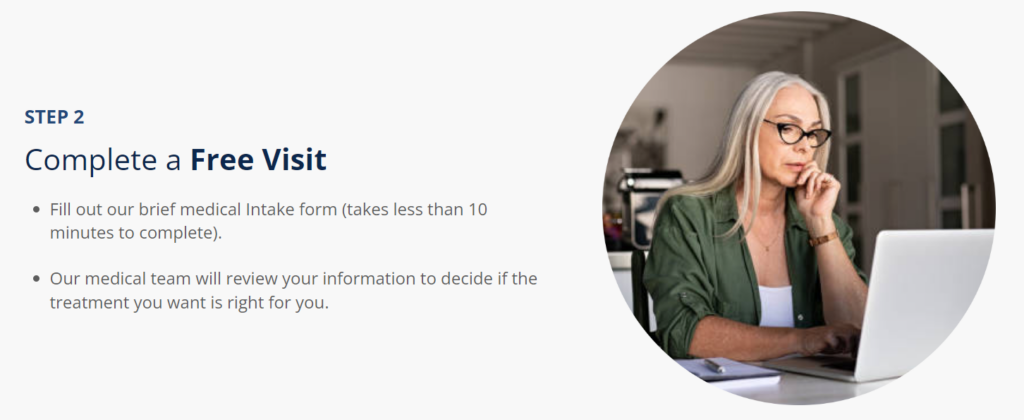 A licensed medical professional makes the final approval, usually within 2-3 business days. They sometimes ask additional questions or request a follow-up consultation before approval.
After approval, AgelessRx processes the order and delivers the treatment to the patient at home. Shipping is free and products normally ship within 3-5 business days after approval. The company ships and bills refills automatically.
For longevity testing, customers can follow the instructions on the website, noting that they are designed by the companies that offer the tests.
Review of AgelessRx Cost
With so many products available, we will show the range of prices in each category. For some types, such as the NAD+ options, the price differences reflect administration type (nasal spray, patches, injection, etc.). The prices are per month.
Featured items: $25-$1,695
NAD+ support: $95-$325
Glutathione support: $100-$190
B12 support: $75-$110
Heart health: $30-$55
Aging skin: $60-$95
Men's aging: $45-~$130
Women's aging: $60-~$130
Biological Age Testing & Monitoring: $0-$495
Consultation: $139/visit
CGM sensor: $115/sensor
Galleri multi-cancer early detection test: $1250
Infinite longevity support: $65/month
Review of AgelessRx Report
Much of the science behind AgelessRx longevity items is described on the individual product pages. Reports for the biological age tests differ based on the partner companies that offer them.
Review of AgelessRx Privacy
The privacy policy is that of the parent company, Qalytude Inc (Doing Business As AgelessRX). The privacy policy is short and to the point.
Personal information collected is used for the improvement of the site, sending of promotional materials, and to deliver the service. The site collects your name, address, email address, city, etc. Like many other site operators, the information you receive is the information you provide while using the site.
The log information collected by the site includes IP address, browser type, pages visited, the time and date you visited the pages, and other essential statistics.
Even while internet security is not 100% sure, this site uses commercially acceptable means to ensure that no user's information is illegally transferred.
Other AgelessRx Reviews
The company has several positive testimonials on its website. Since the products are prescriptions that must be approved by a medical professional, they are not available on third-party sites such as Amazon.
AgelessRx has a 4.3 star rating on Trustpilot. Many customers noted that the process was easy and that customer service was good to work with. A few reviewers indicated that they had trouble getting refills and ordering products that were out of stock.
Nebula Genomics
AgelessRx plays a major role in reducing aging through medicines and special treatments. However, there is no real concentration on handling health vulnerabilities and genetic ailments that can be life-threatening over time.
The importance of genetic testing cannot be overemphasized, which is why 30x whole genomic testing is extremely important. This sequencing can unlock your predisposition to nearly any genetic condition and help you understand your risks.
Nebula Genomics offers a comprehensive test that highlights predispositions related to diet, fitness, disease, age, and much more. With 30x Whole-Genome Sequencing, you receive accurate results of your entire genome and the kit includes other additions like ancestry reporting and genome exploration tools.
Since genes have a foundational role in causing different medical conditions in patients, including those related to natural aging, Nebula's Whole Genome Sequencing can help you discover predisposed conditions before they occur.
For only $299 or less, customers will get access to their entire genome, allowing them to continue to ask more questions as more research is conducted.
Looking for other ways to slow down the feel or appearance of aging? You can check out Focus Factor, Neuriva, and Prevagen, designed to boost brain function and Relief Factor that reduces pain.
Or, you may be interested in these other anti-aging products:
While AgelessRx focuses on skin, there are also several products to help hair growth: