7 Facts from our CircleDNA Review
CircleDNA location: Hong Kong and other offices worldwide
Products: DNA sequencing, health reports, genetic counseling
Reports: Diet, Health, Genetic Diseases, Family Planning
Genetic Counseling: One 30-min session included with kit purchase
Result delivery: Within 18 days
Privacy: Secure privacy policy and option to delete data
Cost: $170 to $566
Alternatives: Nebula Genomics (most affordable Whole Genome Sequencing, the one test that decodes 100% of DNA)
This review is written with the intent to be as unbiased as possible. However, it represents the opinion of an individual reviewer and is therefore subjective. Furthermore, at Nebula Genomics we seek to educate the public about the benefits of Whole Genome Sequencing. Information about our Whole Genome Sequencing DNA test is therefore incorporated into the review.
June 22, 2022
Edited by Christina Swords, Ph.D.
Pros and Cons
Pros
Easy to read reporting
Detailed whole-exome sequencing analyzes more data than genotyping
Offers genetic counseling with DNA testing kits
Cons
More expensive than some whole-genome sequencing providers
Can't upload genomic data from other providers
CircleDNA Introduction
CircleDNA is a genetic sequencing and reporting company founded in 2014 with offices around the world. It is owned by Prenetics, a genetic testing company from Southeast Asia. Its 500 staff members are focused on a mission of preventative medicine. It wants to empower people to prevent disease before even falling ill.
The company offers gene sequencing services, as well as over 500 reports included across 20 basic categories. It also provides complementary one-on-one sessions with a genetic counselor as a side benefit of its DNA kits. In addition, using technology from Illumina, Circle provides Whole Exome Sequencing.
Its whole-exome sequencing collects 31 million data points, more than typical genotyping tests. Genetic counseling also makes CircleDNA stand out versus competitors like 23andMe and AncestryDNA.
The website claims to have processed over 300,000 DNA samples.
Review of CircleDNA Products
CircleDNA offers an array of options for home DNA testing. Each choice of testing kit corresponds to a different set of health reports and focus areas. Only some of the DNA test kits include genetic counseling.
DNA Tests
CircleDNA's test for each of these products is an at-home test. All of the health kits rely on a cheek swab to get started.
The test itself does not take a lot of time to complete. First, users order one of four test kit options. Then, they can perform a cheek swab scraping with their DNA collection kit and ship it back to CircleDNA for processing. Upon processing, tests are validated by the Croucher Laboratory of Human Genomics.
Sample processing takes about 18 business days.
After the DNA sample is processed, users receive their personalized reports on the CircleDNA app. PDF versions of these reports are also available online. All kits include some form of consultation with genetic health professionals.
Options
Vital DNA Test ($170): This lowest tier product gives users 125 reports about diet lifestyle, nutrition, fitness, wellness, and more. It does not come with a complementary one-on-one genetic counseling session. However, it does come with a 30-minute complementary consultation with a genetics-trained health coach.
Health DNA Test ($499): This product gives users actionable information about cancer and disease prevention. The product includes 36 reports for cancer risk alone and 115 reports in total. It does come with a complementary one-on-one genetics counseling session but does not include health coaching.
Family Planning DNA Test ($499): This product gives users information about their genetic risks for disease. It is marketed towards couples who want to start a family.
The Family Planning DNA Test offers 163 reports, each corresponding to a specific disease or disorder. Thirty-eight relate to neonatal & early childhood death, such as Gracile Syndrome. 116 relate to diseases that shorten lifespan and childhood death, such as cystic fibrosis. 71 of the reported diseases carry a significant risk for intellectual disability, such as phenylalanine hydroxylase deficiency
It does come with a complementary one-on-one genetic counseling session but does not include health coaching.
Circle DNA Premium DNA Test ($566): This highest tier offering includes all lower tiers bundled into one package. With 500+ reports and 20 categories of gene analysis, Circle refers to the premium kit as "the world's most comprehensive DNA test." It also includes a lifetime subscription to future genomic data updates, which it normally sells for $69. In addition, this product comes with both genetic professional and health consultation sessions.
CircleDNA Genetic Counseling
CircleDNA is not a clinical genomic testing company. This means that users can order their tests themselves, without needing a referral.
It does offer genetic counseling and health coaching about your genetic blueprint. Each kit includes one genetic counseling session, although the Vital DNA Test counseling is with a health coach.
Circle's genetic health professionals aim to walk users through their results. They provide actionable insights based on what they've learned. This could mean fitness regimens, nutritional advice, or understandings related to family genetic risks.
These services are not covered by health insurance.
Review of CircleDNA Reports
CircleDNA's reporting options offer a lot of health information and its ancestry report includes European, Asian and African ancestry. Here is a breakdown of the information offered for each test.
Review of CircleDNA Vital DNA Test
The Vital DNA Test from CircleDNA aims to help users better understand their genes as they relate to the following 14 categories
| | |
| --- | --- |
| Category | Example reports |
| Diet | Salt sensitivity, taste sensitivity, lactose intolerance |
| Nutrition | Vitamin B12, iron requirements |
| Sports & Fitness | Endurance capacity, Genetic strength |
| Stress & Sleep | Stress-induced obesity |
| Ancestry | European, Asian, African ancestry |
| Skin | Acne risk |
| Physical Traits | Sweat, waist, antioxidants |
| Behavioral Traits | Alcohol, Altruism |
| Gender Traits | Male sex hormone levels |
| Music & Dance | Dancing ability |
| Success Traits | Memory skills |
| Personality Traits | Agreeableness |
| Well-being | Life longevity, mosquito bites |
| Pollution | Dust allergy |
Each report is broken down into facts and actionable information. CircleDNA shows the following images as sample versions of its reporting: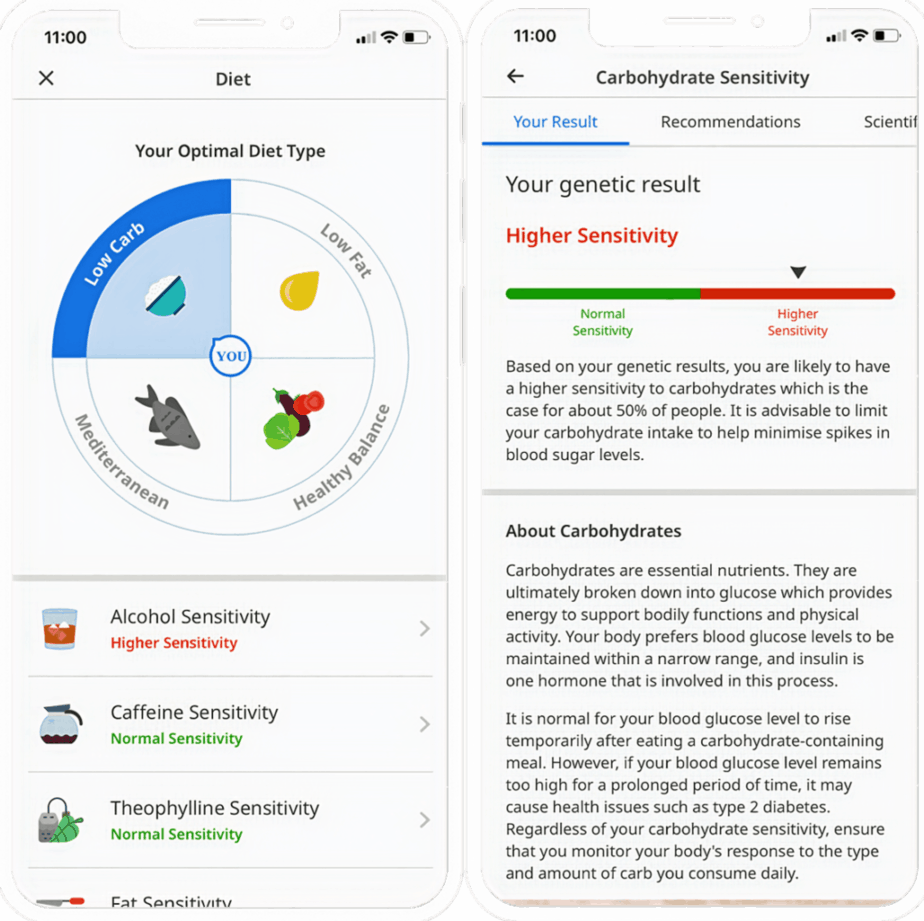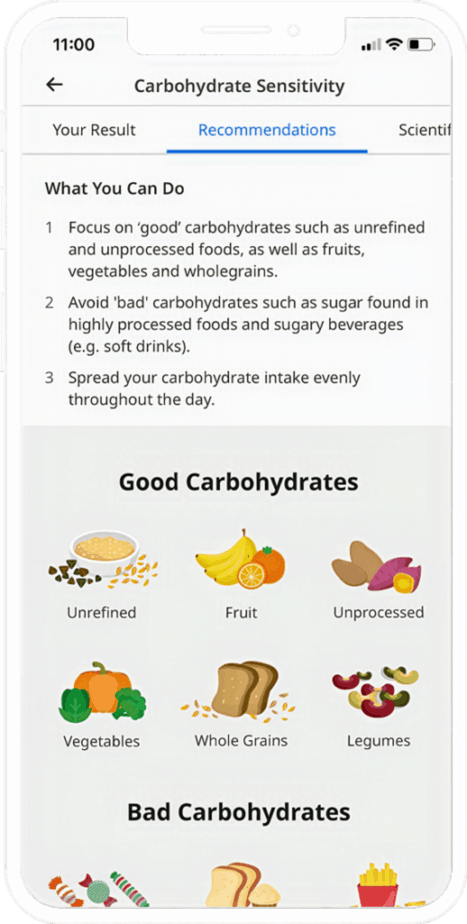 Review of CircleDNA Health DNA Test
The Health DNA Test from CircleDNA wants to help users better understand their genes as they relate to the following categories for early detection of disease risk and assessing whether you may be in a high risk category.
| | |
| --- | --- |
| Category | Example reports |
| Cancer | Breast, colorectal, melanoma, pancreatic, ovarian, stomach, uterine, and many more |
| Dementia & Brain Health | Alzheimer's Disease, Bipolar disorder, Frontotemporal Dementia, Lewy Body Dementia, Parkinson's, Schizophrenia |
| Common Health Risks | Stroke, obesity, heart disease, diabetes |
| Disease Risk | 65 total reports, from Abdominal Aortic Aneurysm to Vitiligo |
Each report is broken down into facts and useful genetic information with visuals that are easy to understand.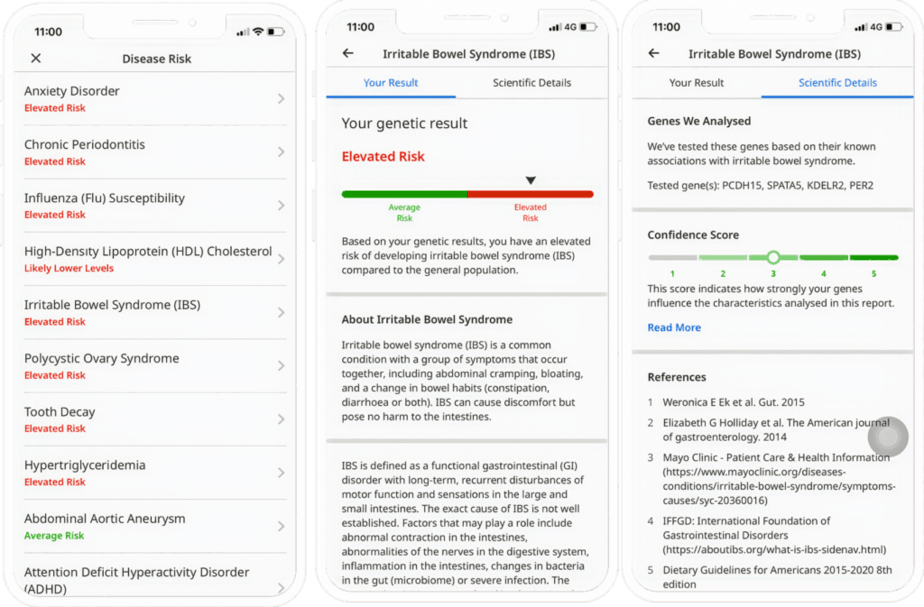 Each human genome report comes with an in-depth explanation of the result and the science behind it. CircleDNA also provides statistics for context. For example, 81% of women with a BRCA1 Mutation may risk breast cancer, versus only 10% without it.
The test also includes information about drug responses and carrier status.
Review of CircleDNA Family Planning DNA Test
Are you worried that your future family may be at risk of rare genetic health conditions? The Family Planning DNA Test wants to help users better understand their genes as they relate to the following categories:
| | |
| --- | --- |
| Category | Example reports |
| Neonatal disease | Gracile Syndrome, Protein Deficiencies, Citrullinemia |
| Lifespan shortening | Cystic Fibrosis, Ataxia-Telangiectasia, Andermann Syndrome |
| Intellectual Disability | Phenylalanine Hydroxylase Deficiency, Smith-Lemil-Opitz Syndrome, Hyperinsulinism |
Each report is broken down into facts and useful genetic information.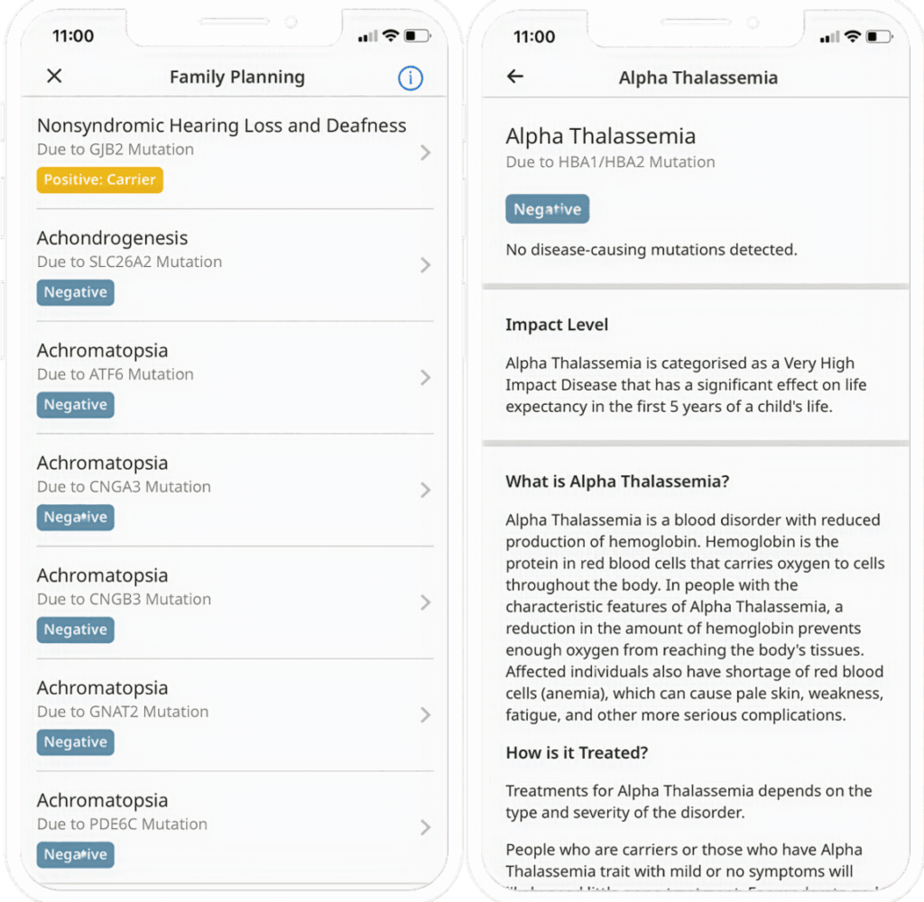 CircleDNA emphasizes that these are "results you can trust."
Review of CircleDNA Privacy Policy
Is CircleDNA safe? According to the CircleDNA privacy notice, the company ensures that users' DNA data is in a lab certified as private and secure. CircleDNA does collect digital information from users and offers users control over what is done with the data.
Users may delete their data at any time.
Will CircleDNA disclose your personal data to third parties? CircleDNA does disclose personal information to its service providers. It does not sell, lease, or rent protected health information without consent.
Users may consent to the use of their data for scientific and medical research.
Its privacy policy is written in both English and Chinese. For legal purposes, if there were any discrepancies, the English version prevails.
CircleDNA in the News
The company has made it to several headlines and reviews. This article from the Telegraph tells the journey of a user getting tested and their results, plus some interesting takes on genetic testing in general. This story from Kirsty Gallacher, a former Sky Sports UK presenter who used CircleDNA services, shows how shocking but eye-opening it can be.
The Lifestyle Asia magazine wrote a piece on the importance of getting DNA-tested and points out CircleDNA as an alternative to do so. This 2020 article taps on the same concerns and how DNA testing can help lead a healthier life.
Prenetics, the online company that administers CircleDNA and DNAfit, signed an agreement with EC Healthcare in July 2021. This strategic partnership gave EC Healthcare an exclusive license to market CircleDNA products in the Greater Bay Area.
Amid Covid-19, DNA tests are more popular than ever – here's how knowing your genetic background can help you lead a healthier life.
Other CircleDNA Reviews
CircleDNA received a 4.4 out of 5 stars on Trustpilot with over 700 reviews.
Tech Radar ranked CircleDNA with 4 out of 5 stars in its company review. It liked the lifelong updates, detailed reports, and the mix of reports provided. However, it disliked things like the weak ancestry results. It also believes the products are pricey.
Nebula Genomics
CircleDNA also offers a wide array of genes to analyze with whole exome sequencing. However, with 30x Whole Genome Sequencing (WGS), Nebula Genomics decodes 100% of your DNA for only $299 or less. While both whole exome and whole genome sequencing provide more comprehensive reporting than typical genotyping approaches used by 23andMe and AncestryDNA, whole exome sequencing stops with the genes that code for proteins.
Nebula's Whole Genome Sequencing decodes everything from protein coding genes to the X and Y chromosomes. Our Whole Genome Sequencing data is highly detailed and readily available for you to share with your physician or genetic counsellor.
For more information and regular scientific updates, Nebula has a Research Library. This information is provided free of charge to all users. CircleDNA, in comparison, charges $69 for its lifetime subscription of regular updates.
And what about users who have genomic data from other providers? Nebula users can also bring that DNA data to Nebula for further analysis. And for users who take their DNA data elsewhere, Nebula offers an easy export option. Users are encouraged to reach out to genetic counselors for more information. If you have a known genetic disorder in your family history, please consult with your healthcare provider first.
CircleDNA vs. Nebula Genomics
| | | | | |
| --- | --- | --- | --- | --- |
| | 23andMe | Ancestry | CircleDNA | Nebula Genomics |
| Type of genome reporting service | Microarray-based genotyping | Microarray-based genotyping | Whole Exome Sequencing | Whole-Genome Sequencing (30x coverage) |
| Produced data | ~ 600,000 positions in the genome | ~ 700,000 positions in the genome | 31,000,000 positions in the genome | ~ 3,000,000,000 positions in the genome |
| Compatible with other sites | Can export data and use it elsewhere | Can export data and use it elsewhere | Not compatible with other services | Can export data and use it elsewhere |
| Ancestry reporting | Yes | Yes | Yes | Yes |
| Regular updates | Yes | Yes | Yes ($69, or included with the $566 test) | Yes (Nebula Research Library, free) |
| Cost | $99, $199 | $99, $119 | $170 – $566 | $0, $99, $299 |
Other companies
If you are interested in comprehensive DNA tests, you may also be interested in these alternative products that use whole exome sequencing:
Learn more about whole exome sequencing, the importance of sequencing Y-DNA and mtDNA and things like paternity testing.
If you are interested in genetic testing that will help you achieve your health and fitness goals, there are a lot of products to choose from. You can learn more about your options on our website including:
Did you like our Circle DNA review? Read reviews of other DNA testing companies and also take a look at complete guide to the best DNA test kit and other home tests. Or, if you need more information, you can read more about DNA diet tests!