This review is written with the intent to be as unbiased as possible. However, it represents the opinion of an individual reviewer and is therefore subjective. Furthermore, at Nebula Genomics we seek to educate the public about the benefits of Whole Genome Sequencing. Information about our Whole Genome Sequencing DNA test is therefore incorporated into the review.
September 19, 2022
Edited by Christina Swords, Ph.D.
7 Facts from our Dante Labs Review
Location: New York, NY (Headquarters); L'Aquila (AQ), Italy (Labs)
Products: Whole genome sequencing, whole exome sequencing
Reporting: Health, Wellness, Nutrigenomics, Pharmacogenetics, and Fitness reports
Raw data download: Customers can download their raw data as FASTQ, BAM, and VCF files
Privacy: GDPR-compliant; in-house lab in Italy
Cost: $550 (prices vary by country), most reports cost extra ($49 – $499)
Alternatives: Nebula Genomics (Affordable 30X Whole Genome Sequencing with regularly updated reports and advanced ancestry reporting)
Pros and Cons
Pros
30X Whole Genome Sequencing
Download of raw data DNA files
In-house sequencing facility
Services available globally
Cons
Cost of additional reports can add up quickly
Accounts of unresponsive customer service
More expensive than competitors
Introduction
Dante Labs was founded in 2016 by Mattia Capulli and Andrea Riposati after being approached by a friend who was having difficulty finding a whole genome sequencing test. The company is currently headed by CEO Andrea Riposati. The company's goal is to make personal genomics accessible to everyone, allowing individuals to make informed decisions about their health.
The labs are located in L'Aquila, Italy, with a headquarters office in New York. It has customers in more than 80 countries. Learn more in our Dante Labs review!
Dante Labs Whole Genome Sequencing Review
Whole Genome Sequencing (WGS), based on next-generation sequencing technology, is a gold standard for genetic testing. Most DNA testing companies such as 23andMe and Ancestry analyze only a small portion (less than 0.02%) of the DNA. Whole genome sequencing decodes 100%. This analysis fully determines an individual's genetic makeup, and reports are based on the entire genome.
Dante Labs offers a whole genome test within its health baseline. Additional reports can also be ordered to supplement the report.
These testing products and services sequence 100% of the DNA at 30x coverage. It uses Illumina's NovaSeq™ 6000 System for high throughput genomic testing.
Review of Dante Labs Reporting
Dante Labs customers create an account by registering their test in the Genome Manager. Here, the customer can check the order's status, explore the genome, download raw data files, review all reports, and purchase new ones.
Once your DNA is sequenced, you can begin to look at reports. The ones included in the initial price are categorized into Wellness and Lifestyle, Nutrigenomics, and Pharmacogenetics (Drug Reaction) categories.
Dante Labs Wellness and Lifestyle Report
This report lists diseases the customer is more likely to develop. It summarizes the health conditions analyzed and highlights any high risk or medium risk ones. The name of this reporting package is somewhat misleading because it actually contains many reports on severe, rare diseases caused by highly pathogenic variants.
Customers also receive actionable insights based on this comprehensive testing technology.
Dante Labs Pharmacogenetics Report
This report identifies genetic predispositions toward the failure to respond to drugs or adverse reactions from the drug administration. One caveat with the pharmacogenetics report is that it is unavailable for customers in the United States. The company has not complied with US Food and Drug Administration (FDA) regulations for this particular test.
Dante Labs Nutrigenomics Report
This report helps customers formulate a plan to optimize their diet and live a longer, more vibrant life. It summarizes the effects of specific genetic variants on metabolism or eating behavior and advice on how to include different nutrients in the diet. There are separate sections on macronutrients, micronutrients, eating habits, taste and reactions, and body weight.
Customized reports are available to patients with a strong, justified interest for a specific condition or disease.
Additional DNA test reports and genetic disorders are available for $49 each. Those costs are not included in the price kit ($550). Many of these reports focus on specific disease categories such as cardiovascular, dermatology, endocrinology, neurology and autism.
The only way to receive all the reports is to purchase the "All Panels" package for $499. Otherwise, each report costs $49. There are 54 of them, so if you are purchasing more than 10, the multi-pack is probably worth the money.
Each report focuses on a specific subset of health. Before you order one, you are provided information such as what the report will analyze for and how many genes are analyzed.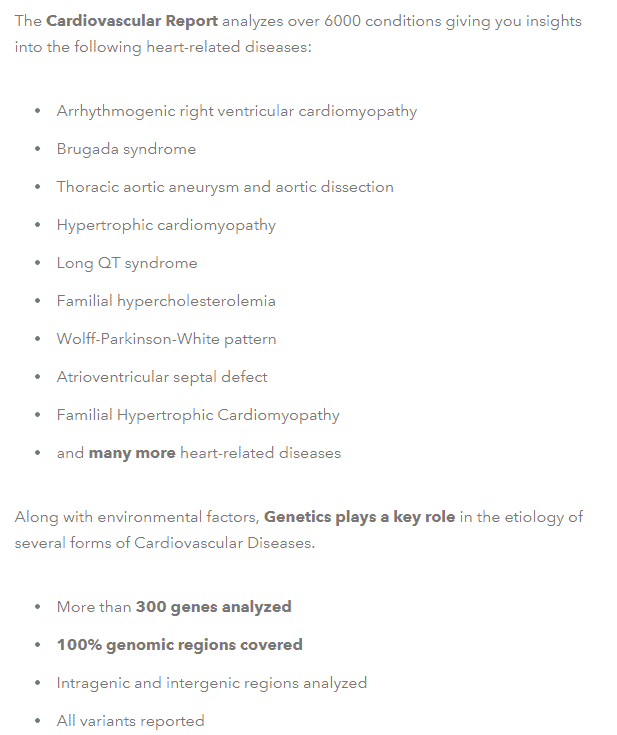 Review of Taking a Dante Labs DNA Test Kit
You can order from almost any country in the world. Once you receive your kit, you will follow instructions for performing a saliva spit test.
The test comes with a kit ID number used for registration and as a future reference for reporting and other correspondence. The sample kit arrives in a box with a saliva collection vial, instructions, and a return shipping label. Users should not eat, drink, smoke, brush their teeth or chew gum 30 minutes before collecting the sample.
A cheek swab can be requested for younger children by emailing the company after placing the order.
Before sending the samples back in the mail, the saliva collection kit must be registered online in Dante Labs Genome Manager.
Access to Dante Labs Raw Genetic Data
The sequencing testing results are available for download as FASTQ, BAM, or VCF files. Customers can use their data with Promethease. In addition, the program creates a personal report of customer DNA based on scientific literature cited in SNPedia.
Note, that BAM and FASTQ data files are very large so downloading them might not be possible with a slow internet connection.
The FASTQ & BAM files are available for download at no cost for 30 days after the results are ready. After 30 days, you may purchase a subscription to regain access to your FASTQ & BAM files. VCF files will always be available.
Privacy and Security
Dante Labs is compliant with the EU General Data Protection Regulation (GDPR) and the UK Cyber Essentials. They will collect and use personal data to provide goods and services. This information will also be shared with research collaborators if the customer provides consent.
Third parties will use information during processing for Dante Labs. These will be regulated according to law to guarantee data protection.
Dante Labs in the News
In early 2018, there were five reported cases of Dante Labs sending used kits to customers.
Also in 2018, the company announced the expansion of its WGS testing. They now offer an analysis of Mitochondrial DNA (mtDNA) for advanced ability to detect and identify a range of neurological diseases. This was around the same time the company started its DNA microarray test, which was discontinued in 2019.
As whole genome sequencing becomes more affordable, it is believed that less rigorous methods will become less popular. The company also discontinued whole exome sequencing tests, which are more expensive than DNA microarray tests, but only cover 1% of the genome.
Dante Labs Black Friday 2019 sale was one of the company's largest discounts ever, reducing its $499 DNA test to only $189.
In January 2020, it announced a partnership with BC Platforms, a world leader in genomic data management and analytics, to automate and streamline its genomic data management.
Later in 2020, it announced a program to support global scientific research on Coronavirus, offering free genome sequencing services to projects on Coronavirus across the world. This is open to researchers, scientists, research organizations, and universities. You can learn more about at-home coronavirus tests in our review!
In Feb 2022, Dante Labs was selected as the genetic tests provider for the Abu Dhabi Executive Office (ADEO). Dante Labs provides genome sequencing to the company's employees as part of the benefits packets.
The Italian Government bestowed Dante Labs a grant to pilot a revolutionary CE-IVD, clinical whole-genome sequencing-based citizen test. The Dante Citizen Test is a pioneer project that aims to make this procedure a part of the Italian standard medical care practice.
Other Dante Labs Reviews
Dante Labs has a 2.7 out of 5 star rating on Trustpilot with over 3500 reviews. Many customers note that they had bad experience with contacting the company and in most cases, they never received their results.
However, based on the company's response, there appears to be some confusion with another company by the same name. The complaints refer to a COVID-19 PCR test that does not come back within the 48 hour window. On many of these reviews, Dante Labs has responded that it only sells genetic sequencing tests (not PCR tests) and that the customers have been ordering from a different company. In 2021, before the height of this mix-up, Dante Labs had a 3.5 out of 5 star rating.
In 2021, the reviews were mostly positive. However, some customers have complained that they either didn't receive a return label or had major delays in the turnaround times for receiving their results. Many customers have also complained about lackluster customer support, with no responses to emails or any notifications of the progress of their sequencing.
As of 2022, the Better Business Bureau (BBB) currently ranks the company with an F. This is mainly due to the volume of complaints and the company's failure to respond to them.
The company only has one email form for contacting purposes, although it does provide a phone number. There have been several cases of customer resequencing requests being ignored as well. However, it has responded to complaints, claiming that there have been no more delays since it opened its sequencing laboratory.
In 2019, the company announced that it would offer its Whole Genome Sequencing for $299 and that it would include a full refund if results were not processed within 90 business days of receiving the customer's saliva sample at the lab.
Nebula Genomics
Whole genome sequencing with Dante Labs costs $550, and the costs quickly add up because there are dozens of additional reports at $49 each. Nebula Genomics offers 30x for a lower price, including full access to your genomic data, comprehensive reports in Nebula Research Library, and periodic updates.
This access is a powerful tool to start a lifelong journey of discovery. At Nebula Genomics, we believe the journey of learning about yourself through your DNA shouldn't end with a one-time report!
| | | | | |
| --- | --- | --- | --- | --- |
| | 23andMe | AncestryDNA | Nebula Genomics | Dante Labs |
| Price | $99-199 | $99-119 | $0, $99, $299 (plus a subscription fee for regular updates) | $550 -$1,399 (plus $49 for additional reports and a subscription fee) |
| Technology | Genotyping | Genotyping | 30x whole genome sequencing | 30x whole genome sequencing |
| Test report | Single | Single | Regular updates based on the latest scientific discoveries | Additional reports for a fee |
| Data exploration | Limited | Limited | Multiple browser-based genome exploration tools | IGV genome browser |
| Free DNA data upload | No | No | Yes | No |
| Ancestry analysis | Yes | Yes | Deep ancestry analysis | No |
Other companies
If you're interested in whole genome sequencing, you may want to check out
Learn more about whole exome sequencing and whole genome sequencing!
Or would you like to contribute to genomic research but be compensated? Check out our Luna DNA review!
Did you find our Dante Labs review helpful? For more reviews on other DNA testing companies take a look at our blog! If you are interested in advanced ancestry analysis using your whole genome sequencing data, you may want to take a look at YFull.