This review is written with the intent to be as unbiased as possible. However, it represents the opinion of an individual reviewer and is therefore subjective. Furthermore, at Nebula Genomics we seek to educate the public about the benefits of Whole Genome Sequencing. Information about our Whole Genome Sequencing DNA test is therefore incorporated into the review.
February 28, 2022
Edited by Christina Swords, Ph.D.
7 Facts from our Sequencing.com Review
Location: Pasadena, USA
Products: DNA test, DNA data upload, and an app store
How it works: Customers can either upload raw data from other sites or purchase a test to access ancestry and personalized health reports. Customers can buy apps to analyze their DNA in new or different ways
Reporting: Over 100 apps in the DNA app store that provide ancestry, health and other types of reporting
Data download: Available for the DNA tests offered by Sequencing.com
Privacy: Does not share data; HIPAA and US-EU Privacy Shield compliant
Costs: Data upload and some apps are free; tests cost $69 (genotyping) and $399 (whole genome sequencing)
Sequencing.com Introduction
Sequencing.com is a DNA testing company and a platform for DNA-related apps. Much like smartphone app stores, the company's DNA app marketplace has both paid and free options, providing services ranging from ancestry analyses to health reports and nutrition recommendations. The Genome Explorer and Ultimate DNA Test for Health + Ancestry are examples of free and paid options.
Dr. Brandon Colby, its founder, is a genetics expert who holds an MD from the Mount Sinai School of Medicine. He is also the author of "Outsmart your Genes", a book about predictive medicine and genetics.
Do you want to know your risk for certain diseases, including cancer and cardiovascular disease? Or perhaps you want to find out which nutrients will get you better results after pumping iron. How about comparing your genes to Albert Einstein's to see if you are related? Yes, there is an app for that too! Read more in our Sequencing.com review!
Review of Sequencing.com Products
Let's get started by briefly reviewing Sequencing.com products.
The biotechnology company offers three categories of services: DNA tests, free DNA upload, and the app market.
The tests work similarly to other companies like 23andMe and Ancestry. Once you order the kit, you ship a DNA sample (swab your cheek) back to Sequencng.com.
If you already took a DNA test elsewhere, you can also upload that data. The company offers tests such as a rare disease screen. Lastly, there are dozens of different apps in its DNA app marketplace.
DNA tests
Sequencing.com tests are broken down into two services: the Ultimate DNA Test ($69) and the Ultimate Whole Genome Sequencing, WGS ($399).
The ultimate genome sequencing kit produces reports on ancestry genealogy (investigating haplogroups, genealogy, and family trees) and on health, wellness, fitness, and many more additional insights. You can download raw data files. This test covers all genetic variations including Single Nucleotide Polymorphisms (SNPs), Insertions and Deletions, Structure Variations, Copy Number Variations, and Mitochondrial Heteroplasmy. The Whole Genome Sequencing testing technology uses DNA sequencing to examine the full genome and looks into a greater number of markers, genetic variants, and mutations.
Results will be returned from 4 weeks (testing) to 8 weeks (DNA sequencing). All test results are produced in a CLIA-certified and CAP-accredited lab. Both tests produce data for 30 million variants of DNA.
Both tests also include a 1-month Silver Membership and the ability to download all your genetic data at no additional cost.
Free DNA upload
You can also upload DNA data on the company website. This allows you to further analyze your information to obtain additional reporting and health tests.
The raw DNA upload process is simple. You can do so directly from your computer or a cloud server. You can also give Sequencing.com access to your testing service account, and it will obtain the data for you.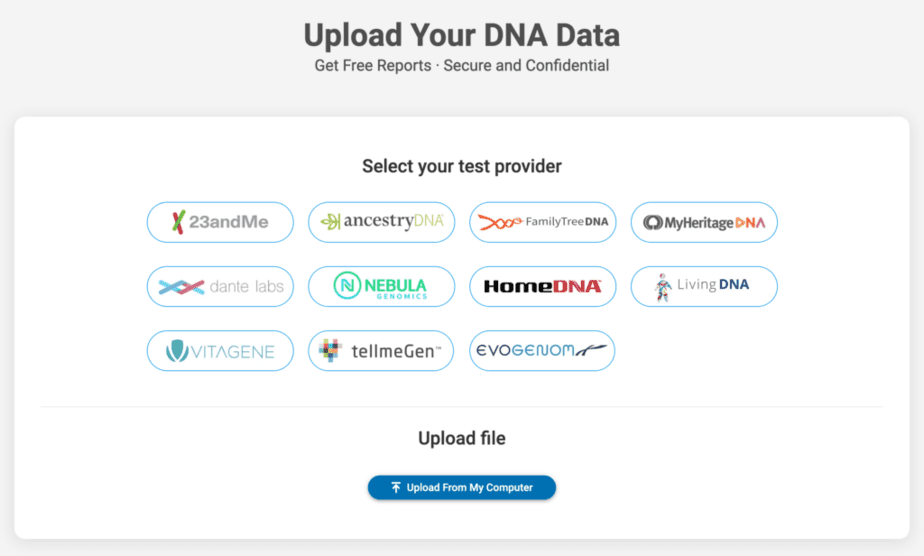 DNA App Marketplace
Sequencing.com offers multiple subscription plans through which users can access many apps instead of buying them individually.
The apps in the store require one of the multiple membership options: Free, Silver ($9.99/month), Gold ($29.99/month), or Platinum ($49.99/month)
The Free membership includes secure storage of your DNA data. Members can purchase all other apps separately.
The Silver membership ($9.99/month) gives access to two free apps (from any category) per month, as well as more robust data storage (Genome-Lock DNA Security).
On top of that, the Gold membership ($29.99/month) gives 2 more (total of 4) free apps per month. It also opens access to Real-Time Health Updates through SMS or email.
The Platinum Membership ($49.99/month) includes all the other benefits of previous plans and 2 more (total of 6) free apps per month. It also includes live genetic counseling with Licensed Genetic Counselors.

Review of Sequencing.com Apps
In general, each app generates a report. Based on the type of DNA analysis apps and reports, there are multiple categories of information: Health, Ancestry, Nutrition, Fitness, Beauty, Lifestyle, Children, Bioinformatics, Clothing, and Art.
For instance, DNA Health Reports like the Healthcare Pro app can give insights into risks for different conditions based on your DNA and provide recommendations for improving health.
You should always discuss potential changes in medications or lifestyle with your healthcare provider.
Sequencing.com's DNA app store is the world's largest, with over 100 different apps covering different aspects of personal genomics. The prices range from free to upwards of $399 for some in-depth analyses. In addition, Sequecing.com has an open-source policy with an open API, open-source code, and open data.
We highlighted a few apps that might be of particular interest due to their relevance or popularity.
Review of Coronavirus DNA Health Report app
The free Coronavirus DNA Health report app analyzes your DNA and other factors such as age, gender, and preexisting conditions. The app then generates a personalized insight report about your risks for coronavirus infection, infection severity, and prognosis.
You can learn more about at-home coronavirus tests in our review!

Review of Sequencing.com DNA Relative Matching & Family Finder app
Another popular app is the DNA Relative Matching & Family app. This free app uses your raw data to help find relatives and research your family history. The advantage is that it enables you to match relatives that might have used a different DNA test. In this regard, it's similar to GEDmatch.
Review of Santa and Me app
Another free and fun app is "Santa and Me". The app compares your DNA with Santa's genetic makeup. This is done by using a phylogenetic tree of populations from which Santa might have originated, like Norwegian, Finnish and Turkish.
The report also tells you which characteristics you are likely to share with Santa. Those are traits like being jolly, extremely productive throughout the night, incredibly strong (carrying that giant sack of toys), and having a few extra pounds. Again, the app is not very useful, but it is fun, especially for kids.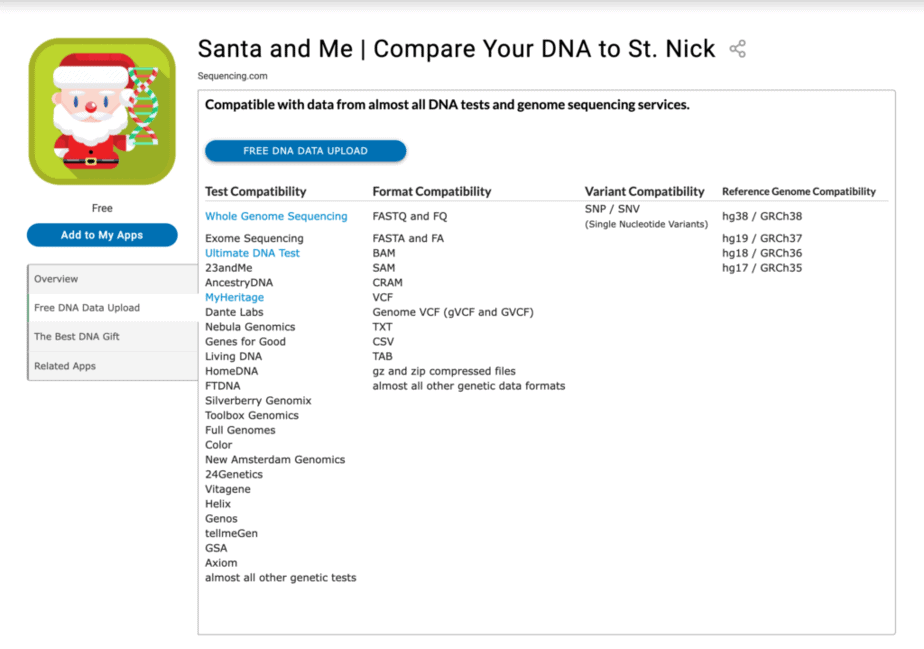 Review of Athletic Training Pro app
One of the most comprehensive apps is the Athletic Training Pro, developed by Silverberry Genomix. This $159 report gives over 100 pages of a very in-depth analysis of several different aspects of your genetically determined athletic abilities. Among them, the ability to build muscles and general physical fitness.
The app also provides genetics-based advice on weight loss and best practices to avoid injuries. And it informs users about the likelihood of some vitamin deficiencies.
Review of Sequencing.com Privacy
Sequencing.com takes privacy and confidentiality seriously. It has multiple security protocols and encryption technologies to protect your personal information. It vows never to disclose any data about you or your account. It does not sell, rent, lease, or give away your information or genetic data to any third party.
Sequencing.com is HIPAA and HITECH compliant, US-EU Privacy Shield, and US-Swiss Safe Harbor certified. It's also a member of the Global Alliance for Genomics & Health a consortium that facilitates genomic data sharing.
Sequencing.com in the News
Since its launch in 2016, Sequencing.com has made the news a handful of times. Firstly for being the first genetic app store of its kind, and then a few times for events such as a genetic hackathon that aimed to develop health and wellness apps.
On its website, Sequencing.com also mentions upcoming news related to a partnership with Microsoft. In 2022, the company is still working with Microsoft Genomics, but all events are on hold due to the pandemic.
There are no reports of any data breaches or privacy concerns.
Sequencing.com Reviews
Sequencing.com is accredited and has an A+ rating on Better Business Bureau, including 4 Sequencing.com reviews averaging 3 out of 5 stars. The negative reviews are all related to customer support availability, but it appears like the issues were resolved in all cases.
On TrustPilot, Sequencing.com reviews an average of 4.0 out of 5 stars. The one negative review is again related to communication with the company. The positive comments focus on the ease of usage and the information provided.
There is also a conversation on Reddit where users discuss the company, and Sequencing.com itself chimes in.
Sequencing.com Pros and Cons
Pros
Comprehensive list of apps available
Free DNA upload
Support of DNA data formats from many genetic testing companies
Secure DNA data storage
Cons
High cost for full membership; several apps cost almost as much as a full DNA analysis
Top 5 questions about Sequencing.com
Is Sequencing.com safe? Sequencing.com is safe, taking privacy and confidentiality seriously. As we mentioned above, Sequencing.com is HIPAA and HITECH compliant, US-EU Privacy Shield, and US-Swiss Safe Harbor certified.
Is Sequencing.com free? It is free to upload your DNA, with some free analyses available, such as the Genome Explorer and the DNA relative matching. Most of the other apps available are, however, paid.
Is Sequencing.com legit? Sequencing.com has been in the market since 2016, and it is a Better Business Bureau accredited company.
What's Sequencing.com's cost? The DNA tests offered have price tags between $69 and $399. The apps available range from free to upwards of $399. Uploading and storing your DNA data is free.
Can I upload my DNA from 23andMe to Sequencing.com? Yes, Sequencing.com accepts raw DNA data from multiple DNA testing companies, such as 23andMe, Ancestry, Dante Labs, MyHeritage, Family Tree DNA (FTDNA), and Nebula Genomics.
If you like the idea of DNA apps, GenePlaza and Helix DNA have adopted similar models.
Wanting to learn more about whole genome sequencing? You should check out
Or would you like to contribute to genomic research but be compensated? Check our our Luna DNA review!
There are a lot of great supplement companies out there that may help you lose weight and get healthy (you can read about many of them on our blog!) But be careful! There are also dangerous experimental drugs out there like SR9009 and RAD 140 that are not approved for human consumption.
Did you like our Sequencing.com review? You can read more reviews on our blog and check out our complete guide to the best DNA test kit and other home tests. Or check out our guide to DNA upload sites!